Indoor Activities for Kids: 35 Things To Do in NYC on a Rainy Day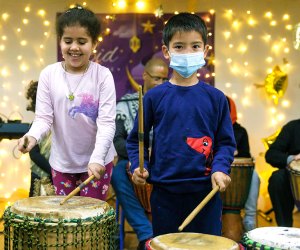 10/4/22
- By
Rosalind Muggeridge
When it's raining outside, it's time to bring the fun inside with one of these 35 indoor activities in NYC. Our list of rainy day activities for kids brightens up even the dreariest day. We've included picks for NYC's most kid-friendly museums, fun stores where kids can play, and plenty more parent-tested picks. Of course, if you'd rather stay cozy at home, we've got you covered there, too, with creative indoor activities in our Guide to Boredom Busters for Kids.
2. Immerse Yourself in a Good Book
Reading is a great way to spend a rainy afternoon. Head to your local "kindie" lit store to pick up a new book and support a local business in the process.
RELATED: Visiting The Metropolitan Museum with Kids: Exploring NYC's Biggest Art Museum

The New York Ninja Academy offers group classes, birthday parties, and more. Photo by Sara M.
3. New York Ninja Academy
Expend some high energy with a visit to New York Ninja Academy, where kids can live out their American Ninja Warrior dreams.
4. Dive In
Nab a day pass to one of these local indoor swimming pools where the water is warm no matter the temperature outdoors.
5. Get Inside the Game
Hit one of these virtual reality arcades where you can put yourselves in the middle of the action.
RELATED: 100 Free Things To Do in NYC with Kids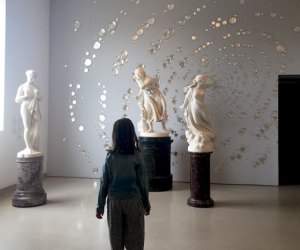 Enjoy the exhibits in at the Brooklyn Museum. Photo by Diana Kim
6. The Brooklyn Museum
Book a timed-entry ticket, and explore the spacious Brooklyn Museum.
7. Hit the Ice
You don't need to wait for winter to glide on a local ice skating rink. These indoor ice skating rinks welcome visitors year-round in any weather.
8. Bounce off the Walls
These local trampoline parks are guaranteed to bring a smile to your kids' faces.
RELATED: The Best Children's Museums in NYC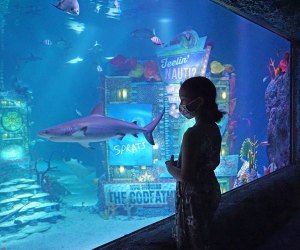 Dip your fingers into the touch tank at the Sea Life Aquarium at American Dream Mall. Photo by Jody Mercier
9. Explore American Dream Mall
Hop across the river to visit American Dream Mall and its family-friendly attractions, including an Angry Birds mini-golf course, the Sea Life Aquarium and Legoland Discovery Center, or the always-sunny DreamWorks Water Park.
10. Have a Fancy Tea Party
Whether you're channeling Eloise at The Plaza or Alice in Wonderland, a bit of precipitation is the perfect excuse to have afternoon tea in the city at one of these cozy locations.
11. Hit The Cliffs
Climb the walls at the newish Cliffs locations in Gowanus, Harlem, or one head to of these other rock-climbing spots in the city.
RELATED: Crafts for Kids: 100 Awesome Art Projects for Creative At-Home Fun

The Sour Patch Kids store has a jaw-dropping array of sweet-and-sour goodies sure to distract you from the gloomy weather.
12. Visit the Candy Store
Head to one of NYC's many candy shops where your kids (and you) can sample something sweet.
13. Head to an Indoor Family Play Space
Peruse the aisles and enjoy a little playtime at family-experience store CAMP, which has locations in Columbus Circle, Hudson Yards, Flatiron, and Downtown Brooklyn.
14. Explore an Indoor Garden
Public atriums are a terrific place to pop in and enjoy a little dry warmth on a rainy day. These indoor gardens and atriums are indoor oases all year long.
RELATED: Indoor Water Parks near NYC for a Warm Getaway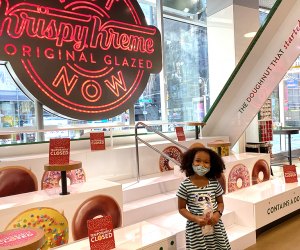 Pose for a picture with the stadium-style seating made to look like a freshly packed box of doughnuts before you leave the Times Square Krispy Kreme mega store! Photo by Jody Mercier
15. Eat Doughnuts
Warm up with a "hot now" doughnut at the Krispy Kreme mega shop in the middle of Times Square.
16. Go to FAO Schwarz
Grab your dancing shoes and hit FAO Schwarz to pirouette on its giant piano.
17. Get Magical at Harry Potter New York
Grab your wand and enjoy a magical journey through the Wizarding World at Harry Potter New York. Toast the day with a frothy mug of butterbeer.
RELATED: 25 Exercise Games and Indoor Activities to Get Kids Moving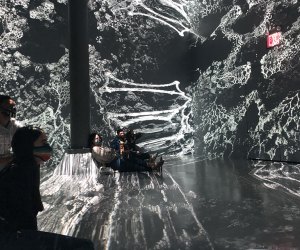 Artechouse's installations are mesmerizing for visitors big and little. Photo by Diana Kim
18. Be Dazzled at Artechouse
Immerse yourself in the audio-visual exhibits at Artechouse, a cavernous gallery space in the Chelsea Market. Stick around afterward to enjoy the dining and shopping destination.
19. Visit the Aquarium
Take the train to Coney Island to visit the New York Aquarium, where you'll be able to view the awesome Ocean Wonders: Sharks! exhibit and much more. Many exhibits are indoors.
20. Get Creative at Playday
Book a session at creative play space Playday, which has locations in Long Island City and Cobble Hill.
RELATED: 15 Brainy Puzzle Games and Jigsaw Puzzles for Kids

Surround yourself with medieval unicorn tapestries—and more—at The Met Cloisters. Photo by Debra via Flickr
21. See The Met Cloisters
Gawk at the unicorn tapestries at The Met Cloisters, which boasts a trove of Medieval treasures to enchant kids of all ages.
22. Romp in a Play Space
Several of our favorite indoor playgrounds are ready to welcome visitors with safety top of mind.
23. Hit a Children's Museum
We can't pick a favorite between the Brooklyn Children's Museum and the Children's Museum of Manhattan but promise they're both crowd pleasers!
24. Take Flight
Go soaring over the city on RiseNY's sky-high Times Square flight simulator and explore the adjoining museum.
RELATED: 100 Things To Do in NYC with Kids Before They Grow Up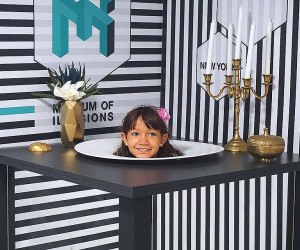 Put your head on a platter at the Museum of Illusions. Photo by Jody Mercier
25. Be Fooled at the Museum of Illusions
Head to the Instagram-ready Museum of Illusions, where every visit lets you experience the impossible.
26. Tour Grand Central
Explore the walkways and hallways of Grand Central Terminal.
27. Take a Trip to the Zoo
Check out the little-known Staten Island Zoo. Many of the exhibits there are indoors, including the aquarium, bird conservatory, and reptile wing.
28. Take a Ferry Ride
While an NYC ferry ride might not be 100% rain-proof, most of the ride is in the comfort of a covered boat. Along the way, you can see the city sites and even spend some time indoors at one of the ferry terminals.
RELATED: 25 Card Games Every Kid Should Know

Do you have what it takes to be a spy? Test your skills at Spyscape. Photo courtesy of the museum
29. Play Spy for a Day
Go undercover and explore the daring work of intelligence agencies and spies worldwide at the Spyscape Museum in Midtown.
30. Explore Industry City
Visit Industry City, which is jam-packed with things to do, places to shop, and tasty treats to eat.
31. Play for Free
Go easy on the wallet and find an indoor spot where kids can play for FREE.
32. Explore a Specialty Shop
Explore one of our favorite only-in-NYC stores for trains, toys, books, fossils, and more.
RELATED: Free Times to Visit NYC Museums, Gardens, and Zoos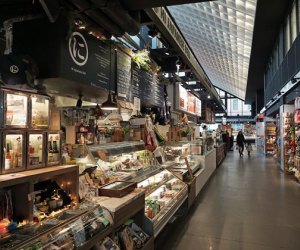 Stock up on local goods and specialty items at the Essex Street Market. Photo by Jody Mercier
33. Expand Your Culinary Adventures
Pop into the Essex Street Market to explore its specialty shops and support local purveyors.
34. Try an Escape Room
Put problem-solving skills to the test and take the whole family to one of these adventurous NYC escape rooms. Forget about the rainy day blues as the mystery unfolds inside.
35. Embrace the Rain
Who says you have to stay out of the rain? Embrace the raindrops, open the umbrellas, and go puddle jumping.
Originally published in 2018 and updated annually.