Visiting The Metropolitan Museum with Kids: Exploring NYC's Biggest Art Museum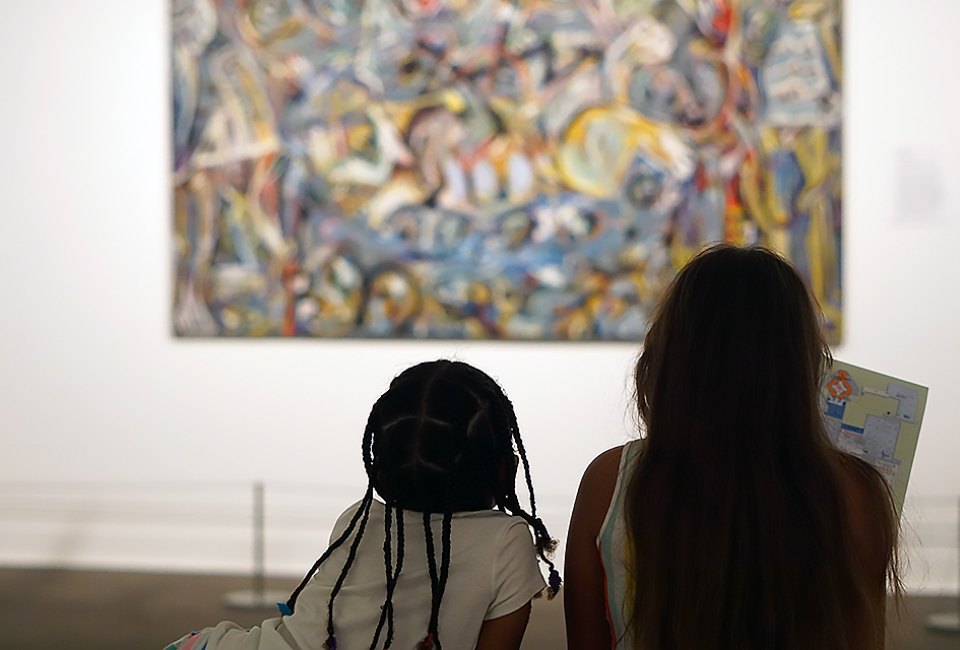 7/26/22
- By
Jody Mercier
Considering visiting The Metropolitan Museum with kids? Here are our top tips for a family-friendly visit to the world-class art museum.
One Friday afternoon, my son came home from kindergarten and announced that we must visit The Met over the weekend because he had to see the Renoirs. His wonderful art teacher introduced the class to Impressionist art, and I was overjoyed.
If you're lucky enough to live down the road from a world-famous art museum, why shouldn't your whole family take advantage of the sprawling galleries, priceless pieces, and kids' activities at The Met, and explore it together? We've made countless trips to The Metropolitan Museum of Art since—it's one of our favorite museums to visit with kids in NYC—and are offering our top tips for a family-friendly visit to The Met, plus our favorite kids' activities at The Met and the top exhibits and hidden treasures to explore. Find all our top picks for cultural outings in our Guide to Museums, Galleries, and Exhibits in NYC.
Subscribe to our newsletters to get stories like this delivered directly to your inbox.
Why Visiting The Metropolitan Museum of Art with Kids Is a Must-Do
The anchor of NYC's Museum Mile, The Met is more than 2 million square feet and houses at least that many pieces in its collection, which dates back more than 5,000 years—so, as any parent knows, it's impossible to cover it all in one outing or even several.
The Met has been in the news recently for upping its admission price, but fortunately for locals, visiting The Metropolitan Museum with kids always comes with "suggested admission," so you can visit as often as you like. And, with the enticing Ancient Playground and all of Central Park right outside its doors, The Met is always worth the trip.
RELATED: Free Times to Visit NYC Museums, Gardens, and Zoos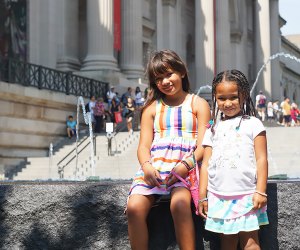 Check out the David H. Koch Plaza which runs along Fifth Avenue for four city blocks.
What to See at The Met with Kids
Once you're in the door, here are the can't-miss exhibits and kids activities at The Met:
It took me years and several visits to find the famous Washington Crossing the Delaware painting here—and while it's worth seeking out, it's not even our favorite piece in this part of the museum. My girls love gawking at the lavish interiors of the colonial homes re-created in the galleries at the northern end of The Charles Engelhard Court, which remind us of another favorite haunt, the Morris Jumel Mansion. Adding to the allure right now is an integration with the current Costume Institute exhibition, In America: An Anthology of Fashion, which puts some spectacular ensembles on display amidst the classic furnishings.
This entire, light-drenched wing is spectacular. Kids enjoy tossing pennies into the reflecting pool and exploring the imposing Temple of Dendur (look for the 19th-century graffiti carved into the walls by European tourists and soldiers). Impress them with the knowledge that The Met's vast collection of 26,000 ancient Egyptian objects is one of the most comprehensive in the world.
RELATED: Visiting The Met Cloisters with Kids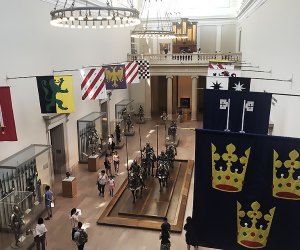 Get up close to knights' armor and other medieval weaponry in the Arms and Armor gallery.
This gallery of weapons, suits of armor, and jousting equipment is a favorite with my crew. Get an up-close view of the intricate designs that went into these pieces from medieval Europe and Asia.
Large lines, bright colors, abstract shapes: These galleries are what a preschooler's dreams are made of.
RELATED: Must-Sees at the American Museum of Natural History with Kids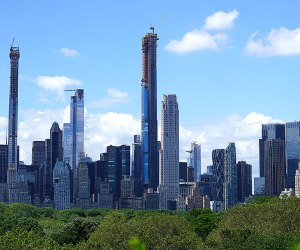 Take in the magnificent view from the Cantor Rooftop Garden.
The Met's rooftop is a bit tricky to find, but worth the view once you're there. Take the elevator from the first floor near the Modern and Contemporary Art Galleries to the fourth floor, and a separate elevator to the top. Not only will you find a rotating array of large-scale installations, but there's also a stunning view of Central Park and greater New York.
The Met's painting collection is known the world over, and its list of artists is too vast to list. Of course, my son will tell you can find the Renoirs here, but also the Monets, Manets, Van Goghs, Degas, Cézannes, Gauguins, and many more masters. Bring a sketchbook, and find a favorite to spend a little time with. Whether you're an artist or not, join in on the drawing and see how your impression of the art differs from your kid's.
RELATED: MoMA Reopens with Kid-Friendly Art Programs, Family Film, New Galleries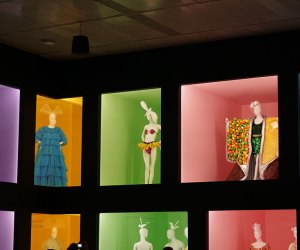 Glamorous haute couture is a dazzling sight for young fashionistas—and everyone.
Any budding designer or diva has got to glimpse the gorgeous gowns on view here. Currently, catch its ode to American fashion, In America: A Lexicon of Fashion, which traces fashion through 12 different themes ranging from the 1940s to contemporary designers.
This department houses an exquisite, tiled prayer nook, The Moroccan Court, which makes a beautiful spot for a quiet bit of relaxation if you need to recharge before you continue. There are also beautiful examples of intricately detailed architecture, textiles, and more from throughout the Islamic world.
RELATED: Use Your Library Card to Get into 66 NYC Museums and Gardens for Free

The magnificently lit, twenty-foot blue spruce looms over a vivid eighteenth-century Neapolitan Nativity scene,
The choir screen from the Valladolid cathedral of 1763 makes an imposing background to the displays held in this hall. We're particularly fond of visiting during the holidays when the "angel tree" is set up in front of it. With daily lightings, it's a sight to behold.
Sad but true: I had never visited this collection in all my trips to The Met, and only stumbled upon it in a quest for a better view of the Arms and Armor Hall during our most recent visit! My daughter, a budding violinist, was wowed by the pieces of art on display here, dreaming of playing such exquisite instruments.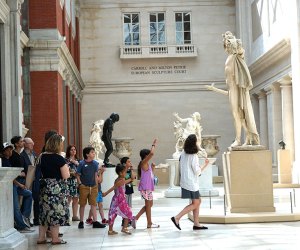 Wander through the Sculpture Gardens.
The Sculpture Gardens
Spanning the European Sculpture and Decorative Arts and the Greek and Roman Arts collections, the imposing sculptures at The Met create a visually stunning backdrop. There's a certain sweet spot here: Little kids won't notice or care about the nudity; tweens and young teens might giggle, and older teens will gradually appreciate the masterworks on display.
Tips for Visiting The Metropolitan Museum with Kids
Pace Yourself
The halls are vast, and tiny feet get tired quickly from traversing the marble floors. Set aside a couple of hours and focus on one or two halls, but when your kid gets tired, resist the urge to see just one more piece! You can always come back another day because there's always something new to explore, whether it's a special exhibition, a newly unveiled piece, or a completely different wing that you didn't get to that day.

Bring your sketchpad and be an artist.
Let Your Child Be Your Guide
While we set off with our kindergartner to see the Renoirs, we stumbled into the impressive Arms and Armor gallery first and ended up spending most of that trip (and many others) exploring the knight's impressive shields, chest plates, and weapons. Seeing the Renoirs was a rushed afterthought, but by following my son's lead, we discovered something new, and Arms and Armor is now a regular stop for us, no matter what else we're at The Met to see.
Take Advantage of the Kids Activities at The Met
Check out The Met's event calendar for family-friendly programs. There are regular toddler storytimes in the Nolen Library and after-school "Start with Art" programs introduce kids to various galleries and pieces through in-gallery story hours and sketching activities. Family "Art Trek" tours are also available, and all are included with admission. Teens ages 13 to 18 can also enjoy Teens Take the Met nights, and other age-specific programming. All family programs are included with admission, and kids ages 12 and younger are always FREE.
Restaurants at The Met for Families
There are six restaurants at The Met for visitors with varying hours and price points. The most family-friendly pick is The Eatery on the ground floor, which offers kid-friendly picks like pizza, sandwiches, sweet treats, and espresso to help mom and dad keep up museum adventures. The American Wing Cafe and The Cantor Roof Garden Bar both offer snacks and drinks if you're looking for a quick refuel rather than a full meal.
If you're searching for eats before or after visiting The Metropolitan Museum with kids, we've got a whole post on family-friendly restaurants near The Met.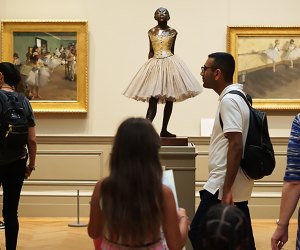 The Little14-Year-Old Dancer by Edgar Degas is an awe-inspiring sculpture.
Know Before Visiting The Metropolitan Museum with Kids
Currently, The Met is open every day but Wednesday. Consult the website for current hours before visiting.
Masks are encouraged but not required.
To enhance the family-friendliness of your visit, pick up a Family Map and kid-friendly audio guide from the information desk.
All visitors must go through security screening upon entry. Small bags are allowed, but backpacks may need to be worn on your front in galleries.
Strollers are welcome in most galleries and a stroller-friendly entrance is available on the ground level at 81st Street and Fifth Avenue.
See full visitor guidelines on The Met's website.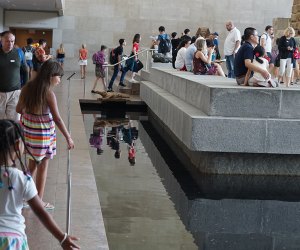 Toss pennies into the reflecting pool in the Ancient Egypt Wing, they say this means you'll return.
Visiting The Met with Kids and Tickets to The Met
Tickets for New York state residents and students who attend school in New York, New Jersey, and Connecticut are pay-what-you-wish. To take advantage of pay-what-you-wish pricing, you must purchase your tickets to The Met in person with a valid ID to prove residency. If you choose to book online in advance, you'll pay full general admission prices: $30 for adults; $17 for students. Children ages 12 and younger are always FREE. If you have any energy left after your visit, tickets include same-day admission to The Met Cloisters.
Originally published in 2007
Photos by author
Places featured in this article:
---
The Metropolitan Museum of Art
t Click Here to Sign Up!