35 Things to Do with Kids in Soho and Little Italy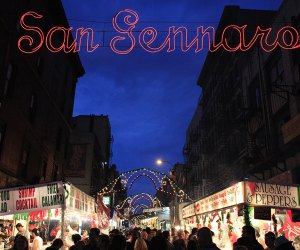 Spend the day roaming around Soho and Little Italy with kids and you'll realize just how kid-friendly NYC can be. Of course there are tons of shops and restaurants, but if you look closer you can see that the area is teeming with tons of fun activities for the whole family: You just need to know where to look! Here are 35 of the best places for families to visit, shop, and eat in Soho and the adjacent neighborhoods of Little Italy and Hudson Square, including family-friendly restaurants, must-see museums, playgrounds, and neighborhood institutions.
For the purposes of this post, the geographical boundaries are from Houston to Canal Streets between the Bowery and the Hudson River: Plenty of room to explore, but not too much for one (busy, fun) day!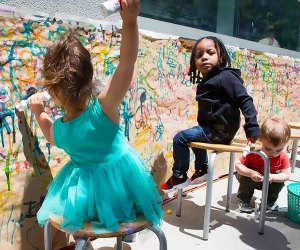 Celebrate art at the Family Fest at the Children's Museum of the Arts. Photo courtesy of the museum
1. Create art, take cool classes, or model with clay at the innovative "Clay Bar" at the Children's Museum of the Arts.
RELATED: The Best Children's Museums in NYC

The 9/11 Memorial Bull reminds us of the amazing work NYC's firefighters do, that day and every day! Photo by Angela Johnson
2. Check out historic trucks and equipment at the New York City Fire Museum—and don't miss its annual Santa Rescue in December.
RELATED: 5 Inspiring Firefighter Museums for Kids

Come to storytime at the Museum of Chinese in America. Photo courtesy of the museum
3. Learn about one of NYC's largest immigrant groups at the Museum of Chinese in America, which hosts frequent family programs and festivals, like its popular Lunar New Year celebration.
4. Examine fossils, insects, skeletons and the other natural curiosities crammed floor to ceiling at The Evolution Store.
5. Take a reading break at the Mulberry Street branch of the New York Public Library, which has a children's room and hosts many programs for kids of all ages.
6. Drop into indie bookshop McNally Jackson for lit-themed crafts on Saturdays and a special storytime just for babies.

Vesuvio Playground is a sweet spot for kids. Photo courtesy of NYC Parks
7. Hit Soho's only tot lot, Vesuvio Playground, for ball courts, a playground, a sprinkler and an outdoor kids-only mini pool in summer.
8. Visit the secret New York Earth Room and the Broken Kilometer and wonder at its mysteries.
RELATED: Best Toddler Playgrounds in Lower Manhattan

Look for a four leaf clover at the Elizabeth Street Garden. Photo courtesy of the garden
9. Let your imagination run wild in the Elizabeth Street Garden, one of NYC's loveliest and most eclectic free public spaces.
10. Pop in to NYC's original Apple Store, which offers kids' tech classes along with the latest i-gadgets.
11. Check out the awesome emoji mural by artist Tom Bob on Prince Street. So Insta-worthy!
12. Stroll, bike or scooter along Hudson River Park.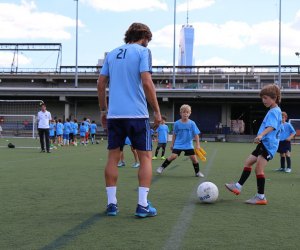 There are a variety of classes offered at Pier 40. Photo courtesy of Hudson River Park
13. Go kayaking on the Hudson at the south end of Pier 40. If you live nearby, sign up for Pier 40 baseball or soccer leagues.
14. Escape the crowds by checking out one of the installations at the Drawing Center.
15. Hit the intersection of Mulberry and Grand Streets for an amazing East-meets-West foodapalooza: Share a Vietnamese bánh mì sandwich followed by great gelato or cannoli.
16. Take home a bit of Little Italy with treats from the old-school Di Palo's Fine Foods and Parisi Bakery.
17. Step around the corner to the Hong Kong Supermarket for a cornucopia of Asian ingredients and snacks.
18. Visit the Peter Freeman Gallery and marvel at the art on display.
19. Have a fancy schmancy afternoon tea at the Crosby Street Hotel.
20. Introduce your kids to the classics at the Film Forum Jr. family series on Saturday and Sunday mornings.
21. Let your little one become a chef at a cooking class at Freshmade NYC.
22. Go on a shopping spree at Lilliput Soho. Hands down the best curated shop for tots!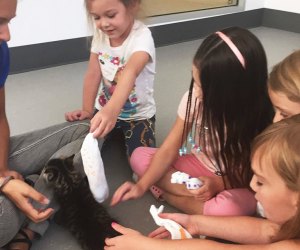 Take an animal care class at Animal Haven. Photo courtesy of the shelter
23. Adopt a new furry friend or take a kids' animal care class at local shelter Animal Haven.
24. Try one of the best family brunches in Manhattan at the David Burke Kitchen at the James Soho.
25. Indulge in a high-end chocolate crawl at some of the fanciest sweets spots around including Jacques Torres and MarieBelle.
26. Hit the Feast of San Gennaro in the fall, an awesome, old-school Little Italy street fair with rides and loads of food.
27. Gorge on burgers and insanely huge and decorated milkshakes at Black Tap.
28. Relax in the back garden of Laduree for some of the most amazing macarons straight from Paris.
29. Brunch it up at Sadelle's where the smoked fish and bagels are not to be missed.
30. Treat yourself at the home of the cronut, Dominique Ansel.
31. Take some sewing lessons at SewHo sewing.
32. Enjoy some of the best wood-fired pizza in NYC at Pasquale Jones.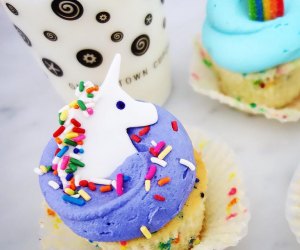 Grab some pretty cupcakes to go from Georgetown Cupcake. Photo courtesy of the shop
33. Want to walk and snack? Pick up some portable yummy treats from Georgetown Cupcake.
34. Check out all the neat offerings from toys to clothing at Piccolini NYC. The best place to find a reversible fairy skirt you never knew you needed!
35. Look for neat gift ideas at the MoMA Store on Spring street, then hop across the street for a fresh baguette or scone from the Balthazar bakery.
Read all of our posts about exploring Soho and Little Italy with kids.
A version of this post was published in 2015; it has since been updated. Anna Fader contributed additional reporting.