Best Restaurants in Little Italy, NYC That Kids Love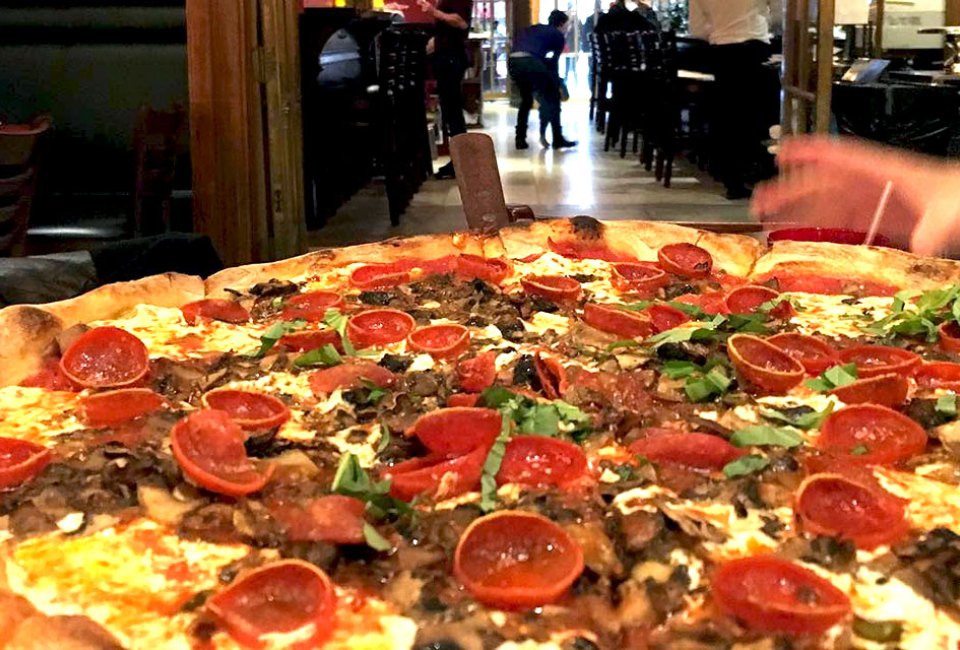 4/8/22
- By
Charlotte Wensley
One sure-fire way to ensure your kids don't tire too early while enjoying a full day out and about in the city is to fill them full of pasta, pizza, and gelato. There is no better place to do this and see a small slice of old Manhattan than in Little Italy. While Mulberry Street teems with old-school Italian spots, we've done our best to round up the best restaurants in Little Italy, NYC serving kid-friendly fare. And if you can't decide on just one, the good news is they're all close by, lying between Hester and Broome Streets, so you can make a multi-course meal out of your visit to this classic NYC enclave.
Find more family-friendly places to eat in our Guide to Kid-Friendly Restaurants in NYC.
Subscribe to our newsletters to get stories like this delivered directly to your inbox.
A number of the restaurants on our list focus on classic Italian fare and don't include pizza but do include lots of pasta varieties. Other picks focus on pizza pies, with plenty of topping choices and even gluten-free options.
Lombardi's, which opened in 1905, is credited with developing the New York-style pizza and with being the first pizzeria in the United States. As Little Italy has shrunk, Lombardi's is now slightly outside the main strip of Italian restaurants on Mulberry Street but is a not to be missed experience. Specialties include its signature Margherita pizza and rigatoni topped with a giant 4-ounce meatball. There are very few frills here, but what this spot lacks in creature comforts, it makes up for in taste. Its coal-fired pizza is legendary for a reason. Lombardi's is cash-only, but there is an ATM on-site. Can't make it to Little Italy? There's a second outpost in Bay Ridge, Brooklyn.
The classic red-and-white checkered table cloth welcomes you into this family-run establishment offering a range of high-quality, affordable pasta options, including a family-style, prix-fixe, multi-course pasta meal perfect for sharing. Walls are covered with photos of the family and the numerous celebrities who have visited over the years, including Frank Sinatra. Enter and you're instantly part of the family, too.
RELATED: 20 Must-Visit Cafes, Sweet Shops, and Iconic Family-Friendly Restaurants in NYC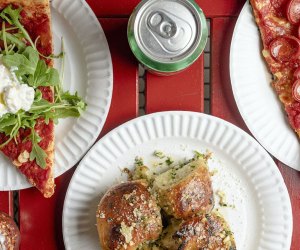 Manero's of Mulberry Street offers the only pizza-by-the-slice experience on Mulberry Street.
If you're looking for just a slice of pizza to keep you going while you explore Little Italy and nearby Chinatown, Manero's is the only take-out slice joint on Mulberry Street. It offers a small selection of slices with additional toppings including a white pizza option for those who are not keen on tomato sauce. Right next door, Manero's also has booths where you can sit for a quick pitstop without the full restaurant vibe and price tag.
This Mulberry Street mainstay—which has been around since 1993—offers a huge menu of crowd-pleasers, including lots of kid-friendly pizza options as well as pasta, hot heroes, and classic Italian entrees such as eggplant parmigiana, which the adults might prefer. Every table receives a complimentary zeppole—a traditional Italian treat of light, fluffy doughnuts filled with pastry cream and topped with a candied sour cherry.
RELATED: Exploring Arthur Avenue: The Bronx's Own Little Italy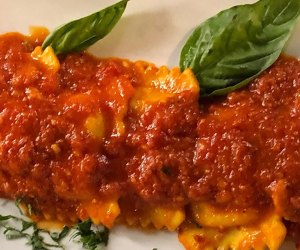 Zia Maria makes all of its pasta in-house.
Zia Maria strikes a different chord in Little Italy, with a more contemporary vibe. Zia Maria's is a little more upscale than some of the other Mulberry Street establishments but still promotes itself as a family restaurant. Spaghetti pomodoro, Margherita pizza, lasagna, and gnocchi alla pesto keep the little ones happy. Its homemade pasta is sure to please all palates. Zia Maria also has a Chelsea location.
Paesano is likely to be a winner for the diverse culinary requests of most families! A simple pizza menu lets you build your own pie according to your family's taste. A wide-ranging pasta menu is offered, too. And for families with picky eaters, Paesano is one of the only Little Italy restaurants to offer classic American fare like burgers and fries, too.
Galioto's is a small Italian deli offering hero-style sandwiches with classic Italian ingredients. Salads, small bites, and Italian cakes are available alongside a small selection of grocery items. Once you've grabbed your goodies, head outside to dine alfresco.
If your kids are more pasta than pizza-oriented—rare I know—Benito One has an extensive and affordable pasta menu that covers all tastes. Save your time-crunched weeknight and feed kids something they'll eat quickly with a classic bowl of penne and pesto. Dishes range from $14-17. There is outdoor seating, but the inside is cozy, lined with family photos, and hasn't changed much since it opened in 1968.
RELATED: The 18 Most Insane, Must-Try NYC Desserts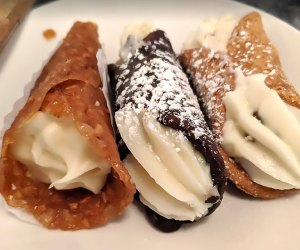 Caffé Palermo is well-known as the Cannoli King for its classic Italian pastry.
Best Dessert Restaurants in Little Italy, NYC
Possibly only surpassed by Lombardi's in fame is Caffé Palermo, home of the "Cannoli King!" The creator of the famous cannoli is Baby John, who has been making this classic Italian treat for more than 40 years, still working on them individually himself. If cannoli isn't your thing, Caffé Palermo offers a variety of other sweet treats, including cheesecake—voted amongst the top 10 in NYC—gelato and deliciously extravagant cakes.
Most Little Italy restaurants offer limited dessert menus, so if desserts are what the family is craving, Ferrara is another option. Ferrara dates back to 1892 and claims to be America's first espresso bar and pasticceria. Not that the kids care about that. They will, however, be stumped for choice. Cannoli, cheesecake, panettone, Italian-style cookies, deliciously flavored cakes, and gelato are all available. If you're too stuffed from dinner, you can always have them pack a box of goodies to go.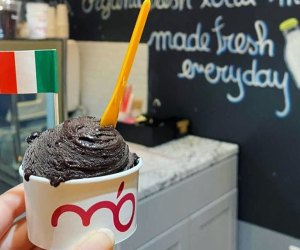 M'o il Gelato serves some seriously authentic scoops of delightfully cold, delicious goodness.
If you're looking for top-quality Italian gelato (The chef flies back and forth from Italy!), including all the classic flavors as well as Italian favorites such as stracciatella, this is the spot. Cannoli, tiramisu, affogato, and bombolone (Italian-style donuts) are also available. Note, however, that as of publication, this shop is undergoing a renovation, though its treats are currently available for delivery. You can also visit one of its other locations here or abroad!
Technically speaking, Sweet Moment isn't part of Little Italy and doesn't serve Italian sweets. Located nearby on Mott Street, it serves some desserts that are sure to be a family hit. Milk-based shaved ice comes with ice cream, syrups, and cheesecake pieces. Flavors include Oreo and mango cheesecake. Waffles are also on the menu and topped with perennial favorites like Nutella (Italian!) and banana.
Photos courtesy of the restaurants/cafes