20 Must-Visit Cafes, Sweet Shops, and Iconic Family-Friendly Restaurants in NYC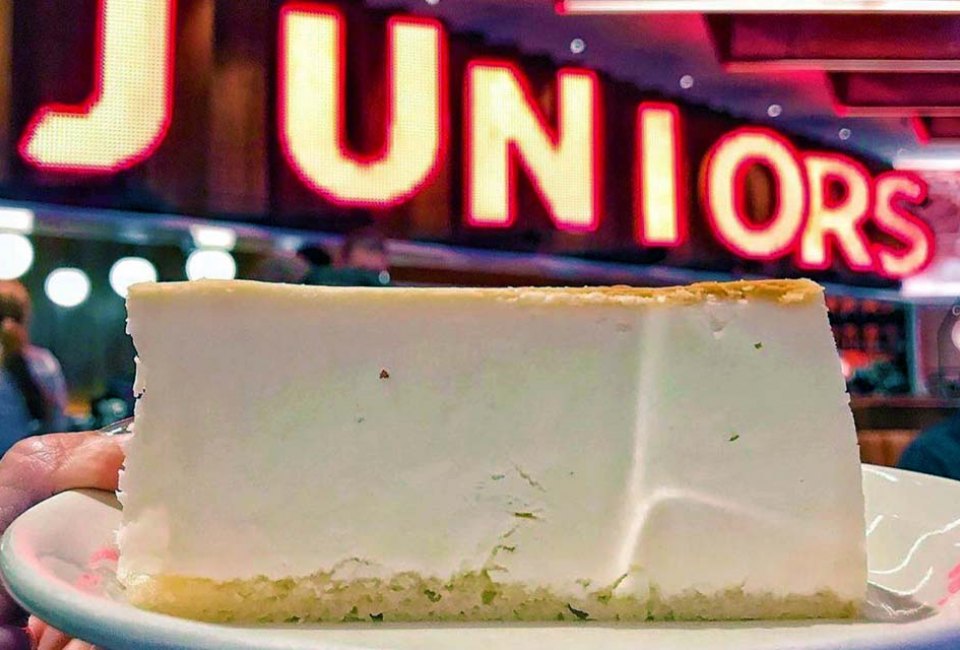 2/20/22
- By
Yuliya Marks
There are many best-of lists when it comes to can't-miss restaurants in NYC, but in compiling this list of the must-visit, family-friendly restaurants in NYC, we decided to be tourists in our own city, revisiting some classic favorite restaurants, while exploring a few newcomers, too. All told, we've pulled together this list of 20 can't-miss, must-visit, kid-friendly restaurants in NYC.
Follow out footsteps for a real taste of the Big Apple, which includes everything from hot dogs to cupcakes and pickles to pastrami. If this whets your appetite for an NYC vacation, you can find more must-do activities on our list of the 50 top family-friendly attractions in NYC, and find all our kid-friendly dining picks in our Guide to Family-Friendly Restaurants in NYC.
Subscribe to our newsletters to get stories like this delivered directly to your inbox.
Keep in mind, to dine indoors, guests ages 5+ must show proof of full vaccination; guests 18 years old or older, must have identification. Reservations are recommended as many spaces have limited capacity.
To fuel up for our food tour, naturally our first stop was coffee! This local chain abides by the motto, "if you come in grumpy, you leave happy," and it's one of our favorite coffee spots. It serves a mean cup, and if you have kids, you probably need to start your day with a large, strong coffee from Café Grumpy.
Often overshadowed by its competitor Gray's Papaya, this spot is a go-to for a quick bite on the run. New York wouldn't be New York without its famed hot dogs, and this spot serves one of the great options. Papaya Dog is perfectly located in the middle of Greenwich Village. It has a large menu of the oh-so-bad-for-you food, and even serves a mean breakfast sandwich.
RELATED: Top Attractions in NYC: Things To Do and See with Kids

Do you prefer your cake shaped like a unicorn, an ice cream cone, or even some sushi?
Who doesn't like cake! Here, it comes in perfectly portioned lollipop size, in delightfully decorated shapes from unicorns, to ice cream cones, and more kid-friendly designs. We love Rebecca's location in the Essex Street Market, which is a foodie haven in its own right and a real taste of the Lower East Side.
We stepped into this brine-filled paradise and were greeted with friendly smiles and happy faces. Rows of barrels containing different versions of pickled products make it quite difficult to choose. At this old-school shop, you can taste the time and love that goes into their production. It's like taking a step back in time to the way your grandma used to pickle. We settled on the originals, but if you are adventurous, you can even try pickled pineapples.
RELATED: Our Kid-Friendly NYC Restaurant Guide

Swing by Katz's Deli for a corned beef sandwich that will feed your family, and just maybe, change your life.
If you eat nowhere else in the city, you must make a stop at Katz's Deli. A mainstay since 1888, it's perfected the art of sandwich-making with its famous pastrami and corned beef sandwiches. Stacked high, a single corned beef sandwich fed our family of three. The high-quality food produced by Katz's Deli speaks to how a sprinkle of love and passion for what you do leads to a taste difference, which left our picky kid asking for more.
RELATED: NYC Restaurants Where Kids Eat Free

No forks allowed! You can't leave NY without trying an authentic slice.
Quite a few celebrities have passed through the doors of this famous pizzeria. There are a few iconic New York pizza restaurants, and this one is at top of the list. Established in 1929, its menu is clean and authentic, with fresh ingredients you can taste. You can't go wrong; no matter what items you choose. Come hungry: There are no slices here, it's whole pies only.
If you are a cheese lover this is the place for you. Murray's has the most extravagant cheese collection. From hard to soft and anything in between. Murray's also has an extensive collection of meat and deli products, plus fun cheese boards and gift items. If you can't get enough cheesy goodness, consider signing up for one of its in-store events, including a daily mozzarella-making class.
RELATED: Best Places to Eat with Kids Near Times Square and Rockefeller Center

In business for over 125 years, Veniero's is clearly doing something right!
Step back in time at this old-school pastry shop, which has been serving sweet treats since 1894. At this Italian pastry paradise, we ordered its specialty, pignoli cookies, and classic rainbow cookies, plus an assortment of pastries for our traditional Sunday dinner with the family. How iconic is this spot? My mother-in-law instantly recognized the trademark packaging—and was delighted!
RELATED: 20+ Restaurants for Family-Friendly Outdoor Dining in NYC

This wall-to-wall candy shop is the stuff childhood dreams are made of.
This sweet shop—one of our favorite local candy shops—is every kid's dream come true. My daughter instantly reached for a rainbow lollipop bigger than her face! We love its wall-to-wall collection of candy and chocolates, plus its small vintage toy display.
If a classic New York cheesecake is on your list of must-eats (and trust us, it should be!), you can't go wrong with a visit to Junior's. These classic treats are fresh and fluffy with just the right combination of sweet and tart. We suggest making a day of it and heading to its original location on Atlantic Avenue in Brooklyn, where you can nosh on a full meal of diner-style comfort classics before tucking into a sweet treat.
RELATED: The 18 Most Insane, Must-Try NYC Desserts

Chocolate or vanilla buttercream? Frankly, we say both, and take home the Banana Pudding, at Magnolia Bakery.
This is the sweet treat that started the cupcake craze in NYC and for good reason. These cupcakes pair perfectly moist cake with a trademark swirl of sweet buttercream and the finest dusting of sprinkles. Just mentioning red velvet cupcakes makes me want to make a trek, but if you're not as married to your flavor, opt for the "Best of Magnolia Bakery" sampler pack. Another tip: Don't sleep on the banana pudding, which may actually be its most famous concoction among locals.
Zabar's – Upper West Side
Another classic, old-school NYC haunt, this store has been around for nearly 90 years. Shopping here is a pleasure thanks to its easy-going atmosphere and high-quality products. Of course, you must order a classic bagel and nova! For my taste, you can't go wrong with its artisanal breads either, which are always freshly baked. They've got tons more high-quality products from the cheese counter to the coffee collection.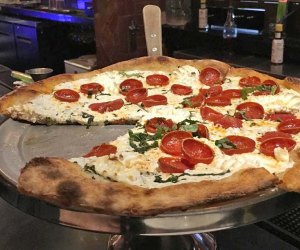 Dig into a huge pie at Lombardi's, America's First Pizzeria.
Branded America's First Pizzeria, Lombardi's has been slinging pies in Little Italy since 1905. Its combination of coal-oven fired pies, topped with fresh ingredients, makes for an out-of-this-world pizza. If you can't make it to the OG location, visit Lombardi's Trattoria in Brooklyn.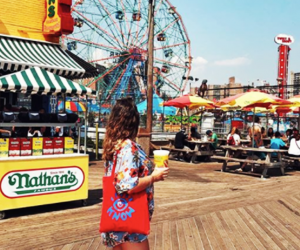 Head to the boardwalk for a dog at Nathan's Famous.
Nathan's – Coney Island, Brooklyn
Nathan's was founded at the corner of Surf and Stillwell in 1916, and quickly became the king of NYC hot dogs. It's well-known for its annual Fourth of July Hot Dog Eating Contest at the original location, and you can get your own dog there year-round. You can also find smaller outposts spread across the city, and even Nathan's Famous hot dog trucks parked on street corners. Of course, you've got to pair your frank with its famous crinkle-cut fries, too.
For authentic Italian ice, visit Uncle Louie G's. You can find ices, ice creams, cakes, and much more at these sweet shops. Enjoy a warm atmosphere that makes me feel like you are part of the family.
RELATED: Best High Tea Spots in NYC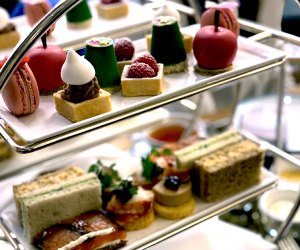 Indulge at the dessert tray at High Tea at The Plaza, like Eloise. Photo by Jody Mercier
If you want to feel like a princess, there may be no better place than high tea at The Plaza's Palm Court. This stunning hotel restaurant oozes with charm and sophisticated style. The staff is attentive, and the food is exceptional. Little ones will delight in the Eloise Tea, which comes complete with a swirl of "pink, pink" cotton candy.
If you like seafood, this is the place to go. Served fresh and with a long history, this is a Brooklyn tradition. Recipes have been passed down for generations, and visitors are constantly delighted by the food. It's fresh and delightful, reminiscent of grandma's kitchen, but with a few twists. I've never had better calamari or baked clams.
Eataly – Flatiron and World Trade Center
At this Italian market, guests can indulge in a variety of on-site restaurants and eat whatever their current mood desires from pizza to pasta. Walk the market and buy all the fresh ingredients necessary to duplicate that same dinner at home. From fresh pasta to baked goods, cheese, meat, fish, sweets, and produce, it's Italian food heaven. Don't forget to end your trip with some freshly made gelato for the kids, or an affogato for you!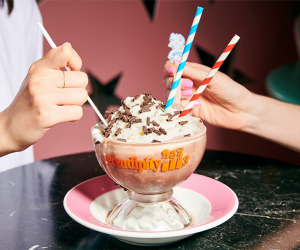 Sependipity3 delights kids with its eye-candy decor and Frozen Hot Chocolate.
Serendipity3 dubs itself a "New York City Experience," and it certainly delivers on that promise. This enchanting cafe is well-known for its "Frrrozen Hot Chocolate," but has plenty of other tricks up its sleeve, including one seriously indulgent sundae. Its cotton-candy colored walls, Tiffany chandeliers, and huge neon Pegasus decorating one wall make for some cool photo-ops while you nosh.
At 106 years old and counting, this shop is an NYC institution, as is the family that's kept it running for four generations strong. It's famed for its collection of smoked fish, caviar, and mouth-watering bagels. You'll also find everything from babka to bialys. In short, it's quintessential Jewish comfort food at its finest.
Unless noted, photos courtesy of the shops/restaurants