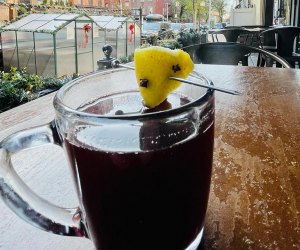 20+ Restaurants With Creative Outdoor Dining Setups For NYC Families to Enjoy
New Yorkers have proven their hardiness time and again in the 11+ months since the pandemic struck, altering nearly every aspect of city living, but perhaps nowhere is that hardiness more clearly on display than when it comes to eating out. These local restaurants have weathered the storm (literally and figuratively) with their creative outdoor dining setups, and New Yorkers have shown up day and night, in snow, rain, and under sunny skies to enjoy a night out, literally.
Though indoor dining is back on, and capacity increases again soon, these outdoor setups are sticking around, getting New Yorkers through the winter with a restaurant-quality meal, cool ambiance, and a tale for the ages—not to mention safety and comfort.
When we first published this piece, we featured 13 such spots, and now our list tops 20 family-friendly restaurants. We found creative outdoor dining setups in each of the five boroughs, where, in addition to warming up and replenishing, you may even discover a favorite new eatery to enjoy in your own backyard for years to come.
You can find more great family-friendly restaurant picks in our Restaurant Guide, and remember, these venues have faced a pandemic roller-coaster, so tip generously. If you prefer to stay in, consider ordering takeout or delivery instead from a local restaurant.
Editor's Note: While we are trying to promote safer activities that occur outdoors or with social distancing guidelines in place, please keep your family and others safe by always wearing a mask and maintaining an appropriate distance.
Many restaurants require reservations for their outdoor dining tables. Waitstaff and restaurant employees must wear masks at all times, while patrons ages 2 and up must wear masks whenever they are not seated at the table. You may be given single-use menus or be asked to use your phone to peruse the menu. Credit card payments may be required to minimize contact.
It's a good idea to visit each restaurant's website before stepping out to review any specific guidelines, too, and definitely bundle up. While these outdoor dining setups help, they don't quite manage to replicate the magic of indoor heating.
RELATED: Best Hot Chocolate Spots Around Manhattan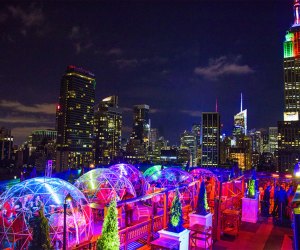 Enjoy a breathtaking view of the Empire State Building from the dining igloos at the 230 Fifth Rooftop.
Manhattan Restaurants With Family-Friendly Outdoor Dining
Normally, this swanky rooftop bar in the trendy Flatiron District caters to a 21+ crowd, but crazy times call for creative measures, which is why its heated, transparent igloos are open to all ages during brunch. If you want to have brunch, the options are limited, though no purchase is actually required to hang in an igloo and enjoy the view. Reservations can be made online.
The Chelsea Market is one of our favorite kid-friendly food halls, and the pandemic hasn't changed that. A trip here means everyone can have their pick of the food options and the outdoor dining setup is cozy, heated log lean-tos lining 15th and 16th streets. Plenty of space, plenty of choices, and plenty to do nearby make this an easy, family-friendly pick.
The Frederick Douglass Boulevard Alliance and Stella Artois have teamed up to bring a series of safe outdoor dining pods to one of Harlem's hottest dining districts, lining the entire FDB corridor with dining pods for restaurants Chocolat, Vinateria, Harlem Burger Co., Mess Hall, Double Dutch Espresso, Bixi Harlem, Silvana, and BLVD Bistro, which gives visitors plenty of outdoor options at any time of the day.
RELATED: What's Open Now in NYC For Kids?

Bella Ciao NYC's tasty pasta and friendly service warm even the coolest nights. Photo by Sara M.
You'll be treated like family at this Italian spot, which serves homey comfort food with a side of excellent customer service. They even let our pup hang out with us during dinner in the well-heated, well-ventilated outdoor dining setup. Its location in the heart of Little Italy means you can make a stop at Caffe Palermo's Cannoli King to grab dessert to-go when the kids have reached their limit.
5. Il Violino – Upper West Side
Dine curbside in Il Violino's cozy, heated outdoor dining enclosures, with festive decorations that change with the season. The family-owned Italian restaurant serves cozy fare that matches its setup, and there are plenty of kid-pleasing pastas on the menu. A prix fixe brunch menu is particularly appealing with little ones in tow, and the included cocktail is the icing on the cake.
RELATED: Sheet Pan Dinners Kids Love

Pier 17 has reinvented itself for cozy winter dining with its Cabins.
Lunch and dinner options are available seven days a week on the Rooftop at Pier 17, aka "The Greens," which is self-described as "upstate downtown." Appetizers, mains, and a kids menu featuring grilled cheese with fries or penne with tomato sauce, plus a slew of yummy, well-priced, seasonal treats are enjoyed in the well thought out and creative dining setup. Its heated cabins, which can accommodate up to 10 people, allow for contactless ordering and include virtual fireplaces, floor-to-ceiling views of downtown Manhattan, and a Molekule air filter. Reservations are released on Monday at 10am for the following week, so set a calendar reminder to snatch one!
This sophisticated downtown eatery worked with the city to close Pine Street, where it's assembled a yurt village offering patrons a chance to enjoy a meal with their pod. Yurts accommodate parties of 2-6. Visitors are required to order from a prix fixe menu; a special kids version is also offered. High chairs are available, and dinner reservations are taken beginning at 5pm. If you plan to bring little ones, we recommend an early meal as the scene grows more lively late in the evening.
RELATED: Public Art Lights up Downtown: Electric Dandelions, Talking Heads, and More Installations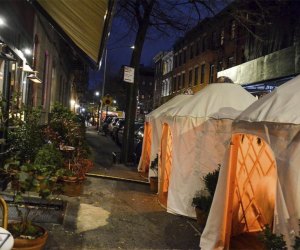 Dine in warmth in the cozy popup Yurt Village at Fairfax.
If you love the idea of dining in a yurt but would prefer a different location, Fairfax has got you covered—literally. It also provides regular outdoor seating if all the yurts are full. Most of its tables are covered by umbrellas or awnings. Amex cardholders do get priority access to yurts, so take advantage of this perk, and like Crown Shy, a prix fixe menu is the only option for the yurt. Temperature checks are required, and guests must leave contact tracing info for the party. Fairfax dubs itself an "all-day neighborhood cafe" and offers options from morning pastries and coffee to burgers and Old Bay tots in the evenings.
An all-day brunch menu at this farm-to-table spot is definitely a draw in our eyes. Enjoy pumpkin, blueberry, or apple pancakes (and plenty more) in its cozy outdoor seating. The wood structure is lit with twinkling lights and warmed with heaters. Plexiglass barriers keep parties separate from one another.
RELATED: 13 NYC Restaurants with Backyards and Patios for Kid-Friendly Dining

Lolo's Seafood Shack brings the flavor with its Caribbean-inspired fare.
The backyard at this Harlem eatery is a hidden gem and has long been a favorite for its easy, beachy vibe and menu to match. It's built a winter-ready enclosure to get us all through the chilly season while noshing on Caribbean-inspired seafood classics and dreaming of summer days.
This popular, long-standing French eatery enjoyed a bit of insta-fame with the installation of its "space bubbles" for outdoor dining. A wide-ranging menu includes plenty of classic French dishes no matter the time of day.
RELATED: NYC Kid-Friendly Restaurant Guide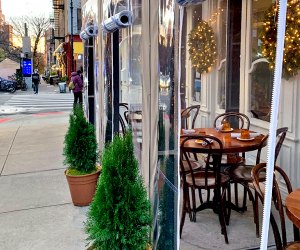 Haenyeo offers two types of outdoor seating options, including heated sidewalk seating. Photo by Chieun Ko-Bistrong
Brooklyn Restaurants With Family-Friendly Outdoor Dining
12. Haenyeo – Park Slope
Up to six people can enjoy Korean-style home cooking in private heated pods located just across the street from the main restaurant at Haenyeo. It also offers an outdoor dining setup where 75% of the heated space is closed, allowing a fresh, wintery breeze to accompany kid-friendly dishes like glass noodles, vegetable pancakes, handmade dumplings, and wings, served sauce-free for the spice averse.
If you're looking for a cool outdoor eating experience in the unabashedly hippest corner of Brooklyn, perhaps you'll enjoy French fare in a stunning "secret garden" at Le Crocodile, which boasts plenty of outdoor heaters to keep you warm while you dine. While its dinner fare may be too high brow for some petite New Yorkers, its breakfast and lunch menus are more approachable.
14. La Cigogne – Carroll Gardens
Tiny houses dot the exterior of this cozy French eatery in the heart of Carroll Gardens. Kids can go to town on bacon-topped mac-and-cheese and truffle french fries, while adults sip a lovely mulled wine and dine on more upscale delights.
RELATED: 8 Easy Mug Cake Recipes to Make with Kids

Slurp up some warming ramen at Ramen Danbo.
A cozy bowl of ramen is practically made for outdoor dining, and that's exactly want you'll find at this spot, which also has a West Village outpost. Your custom bowl of tonkatsu ramen can be slurped up inside your own heated tent.
16. Lea – Ditmas Park
Breakfast, lunch, and dinner are available in "the greenhouses" at Lea. The small, transparent huts are first come, first served, but staff can often accommodate same-day reservations with a quick phone call. High chairs are available. Smaller houses seat 2-4 people; larger houses seat up to six. Kid-friendly menu items include Margherita pizza, mozzarella sticks, and cottage fries with rosemary served alongside housemade garlic aioli and ketchup. It also has mini potpies, spaghetti with butter sauce, burgers, sandwiches, two fresh soups daily—a vegetarian option, and chicken soup. After your meal, peruse its market—indoors and out—for some take-home goodies, including homemade bread and pastries.
17. Hamilton's – Windsor Terrace
Hamilton's provides comfortable outdoor dining opportunities in its enclosed, heated patio and its open-street heated dining area, which offers each group its own enclosure. Plexiglas and curtains create cubicles where kids can enjoy hits like a 3-ounce mini-burger or grilled organic chicken breast sandwich with cheese and potato wedges. High chairs are available, and the amazing Greenwood Playground is just around the corner, making Hamilton's a sweet family destination.
RELATED: From Disney's Dole Whip to Ikea's Meatballs: 6 Secret Recipes Revealed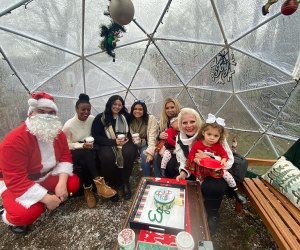 Meet Santa and indulge in banana splits, egg creams, malts, and milkshakes from the comfort of your igloo at Eggers Ice Cream Parlor.
Family-Friendly Outdoor Dining in Queens, the Bronx, and Staten Island
18. Eggers – Richmond Town, Staten Island
Save room for dessert, and stop by Eggers Ice Cream, one of our favorite sweet shops, where your family can indulge in treats inside your very own igloo. Ice cream flavors change with the seasons, and igloos can be reserved Thursdays through Sundays. Reservations last for 45 minutes and require a $30 fee to book, plus a $10 minimum purchase per guest. Each igloo accommodates up to eight diners. You can opt for its $10 prix fixe, including ice cream and a beverage, such as milk, soda, hot chocolate, or a juice box. Adults can enjoy a cappuccino or a latte. Igloos can be rented for parties or extended periods; reach out to Eggers for more information or make a reservation online.
Allow yourself to be whisked away to the Mediterranean with the outdoor dining setup at this beloved Greek restaurant on Astoria's main drag. A vine-draped enclosure lit with twinkling lights and adorned with space heaters over every table is a welcoming sight. The classic Greek cuisine is sure to please palates both old and young.
The Belmont Business Improvement District has created Piazza di Belmont on Arthur Avenue, providing outdoor dining in the street where, normally, cars would be zooming by. Child-friendly options at this Bronx spot include chicken parm and spaghetti and meatballs. High chairs are available. You'll find tables in the front with heating lamps, plus an enclosed patio in the back.
21. Blend – Astoria, Queens
Latin-fusion restaurant Blend has debuted its outdoor covered dining area, complete with brightly colored murals from a local artist. Decorated with palm trees, it's a beachy respite from winter's cold. Though no kids menu is advertised, kid-friendly offerings include grilled chicken strips, french fries, pasta, and quesadillas. Blend has high chairs and is stroller-friendly
Unless noted, all photos courtesy of the restaurants