17 Family-Friendly Restaurants with Outdoor Dining in NYC: Igloo Dining and More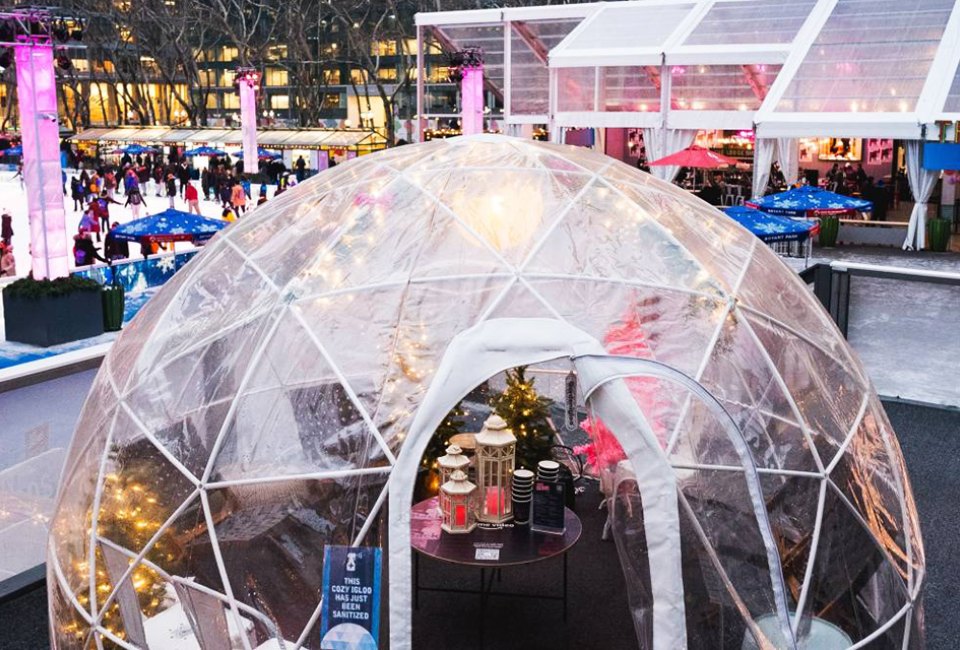 12/20/22
- By
Jessica Delfino
Though indoor dining has returned in full force, these family-friendly restaurants are still offering outdoor dining in NYC with an ambiance cool enough to keep them filled for a third winter season running. Here you can find a restaurant-quality meal enjoyed from the comfort of an igloo, shed, and more inventive setups, which all make for a memorable family night out.
You can find more great spots for dining out with kids in our Family-Friendly NYC Restaurant Guide.
Subscribe to our newsletters to get stories like this delivered directly to your inbox.
Before heading out, keep in mind: Many restaurants require reservations for outdoor dining. Igloo dining in NYC has quickly become a popular winter activity, so plan ahead to ensure you get that igloo experience you've been looking for.
It's a good idea to visit each restaurant's website to review any specific guidelines, too, and definitely bundle up. While these outdoor dining shelters help, they don't quite manage to replicate the magic of indoor heating.
RELATED: Best Hot Chocolate Spots Around Manhattan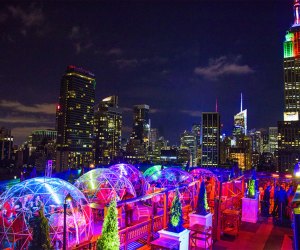 Enjoy a breathtaking view of the Empire State Building from the dining igloos at the 230 Fifth Rooftop.
Manhattan Restaurants With Family-Friendly Outdoor Dining
Normally, this swanky rooftop bar in the trendy Flatiron District caters to a 21+ crowd, but its heated, transparent igloos are open to all ages except for Friday and Saturday nights after 7pm. This year, the igloos at 230 Fifth are available for walk-in use only. Purchase your drinks—food is only served indoors—from the rooftop bar and nab a seat while you sip. Be forewarned, the igloos are a shared experience, and you may have other visitors in the transparent dome with you. Dress warmly, even though the igloos are heated. If you're in the market for a private igloo, it's going to cost you $2,500 in food and drink credits, but you can host up to 25 people.
The Chelsea Market is one of our favorite kid-friendly food halls. A trip here means everyone can have their pick of the food options and the outdoor dining setup is cozy, heated log lean-tos lining 15th and 16th streets. Plenty of space, plenty of choices, and plenty to do nearby make this an easy, family-friendly pick.
RELATED: 18 Family-Friendly Food Halls in NYC for an Easy, Delicious Meal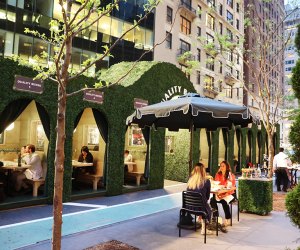 Quality Bistro has an enchanting outdoor dining setup.
The Quality Brand of restaurants, including Quality Eats, Quality Bistro, and Quality Meats has set up sophisticated, whimsical outdoor dining cabins, huts, and booths that will have you eating in style. The outdoor dining booths at Quality Eats are entirely covered with little green petals evoking a winter garden. At Quality Meats, enjoy your steak in a rustic, woodsy cabin with velvet curtains that you can leave open or draw closed for extra privacy.
This popular, long-standing French eatery enjoyed a bit of insta-fame with the installation of its "space bubbles" for outdoor dining early in the pandemic. They've continued the tradition, and outdoor dining at Cafe du Soleil has become a staple at this Upper West Side eatery. A wide-ranging menu includes plenty of classic French dishes no matter the time of day.
5. Il Violino – Upper West Side
Dine curbside in Il Violino's cozy, heated outdoor dining enclosures, with festive decorations that change with the season. The family-owned Italian restaurant serves comforting fare that matches its setup, and there are plenty of kid-pleasing pastas on the menu. A prix fixe weekend brunch menu is particularly appealing with little ones in tow, and the included cocktail is the icing on the cake.
RELATED: NYC Kid-Friendly Restaurant Guide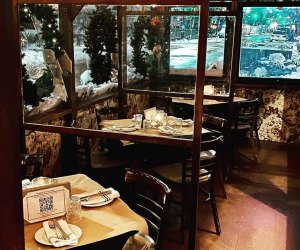 Friend of a Farmer's charming outdoor dining shields visitors from the elements.
An all-day brunch menu at this farm-to-table spot is definitely a draw in our eyes. Enjoy pumpkin, blueberry, or apple pancakes (and plenty more) in its cozy outdoor seating. The wood structure is lit with twinkling lights and warmed with heaters. This outdoor seating is both cozy and family-friendly making this a great spot to bring the kids.
This Michelin-starred Italian restaurant is a neighborhood favorite. Inspired by family recipes, owners Angie and Scott have created a modern, Italian-American restaurant that has won rave reviews and awards. For the diners wishing to sit outside, Don Angie has self-contained, heated cabin seating on the roadway. Each cabin has curtains you can close to keep out the wind and cold. Reservations are highly recommended and can be booked up to a week in advance.
Cozy Igloo dining has arrived at Bryant Park's Winter Village. Each igloo dining session is reserved for 1 1/2 hours. All igloos are heated, and igloo dining options include delicious nibbles such as gourmet popcorn, french fries, and Bavarian pretzels. On really cold days, cozy up in the igloo with some hot chocolate or hot apple cider. Packages start at $215.
RELATED: 15 Manhattan Restaurants with Backyards and Patios for Kid-Friendly Dining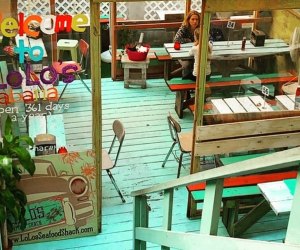 Lolo's Seafood Shack brings the flavor with its Caribbean-inspired fare.
The backyard at this Harlem eatery is a hidden gem and has long been a favorite for its easy, beachy vibe and menu to match. It's built a winter-ready enclosure to get us all through the chilly season while eating Caribbean-inspired seafood classics and dreaming of summer days.
If you love the idea of dining in a yurt, Fairfax has got you covered—literally. It also provides regular outdoor seating if all the yurts are full. Most of its tables are covered by umbrellas or awnings. Fairfax is an "all-day neighborhood cafe" and offers options from morning pastries and coffee to burgers and Old Bay tots in the evenings.
Family-Friendly Brooklyn Restaurants with Outdoor Dining
11. Haenyeo – Park Slope
The whole family can enjoy Korean-style home cooking in private heated pods located just across the street from the main restaurant at Haenyeo. It also offers an outdoor dining setup where 75% of the heated space is closed, allowing a fresh, wintery breeze to accompany kid-friendly dishes like glass noodles, vegetable pancakes, handmade dumplings, and wings, served sauce-free for the spice averse.
12. Ten Hope – Williamsburg
The lights are magical at this Brooklyn restaurant. You can warm up with heated igloo dining while you enjoy bottomless brunch or another meal here. If you're dining with young kids, we recommend the Greek buttermilk pancakes. Mediterranean fare is their specialty, so come with an appetite.
13. Hamilton's – Windsor Terrace
Hamilton's provides comfortable outdoor dining opportunities in its enclosed, heated patio and its open-street heated dining area, which offers each group its own enclosure. Kids can enjoy hits like a 3-ounce mini-burger or grilled organic chicken breast sandwich with cheese and potato wedges. High chairs are available, and the amazing Greenwood Playground is just around the corner, making Hamilton's a sweet family destination.
14. Nowadays – Bushwick/Ridgewood
Warm up with ramen in Nowaday's garden which has been winterized with illuminated yurts and heated tables with fire pits. There are two types of ramen offered—one made with traditional tonkatsu and the other a veggie option. You can also nosh on other Japanese-inspired dishes like blistered shishito peppers, a wagyu burger, and an izakaya tempeh sandwich. Reservations are highly recommended.
RELATED: From Disney's Dole Whip to Ikea's Meatballs: 6 Secret Recipes Revealed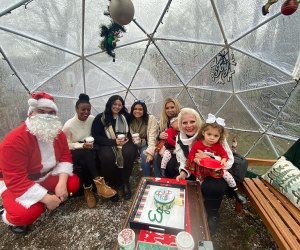 Indulge in banana splits, egg creams, malts, and milkshakes from the comfort of your igloo at Eggers Ice Cream Parlor.
Restaurants with Outdoor Dining in Queens and Staten Island
15. Eggers – Snug Harbor, Staten Island
Save room for dessert, and stop by Eggers Ice Cream, one of our favorite sweet shops, where your family can indulge in treats inside your very own igloo. Igloos are located at 1000 Richmond Terrace and are rented by the hour. They also make an over-the-top spot to host a party, but take note that outside food and drinks are prohibited. Up to 8 people, including children, can occupy one of the igloos.
Allow yourself to be whisked away to the Mediterranean with the outdoor dining setup at this beloved Greek restaurant on Astoria's main drag. A vine-draped enclosure lit with twinkling lights and adorned with space heaters over every table is a welcoming sight. Classic Greek cuisine is sure to please palates both old and young.
17. Blend – Astoria, Queens
Latin-fusion restaurant Blend has debuted its outdoor covered dining area, complete with brightly colored murals from a local artist. Decorated with palm trees, it's a beachy respite from winter's cold. Though no kids' menu is advertised, kid-friendly offerings include grilled chicken strips, french fries, pasta, and quesadillas. Blend has high chairs and is stroller-friendly
Unless noted, photos courtesy of the restaurants
t Click Here to Sign Up!