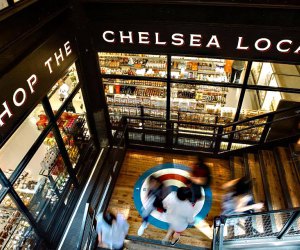 12 Fun Things to Do with Kids in Chelsea Market
Chelsea Market, an enormous food hall and marketplace located in the former factory that was the birthplace of the Oreo cookie, has a little something for everyone, from fancy chocolates to grilled cheese. The building's unique architecture and convenient location near the High Line make it a popular NYC shopping and eating spot. But one of the best things about shopping at Chelsea Market is that you don't have to worry about anyone leaving with an empty stomach. Even the pickiest eaters can find something they love among the bakeries, pizza shops, and burger joints inside.
If want to introduce your kids to a variety of delicious foods from around the world—or you're just looking for an indoor activity (that's not another indoor play zone or museum), there is enough here for a fun afternoon or morning outing. Pro tip: It's best to avoid lunchtime when it is really crowded, or better yet try a weekend morning when the place is a ghost town. Here's what to taste, see, and do at Chelsea Market with kids.
1. Go on a scavenger hunt for history. Because the building was originally home to the bakeries of the National Biscuit Company, where the famous Oreo was conceived, you can find remnants of its delicious past around practically every corner. Kids will love playing detective to scout the vintage advertisements painted on the walls, the display cases full of Nabisco history, and the industrial objects repurposed as lighting fixtures and artwork.
2. True to the building's history, it should come as no surprise that there are plenty of yummy bakeries on the premises. Sample sandwiches, cookies, bagels and more at Davidovich, Sarabeth's or Amy's Bread.
OUR LATEST VIDEOS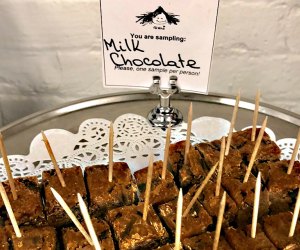 It's hard not to buy a brownie after a tasting a sample from Fat Witch Bakery.
3. Drop by Fat Witch Bakery for a free brownie sample that is sure to hit the spot. Parents can pair that chocolate goodness with a shot of Ninth Street Espresso.
4. Dig into the children's section at Posman Books, a colorful and comfortable corner with lots of seating and plenty of room for little legs to roam.
5. Health-conscious eaters should know it's not all cookies and cheese at Chelsea Market: Stop for a snack at Nutbox, which offers a selection of dried fruit, nuts, and granola.
6. Check out the selection of quality fruits and vegetables at Manhattan Fruit Market. If you and your little ones are feeling adventurous, why not try something new?
7. Whether you prefer a cup or a cone, you'll love cooling off with some of the artisanal gelato at L'Arte del Gelato.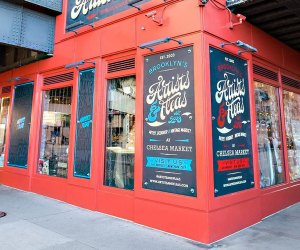 Artists and Fleas has an eclectic collection of goods to comb through.
8. See what's new at Artists & Fleas, a marketplace loaded with over 150 vendors selling an assortment of vintage items and unique designs. You won't want to leave without picking up something for yourself and your mini.
RELATED: 50 Fun Things to Do with Kids in Chelsea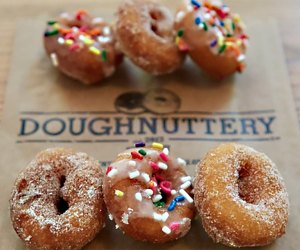 These tiny doughnuts are perfect for little hands!
9. Dip a doughnut from Doughnuttery in one of their unique sweet sauces. The doughnuts are small, so you won't have to feel bad about having more than one!
RELATED: Best Family-Friendly Restaurants in NYC Now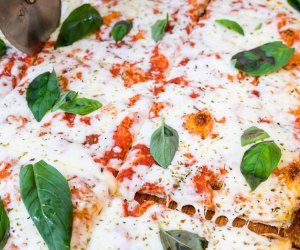 Find the perfect Margherita pizza at Filaga.
10. Stop for a square slice at Filaga, the place for authentic Sicilian pizza made fresh daily.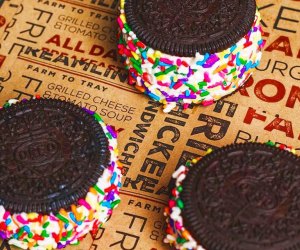 Chelsea Creamline offers up savory and sweet deliciousness!
11. From burgers to griddled PB&J, your kids will love the grub at Chelsea Creamline. You'll love that the menu is made with local ingredients.
12. Take a walk along the Chelsea Market Passage, a covered walkway portion of the Highline which connects Chelsea Market to the 14th Street Passage. Emerge and enjoy stunning views of the city.
Chelsea Market is located at 75 Ninth Avenue at 15th Street, and is open Monday to Saturday 7am to 10pm, Sunday 8am to 8pm.
Photos courtesy of Chelsea Market