Chelsea With Kids: 50 Fun Things to Do in This NYC Neighborhood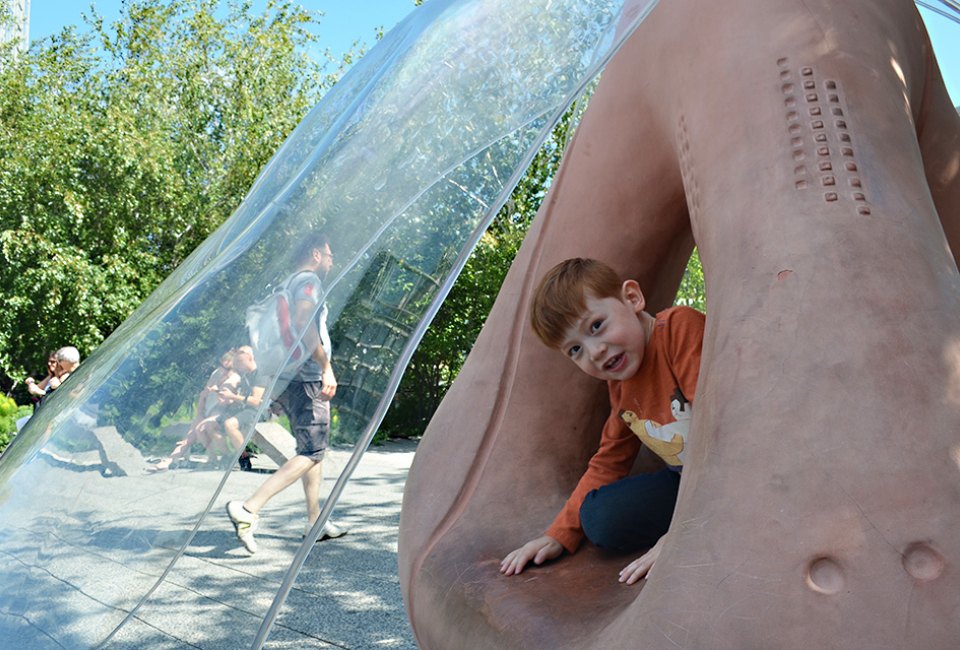 6/18/19
- By
Stephanie Ogozalek
Chelsea attracts locals and tourists alike with its rows of charming historic townhouses, great restaurants, and top NYC attractions like The High Line, Chelsea Market, and the Whitney Museum.
The neighborhood has changed a lot over the past few decades. Back in the '80s, its streets were rundown and desolate, but in the '90s an influx of artists and gay professionals helped kick-start the area's transformation. Today, parents know it as a high-end neighborhood with fantastic amenities. You'll find megastores on the avenues and high-end children's (and pet) boutiques on the side streets; eclectic art galleries, massive athletics complex Chelsea Piers, and popular indoor and outdoor romping spots like apple seeds, Chelsea Waterside Park, Seal Park, and more.
Although Chelsea's boundaries are difficult to define, we'll cover the area from 14th to 30th Streets, between Fifth Avenue and the Hudson River. With those boundaries set, here are our top 50 things to do with kids in the neighborhood. Find more Manhattan neighborhoods to explore, or see our Visitors Guide for the best of NYC for families.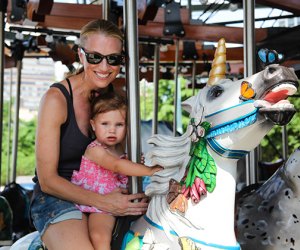 Kids love the sweet carousel at Pier 62.

1. Take a spin on the hand-carved wooden animals on the Pier 62 Carousel.
2. Drop in to the indoor toddler play gym at Chelsea Piers.
RELATED: 19 NYC Hotels With Serious Perks for Families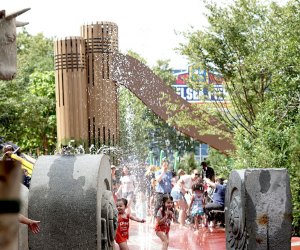 Cool off in the water area at Chelsea Waterside Park. Photo by Jody Mercier
3. Clamber up the artsy pipefish jungle gym at the newly renovated Chelsea Waterside Park.
4. Take a nature walk two stories above street level on The High Line, and regale your kids with stories of how it used to be a run down, worn out rail track.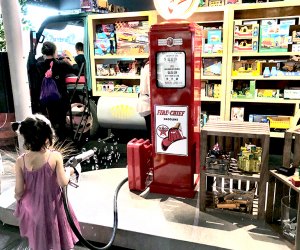 Fill'er up at CAMP. Photo by Janet Bloom
5. Explore the funky wares and interactive play areas at CAMP Store.
6. Make a difference with your outgrown strollers, high chairs, or other gently used baby gear by donating to Room to Grow.
7. While away an afternoon exploring shops and sampling delicacies in the Chelsea Market.
8. Stroll the tree-lined brownstone blocks in the Chelsea Historic District.
9. Check out the big black archway on Pier 59 to see traces of the infamous White Star Line, the company behind the Titanic.
10. Enjoy some of the best trick-or-treating in town in the West 20s on Halloween.
11. Check out the contemporary art at the Whitney Museum of American Art, which rises on the southern edge of the High Line and offers breathtaking views outside and awe-inspiring art inside.
12. Learn about Asia's diverse art and cultures during family workshops at the Rubin Museum of Art.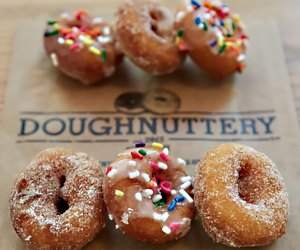 Doughnuttery has the perfect size doughnuts for kids. Photo courtesy of Doughnuttery
13. Embark on a donut crawl. Favorite donut shops in the neighborhood include outposts of the Doughnut Plant and DOUGH, as well as more traditional confections at The Donut Pub and melt-in-your-mouth, bite-sized treats at Chelsea Market's Doughnuttery.
14. Peek into the Hotel Chelsea, former home to the likes of Bob Dylan, Janis Joplin, Patti Smith, and Iggy Pop.
15. Sign up for an art class or hit an open-play session at Kids at Work.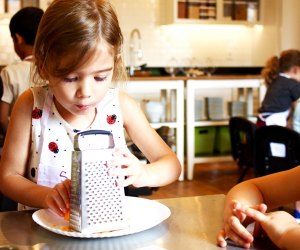 Learn some new kitchen skills at Taste Buds Kitchen. Photo courtesy of Taste Buds Kitchen
16. Watch your kids cook up yummy eats at Taste Buds Kitchen.
17. See skaters grab big air at the Pier 62 Skatepark.
18. Marvel at the optical illusions at the mind-bending Museum of Illusions.
19. Knock down the pins at Bowlmor Chelsea Piers, try your hand at the on-site laser tag arena, or get some air on the aerial ropes course.
20. Hit the McBurney YMCA for family swim time.
RELATED: Best Indoor Play Spaces and Kiddie Gyms in Manhattan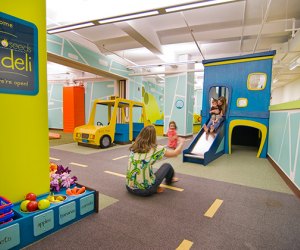 Play the day away at apple seeds indoor play space. Photo courtesy of apple seeds
21. Register for a class at apple seeds, or become a member for access to its adorable indoor playground.
22. Meet celebrated children's authors and attend weekly storytimes at kid-lit mecca Books of Wonder.
23. Go ice-skating year-round at Chelsea Piers' indoor Sky Rink.
24. Spend the afternoon visiting Chelsea's famous art galleries.
25. Pack a picnic and head for the grassy expanses between Piers 62 and 63 in Hudson River Park.
26. Pick up a cool costume or novelty item at the Abracadabra Superstore.
27. Cool off in the sprinklers at Seal Park, officially called Clement Clarke Moore Park.
28. Hunt for Tom Otterness' whimsical figures on the 14th Street A, C, E, and L subway platforms.
29. Watch a cutting-edge dance performance at the legendary Joyce Theater.
30. Enjoy storytime in the children's room of the historic Muhlenberg Library.

Who wouldn't smile during a cake decorating class at NY CAKE. Photo by Jody Mercier
31. Restock your baking cabinet with a trip to NY CAKE or channel your inner pastry chef with a cake decorating class at its on-site NY CAKE Academy.
32. Enter the lottery for free swimming lessons at the Chelsea Recreation Center.
33. Practice your swing at the Chelsea Piers batting cages.
34. Or let your kids climb the walls at its climbing gym.
35. Splash around the interactive water table at indoor play space City Treehouse.
36. See talented local kids in awesome, original musicals at TADA! Youth Theater.
37. Peruse the carefully curated toys and gifts, and play at the train table at Kidding Around.
38. Gaze at beautiful blooms and plants in the Flower District on Sixth Avenue.
39. Explore the Asian wares at the legendary Pearl River Mart, which has an outpost at Chelsea Market.
40. Run around Penn South Playground, known by locals as Sandbox Park.
41. Try circus yoga for the whole family at Karma Kids Yoga.
42. Indulge in a creamy, frothy cup of hot chocolate at the City Bakery. We dare you to resist the giant chocolate chip cookies. Visit in February when the spot's annual hot chocolate fest means a different specialty flavor daily.
43. Let your kid twist themselves in silks during an aerial Fly Kids class at Body & Pole.
44. Enjoy a scoop or gelato or an affogato (for mom!) at while perusing Italian specialties at Eataly.
45. Stock up on all of your new-parent needs at megastore Buy Buy Baby, or pop into the "Mothers Room" for pumping and nursing on the go.
RELATED: Exploring Chinatown with Kids: Best Eats, Shops, and Play Spots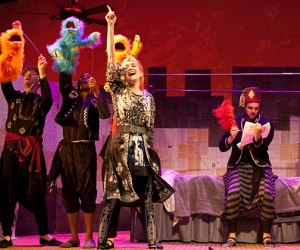 Catch a show at Atlantic for Kids. Photo courtesy of the theater
46. See a show by one of the best children's theater companies in the city, Atlantic for Kids.
47. For a less-crowded, and equally tasty, alternative to the Chelsea Market, visit the nearby Gansevort Market with kid-pleasing picks like ooey-gooey cookies from Chip NYC and Milk & Cookie Cereal Bar.
48. Grab brunch at fancy, family-friendly diner The Dish.
49. Pick up a scrumptious cupcake for dessert at Billy's Bakery.
50. Laugh it up at a Kids 'N Comedy stand-up matinee at Gotham Comedy Club.
Once you've covered all the fun Chelsea has to offer, check out the rest of our Neighborhood Guides and explore all the family-friendly fun city wide.
A version of this article first published in 2012, but it has since been updated. Jody Mercier contributed additional reporting.