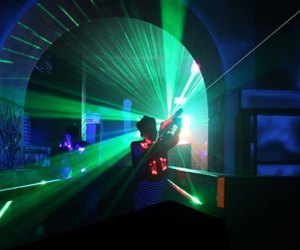 5 Must-Try Laser Tag and Paintball Arenas for NYC Kids
Are your big kids bored of bowling? Not quite ready for the zip line? Consider laser tag or paintball, both fun party options and action-fueled activities you can find right here in NYC.
For the uninitiated, laser tag is a high-energy game of tag meets hide-and-seek that's played with infrared laser guns in a darkened arena. Paintball pelts participants with small dye pellets. The object of both games: Get to your opponents before they get to you out by strategically shooting, running, and hiding from cover to cover. Don't worry, the laser guns emit harmless, invisible rays that register a "kill" by lighting up a spot on your adversaries' vests and paintball pellets might sting for a few seconds, but there's no long-lasting effects.
Check out one of these five fast and furious laser tag and paintball spots.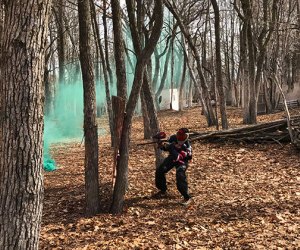 At Cousins Paintball kids chase and dodge opponents at an outdoor arena.
2727 Arthur Kill Road
The only exclusive paintball facility in NYC, this Staten Island spot has an outdoor paintball arena where guests can play on a variety of different themed fields. Organizers recommend not bringing kids younger than 10, though they have hosted parties for kids as young as 7. One option for the kid-set: Splat ball; a twist on the traditional game that uses a spring-loaded gun for a lower impact. Be forewarned: This spot is weekends only, though parties of 10 or more may rent out the facility seven days a week. Reservations are recommended on the weekends, though not required.
3555 Victory Boulevard near Crane Street
A modest laser tag course is just one of many attractions at this one-stop romping spot that's been around since the 1980s. Video games, batting cages, small carnival rides, ball courts, a virtual reality simulator, and a gated toddler area are also offered. Check Fun Station's website for cool coupons to snag unlimited laser tag deals.
Funtopia USA – Middle Village, Brooklyn
Metro Mall-Middle Village, 66-26 Metropolitan Avenue
This old-school arcade and play center offers a black-light laser tag game called Laser Runner. There are lots of additional attractions including a three-level play structure, indoor bumper cars, a bowling alley, and video games. Parking is complimentary, and admission includes a voucher for a FREE return visit.
Area 53 - DUMBO/Williamsburg, Brooklyn; Hunts Point
53 Bridge Street/616 Scholes Street/222 Tiffany Street
Area 53 NYC is home to a ton of action-packed adventures spread over three locations in two boroughs, including laser tag and indoor and outdoor paintball. The laser tag arena is lcoated in a cavernous, refurbished Dumbo factory where there's plenty of space to run and shoot. There's no age requirement although you have to be at least 3-feet-4-inches. You can play indoor paintball at Area 53's Williamsburg location or outdoor paintball in Hunts Point in the Bronx, which offers 65,000 square feet of outdoor space to run around and wage your paintball battle. You must be at least 8 years old to play indoor paintball and 12 years old to play outdoor paintball. Reservations are highly recommended.
A version of this article first published in 2015, but it has since been updated.
Top photo: Bowlmor Laser Tag. Photos courtesy of the venues