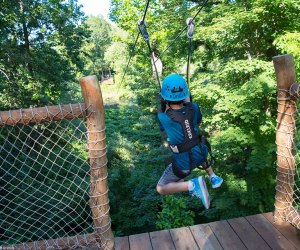 Adventure Parks, Zip Lines, and Ropes Courses Near NYC
While New York City might not be the epicenter of adventure parks, it's making strides in adding some exciting courses to its ranks. We're particularly fond of the Bronx Zoo's Treetop Adventure, and a seriously high-flying outdoor zip line in Queens. Meanwhile, just outside the city limits, there are dozens of ropes courses and zip line courses to explore.
So, pencil in a visit to one of these mostly seasonal spots before the winter weather hits and make sure to see our pieces on 25 outdoor adventures for NYC kids and 25 ways city kids can get their hands dirty.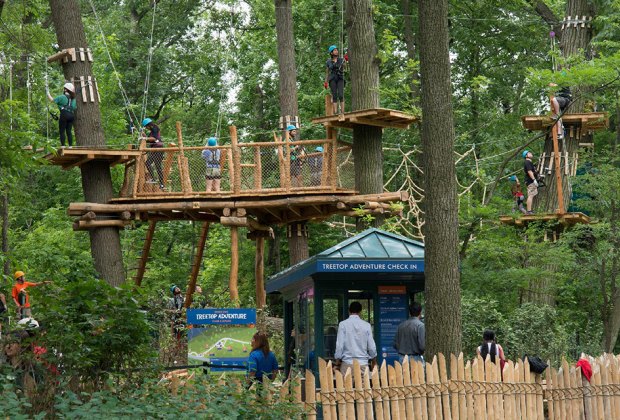 Challenge yourself on ropes courses that range from beginner to expert at the Bronx Zoo's Treetop Adventure. Photo courtesy of NYCgo
Note: Most of these parks are seasonal, closing outdoor courses for the cold and snowy winter months and reopening in the spring. Please call ahead to confirm hours and book tickets, and pay careful attention to height and age requirements, as well as the dress code, which usually includes closed-toe shoes. Expect to wear a mask and practice social distancing, too.
Adventure Courses and Zip Lines in NYC Parks
Ages 7 and up, between 50 and 275 lbs, able to reach 5-foot-6 with feet on the ground
This ropes course at the Bronx Zoo includes a zip line that travels 400 feet across the Bronx River and back at a height of 50 feet (!). Best of all? It's located right next to the best zoo anywhere. Find out everything you need to know with our detailed Bronx Zoo Treetop Adventure review. Little ones aren't totally left out: There's a smaller Nature Trek inside the Bronx Zoo.
RELATED: Rock Climbing Walls for New York City Kids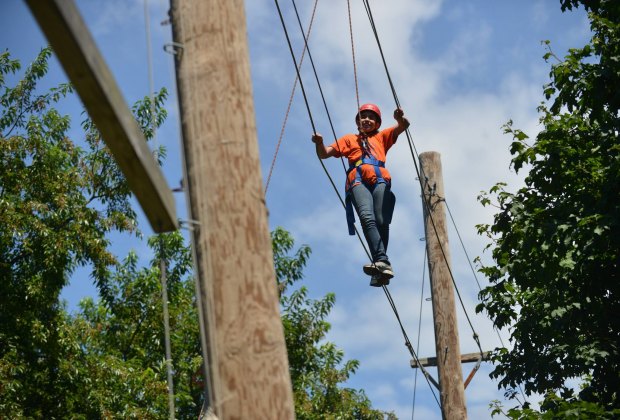 Climb high on the ropes course at Alley Pond Park Adventure Course. Photo courtesy of NYC Parks
2020 update: The Alley Pond Adventure course is closed for the 2020 season.
Ages 8 and up
Alley Pond Park is famous for its amazing educational programs—and an increasingly famous, top-notch Adventure Course. The course includes a zip line, a "Trust Fall" station, a climbing and bouldering wall, swings, nets, and balance stations. Because the Adventure Course is so large, it can accommodate all abilities. Best of all, Sunday programs from May through October are FREE for families. High demand during July and August means families must register through a lottery. All children must be accompanied by an adult.

Scale the climbing wall at Adventures on Governors Island.
2020 update: Adventures on Governors Island is closed for the 2020 season.
All ages, but height requirements vary for some features.
Enjoy this cool zip line and climbing tower to delight all kids, not just those who meet height requirements. There's an all-ages, 3,600-square-foot maze, too, that's also part scavenger hunt, part spelling bee. Plus, it's on Governors Island.
Nearby Adventure Parks, Zip Lines, and Ropes Courses
Ages 5 and up
While the Discovery Museum is an "adventure in art and science," the 5-acre aerial adventure park behind it offers more visceral thrills, including a Charlotte's Web feature with a labyrinth of features launched from a separate platform and aimed at the 5 to 7-year-old-set (but not limited to them only). Befitting its link to a museum, this adventure park also hosts special Arbor and Earth Day events. Other special experiences include nighttime Glow in the Park climbs. That's all in addition to 13 trails (coded by levels of difficulty), 23 zip lines, and almost 180 challenge bridges. Our Connecticut Mommy Poppins team visited a couple of years ago and had a blast. Sessions are three hours long, and reservations are strongly suggested.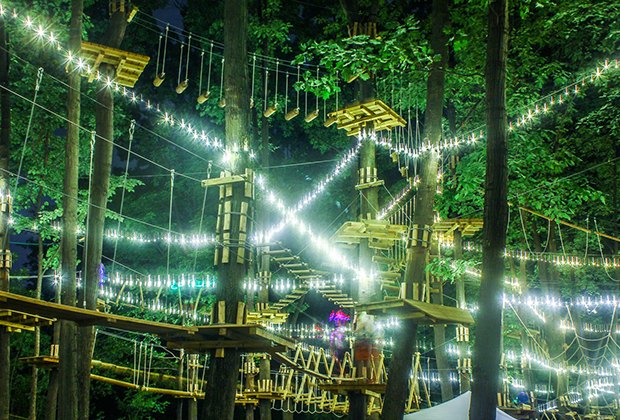 The Adventure Park at Long Island offers magical "glow" nights during the summer.
Ages 7 and up
This Long Island course is barely an hour from Midtown (closer if you're in Brooklyn or Queens). It bills itself as a "forest climbing park" where visitors can climb and zip among the trees. The focus is on self-discovery. Guides are available and are happy to assist, but you're encouraged to explore what interests you after you receive your safety orientation. Aerial "trails" stretch from tree to tree, and each provides a new type of challenge. There are 22 zip lines, 11 trails, and more than 100 "challenge bridges." Everyone in your group can pursue appropriate activities because there are five color-coded levels of difficulty.
Children under the age of 14 must be accompanied by an adult.
In addition to America's largest indoor water park and an outdoor water park, this resort just added the Gorilla Grove Treetop Adventures to its list of attractions. The Gorilla Express train takes visitors to and from the new adventure course along with the Legends of the Lost Jungle Mini-Golf and zip lines.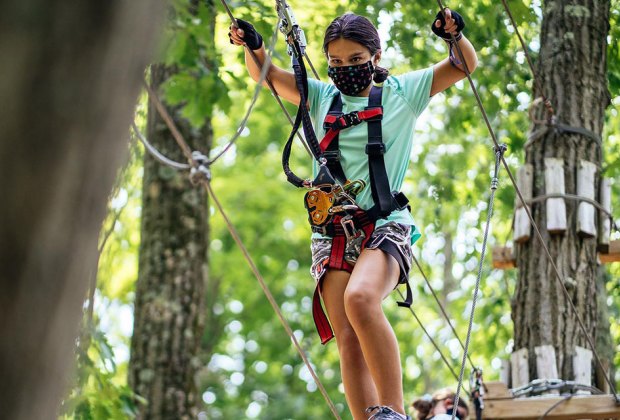 Mountain Creek's adventure park adds to its appeal as an all-seasons destination.
Must be at least 48 inches tall and weigh at least 60 pounds.
About an hour and a half from New York City, this ski resort is a great place for year-round fun (you may recall its '80s heyday as Action Park). It may genuinely have everything kids think is fun—a bike park with mountain trails, a water park, zip lines, and now an aerial ropes course. The zip lines are open year-round (and take you to the tubing park in winter), so families can enjoying swooping high over a mountain-top lake through all four seasons. To participate, kids must meet the height and weight requirements and carry a 10-pound trolley through mountainous terrain. Reservations recommended.
RELATED: Family Amusement Parks & Water Parks Guide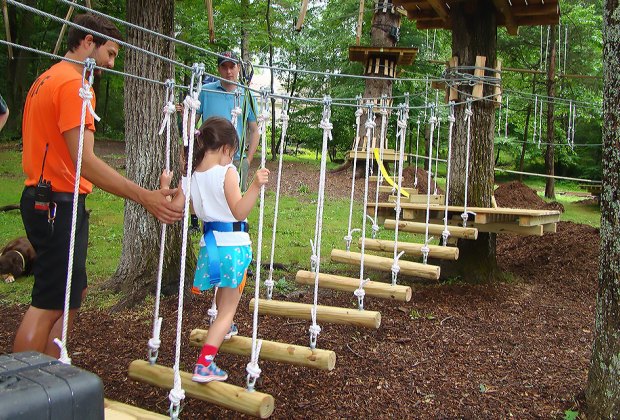 The Pocono TreeVentures & Pocono Zip Racer offers thrills for preschoolers to big kids.
Ages 4 and up
Want to tailor a course to your ability? This is the place for you! You can choose from swaying bridges, tree swings, and tightrope walks. Two visitors can race on the zip lines, and then tackle "tree climbing walls." Pocono TreeVentures is geared to kids ages 4-7, but older and more advanced kids can tackle a series of zip lines connected by bridges and ladders. It's about an hour and a half drive from New York City.
Ages 6 and up
Located next to the popular New Jersey zoo, this recently-expanded aerial park (the adults-only zip line measures over a football field in length) also offers junior courses: 15 unique challenges with an average run time of 30 to 45 minutes. Parents are welcome to join their kids on the smaller elements. It's a one-hour drive from New York City and, while walk-ups are permitted, reservations are suggested. Take little ones to the zoo, while the big kids zip along, or tempt them with the nearby playground and nature trails.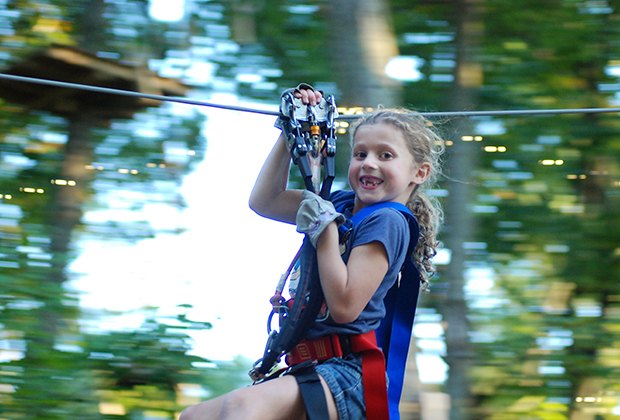 Cruise through the trees on a zip line at Camelback Mountain Adventures.
2020 update: The Camelback Mountain Adventures TreeTop course is currently closed; no firm reopening date has been set. Guests can take advantage of the resort's pair of zip lines, mountain coaster, and Segway tours.
Children must reach a height of 4 feet and 10 inches with their feet flat on the floor, and one arm raised to participate.
About an hour and 45 minutes away from New York City, this park is specially designed for fun-loving types because it offers zip lines, adventure courses, and mountain rides like the Appalachian Express Mountain Coaster. Even better, two sections of the park are reserved for smaller children. Reservations are strongly suggested. A stay at the resort isn't required, but an overnight might free you up to visit the water park, too!

The indoor Palisades Climb is open for adventures year-round.
More Adventure Parks Nearby
We've mentioned a few favorite spots above, but the greater NYC metro area is loaded with adventure parks, especially if you're willing to drive a bit further. We loved the zip line fun at Hunter Mountain. If you're staying in the Hudson Valley, there's an outdoor ropes course in Peekskill, overlooking the water: Spins Hudson. For indoor picks, don't miss the Palisades Climb, the 85-foot, five levels of ropes courses at the Palisades Center in West Nyack, New York. At the Jersey Shore, Jenkinson's Boardwalk includes a mini zip line with a complimentary sea breeze.
Unless noted, photos courtesy of the parks/venues
A version of this article was published in 2018, but it has since been updated.