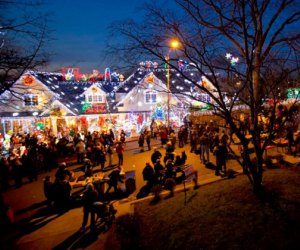 Must-See Christmas Lights in NYC's Five Boroughs
Manhattan may have the glamorous department store holiday windows, but when it comes to private homes decked out for the season, the outer boroughs have it beat. We're not talking about a few strings of twinkling lights and a blowup Santa. Why, these holiday houses are so well-lit, it's amazing they don't cause power blackouts.
We've written about some of these Christmas houses in the past, but here we have photos, precise addresses, a map, and in some cases the stories behind these destination displays that make the schlepping worthwhile—we know, we've schlepped. Considering most are in the far-flung reaches of Brooklyn, Queens, the Bronx, and Staten Island, you really need to drive. If you want to avoid the crowds and traffic jams, go early in the evening on a weekday. These places tend to get busy on weekends.
You can find even more seasonal fun in our Holiday Guide as well as posts on amazing holiday displays on Long Island, in New Jersey, Hudson Valley, and Connecticut.
Best Holiday Lights in Queens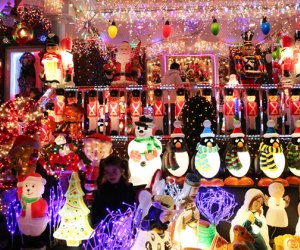 Almost every inch of Kevin Lynch's house is decorated with holiday lights and displays. Photo by Shira Kronzon.
Drive through Whitestone and Bayside and you'll find plenty of cute homes. But Kevin Lynch's house, aka Santa's Corner, at the intersection of 166th Street and 23rd Avenue in Whitestone, is truly spectacular. Every inch is illuminated or decorated with lights and figures, and there's even a glass display case filled with vintage miniature carousels, swings, and other animatronic toys. Lynch, a retired firefighter and old-school New Yorker, won the $50,000 prize on ABC's The Great Christmas Light Fight in 2013, and, of course, used the money to improve his display. Lynch buries the wires under the lawn so you can gawk at the decorations up close without tripping. You can read more about Lynch and his family in this New York Post profile. Remember to bring a few bucks when you visit: Lynch accepts donations on behalf of the local nonprofit St. Mary's Healthcare System for Children. The lights generally shine through the first week of the new year.
OUR LATEST VIDEOS
You'll find many other great holiday displays driving around Whitestone not far from Lynch's house. Likewise, in years past, I've adored a house at 212th Street and 32nd Avenue in Bayside. The owners set up candy canes and figures across their front lawn. Rather than strings of lights, they project colored lights onto their house, a really neat (and easy) effect that ties it all together. It may not be the most elaborate display, but it makes for great photos.
A reader also recommends nearby 214th Street and 56th Avenue in Bayside as another holiday lights hot spot.
A short drive away in Jamaica Estates, you'll find Anthony Gurino's display. Located at the intersection of 80th Drive and Chevy Chase Street, his home and property take up an entire block, and he makes sure to decorate it all. Even the interior of his home is festive. Like Santa's Corner, wires are covered so you can walk through the front yard and even sit on the benches for incredible photo-ops. Gurino acknowledges Hanukkah, too, with illuminated menorahs.
Like Lynch, Gurino collects money for a charity, Toys for Tots. He also hosts occasional holiday events such as Santa visits and Christmas caroling. Check his Facebook page for details and make sure you pick up complimentary hot chocolate and cookies before you leave.
In the Rockaways, you'll find The Little North Pole, a decked out house and yard that have drawn local visitors for decades. Put together by owner Joe Mure, kickoff festivities are free (hosted December 4 this year), but help to raise funds for the Juvenile Diabetes Research Fund through donations. Donation boxes will also be available throughout the season, along with the lights. Located in Neponsit Beach at 144-03 Neponsit Avenue.
Not willing to drive? Jackson Heights, known for its gardens and courtyards, also gets into the holiday spirit. One of our Queens writers suggests checking out the house at 35-32 87th Street. The front yard is crammed with all manner of holiday lights and figurines. There's Darth Vader in a Santa hat, dinosaurs, swans, and penguins, and Yoda, too. Also, peek at The Greystones (80th between 35th and 37th Avenues), where the apartment building's trees are lit up in a pretty display.
RELATED: 21 NYC Holiday Activities Every Kid Should Try at Least Once
Best Holiday Lights in the Bronx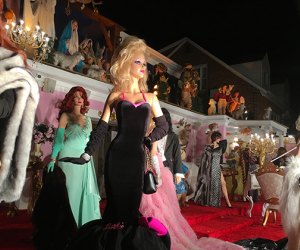 Hollywood glamour takes center stage at the Garabedian Christmas House. Photo by Sonia Gonzalez.
The Garabedian Christmas House in Pelham Gardens is an experience you'll never forget. Located at 1605 Pelham Parkway North at Westervelt Avenue and known to many as the Christmas House, the display juxtaposes holiday sights—Santa and his sleigh, a nativity scene and lots of corpulent angels—alongside hundreds of life-size animatronic mannequins, all glammed up in old-school Hollywood-style gowns. Look closely and you'll see pop-culture icons, from the Chipmunks to Liberace to Beauty and the Beast. Plus, there's holiday music blasting from multiple speakers, massive chandeliers, a horse-drawn carriage from which Cinderella exits, and that's just the tip of the eye-popping iceberg.
The Garabedian family is in the fabric-trimming business and fashions all of the figures' outfits. They've been setting up this huge display since 1974 as a gift to God and the community for some unnamed religious miracle. They wouldn't even reveal the family secret to The New York Times. Visitors often throw donations over the fence, which the Garabedians reportedly give to a nearby church.
Although you won't find anything else like the Christmas House in the Bronx, it's worth driving around Pelham Gardens to look at other, more conventionally decorated homes.
RELATED: Best Places to See Santa in NYC
Best Holiday Lights in Brooklyn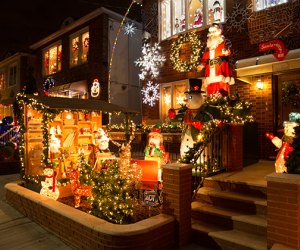 Don't miss the rows of lit up homes in Dyker Heights. Photo by Sergii Rodionov via Flickr.
If you're looking for Christmas critical mass, the displays in Dyker Heights, aka Dyker Lights, win hands down. Dyker Lights is block after block of jaw-dropping displays that are famous the world over. There's a PBS documentary and countless videos on YouTube. We've even done a whole post on visiting Dyker Lights, including its history and the best houses to view. While the displays run throughout the neighborhood, the hot spot is 11th to 13th Avenues between 83rd and 86th Streets. You can drive or take public transportation. The D train to 79th Street is the closest stop but another option is the R train to 86th Street and then the B1 bus.
Want something a little closer? The front gardens and brownstones of Carroll Gardens are accessible for holiday lights fun via a quick F train ride. Of course, it's a more modest display, but there are plenty of inflatables, nativity scenes, and lights in this one-time Italian neighborhood. We visited last year and loved being able to push the stroller around sans crowds.
Best Holiday Lights on Staten Island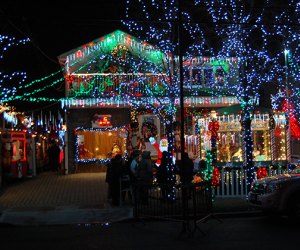 Staten Island's homes light up for the season, including 107 Sharrotts Road. Photo by Nataki Hewling.
Joseph DiMartino's home at 107 Sharrotts Road in Rossville, has a very moving story. He created the display in memory of his late wife, who died in the September 11 attacks. Dubbed a Christmas Wonderland, his annual decorations include Santa and his workshop, lights and wonderful seasonal vignettes on view in little mini-houses. The Staten Island Advance has a lovely article about him and his effort to raise a half-million dollars for pediatric care at the Nalitt Cancer Institute at Staten Island University Hospital.
Best Manhattan Holiday Lights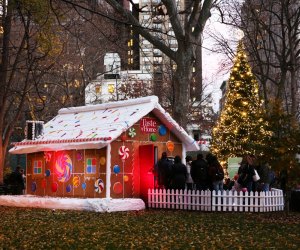 See the gingerbread house nestled in Madison Square Park. Photo by Shira Kronzon.
I know we told you that you need to drive, but actually Manhattan has a few pockets of bright lights, too. Have you seen the light show at Saks Fifth Avenue yet? It's a 10-story-high light bonanza that's projected against the facade of the Midtown building, all set to holiday tunes, and running every 10 minutes at night. Wow! There's also Luminaries downtown at Brookfield, the 14-foot color-shifting bright star orbs at The Shops at Columbus Circle, a gingerbread house in Madison Square Park with modest lights but plenty of holiday cheer, and don't forget these spectacular Christmas trees that are brightening up all five boroughs. Come Christmas and Hanukkah, expect the Empire State Building to once again light up in holiday colors, and these two mega menorah lightings will brighten up the areas around Central Park and Prospect Park soon enough!
Did we miss your favorite NYC holiday house? Let us know via our Facebook page. We're always on the lookout for more gems.
Top image: Anthony Gurino's display in Jamaica Estates. Photo courtesy of the owners.
This article first published in December 2014, but has since been updated and revised.