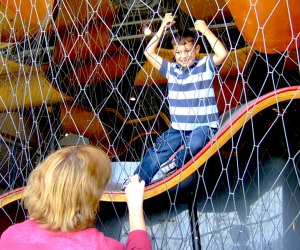 The Best Indoor Play Spaces in Nassau County
The chilly weather might force your little ones indoors, but they don't have to be confined to your living room all winter long.
After you've made your umpteenth indoor fort and your kids are climbing the walls, get up and out with our list of the best indoor play destinations in Nassau County. Most of these spots are affordable and accessible, and, where appropriate we've added age designations to guarantee a good time for all.
No worries if you're in Suffolk County. See our list of the top indoor play destinations in Suffolk as well as our guide to fun spots and sports centers across all of Long Island.
For even more inspiration, see our guide to winter fun on Long Island, including indoor and outdoor ice skating, museums, sledding, and more.
Jericho — 200 Robbins Lane
Active Kidz has a number of attractions, including an adventure maze, laser tag, inflatables, toddler center, ball pit/cannon area, and a rock-climbing wall. Open-play sessions vary from week to week and might be limited to only some attractions. The schedule can be found on its events calendar or by calling. Active Kidz is primarily a party space, so call and double-check open-play times. Prices are either per activity or bundled into combination packages.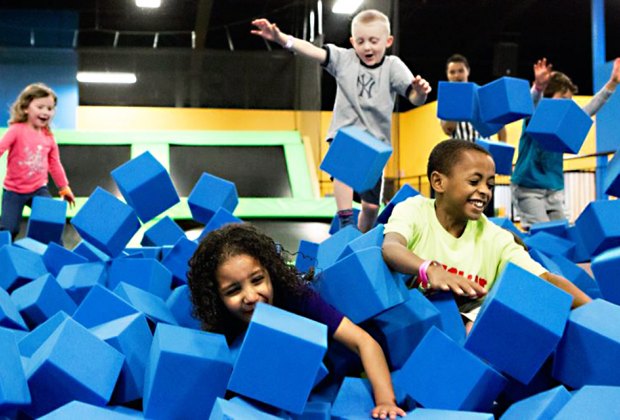 Bounce away that youthful energy at Bounce! Trampoline Sports in Syosset.
Syosset — 310 Michael Drive
Open-bounce sessions, dodgeball fun, foam pits, inflatables, and yes, trampoline after trampoline, are all available here. Open-bounce sessions vary depending on the day's schedule, so check the website before going. Kids 6 and younger bounce in a separate area that is away from bigger kids and loaded with all the same bouncy fun, including traditional bounce houses and trampolines. There's even a toddler time just for little ones, as well as Jump N Glow evening sessions for the bigger kids with, you guessed it, glow-in-the-dark bouncing and activities.
Farmingdale, Oceanside
101 Carolyn Boulevard, Farmingdale
3495 B Lawson Boulevard, Oceanside
Bounce U franchises have been popping up all over in recent years, and there are several on Long Island. Each has slightly different hours, programs, and rates, so check the website for details. Times and days for open-bounce sessions vary. Reservations are required and should be made as far in advance as possible, especially for the popular family bounce nights and cosmic bounce sessions for kids of all ages.
Valley Stream — 6 Rockaway Avenue
Kids can climb their way up the rock wall, jump in the bounce castle, play dress-up, build with Legos, and interact with each other in a virtual 3D world. The multilevel climbing structure has plenty of slides and tunnels to keep little ones entertained for hours. Adults and kids can take a break and enjoy a drink or snack at the cafe.
RELATED: FREE indoor play spaces for LI kids

Enjoy a class or just drop in to play at Dreamnastics in Great Neck.
Great Neck — Great Neck Gardens shopping center, 24A Great Neck Road, second floor
This gym offers open play when classes are not scheduled. Call for availability as parties can preempt scheduled open-play sessions.
RELATED: The best indoor play spaces for toddlers on LI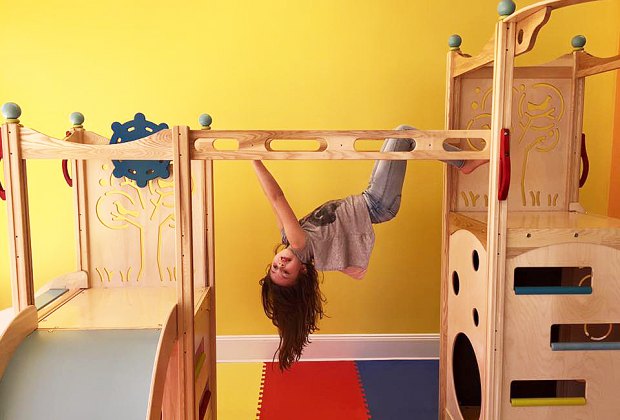 Enjoy the eco-friendly play space at Kiddie Playland ... especially the wooden climber.
Williston Park — 310 Hillside Avenue
Grown-ups will appreciate this clean and eco-friendly play space, and kids will enjoy everything from the wooden climber to the arts-and-crafts activities and pretend play areas. Visitors are encouraged to play, learn, and discover new things together in this bright and inviting space that was designed and is run by two educators.
RELATED: The best bowling alleys for kids in Nassau County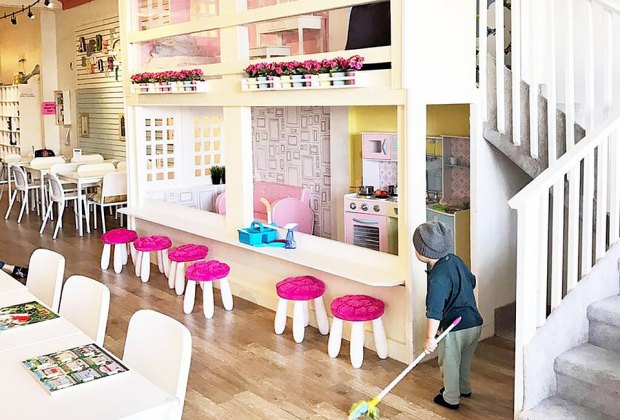 Liddle Bites offers plenty to do in its cozy space in Long Beach.
Long Beach — 132 East Park Avenue
This intimate and extensive play space is perfect for babies, crawlers, and preschoolers. It features life-sized dollhouses and stores for imaginative play, and so much more, from dolls to trains, blocks, puzzles, books, and art supplies. Parents are encouraged to order lunch or an early dinner from one of the many nearby restaurants, and snacks and drinks are available at reasonable prices. Admission is $10 per child and $7 for crawlers; adults are FREE. Season passes at a discounted rate are available. Socks are required in the play space.
RELATED: Great rainy-day activities for LI kids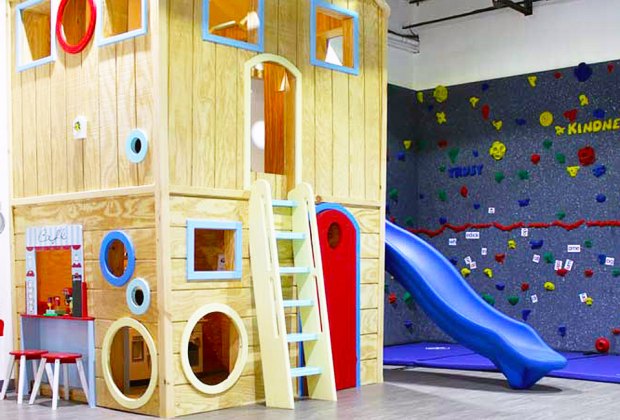 Lolli Bop Cafe boasts more than 2,000 square feet of play space, and Wi-Fi for grown-ups.
Lawrence — 398 Central Avenue
Look no further for a play space for kids that also offers coffee, a healthy cafe menu, and Wi-Fi. This play cafe keeps kids busy with a rock climbing wall, Lego table, music area, club house, lots of games, a toddler area, and a dress-up area. Adults can supervise close by with a latte in hand.
Garden City — 11 Davis Avenue
Admission includes the indoor play areas, Tot Spot and Climb It. At Tot Spot, kids can play in the pretend train, grocery store, or construction areas, as well as wiggle, jump, slide, and play. Climb It offers two stories of crawling and climbing adventures. It is recommended for ages 4 and older with a minimum height of 42 inches. The museum is open Tuesday to Sunday 10am to 5pm and memberships are available.
Levittown — 2710 Hempstead Turnpike
This large indoor complex has something for kids of all ages. Rooms are filled with bouncers. There's also a big ball-filled climbing area with ball cannons, a laser tag arena, a full-sized game arcade, and a stuff-a-bear station. Unless already booked, all activities are available for parties or public play. The facility tries each week to list on its website times when each area is open to the public, but it advises calling first.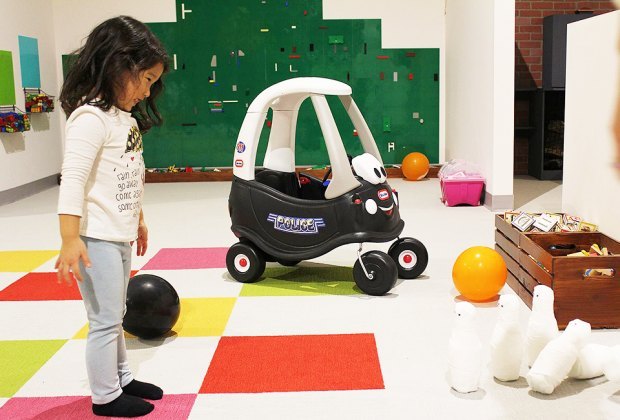 Take a drive in a play car at Momo's Clubhouse.
Syosset — 140 Eileen Way
The main attraction at this indoor play space is the three-level climbing structure. Kids ages 2 through 9 can enjoy different areas of the structure, but there is also a separate area for crawlers to play safely. There are plenty of interactive toys, pretend play areas, and games to engage little hands and big imaginations.
Plainview — 151 Dupont Street
This large indoor space focuses on creating settings for imaginative play. It is probably best for younger children, but older kids, especially if part of a mixed-age group, can have fun as well. The space is organized as if it were a little town or city, with rooms set up as a post office, restaurant, school, veterinary office, grocery store, construction zone, and more. Kids can run from room to room or ride little cars and bikes. There is a climbing treehouse on the property with a slide. Parents must supervise children, but staff are available to encourage imaginative play. Crawlers must wear socks.
RELATED: 50 great things to do indoors with Long Island kids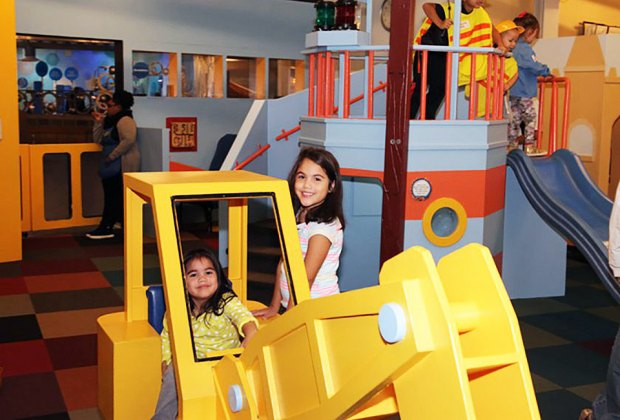 The little town play area at the Long Island Children's Museum celebrates the work adults do in our communities.
Great Neck, Plainview
225 Community Drive, Suite 250, Great Neck
135 Dupont Street
This center has open-bounce sessions on various dates and times, so check its event calendar. It also features a wind tunnel and hosts glow-bounce and supervised drop-off, parents-night-out sessions. Any age, even adults, can bounce, but there is a minimum height requirement of 34 inches. Socks are required. The Plainview site offers pop-in play for ages 2-7 at various times listed on its calendar. It also offers sessions for children with special needs. These sensory jump events require tickets in advance. Occupational therapists are welcome to accompany children.
Wantagh — 3309 Merrick Road
In addition to special events held throughout the year, Sensory Beans usually offers a morning and late afternoon open play session. Toddlers and preschoolers can enjoy climbing, swinging and jumping on the different play structures. There are also sensory play areas, such as water mats, sensory boards and an interactive game projected onto the ground. What makes sensory beans truly unique is the staff, who don't just walk around cleaning up. They interact and play with the young ones as well. Accessible equipment is also an integral part of the play space, making it comfortable for children of all abilities.
RELATED: Great sensory play spaces for LI kids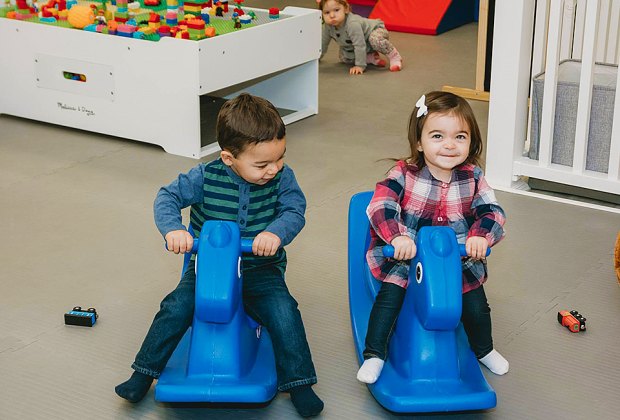 Kids will thrill to the playtime possibilities at Sippy Cups Cafe.
Seaford — 3890 Merrick Road
For the 6-and-younger crowd, Sippy Cups Cafe offers a wooden climber with slides and peep holes, a train table, puppet theater, Duplo for building, and a cozy reading area. Adults will appreciate the selection of coffees and teas, as well as breakfast, lunch, and snack offerings that include pizza, sandwiches, salads, and baked goods. Sippy Cups Cafe is open Monday to Saturday, so grab your socks and enjoy your coffee while it's hot.
Plainview — 200 Express Street
Parents can enjoy a hot coffee or local beer while they watch the kids run and play. Social Play Haus is the perfect name for Nassau's newest indoor play space, as it mainly focuses on allowing parents to enjoy social time while they comfortably watch their children play. They also offer private events, making it a great option for those with a guest list of adults and children.
Unless noted, photos are courtesy of the venues.
A version of this post was published in January 2017. It was updated by writer Gina Massaro in January 2020.