Crabapple Fest, Georgia State Fair, and More Things to Do in Atlanta This Weekend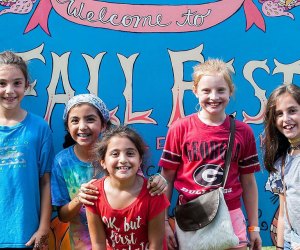 Looking for the best things to do in Atlanta this weekend? Here are some family-friendly events and activities to add to your weekend list!
This weekend we say, "See ya, September" and "Hey there, October" with fun festivals and fairs. Families head to Milton for Crabapple Fest, a popular one-day event with art vendors, kids' activities, and college football on a giant screen. On both Saturday and Sunday folks hit Candler Park Fest for live music, food trucks and Kidlandia. Fair season is also in full swing and this weekend two of the best ones overlap: The North Georgia State Fair in Marietta comes to a close on Sunday, while the Georgia State Fair at Atlanta Motor Speedway kicks off Friday and runs through October 9.
Between the slightly cooler weather and the seasonal aisles at stores, it's clear that Halloween is approaching. We have many ways to make this season magical and memorable (not stressful or scary) with our list of the Top Halloween Events in Atlanta. Also check out our guide to the Best Pumpkin Patches Near Atlanta. Once you've picked your pumpkins, we've got you covered with Easy Pumpkin Carving Ideas and Stencils.