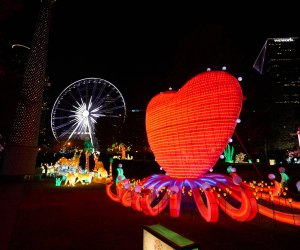 New Year's Weekend Things to Do in Atlanta: Winter Art, Holiday Celebrations
Feel a case of the post-Christmas blues coming? We here at Mommy Poppins Atlanta have the cure for just that feeling. It's called the weekend.
The weekend between Christmas and New Year's Day features a host of thrilling things to do for kids, and for adults who just want to act young. Seasonal celebrations continue from Atlanta to Stone Mountain; illuminations delight at the Atlanta Botanical Garden and Centennial Olympic Park; and art instruction takes center stage during holiday break.
And that's just a beginning. Thrill-seekers will love Cirque du Soleil's VOLTA at Atlantic Station while locomotive lovers have another chance to jump aboard the Botanical Express.
Whatever you choose, have a happy new year and know Mommy Poppins will be with you in Atlanta all through 2020.
It's hard to escape holiday-themed entertainment this time of year, but if you'd like to, why not take part in a weekend nature hike. Need more inspiration? See our rundown of the best winter break activities with kids in the Atlanta area. And remember, our events calendar is loaded with fun, family events right into the new year.
Sign up for our FREE newsletters to receive posts such as this to your inbox.