40 Things To Do in Denver with Kids, Other than Hiking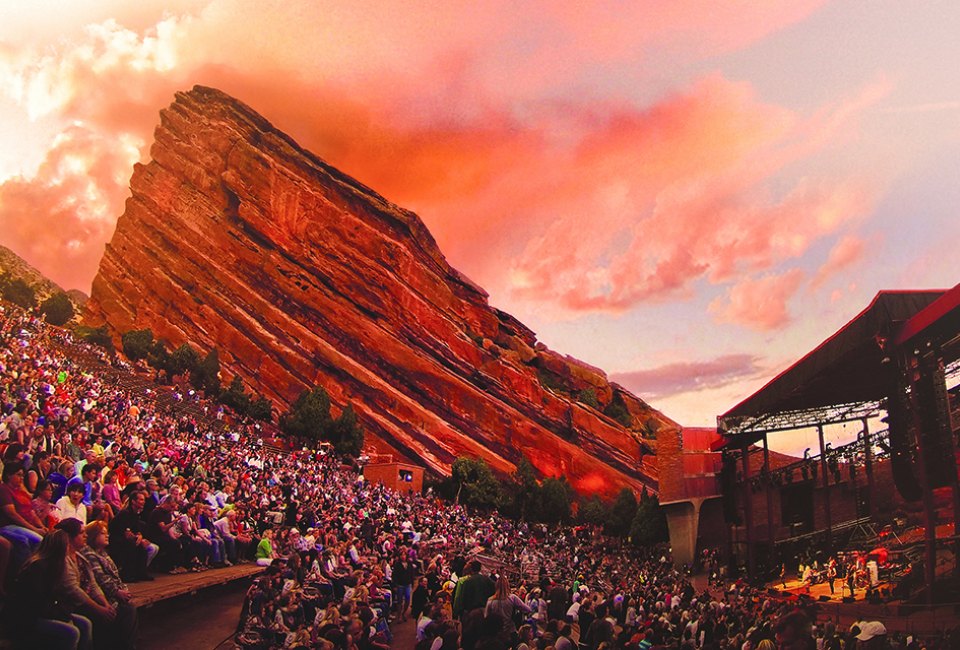 9/11/21
- By
Jody Mercier
Known as the Mile High City, Denver, Colorado, is a charming all-seasons destination for a family vacation. You'll find big-city attractions like Denver art museums and animal sanctuaries, including the Denver Zoo and Denver Aquarium, but its outdoor scene is also unparalleled—and don't let the weather scare you: Locals will tell you if you don't like the weather, wait five minutes. Another commonly cited fact: Colorado enjoys more than 300 days of sunshine a year. In fact, it's quite easy to get sunburned on its famous ski slopes!
Born and raised in the Denver area, I now enjoy it with my three kids as a tourist on our annual family visits. When we're not in the mountains, there's a good bet you can find us enjoying one of these 40 family-friendly things to do in Denver. Find more of our favorite destinations in our City Travel Guides, including our local guide to Exploring the Rocky Mountains: The Best Things To Do in Boulder, CO with Kids.
Subscribe to our newsletters to get stories like this delivered directly to your inbox.
1. City Park
Spend the day at City Park, which includes two lakes, monuments, two playgrounds, and picnic sites. It's also home to some of the city's biggest attractions, like the Denver Museum of Nature and Science and the Denver Zoo. It tops our charts for fun things to do in Denver with the kids!
2. Denver Art Museum
Admire the masterpieces inside the Denver Art Museum. Its Martin Building has undergone a full restoration and renovation and is almost ready for its close-up, reopening to the public in October 2021. Admission for youth ages 18 and younger is FREE at all times. Stop by the visitors' services desk to pick up activity cards to guide your visit.
3. Hit the Slopes
What's a story about Colorado without mention of its world-class skiing? While you have to get out of Denver to hit the hills, you don't have to go far. Loveland Ski Area is just over 50 miles west and there are plenty of other options, too. Want to hit the slopes in the offseason? Try Snobahn where its revolving slopes are like ski treadmills with "snow-like surfaces" that allow for perpetual skiing. Lessons, parties, and summer camps are all available.
4. Denver Selfie Museum
Teens and tweens go crazy for this offbeat Denver art museum where snapping selfies is the whole point. Room after room of Instagram backgrounds await. All you need to bring is a camera and a smile.
RELATED: The Rocky Mountains with Kids: 30 Best Things To Do in Boulder, CO

Kids love seeing the elephants at the Denver Zoo.
5. Denver Zoo
See the animals at the Denver Zoo, which has more than 3,600 critters under its care. In the midst of its 125th-anniversary celebration, the Denver Zoo is improving every day, and there's always something new to see. A trip to its Tropical Discovery exhibit brings you up close with a brand new 22-foot sloth tree. Budding veterinarians will be thrilled with a trip to the 22,000 square foot Helen and Arthur E. Johnson Animal Hospital, where visitors can witness vets at work in a pair of treatment rooms from a bank of windows in the lobby. Educational programs and animal encounters are hosted at multiple exhibits daily, letting visitors get up close—with safety top of mind—to the zoo's animals.
6. Buckhorn Exchange
Eat at Denver's oldest steakhouse, Buckhorn Exchange, where the menu offers a taste of adventure and wild game, including elk and buffalo. The old-west setting is family-friendly, but this Denver restaurant's prices are a little high, which makes it a good pick for a special occasion.
7. Casa Bonita
See what the fuss is about at Casa Bonita, and yes, I'm talking about that Casa Bonita, recently rescued from bankruptcy by the South Park creators themselves. There's really not one way to describe this establishment. It's part restaurant and part theme park where you'll find cliff divers, arcade games, stage shows, and live musicians...and below-average food (to put it nicely).
8. Check out Denver's Foodie Scene
Burrito-loving families will be happy to know the original Chipotle is still in business near the University of Denver, and sub enthusiasts can grab a hoagie from the first Quiznos in the Capitol Hill neighborhood. And there are many other local Denver restaurants to choose from that focus on fresh, farm-to-table offerings.
9. Hammond's Candy Factory
For kids with a sweet tooth—so, every kid—Hammond's Candy Factory is the place to go. The factory offers FREE tours where guests can see how candy canes, ribbon candies, and lollipops are shaped by hand. Tours run twice an hour Tuesdays through Saturdays, and they last about 30 minutes.
10. Celestial Seasonings
The well-known tea brand is headquartered just outside of Boulder and visitors can take a tour (in non-COVID times). Go behind the scenes to get a look at its operation and enjoy the sensory overload of the Mint Room. When you're done, visit the Tea Shop and Cafe for a soothing souvenir.
RELATED: 25 Fun Things To Do in Phoenix, Arizona with Kids

Sample the Willy Wonka-inspired treats at The Inventing Room!
11. The Inventing Room Dessert Shop
This mashup of Willy Wonka, sideshow act, and molecular gastronomy produces delicious, unexpected results at this unique Denver sweet spot. The Inventing Room Dessert Shop invites guests inside to experience "the future of dessert." The "show" is part of the experience as visitors watch treats like Glow in the Dark Cotton Candy and Really, Really Cold Cheetos being constructed. Finish a visit with a liquid nitrogen ice cream sundae. Reservations are required for all visits.
12. Red Rocks Amphitheatre
Jam out to a concert at Red Rocks Park and Amphitheatre. This naturally formed theater is stunning and unique, and there are shows and performances all year long. The space doubles as a park where nature lovers can hike and picnic or (gasp) run the stairs. Seeing a show here brings a new meaning to rock concert, and it's among the most iconic local experiences on our top things to do in Denver bucket list.
13. Dinosaur Ridge
Step back in time at Dinosaur Ridge, where you'll find fossils and prehistoric tracks made millions of years ago, all discovered in the 1800s, like Stegosaurus bones and Iguanodon tracks. There are plenty of trails for hiking, a visitor's center with educational displays, and options for guided tours at this dinosaur museum near Denver.

The STEM-centered Children's Museum of Denver lets kids explore, build, and play.
14. Children's Museum of Denver
Play and imagine at the Children's Museum of Denver where you can do everything from stand inside a giant bubble to soar through an aerial adventure course, protect the city from a fire truck, curl up with a good read, and more. Its water table is top-notch. Make sure to check the calendar before your visit to see what's happening. Currently, reservations are required, as are masks for visitors ages 3 and up.
15. Argo Mine
Head for the hills and get a lesson in Colorado history at The ARGO Mill in Idaho Springs. Learn about Colorado's history as a boomtown and get a lesson in panning for gold. While you're in town, stop by Beau Jo's Pizza for a Colorado-style slice. Kids love drizzling honey on the hearty crust.
16. Tiny Town
Just west of town, explore this land in miniature. This seasonal summer attraction, originally built in 1915 and opened to the public five years later, features more than 100 tiny buildings harkening back to the frontier days. Peek in the windows to see the fascinating details, hop on a train ride through the park, enjoy a picnic, or grab a cone from the snack bar.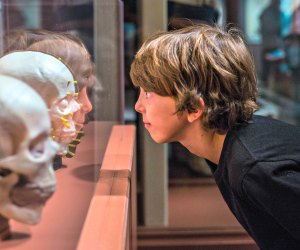 Get skull to skull at the Denver Museum of Nature and Science.
17. Denver Museum of Nature and Science
Get inspired and learn about the environment at the Denver Museum of Nature and Science. Permanent collections include galleries dedicated to Egyptian mummies, dinosaurs, deep space, the human body, and more. It's also home to a collection of gnomes, hidden in plain sight. Eagle-eyed visitors can spot them in the backgrounds of the wildlife dioramas and many other spots. Be sure to check what's playing at the on-site IMAX theater, and book your timed-entry reservations in advance. If it's warm, set aside time for a visit to H20dyssey, the splash pad outside.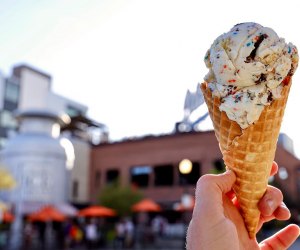 Grab a scoop at Little Man Ice Cream. Photo courtesy of the shop
18. Little Man Ice Cream
Grab a sweet treat at the (very) popular Little Man Ice Cream, which has traditional and out-of-the-box homemade ice cream, like the Fluffernutter and Vegan Chocolate Salted Oreo, all served from a 28-foot-tall cream can. Seating is all outdoors and there is a park right across the street, making this Denver ice cream shop a must-try.
19. Denver Skate Park
Get some air at the Denver Skate Park. Older kids will love busting some moves at this 60,000-square-foot park. Skateboarders, bikers, and rollerbladers of all levels are welcome. Admission is FREE and the park is open every day.
20. Cherry Creek Bike Trail
Biking is among the more chill things to do in Denver with kids, but we love exploring cities this way. Try biking down the popular Cherry Creek Bike Trail, which starts at Confluence Park and passes by the Cherry Creek Shopping Center and Four Mile Historic Park, which are destination-worthy in their own right.

At the Denver Aquarium kids can meet fish, amphibians, and sometimes a mermaid. Photo by Jody Mercier
21. Downtown Aquarium
Eat and admire the wildlife at the Downtown Aquarium. You'll find animals from around the world, including fish, amphibians, and even tigers. Other attractions include a 4-D theater, carousel, and train ride.
22. Day Trip to Colorado Springs
Located about an hour south of Denver, Colorado Springs makes for a fun family vacation on its own, or as a day trip from Denver. Sitting in the shadow of Pikes Peak, you can drive to the top or take the Cog Rail Way, the highest in the world. Admire the view while humming America the Beautiful. This vantage point inspired Katherine Lee Bates' words. While you're in town, visit the Air Force Academy, stop by the Cheyenne Mountain Zoo to hand-feed giraffes, or visit the North Pole all year round. Fun fact: NORAD, the North American Aerospace Defense Command is located nearby, and responsible for the annual Santa Tracker...among other things.
23. Littleton Museum
Step back in time at this charming museum, which spreads over 40 acres in the southwestern suburb. Kids can explore an 1860s homestead and 1890s-era urban farm to learn how homesteaders lived in the region's early days. Volunteers dress in period clothing and reenact old-school trades in the blacksmith shop, one-room schoolhouse, and more.
24. Paco Sanchez Park
Recently renovated, Paco Sanchez Park is a gem of a community hub. Located just west of downtown Denver, this 30-acre green space pays homage to its namesake, who started the city's first Spanish-language radio station in the '50s, with a music-themed playground. The centerpiece is a spectacular climber, enclosed in a casing meant to look like '50s-era microphone. There are slides, sand, climbers, plenty of bright colors, and space to roam and run.
25. Creekside Experience Park
For a more natural play experience, head south to Creekside Experience Park, where you'll find a nature-inspired playground with a treehouse, boulders to climb, and a water play area where families can manipulate the flow with natural logs. Its proximity to the South Platte Greenway makes it a great stop for a break during a family bike ride.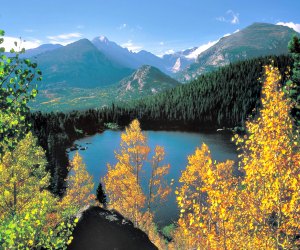 Visit nearby Rocky Mountain National Park for wildlife spotting, trails, and camping.
26. Rocky Mountain National Park
Reach new heights at Rocky Mountain National Park. Located about an hour and a half from Denver, RMNP spans 415 miles of Rocky Mountain wilderness. See wildlife like elk, moose, deer, and bighorn sheep, traverse miles of trails, explore life above treeline, visit the Continental Divide, and more. One word of warning: The 2020 fire season left some serious burn scars on the park, though signs of rebirth are already popping through the ashes, and the local communities on either side—Estes Park on the east; Grand Lake on the west—can use a little love from tourists.
27. Denver Mint
Show your kids proof money doesn't grow on trees at the Denver Mint where billions of U.S. coins are produced annually. Unfortunately, its free tours are on hiatus due to the pandemic, but it's worth bookmarking for another visit.
28. Enjoy a Mountain Drive
Drive up the highest paved road in the United States on Mount Evans to see Echo Lake. The road climbs to 14,260 feet above sea level and is typically open from Memorial Day to Labor Day. Echo Lake has picnic benches, fishing, and stunning views. For the route, take exit 240 from I-70, and then Colorado Highway 103 to Echo Lake. En route, keep your eyes peeled for the mountain goats that call the area home.
RELATED: 25 Fun Things To Do in Jackson Hole with Kids

This animal sanctuary rescues large animals, such as bears, and gives them a wide-open habitat.
29. The Wild Animal Sanctuary
Watch animals roam at The Wild Animal Sanctuary, which is one of the only facilities of its kind in the United States where you can see animals living in an open, natural habitat. The 789-acre sanctuary is home to more than 450 rescued lions, tigers, bears, wolves, and other large carnivores, including many animals seized from Joe Exotic and other Tiger King "stars."

Take a trip through the rapids with Clear Creek Rafting Co.
30. Go Whitewater Rafting
Test your bravery while whitewater rafting on Clear Creek and the Arkansas and Colorado rivers. There are numerous companies to choose from, like Clear Creek Rafting Co., Raft Masters, Geo Tours, and the Colorado Adventure Center.
31. Root, Root, Root for the Rockies...
The Colorado Rockies are Denver's MLB team, and play their home games in the scenic Coors Field in the heart of LoDo—a downtown neighborhood known for its restaurants, boutiques, and loft-like apartments. The purple row of seats in the stadium's top level denotes 1-mile above sea level, and the sky-high altitude and thin air means home run balls really fly out of the stadium. Tickets to the Rockpile can be had for as low as $8 per person.
32. ...Or Another Home Team
If baseball's not your sport—or it's not in season—Denver has plenty of other options: The NFL's Denver Broncos, the NBA's Denver Nuggets, the NHL's Colorado Avalanche, and MLS team Colorado Rapids all call the city home. And, if it's college sports you crave, head up Highway 36 to catch the Colorado Buffaloes in Boulder. Between the scenic mountain views, beautiful Tuscan vernacular architecture of the campus, and the live buffalo mascot who leads the team charging onto the field, it's one of the best places to catch a college football game.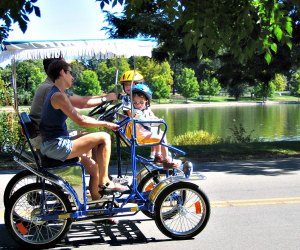 Go for a low-key family bike ride at Washington Park.
33. Washington Park
Wander and play in the beautiful Washington Park. This 155-acre space has two lakes, flower gardens (including one that is a replica of George Washington's gardens at Mount Vernon), playgrounds, and a historic boathouse.

Check out the plants, but also the sculptures and seasonal fun at Denver Botanic Gardens.
34. Denver Botanic Gardens
Stop to smell the flowers at Denver Botanic Gardens. The expansive gardens feature sculptures, ever-changing flower beds, and galleries. Make a beeline for the Mordecai Children's Garden when you arrive—it's open seasonally. This rooftop space offers tons of hands-on programming for families. The garden hosts countless concerts and festivals annually, too. An outpost in Littleton adds to the fun, including a seasonal corn maze and pumpkin patch.
35. Hot Air Balloons
Take a hot air balloon ride over the Rocky Mountains. There are several options, including Fair Winds Hot Air Balloon Flights & Rides in Boulder and Adventures Out West in Colorado Springs.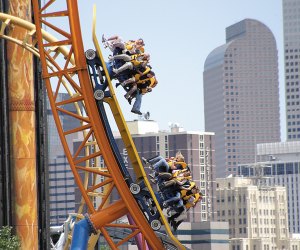 Hit the rides at a theme park near Denver, or right downtown!
36. Amusement Parks
Ride the rides at an area theme park. The first obvious choice is Elitch Gardens, which is smack dab in the middle of downtown Denver and is both a theme and water park. There is also Lakeside Amusement Park, which originally opened in 1908, northwest of Denver, and Water World just north of the city.
37. Denver Firefighters Museum
Housed in Fire Station No. 1, a building listed on the National Register of Historic Places, the Denver Firefighters Museum tells the history of Denver's fire corps from the state's founding to the present. See old-school fire trucks, ring the alarm, and enjoy plenty of hands-on fun for kids.
38. Pirates Cove Family Aquatic Center
Get your toes—and everything else—wet at this family-friendly water park. There are no huge rides here—nor sky-high admission—but you'll find plenty of low-key attractions from a splash pad and on-site beach, to pools, dumping buckets, lazy rivers, and slides. Little ones can appreciate a zero-entry pool with a water playground in the Lagoon, too. Perfect summer activity in Denver.
39. Molly Brown House Museum
Fans of Titanic might recall the brash Molly Brown, and that "unsinkable" real-life character would eventually settle in the Denver area. The Molly Brown House Museum tells the story of Brown's life, philanthropy, and activism in the restored house she once owned. Located in Denver's Capitol Hill neighborhood, it's a stone's throw away from the statehouse with its gleaming, gold-plated dome, so head there for a stunning photo-op after your tour.

The Gaylord Rockies Resort's water park makes it a kid pleaser.
40. Gaylord Rockies Resort & Convention Center
Located just minutes away from Denver International Airport the Gaylord Rockies Resort & Convention Center offers more than 1,300 guest rooms, a stunning indoor/outdoor water park, eight restaurants, a spa, and tons of entertainment and special events, making it a great home base or jumping-off point for your Colorado adventure.
Originally published in 2017; Carrie Taylor contributed additional reporting.
Photos courtesy of Visit Denver except where noted
Click Here to Sign Up!
i