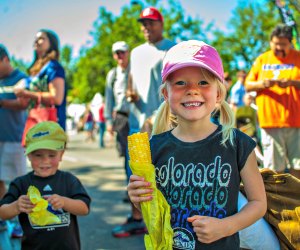 25 Things To Do in Denver with Kids, Other than Hiking
My family recently made our first visit to the Mile High City, and I was honestly surprised by just how much we enjoyed the trip. As a native southern Texan, I mainly envisioned Colorado as one giant mountain, where hiking was everyone's only amusement. Ironically, Denver is mostly flat and is surrounded by the beautiful Rocky Mountains, which makes you feel like you're standing in the middle of a Bob Ross painting.
Denver offers so much more than hiking—with big city attractions that range from museums and animal sanctuaries to quirky restaurants. There are even hot air balloon rides! Read on for 25 things to do with kids of all ages.
1. See the animals at the Denver Zoo. The Edge, a new tiger exhibit that opened in spring 2017, brings visitors as close as they can (safely) get to these massive cats. The zoo also has various educational lectures throughout the day and shows like the elephant show pictured below.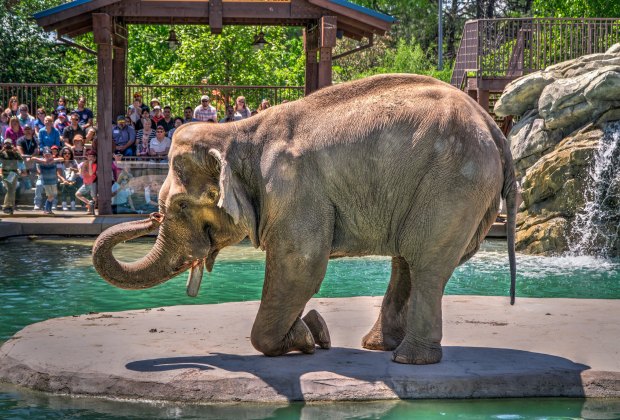 Kids love the seeing the elephants at the Denver Zoo. Photo by Dave Dugdale/CC BY 2.0
2. For kids with a sweet tooth—so, every kid—Hammand's Candy Factory is the place to go. The factory offers FREE tours where guests can see how candy canes, ribbon candies, and lollipops are shaped by hand. Tours run every half hour every day except for Sunday, and they last about 30 minutes.
3. Jam out to a concert at Red Rocks Park and Amphitheatre. This naturally formed theater is stunning and unique, and there are shows and performances all year long. The space doubles as a park where nature lovers can hike and picnic. It's the best place in the state for a rock concert. I'll see myself out.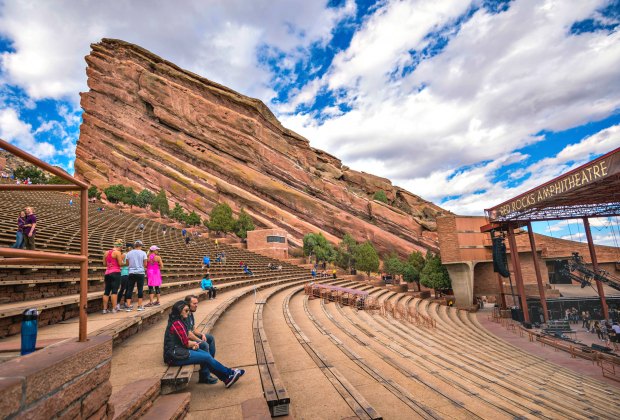 The view is always great at Red Rocks Amphitheatre. Photo by J Dimas/CC BY 2.0
4. Step back in time at Dinosaur Ridge. On the west side of Denver, a stone's throw away from Red Rocks Park and Amphitheatre, you'll find fossils and prehistoric tracks made millions of years ago. These discoveries were made in the 1800s, like Stegosaurus bones and Iguanodon tracks. There are plenty of trails for hiking, a visitor's center with educational displays, and options for guided tours.
5. Spend the day at City Park, which includes two lakes, monuments, two playgrounds, and picnic sites. It also contains some of the city's biggest attractions, like the Denver Museum of Nature and Science and the Denver Zoo.
6. Admire the masterpieces inside the Denver Art Museum. The exhibits cycle each year, and it has several family friendly amenities, like Creative Corners, where kids can spend time in imaginative play and craft making; Family Backpacks, where guests can pick up a backpack that is full of crafts, games, and puzzles; and the Kids Corner, where little ones can try on costumes and make their own masterpieces.
7. Play and imagine at the Denver Children's Museum where the exhibits range from climbable mountain paths to woodland mazes. There are events and activities throughout the day as well as special seasonal events, so make sure to check the calendar before your visit. And if you time it right, admission is FREE 4-8 p.m. Tuesdays.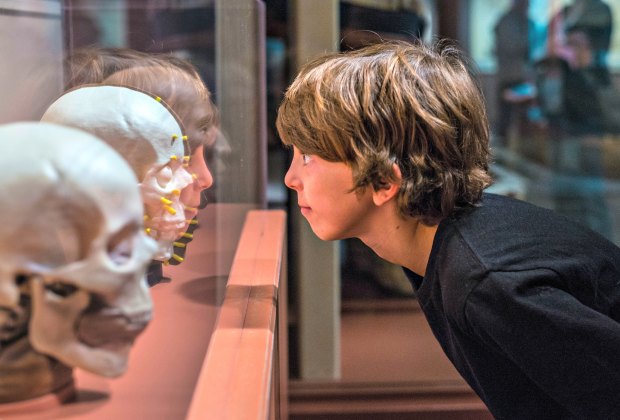 Get skull to skull at the Denver Museum of Nature and Science.
8. Get inspired and learn about the environment at the Denver Museum of Nature and Science. The museum is open every day and even features a planetarium that rotates shows throughout the year.
9. Eat Denver's oldest steakhouse, Buckhorn Exchange, where even the kid's menu offers a taste of adventure, including elk and buffalo. The old-west setting is family-friendly, but the prices are a little high, which makes this a good pick for your trip's "fancy dinner night," as we say in my family.
10. See what the fuss is about at Casa Bonita, and yes, I'm talking about that Casa Bonita. There's really not one way to describe this establishment. It's part restaurant and part theme park where you'll find cliff divers, arcade games, stage shows, and live musicians.
11. Check out Denver's foodie scene. Burrito-loving families will be happy to know the original Chipotle is still in business near the University of Denver, and sub enthusiasts can grab a hoagie from the first Quiznos in the Capitol Hill neighborhood. And there are many other local spots to choose from that focus on fresh, farm to table offerings.
12. Grab a sweet treat at the (very) popular Little Man Ice Cream, which has traditional and out-of-the-box homemade ice cream, like the Fluffernutter and Vegan Chocolate Salted Oreo. Little Man Ice Cream is perfect for families because it's all outdoor seating and there is a park across the street, but parking can be extremely tight and difficult to find, especially on weekend nights.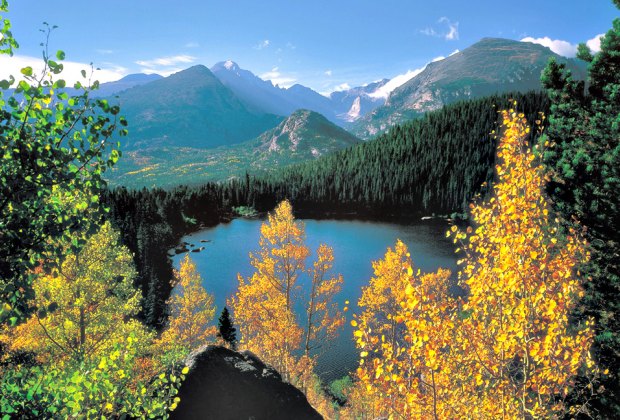 Rocky Mountain National Park
13. Reach new heights at Rocky Mountain National Park. This park is about an hour and a half away from Denver, but the sites are well worth it. There are dozens of trails, including ones that are wheelchair accessible, and many picnic spots with fire grates and nearby restrooms.
14. Show your kids the proof that money doesn't grow on trees at Denver U.S. Mint where billions of U.S. coins are produced each year. These FREE tours are recommended for kids 7-years-old and up, and tickets are released at 7 a.m. on tour days (Monday-Thursday).
15. Wander and play in the beautiful Washington Park. This 155-acre space has two lakes, flower gardens (including one that is a replica of George Washington's gardens at Mount Vernon), playgrounds, and a historic boathouse guests can tour.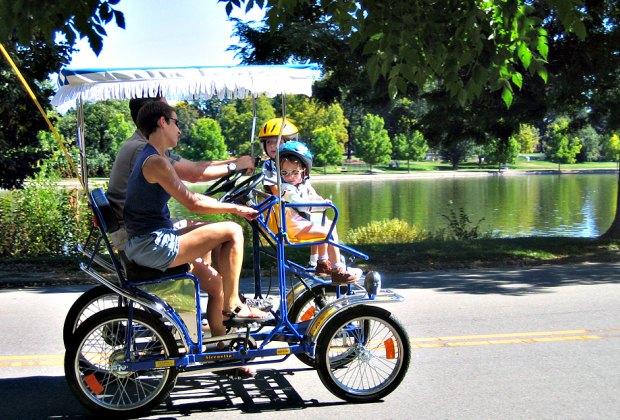 Go for a family bike ride at Washington Park.
16. Get some air at the Denver Skate Park. Older kids will love busting some moves at this 60,000-square-foot park. Skateboarders, bikers, and rollerbladers of all levels are welcome. Admission is FREE and the park is open every day.
17. Explore the laboratories inside the National Center for Atmospheric Research. Located in the nearby town of Boulder, the NCAR offers both group and self-guided tours through its facilities, which include film presentations in its theater, and an optional visit to the Visualization Laboratory, which showcases scientific visualizations.
18. Go biking down the popular Cherry Creek Bike Trail, which starts at Confluence Park and passes by the Cherry Creek Shopping Center and Four Mile Historic Park. You rent bikes throughout the city, including both traditional and electric models.
19. Eat and admire the wildlife at the Downtown Aquarium. You'll find animals from around the world, including fish, amphibians, and even tigers. Other attractions include a 4-D theater, carousel, and train ride.
20. Stop to smell the flowers at Denver Botanic Gardens. Located right next to the Denver Zoo, the expansive gardens feature sculptures, ever-changing flower beds and galleries, and is the host site for festivals and concerts.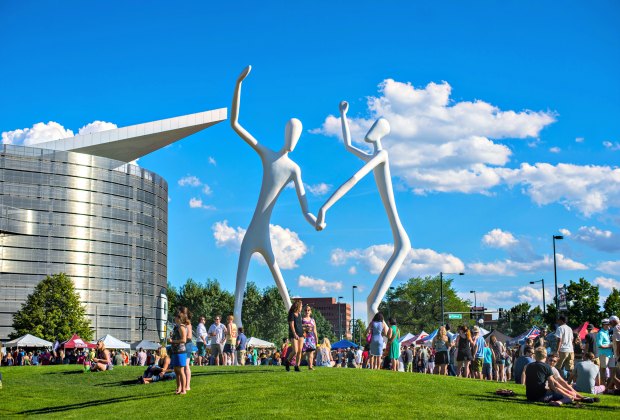 Sculpture Garden Festival
21. Take a hot air balloon ride over the Rocky Mountains. There are several options, including Fair Winds Hot Air Balloon Flights & Rides in Boulder and Adventures Out West in Colorado Springs.
22. Drive up the highest paved road in the United States up to Mount Evans to see Echo Lake. The road climbs to 14,260 feet above sea level and is typically open from Memorial Day to Labor Day. Echo Lake has picnic benches, fishing, and stunning views. For the route, take exit 240 from I-70, and then Colorado Highway 103 to Echo Lake.
23. Watch animals roam at The Wild Animal Sanctuary, which is one of the only facilities of its kind in the United States where you can see animals living in an open, natural habitat. The 720-acre sanctuary is home to more than 450 rescued lions, tigers, bears, wolves, and other large carnivores.
24. Test your hand at whitewater rafting on Clear Creek and the Arkansas and Colorado rivers. There are numerous companies to choose from, like Clear Creek Rafting Co., Raft Masters, Geo Tours, and the Colorado Adventure Center.
25. Ride the rides at an area theme park. The first obvious choice is Elitch Gardens, which is smack dab in the middle of downtown Denver and is both a theme and water park. There is also Lakeside Amusement Park, which originally opened in 1908, northwest of Denver, and Water World just north of the city.
For more help planning a Denver trip, visit VisitDenver.com; and for more reviews on traveling with kids at other destinations in the United States and abroad check out Mommy Poppins' Family Travel Guide.
All photos courtesy of Visit Denver, the Convention and Visitors Bureau unless otherwise noted.