Best of May: 20 Things To Do in NYC with Kids for Mother's Day, Memorial Day Weekend, and More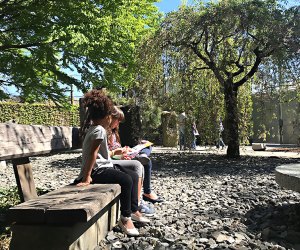 May the 4th be with you as we celebrate Eid, Cinco de Mayo, Mother's Day, Memorial Day, and the return of Movies Under the Stars this May in New York City!
May is so jam-packed, it would be easy to miss some stellar happenings, including Free Comic Book Day and a lovely production of Oliver Jeffers' How to Catch a Star (in Brooklyn, you can also catch a falling elephant!). Plus, sheep get their annual haircuts in Queens, Japan Day is back in parade form, Urban Wildlife and Brass Bands both celebrate with festivals, and CAMP's latest redo features a very cool Disney collaboration.
Find more top May fun in our picks for the best things to do on Mother's Day and be sure to keep our spring activities bucket list handy, so you don't miss any of the fun that's blooming citywide.
We're adding more events to our Family Activity Calendar every day, so don't forget to check it frequently.
Get our picks for every weekend in your inbox—sign up for our newsletters.
As always, if an event piques your interest, click through to our listing for all the details, including address and time. And keep in mind, in NYC, really cool things to do with kids often book up quickly, so buy your tickets ASAP or, in the case of FREE events, arrive as early as possible.