"I'm Bored, What Should I Do?" 100 Things To Do When Kids Are Bored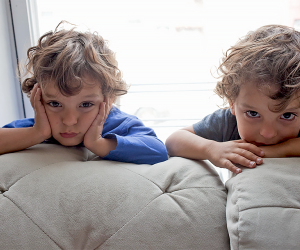 12/29/22
- By
Vanessa Leigh
"Moooooommmmm, I'm bored. What should I do?" It's the most common, and annoying, refrain of childhood. But boredom is a good thing! It fosters a child's creative side. When kids are bored, it's a terrific time to explore something new that may pique their curiosity.
So, what can you do when your child says, "I'm Bored?" While it feels like it's up to you to entertain them, that's actually not the best thing to do. Simply give them these prompts and gently guide your child to find activities at home or in your neighborhood that develop creativity, build valuable skills, and encourage independent and imaginative play.
Because we've all heard the "I'm bored" chorus a few thousand times, we've created a whole guide with hundreds of boredom busters for kids of all ages, including indoor exercise games, science experiments, and recipes kids can make. But this list of 100 ideas is our favorite place to start.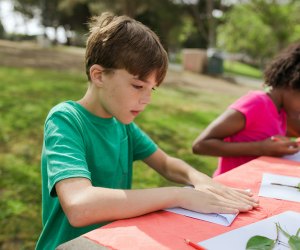 Collect leaves or flowers from the neighborhood and press. Photo by Rodnae Productions via Pexels
Outside Activities When Kids Say "I'm Bored!"
When kids say, "I'm Bored!", they're likely ready for something stimulating and creative. Planting a garden is a perfect (and lengthy!) activity to get kids outside and away from those boring feelings. Depending on your space, your garden could look many different ways. Need to plant an indoor garden? We've got you covered there, too.
2. Take a walk
Fresh air is always good for boredom. You never know what you'll see when you get out into nature. But it doesn't have to be a nature walk, specifically. Just take a stroll around the neighborhood or down the block.
3. Get the mail
It's one of the best things to do when kids are bored (and practical, too). Give the kids a special job of retrieving the day's mail from the mailbox. They can even help open and sort it.
4. Feed the birds
When your kids say, "I'm Bored!", encourage them to help others... including feathered friends. They can even sing the classic tune from Mary Poppins: "Feed the Birds" while scooping the seeds. Or make a birdseed ornament any time of the year to hang in the trees.
Grab a few empty tin cans, some yarn, and colorful beads to make wind chimes. Then, the whole family can find the perfect place to hang them outside. Enjoy the lovely sounds whenever the wind blows.
6. Make a leaf collection
Head into the great outdoors to see how many different types of leaves you can collect. Oak, maple, sycamore ... you name it. Bring them inside, press them, and make a leaf collection book.
7. Press flowers
If you've already made a leaf collection, your kids might enjoy collecting beautiful flowers and pressing them. You can use sheets of parchment paper in between heavy books or stacks of magazines to press the flowers. This activity can help when kids say, "I'm bored," because it takes a few days. Afterward, you can make pressed flower cards or designs to hang up.
A special type of garden called a pollinator garden can be a fun outdoor activity for the whole family. Planting one can attract pollinators, such as bees and butterflies, and brighten up your backyard or windowsill.
This is a very creative outdoor activity that is completely kid-centered. Kids can make or choose objects and a plan for the scavenger hunt, draw a map, or leave clues. Siblings or friends can join in the fun to solve the puzzle.
It's time to be a nature fairy, so head outside to collect some leaves. Any color, shape, or size will do. Then, all you need are some strips of paper and some glue. Voila! Your kids will have their very own nature crowns for imaginative play.
11. Jump rope
When your child says, "I'm bored. What should I do?" have them pull out their jump rope and head out the front door. See how many times they can go up and down the sidewalk, or keep track of how many jumps they can do. We've got 20 more jump rope games here to keep them entertained.
If you decided to make a nature crown, then you'll surely need a nature wand. Head outside to gather sticks and other nature objects, like leaves, seeds, and flower petals. Wire and glue will keep the wand together, and you'll have a solution to combat boredom.
RELATED: Turn a Highchair into a Baby Activity Center with These Ideas

Use baking utensils on playdough to create a plate of not-so-tasty treats. Photo by Mommy Poppins
When Kids Say "I'm Bored!" Try These Art Activities
Do you have an artist in need of some creative motivation? Use traditional paints and brushes to craft a masterpiece, or check out art kits at a local store to begin your painting journey.
14. Use sparkle glue
This has been such a hit with our family. And the best news – it's a dollar store find! Your child can simply squeeze the tube of sparkle glue onto a piece of paper and use a Q-tip to spread it around. If you're feeling really adventurous, you can make scented glitter pinecones with glitter and glue.
15. Make origami
When one of your kids says, "I'm bored," and asks to watch something, it can be challenging to compete with a screen. A happy medium is to turn on a YouTube origami making video and let your little one follow along with the steps to create their own piece of art.
16. Draw a self-portrait
Take a good look in the mirror ... and draw what you see! This could be as easy as a pencil-and-paper sketch or as colorful as oil pastels.
A trip to a local museum is always a wonderful way to learn something new and be inspired. Check out our Museum Guide for the city near you.
No matter the season, thumbprint cards are sure to brighten anyone's day (and conquer boredom). All you need is some ink, cotton swabs, and – of course – thumbs!
19. Make a collage
When elementary-age kids (or older) say they're bored, it might be time to pull out the old magazines and glue sticks. Pick a theme or just start cutting out pictures and see what beautiful art appears.
20. Sculpt with playdough
Get creative with sculpting when kids are bored. Playdough is a great medium to use. Don't be surprised when the colors get mixed – it's worth the fun. Sensory spice playdough is also a cool thing to make at home with kids.
21. Make paper mache
A fun and messy art activity for kids is paper mache. Once you mix all the ingredients, it's time to get to work. We recommend trying to make a recycled confetti bowl.
Combine both outside and art activities with this playful option when kids are bored. You'll need water guns, paint and water, and some large paper/canvas.
RELATED: 75 Fun Facts For Kids That Will Blow Their Minds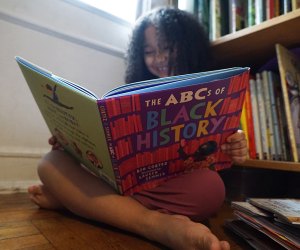 Curl up with a pile of your favorite books. Photo by Jody Mercier
Relaxing Activities to Cure the "I'm Bored!" Blues
23. Meditate
This is a truly relaxing activity to try for the whole family when kids say, "I'm bored." An adult can model, and kids can follow. There are some great free apps that lead kids in learning meditation, from Breathe, Think, Do with Sesame for very young kids to Smiling Mind, which has options for kids of all ages up through adults.
Yoga can be relaxing for both adults and children. Learning the positions and the names (downward-facing dog, cat-cow, child's pose) can help kids relax when boredom sets in.
"I'm bored. What should I do?" Sometimes the answer is simple: breathe. Square breathing is a technique that helps calm the mind using visualization and a square breathing pattern.
26. Take a warm bath
When the games and toys have been exhausted or crafts have been messy, a warm bath is just what the boredom doctor orders. Add some fun toys, bubbles, or bath bombs to add to the clean fun.
27. Watch clouds and imagine shapes you see
A dinosaur! A horse! An apple tree! The imagination can surprise you as you point out what you see in the sky.
This is always our favorite choice. Whether you get a new one from the library or have a favorite at home, choose a good book to read.
How many pieces can you handle? From wooden, toddler puzzles to 1,000+ piece games, working on a puzzle is a relaxing activity to combat boredom.
30. Do the dishes
A helpful chore to calm the mind. Water play has always been a great sensory activity, and at any age, doing the dishes is both therapeutic and helpful.
RELATED: 50+ Genius Upcycled Cardboard Box Crafts and Activities for Kids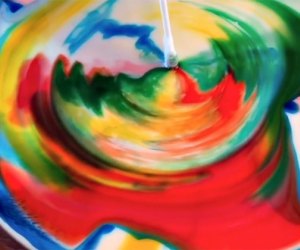 Make rainbow magic with milk and food coloring. Photo by Mommy Poppins
Science Activities to Do When Kids Say "I'm Bored!"
This is such a fun and visually engaging science activity to do when kids are bored. Take an old, wide vase and follow the instructions to add vegetable oil, food coloring, water, and an Alka-Seltzer tablet. Watch the lava magic begin.
Learn about the physics of fulcrums with this science experiment. You can choose different materials for the catapult, but we recommend sticking with marshmallows. No one gets hurt, and you can eat the ammunition.
This STEM activity can also involve great discussions about the importance of recycling. Gather the experiment materials and have fun decorating the finished products.
A great option that'll keep them busy for a couple of hours is DIY silly putty. Cornstarch and dish soap are the only ingredients – so simple!
This one might sound daunting, but it's really all about recycling your old pizza box. You can build a solar oven and cook up some yummy s'mores.
Are your kids erupting with pent-up energy? Channel that energy toward making a glittery volcano erupt in the comfort of your own home. You can do this activity outside on a warm day to save a bit of cleanup.
Whoever says that milk can't be many different colors? Add some food coloring and dish soap and watch what happens as your child makes their unique design and their boredom melts away.
This solution to kids' boredom is mostly geared toward older children. They'll spend a bit of time gathering the correct materials, and it can turn into quite a project and even expand into a full-on science lesson.
RELATED: How to Get an Egg in a Bottle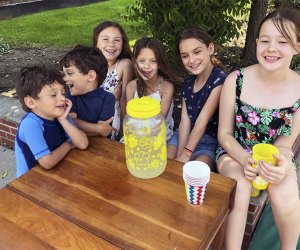 Gather a few friends and set up a free lemonade stand. Photo by Mommy Poppins
Acts of Kindness to Cure the "I'm Bored!" Chorus
39. Write and send a letter
When kids are bored, they can practice their writing skills by choosing a friend or family member to write to. Complete the activity with an envelope, stamps, and a trip to the mailbox.
40. Volunteer
Instill the value of giving back to make a lasting impact on children. There are many opportunities to volunteer in each community, such as delivering care packages and organizing drives.
41. Walk a dog
If you have a pet, teach the kids how to care for them by going for a walk each day. That responsibility can become more and more child-led as they grow older and more comfortable. Maybe you have a neighbor who could use some help with walking their dog. Volunteer to help!
42. Make hug coupons
Valid for one free hug! Hug coupons can be a creative craft and a beautiful act of kindness when kids say they're bored.
These could be made with beads and string or even recycled t-shirts. No matter the medium, it's the thought that counts.
44. Set up a lemonade stand
Serve lemonade to your neighbors at a homemade lemonade stand. From the setup of the table and chairs to making the lemonade, kids will have a blast with the whole experience.
45. Write inspirational words with sidewalk chalk
"You're amazing!" "You can do anything you set your heart to." "Believe." Make beautiful words come to life on the sidewalk for people to read.
46. Write a poem for a family member
Bored feelings can be channeled into creative ones by penning a poem to a family member. Gift it on a special holiday, birthday, or any time to make their day bright.
When kids are involved with making a chore chart, they can feel more invested. Have them create and design the chores and try one out.
RELATED: 100 Fun Things To Do with Legos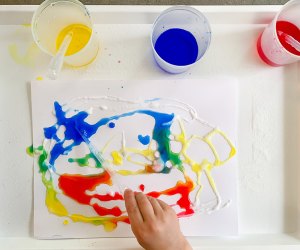 Draw a picture with glue and paint! Photo by Liz Baill @creativemoms
Craft Activities for When Kids Say "I'm Bored!"
Who needs paint when you have a Sharpie marker? Try this simple craft activity and conquer boredom with a new, colorful t-shirt.
49. Water paint
At a local children's museum, they have a blank chalkboard with some cups of water and paintbrushes. The littlest visitors love making their own masterpiece and watching it dry. Melissa and Doug have some great water painting books, too.
50. Use stamps
The Target dollar section recently had some great holiday-themed stamps and ink pads. Great for crafting on paper.
Younger kids will need help with the hot glue gun, but this craft activity is so much fun to put together.
52. Make a bird feeder
You could use wood, hammer, and nails or create one out of pinecones and peanut butter. The birds are sure to be thankful.
The ocean is calling! Use seashells to make a beautiful craft for the whole family to enjoy.
Store-bought kinetic sand is fun. DIY kinetic sand is amazing! Kids can experiment with making different colors of sand.
Wish there was a use for those endless empty toilet paper rolls? Now there is: tons of crafts!
Grab some watercolors, salt, and glue when kids announce that they're bored. They can create salt paintings to hang in their room.
From toddlers to big kids, here's a list of 21 rainbow-themed crafts for kids to choose from when they're bored.
If you're going through our list of 100 Books Every Kid Should Read, you'll probably be needing some bookmarks.
Color your bubble solution, and catch bubbles on paper to create a unique bubble painting.
When a kid says, "I'm bored," they could enjoy a snack on a paper plate... and then turn the plate into a creative craft.
RELATED: 40 Classic Outdoor Games for Kids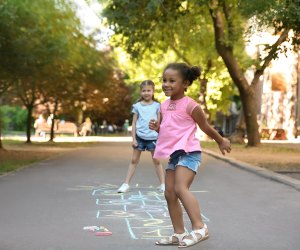 Grab some chalk and head outside for a game of hopscotch. Photo by Mommy Poppins
Energizing Activities for When Kids Say "I'm Bored!"
Tackle boredom (sometimes, literally) by trying out a new sport. We've got a list of 100 for your kids to choose from.
62. Go for a run
A family run can be healthy and energizing to get the whole family moving.
This sport is sweeping the nation and quickly becoming more and more popular among kids of all ages.
64. Hopscotch
A traditional game, but one that's still played on playgrounds, sidewalks, and driveways around the world. Kids can create their own rules and ways of jumping to ditch boredom.
65. 3-Legged Race
This requires more than just energy – coordination and strategy are key in completing a 3-legged race.
Kids don't need a fancy court, net, and rackets to play tennis when they're bored. Try balloon tennis! It's fun to play both indoors and outdoors.
67. Jump on a pogo stick or trampoline
These activities will definitely burn off some energy and get hearts pumping.
68. Hula hoop
See who can keep going the longest, who can walk and hula, and who can hula hoop in the opposite direction.
69. Run a relay race
Grab a smooth object or toy and use it to run a relay race in the backyard or at a local park. Kids can determine the course and time the race using a stopwatch.
70. Sack race
If you don't have potato sacks, try using some old pillowcases. We recommend doing these sack races on the grass or a soft surface - even a living room rug is great for little kids.
Indoor or outdoor, a homemade obstacle course is both a great way to pass the time and a fun form of exercise.
RELATED: Make Oobleck: A Less Messy, More Gooey Slime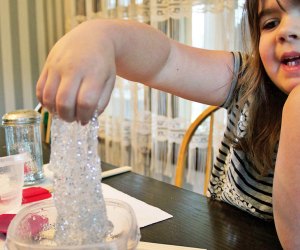 Add a sprinkle of glitter to make extra special slime. Photo by Ally Noel
Kids Can't Claim "I'm Bored!" with these Creative Activities
This is a popular activity and birthday party favor for a reason – kids love it. Embrace the goop and the creativity.
73. Take pictures
Let your child explore the world with a camera, through their own eyes. Frame some of their favorites.
74. Sing a song
Singing will brighten anyone's day. Sing a favorite tune or compose your own.
Whistle a happy tune while the kids' boredom is chased away by making straw whistles.
76. Play an instrument
Grab your recorder, xylophone, pots and pans, or some spoons, and strike up the band. If your child is already learning how to play an instrument, encourage them to practice their favorite scale or song and perform for the whole family.
77. Have a stuffed animal tea party
Invite all of the stuffies to a tea party. Bring some real snacks or pretend and see what magic unfolds.
You'll appreciate this creative activity many years down the road. Build a time capsule together to build memories now and forever.
79. Sing the alphabet ... backward
Can you do this, as an adult? This will definitely take the kids some time and probably produce a few laughs for the whole family.
80. Play dress up
Drag out all of the old Halloween costumes and dress-up items. Let the kids run free with their creative thoughts and play.
81. Make pasta jewelry
Macaroni, anyone? It's delicious and a great creative activity when your kid says, "I'm bored!" String some pasta and be fancy for the day. You can even use markers to color the pasta and open a pretend jewelry store.
Everyone enjoys a pinata at a birthday party. When boredom sets in for kids, they can bring that fun right into their own homes.

Hot chocolate bombs are an easy fun treat that is quite impressive! Photo by Ally Noel
Food Fun for When Kids Say "I'm Bored!"
83. Bake cookies
I don't mind being a taste tester when cookies are on the menu. Chocolate chip, sugar, snickerdoodle... you can't go wrong. These favorite cookies are tasty any time of year.
And you thought marshmallows made the hot cocoa fancy? Make a homemade hot chocolate bomb and watch as it melts into delicious, warm yumminess.
85. Make your own snack tray
Kids sometimes say, "I'm bored," when they're hungry. They can craft their own snack tray and take pride in their creation as they munch and nibble. Kick it up a notch and make a whole dessert board!
It's an edible science experiment. Don't buy candy from the store when kids say, "I'm bored." Instead, make some rock candy at home.
87. Prepare a meal
Meal prep is a lifelong skill and fun for kids to be involved in. Give your child a special job in prepping for a meal, like washing the fruit or cracking the eggs.
This will definitely take more than one day, which is great! An herb garden is a gift that keeps boredom at bay.
89. Plan a picnic
Pack a basket with favorite goodies and venture out to a park or your back porch to enjoy a spontaneous family picnic.
Picking the pizza toppings will help chase away any feelings of boredom. You can make the dough from scratch or buy pre-made dough at places like Trader Joe's.
Get crafty with sugar cubes to make igloos, ice sculptures, and frozen castles. You can also make pyramids and "sand" sculptures out of sugar cubes in the warmer months.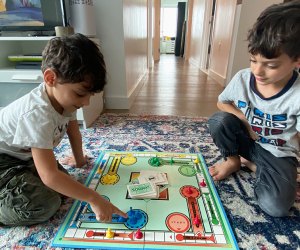 You can't go wrong with classic board games. Photo by Mommy Poppins
Games to Play When Kids Say "I'm Bored!"
Card games not only pass the time, but they're also great for communication, problem-solving, and social skills. Here are 25 card games to introduce to your family.
93. Twister
Flexibility and strategy are key when you pull out the twister mat. If you don't have Twister, you could have the kids make their own game board by cutting paper circles and taping them to the floor.
When kids are bored, play a board game. (For more terrible Dad jokes like this, check out our list of groaners.) Ha! From Candyland to Guess Who to Jenga, the options are truly endless.
95. Simon Says
Even as an adult, it's easy to get tricked during Simon Says. When multiple kids say, "I'm bored," encourage them to play together and take turns leading Simon Says.
96. Create your own game
This can be great fun, and you never know what unique game your child will create. Be inventive with materials, and let the creative juices flow.
97. Hide and Seek
Ready or not... Hide and Seek is a great boredom buster. Take this game indoors and outdoors for extended play options.
Are you hooked on Wordle? Well, there are 7 games like Wordle for kids that we're obsessed with.
99. I Spy
This can be perfect when kids say they're bored in the car. We get it. Car rides can be long. Play I Spy by naming clues of something you see out the window. It gets extra fun when the kids start to lead the game.
100. Duck, Duck, Goose
An oldie, but a goodie. This one is especially fun for the little ones and can help get some energy out. Whether outside or inside, a game like this can help turn feelings of boredom into all-out fun. You might be surprised at how much tweens and even teens can get into this!
t Click Here to Sign Up!