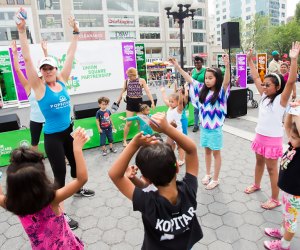 100 Free Things to Do This Summer with Kids in New York City
Summer is the season of FREE in NYC—and here it comes. There's no-cost fun everywhere you turn, from festivals, outdoor movies, and concerts, to kayaking and fireworks. With the public school break upon us, and the kids itching to play (and swim), we've rounded up FREE things for families to do every single day of summer vacation. Starting with Thursday, June 27 and running all the way through Wednesday, September 4, we've compiled the best FREE things to do with kids in NYC all summer!
Of course, this list isn't comprehensive. There are literally hundreds of FREE fun events happening across our city this school break. You can find more cool seasonal activities and destinations in our Summer Fun Guide, including beach day trips, FREE splash pads, and more. Check out our Events Calendar for more fun happenings.
Still searching for a summer camp for a week or two? Check out our NYC summer camp directory and guide.
Many events in occur on multiple dates, so be sure to read through the entire description. We've also rounded up a number of anytime activities your family can try all season long. Whatever you end up doing in the city this summer, there's only one rule: Have fun out there.
Sign up for our FREE newsletters to get posts like this delivered to your inbox.
Free Things to Do in June & July 2019
See free August events | See free September events | See free anytime events
Thursday, June 27 Kick off summer with a bang during Astoria's early Independence Day Celebration, complete with performance by the Queens Symphony Orchestra before the sparklers fly!
Friday, June 28 Catch up with the Heffley family road trip during a screening of The Long Haul at Paul Raimonda Playground.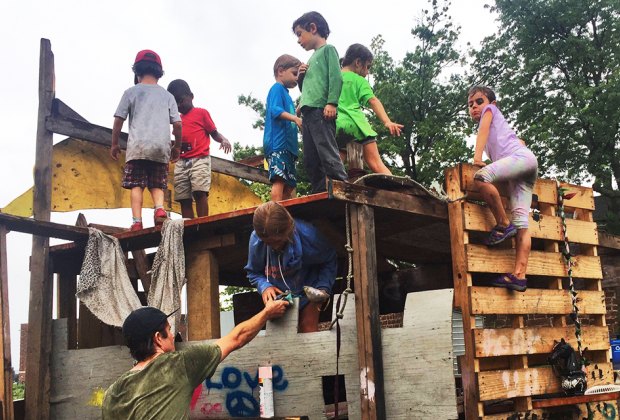 Children (and creativity) rule in The Yard on Governors Island. Photo courtesy of Governors Island
Saturday, June 29 Let kids run amok in The Yard, Governors Island's adventure playground where parents are kept at a distance.
Sunday, June 30 Catch the last day of the month-long caribBEING festival in Brooklyn's Prospect Park.
Monday, July 1 Head to Manhattan's oldest house for a day of family fun including yoga, ice cream making, and more.
Tuesday, July 2 Enjoy a twilight walk along The High Line and peer through telescopes to see the stars.
Wednesday, July 3 Visit Bubble Man NYC near Macy's flagship store for Bubble34 where you'll learn the art and science of bubble making, plus see the Bubble Man work his magic crafting giant bubbles you can stand in and ... of course, pop!
Thursday, July 4 There's no place better to celebrate Independence Day than shoulder to shoulder with other New Yorkers watching the Macy's 4th of July fireworks. Note: The show moves south near the Brooklyn Bridge this year!
Friday, July 5 Recover from your late night with a relaxing picnic at Madison Square Park where you can enjoy the newly installed City in the Grass sculpture from artist Leonardo Drew.
Saturday, July 6 Head to Rockaway, one of our favorite urban beaches for the Water Festival complete with face paint, bounce houses, arts and crafts, and more.
Sunday, July 7 Catch World Cup fever and view the finals on a giant outdoor screen in DUMBO. Bring a blanket and pack a picnic.
Monday, July 8 Catch Ramblin Dan and the Freewheelin Band in concert at Hudson RiverKids: Tribeca's weekly series.
Tuesday, July 9 Enjoy an alfresco flick on the rooftop of the Bronx Terminal Market, which screens How to Train Your Dragon 3 tonight.
Wednesday, July 10 Get your om on with Sacred Sounds Yoga in Washington Square Park.
Thursday, July 11 Catch a concert from Thunder and Sunshine during the weekly Citi Summer in the Square series.
Friday, July 12 See Broadway stars in an outdoor Broadway in the Boros performance at Co-Op City's Greenway. Casts from Wicked and Beautiful: The Carole King Musical perform.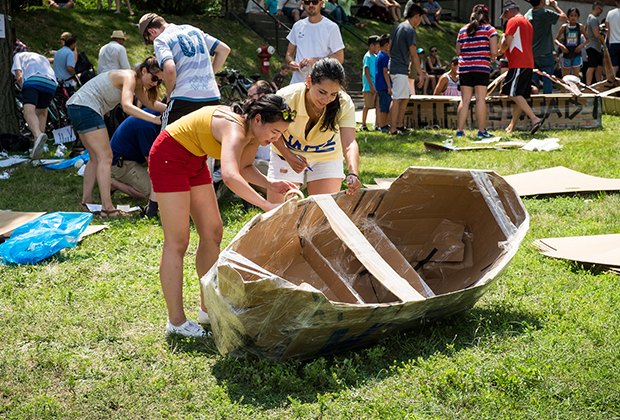 Build a cardboard boat and enjoy a race at City of Water Day. Photo courtesy of Governors Island
Saturday, July 13 Hit the city shoreline and the water beyond for one of our favorite annual fests, City of Water Day, featuring boat rides and a Disney-sponsored family festival. The best part: It's all FREE, though boat rides require advance registration and a small deposit.
Sunday, July 14 Hit one of Staten Island's biggest summer events: Back to the Beach at Midland Beach, with rides, vendors, kids activities, live entertainment, and more.
Monday, July 15 Clamber over the fallen tree at the center of artist Siah Armajani's Bridge Over Tree at the Empire Fulton Lawn in Brooklyn Bridge Park.
Tuesday, July 16 Head to the Unisphere in Flushing Meadows Corona Park to see rockets take flight in Mad Science: The Summertime Rocket Show.
Wednesday, July 17 Catch the City Parks Foundation's summer puppet show Bessie's Big Shot playing today at Monsignor Kett Playground in Inwood.
Thursday, July 18 Join the Family Jam at Dumbo's Live at the Archway series. A concert by Kombilesa Mi follows.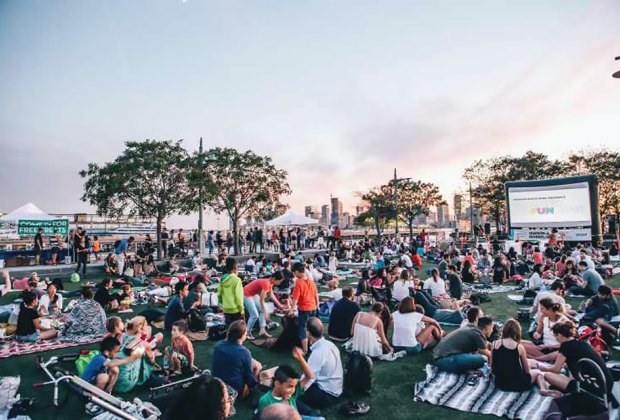 Catch a movie outdoors at Hudson River Park's RiverFlicks for Kids. Photo courtesy of Hudson River Park
Friday, July 19 Catch one of our favorite seasonal movie series with a showing of Ralph Breaks the Internet at Hudson River Park's RiverFlicks for Kids.
Saturday, July 20 Boogie the night away at the FAMAJAM Family Dance Party Series at the Greenwood Park Beer Garden. Note: Dance party is free, but there is charge for food and drinks.
Sunday, July 21 Head to the Greenlight Book Store's Prospect Lefferts Garden Location for a special storytime with the hosts of the Girls Tales podcast.
Monday, July 22 Hit the Great Lawn in Astoria Park for a sunset screening of the classic, Singin' in the Rain.
Tuesday, July 23 Explore the ecosystem of Brooklyn Bridge Park at its Environmental Education Center open hours.
Wednesday, July 24 Roll up your sleeves and dive into some interactive art when the Blue Bus Project rolls up to Queen's Highland Park bringing art workshops along with it.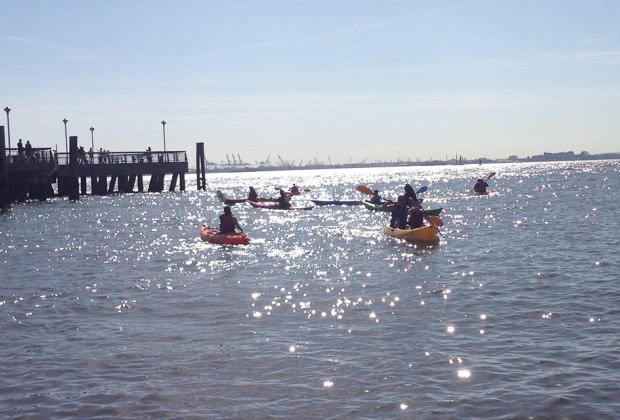 Do some free kayaking this summer at Valentino Pier in Red Hook. Photo courtesy of Red Hook Boaters
Thursday, July 25 Hit the water with free kayaking at two Brooklyn waterfront spots: Red Hook's Louis Valentino Jr. Park and Pier and Brooklyn Bridge Park's Boathouse.
Friday, July 26 Venture out to Randall's Island to explore the Urban Farm with an evening tour where you can stop and smell the flowers and taste in-season produce.
Saturday, July 27 Head to The High Line for its annual family fest, dedicated this summer to Young Storytellers, kids will be inspired to create by Simone Leigh's Brick House and teaching artists from the Sugar Hill Museum of Art & Storytelling.
Sunday, July 28 Visit the scenic Socrates Sculpture Park for an afternoon-long celebration of Mexican culture as Ballet Folklórico Mexicano de Nueva York performs.
Monday, July 29 Enjoy a performance from City Stomp at Pier 25 and explore the fabulous playground nearby.
Tuesday, July 30 Mastered fishing? Here's another catch-and-release sport to test your skills: Head to Madison Square Park to frolic with the fireflies.
Wednesday, July 31 Join the New York Hall of Science for a live STEM demonstration at Queens' Highland Park.
See free August events | See free September events | See free anytime events
Check out our Summer Fun Guide and our Event Calendar for additional suggestions.
A version of this story was published in 2017; it is updated annually.