Free Boat Rides in the City: Where To Go Canoeing, Sailing, and Kayaking in NYC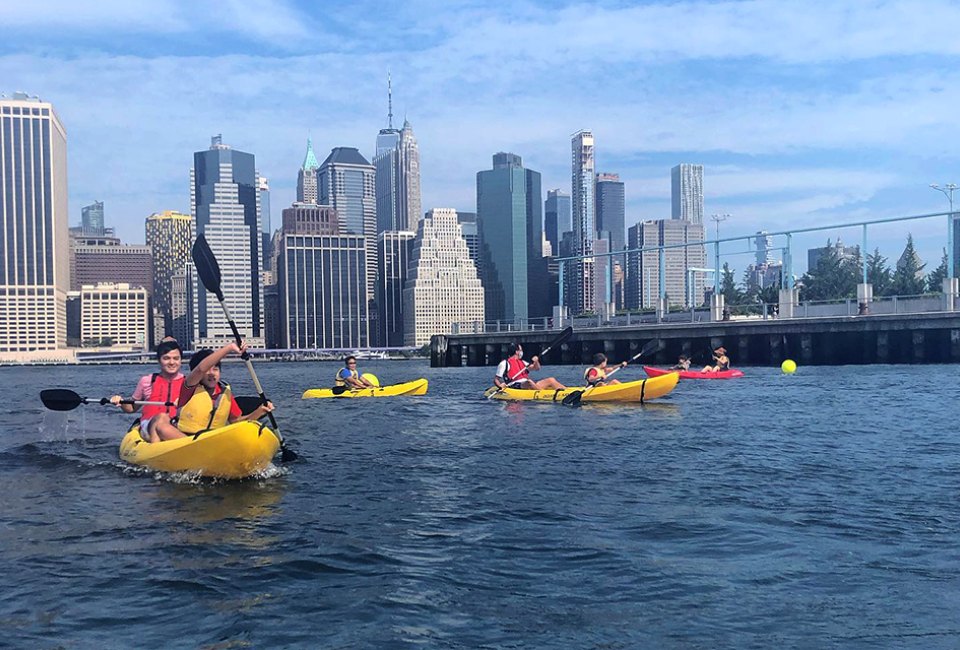 5/17/22
- By
Sonia Gonzalez
With all the water surrounding New York City, it's no wonder there are so many sightseeing cruises and fun ferry rides to great kid destinations. If you want to be your own captain, NYC offers many seasonal opportunities for families to get out on the water by themselves with FREE sailing, canoeing, rowing, and kayaking in NYC.
We've rounded up 10 great New York City organizations offering boating sessions on the local waterways. Find more fun ways to get wet in our Guide to Beaches and Lakes Near NYC.
Subscribe to our newsletters to get stories like this delivered directly to your inbox.
Remember to call ahead or check each individual organization's website or Facebook page before heading out. Weather, special events, and repairs can put things in flux at these mostly community-run spots.
Where to Go Kayaking in NYC
Pier 96 at 56th Street in Hudson River Park
Saturday and Sunday afternoons
Memorial Day weekend through August; reservations required
The Manhattan Community Boathouse runs reservation-only kayaking at Pier 96 on Saturdays and Sundays. Reservations can be made up to two weeks in advance. Paddlers under 16 must share a boat with their parent or caregiver. You will find lockers to stash items at the Pier 96 changing rooms.
RELATED: See the Mega Splash Pad in Flushing Meadows Corona Park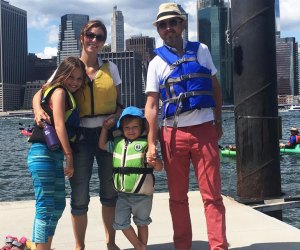 The whole family can kayak at Brooklyn Bridge Park. Photo by the Rosalind Muggeridge
Pier 4 beach in Brooklyn Bridge Park
Kayaking is available Wednesday and Thursday evenings; plus Saturdays; Sunday afternoons are reserved for family paddling
Memorial Day weekend through August; reservations are required
Anyone above the age of 14 can kayak alone (if a parent/guardian accompanies them in another boat), and younger kids can ride in double kayaks with a parent. One child and one adult are allowed per boat. Children 7 and older may paddle in a single kayak on Sundays during the Family Program. Organizers recommend kids are at least 3 feet tall to ride. When you do get out on the water, you'll be rewarded with breathtaking views of Lower Manhattan. Remember your rowing time is limited to 20 minutes. Afterward, check out all of the things to do in this awesome park, including a carousel and an incredible water playground.
RELATED: Top Beaches Near NYC for Toddlers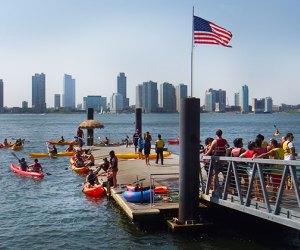 Kayak on the Hudson River with the Downtown Boathouse to take in the gorgeous harbor and cityscape views.
Pier 26 on the Hudson River and Pier 101 on Governors Island
Pier 26: Weekends and holidays from Saturday, May 21-Monday, October 10. A weeknight schedule will be announced later this summer.
Governor's Island: Saturdays from June through September
On weekends and holidays, the Downtown Boathouse offers FREE kayaking in NYC on the Hudson River at Pier 26. Expect to get a little wet when you kayak. The Boathouse suggests wearing a bathing suit, but we didn't and found we dried off quickly on a hot summer day. An adult must be present with anyone under 18; those under 13 must ride in a boat with an adult. Only one kid is permitted per boat. On Governors Island, the kayaking program takes place at Pier 101 in a small cove and is available for walk-ups only.
850 Page Avenue
Select days throughout the summer; follow it on Facebook for updates.
This all-volunteer organization offers kayaking in NYC and provides everything you need to get out on the water, including kayaks, paddles, and life jackets, as well as basic launch, land, and paddling tips. Experienced kayakers are on the water to observe and assist. No registration is required. Dry bags are available for sale ($10). An adult must accompany children under 18, and everyone must sign a waiver. Time on the water is limited to 15-20 minutes, but you're welcome to get back in line for another go. Dates for this year's free walk-up kayaking are still being confirmed; follow its Facebook page for the latest information.
RELATED: Best Mini-Golf Courses for Kids in NYC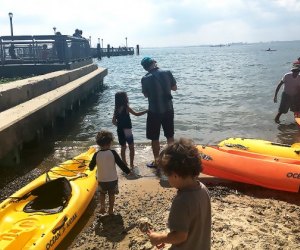 Kayak off Valentino Pier in New York Harbor with the Red Hook Boaters. Photo by Sara Marentette
Louis Valentino Jr. Park and Pier, Coffey and Ferris Streets
Thursday evenings from June through mid-August and Sunday afternoons from June through mid-September
The members of this all-volunteer group hold beach cleanups during each of its kayaking in NYC sessions, so in addition to boating, it's a great way to chip in to help keep the shore clean in Red Hook. Paddlers are welcome to explore the protected cove at their own pace, but rides are limited to 15-20 minutes to give everyone a chance. Double kayaks, kid-size paddles, and life jackets make this spot very kid-friendly. Still, kids under 14 must ride with a caregiver, and parents must be present to supervise and sign the waiver for all minors. Check the calendar for full details and special events. Lockers are not available.
The Urban Park Rangers offer FREE canoeing and kayaking in NYC for children ages 8 and up. Advance registration is required, and participants are selected through a lottery.
RELATED: Drive-In Movie Theaters in and Around NYC for Outdoor Movie Nights With Kids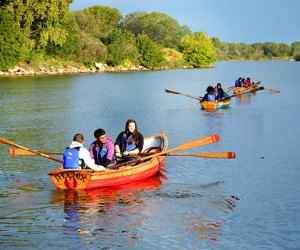 Enjoy a ride along the Bronx River in wooden rowboats crafted by local teens at Rocking the Boat.
Where to Find Rowboats in New York City
Hunts Point Riverside Park
Saturdays from Memorial Day weekend through Labor Day weekend
Explore the Bronx River in wooden rowboats crafted by local teens as part of Rocking the Boat's youth development program. During the weekly community rowing sessions, participants head out onto the river with Rocking the Boat staff for 20-minute rides. No registration is required. An adult must accompany children.
Pier 40 at Houston Street and the Hudson River
Wednesdays and Sundays from Sunday, May 22 through November
In addition to rowing in NYC at Pier 40, this organization also offers FREE boat-building sessions to the public. A parent must accompany those under 16, and parents must sign a waiver for anyone under 18. Sign up in advance to guarantee a spot.
RELATED: Swimming Lakes Near NYC for a Family Dip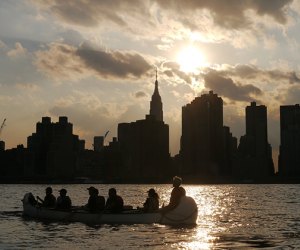 Take to the water on Newton Creek, between Queens and Brooklyn, with the North Brooklyn Boat Club.
Where to Go Canoeing in NYC
Broadway Stages Boatyard, 49 Ash Street at McGuinness Boulevard
Select weekends in July and August
On select Saturdays and Sundays, you can paddle a 29-foot canoe on Newtown Creek, the body of water that narrowly separates Brooklyn and Queens. Members can paddle in NYC waters more often and try out challenging weekend kayaking trips. Children must be at least 4-foot-10, so it's best for older kids. Visit the calendar for more details. Snacks and beverages are available for purchase.
Community Sailing Spots in NYC
Hunts Point Riverside Park, 1409 Lafayette Avenue between Edgewater Road and the Bronx River
Select Saturdays; visit the website for current schedule.
Sail the Bronx River with Rocking the Boat staff and fellow water enthusiasts on 20-minute rides. No registration is required. An adult must accompany children.
City Rules for Boating Solo
If you happen to have your own canoe or kayak and prefer to go kayaking in NYC alone, there are several public launch sites throughout the city. Info about launch applications, permit requirements, a map of public launch sites, and additional rules, regulations, and guidelines are available on the NYC Parks Department website. If you're going to do it yourself, you'll also want to read the rules for boating in NYC.
This article, first published in June 2012, is updated annually.
Unless noted, photos courtesy of the boathouses
t Click Here to Sign Up!