14 Miniature Golf Courses for NYC Kids
For many families, mini golf is a quintessential spring and summer activity that they look forward to every year. My son loves it, so we've tried just about every putt-putt course in the tristate area.
While there are plenty of courses on Long Island and in New Jersey, you don't need to head out of town. There are currently more than a dozen places to play mini golf right here in New York City. And as sports go, it's typically fairly inexpensive—often as little as $5 a round for kids. Another bonus is that it's one of those rare activities that parents and kids can play together. You can even host a birthday party at most of these spots.
Read on to find out where to play mini golf with the kids in the city, and I'll see you on the green!
Alley Pond Golf Center – Douglaston, Queens
Open year-round
In addition to a driving range and a pro-shop for grown-ups, this Queens course boasts an 18-hole mini golf course for kids and families. A $3 million renovation revealed in 2016 included a sprucing up of the mini golf section, too.
Aviator Golf Center – Marine Park, Brooklyn
Open seasonally
This lovely 18-hole putt-putt course is part of a larger complex that features grown-up golf, a driving range, and a pro shop. Formerly Brooklyn Golf Center, it's now part of Aviator Sports.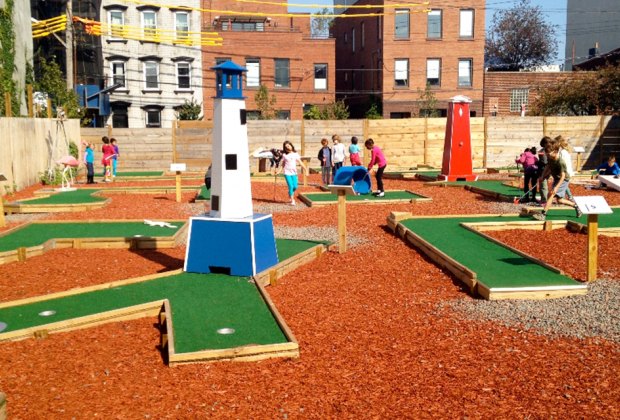 Play a round of mini golf before or after your meal! Photo courtesy of Brooklyn Crab
Brooklyn Crab – Red Hook, Brooklyn
Restaurant is open all year, golf course and backyard open from mid-April to late-October
This funky seafood shack has an eight-hole mini golf course in its backyard along with cornhole games, sandboxes, and shuffleboard for your amusement before or after dinner.
Coney Island Mini-Golf – Coney Island, Brooklyn
Open seasonally
After you've had your fill of roller coasters and other thrill rides, hit the 18-hole putt-putt experience at Coney Island. The course features waterfalls, streams, and sand traps.
Figment NYC – Roosevelt Island
Saturday, June 1 and Sunday, June 2
For those of us who fondly remember the Figment golf course on Governors Island, some happy news: Each summer Figment, a free mini golf course designed by artists, pops up for a weekend. This year, the course will be located on Roosevelt Island at Lighthouse Park as part of the weekend-long participatory arts festival.

Flushing Meadows Golf Center – Flushing, Queens
Open year-round with longer hours from May-October
Another gorgeous spot, this 18-hole course is lined with waterfalls and exudes serenity. It's open late for older kids, well-lit at night, and relatively inexpensive. Bonus: If you're heading there by car, parking is free.
Industry City – Sunset Park, Brooklyn
Open year-round; outdoors beginning April 20
The NYC-themed mini golf course at Industry City is now open year-round. During the colder months, kids can get their mini-golf fix indoors in the Game Room. Starting May 19, the course will be back outdoors in the spacious Industry City Courtyard 5/6. The nine-hole course inspired by Brooklyn landmarks can be played in any order, making it a good option for even little kids.
Jewish Children's Museum – Crown Heights, Brooklyn
Open year-round
The most offbeat course of them all, the Jewish Children's Museum has a small Six Holes of Life Mini Golf installation on its fifth floor. Of course, playing isn't the sole purpose; each hole is meant to teach a specific Jewish ritual, from bris to bar mitzvah. While it won't take long to tackle this smaller course, there are plenty of other things to do at the museum once you're through.
RELATED: 9 NYC Batting Cages Where Kids Can Hit it Outta the Park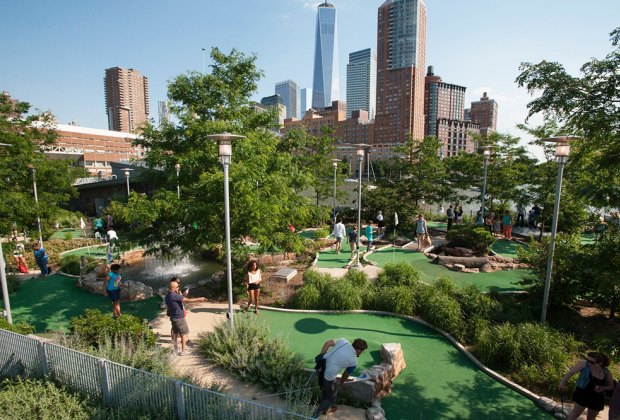 Hit the links at Pier 25's 18-hole course before a playground romp.
Pier 25 in Hudson River Park – Tribeca
Wednesdays through Sundays March through mid-April, weather permitting; daily mid-April through mid-November
Run by Manhattan Youth, this 13,000-square-foot, 18-hole course debuted in 2011 and quickly became a family hot spot for easy, inexpensive, and accessible fun. Even mini golf novices should be able to complete the game in less than 20 minutes, and the holes have some cute features, like the one where your ball ends up in a stream and floats back to the green. Plus there's a fantastic playground nearby. Note: It's cash only!
Randall's Island Golf Center – Randall's Island
*The Golf Center is currently closed for renovations and is expected to reopen late summer 2019
There are two 18-hole courses on the isle and each is absolutely beautiful, with waterfalls and lovely landscaping that makes you feel like you're far from the city. There's also a beer garden, a cute cafe, and batting cages. If you don't want to take the public M35 bus (which doesn't come very often), there's a shuttle bus that runs from the Upper East Side directly to the center.

Kids learn about science while playing mini golf at Rocket Park Mini Golf at the New York Hall of Science. Photo courtesy of NYSCI
Rocket Park Mini Golf – Flushing, Queens
*Rocket Park is currently closed for renovations and is expected to reopen later in 2019
This nine-hole seasonal course at the New York Hall of Science boasts two real NASA rockets, making it truly out-of-this-world. Kids get to explore concepts like propulsion, gravity, escape velocity, launch window, and gravitational assist while playing. Forget spinning windmills; in Splash Down, players attempt to shoot their balls across the putting green into a Skee-ball-type mechanism, with a globe as its main target. The whole park is reminiscent of the Space Age '60s, making the atmosphere super cool.

The indoor Shipwrecked course features a super cool pirate and NYC theme. Photo courtesy of Shipwrecked
Shipwrecked Miniature Golf – Red Hook, Brooklyn
Open year-round
This newcomer to the putt-putt scene was put together by some well-known Brooklyn buddies who previously banded together to build the Holiday Lights Spectacular in South Slope. The indoor, 18-hole course features four golf rooms, with theatrical lighting and mini shows that tell the story of Captain Red Hook. Once you've finished the course, spend some time in the arcade with its retro video games (think: Frogger and Donkey Kong) for a quarter per play.
Staten Island FunPark – Staten Island
Open mid-March-October
In addition to mini golf, this popular destination offers a go-kart racing track, a roller hockey rink, and batting cages. The 18-hole golf course is pretty traditional, with water and sand traps that stymie players throughout. A 2017 revamp to the park introduced new games, a snack bar, and more.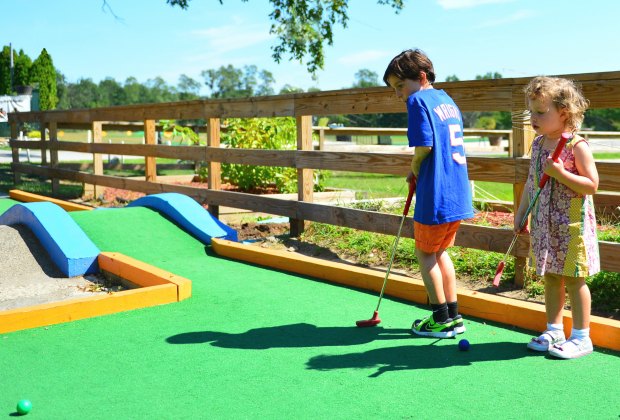 The pretty Turtle Cove Golf Center is a popular party spot for Bronx families. Photo courtesy the golf center
Turtle Cove Golf Center – the Bronx
Open year-round
This 18-hole mini golf course in lush Pelham Bay Park (not on City Island, despite the address) boasts landscaped gardens, shade trees, and water features. It's among our top party spots for Bronx kids.
And while it's technically not mini golf, kids may enjoy the five-hole AstroTurf putting green in the southwest corner of Bryant Park, which kicks off for the season on April 3 this year and is open every day, weather permitting through October. The park has a total of 50 free games for visitors to play.
This article first published in June 2010 but has since been updated. Katie Nave Freeman contributed additional reporting.