12 Places to Play Mini Golf in NYC for Families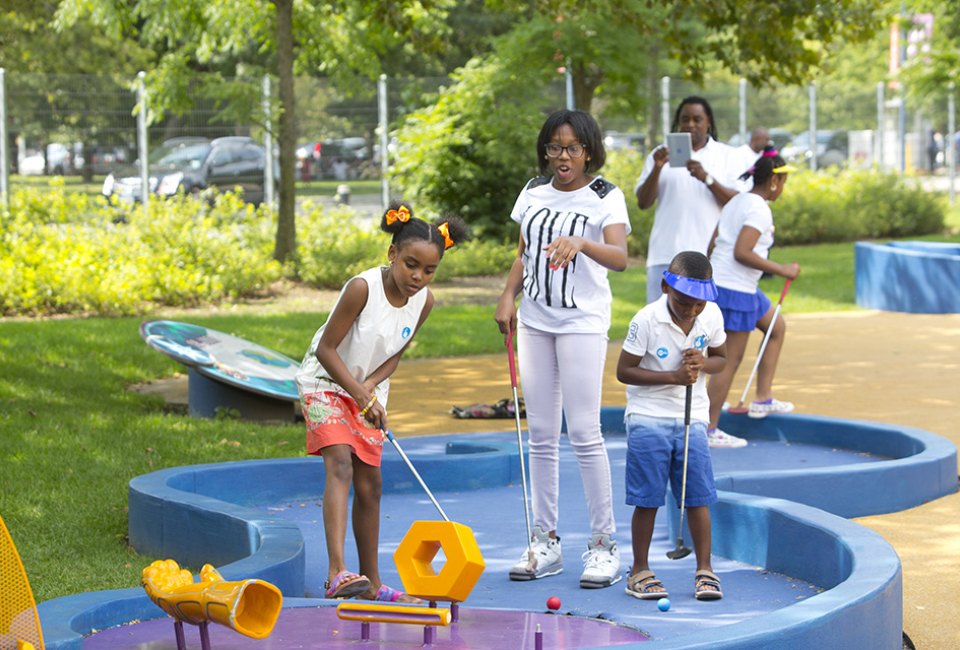 8/18/22
- By
Stephanie Ogozalek
For many families, mini golf is a quintessential warm-weather activity. My son loves mini golf, so we've played tons of mini golf in NYC and the tri-state area beyond. While there are plenty of places to play mini golf near NYC on Long Island and in New Jersey, you don't need to head out of town to hone your short game.
We've rounded up a handful of spots to play mini golf in NYC, including the pop-up VALE(mini)GOLF in Williamsburg, Jurassic-themed seasons installation at the ultra kid-friendly Brooklyn Children's Museum, and plenty of perennial favorites, like the course at Pier 25 in Hudson River Park. We've also found a few grown-up places where kids can take their golf game to the next level.
As sports go, playing mini golf in NYC is relatively inexpensive—often as little as $5 a round for kids. It's also one of those rare intergenerational activities parents and kids can play together. You can even host a birthday party at most of these spots. Read on to find out where to play mini golf in New York City with kids, and we'll see you on the green!
Subscribe to our newsletters to get stories like this delivered directly to your inbox.
Dedicated Courses to Play Mini Golf in NYC
Open seasonally
After you've had your fill of roller coasters and other thrill rides, hit the 18-hole putt-putt experience on Coney Island. This mini golf course in NYC features waterfalls, streams, and sand traps. You can also take a go-kart for a spin here.
Open mid-March-October
In addition to a mini golf course, this popular destination offers a go-kart racing track, a roller hockey rink, and batting cages. The 18-hole mini golf course is pretty traditional, with water and sand traps that stymie players throughout. A 2017 revamp to the park introduced new games, a snack bar, and more.
RELATED: Adventure Parks, Zip Lines, and Ropes Courses near NYC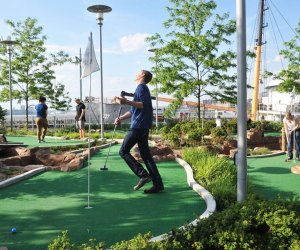 Hit the links at Pier 25's 18-hole course before a playground romp. Photo courtesy of Hudson River Park
Wednesdays through Sundays from March through mid-April, weather permitting; daily mid-April through mid-November
Run by Manhattan Youth, this 13,000-square-foot, 18-hole mini golf course debuted in 2011 and quickly became a family hot spot for easy, inexpensive, and accessible fun. Even mini golf novices should be able to complete the game in less than 20 minutes, and the holes have some cute features, like one where your ball ends up in a stream and floats back to the green. Plus, there's a fantastic playground nearby. Note: It's cash-only!
4. Putting GREEN – Williamsburg, Brooklyn
Monday-Friday, 10am-8pm; Saturday-Sunday, 10am-9pm
This climate-change-themed mini-golf course is located just north of Domino Park and features 18 holes, each designed by a different artist, an environmental advocacy organization, or a school group. The course is open daily and offers discounted tickets to make a round of golf accessible. A portion of the proceeds is donated to local organizations addressing climate change in NYC.
RELATED: 15 Best Places for Family Playtime in NYC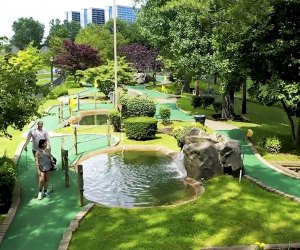 Flushing Meadows' mini-golf course offers 18 beautifully landscaped holes, with streams and waterfalls. Photo courtesy of the center
Open year-round with longer hours from May through October
This 18-hole course is lined with gorgeous waterfalls and exudes serenity. It's open late for older kids, well-lit at night, and relatively inexpensive—$10 for adults; $7.50 for kids ages 12 and younger. Bonus: If you're heading here by car, parking is FREE.
RELATED: Best Carousels in NYC: 13 Merry-Go-Rounds City Kids Love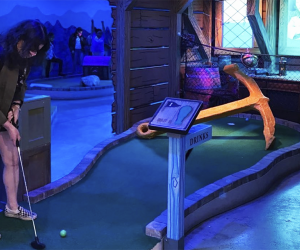 The indoor Shipwrecked mini golf course features a super cool pirate and NYC theme. Photo courtesy of Shipwrecked
Open year-round
This indoor mini-golf course was put together by some well-known Brooklyn buddies who previously banded together to build the Holiday Lights Spectacular in South Slope. The 18-hole course features four golf rooms, with theatrical lighting and mini-shows telling the story of Captain Red Hook. Once you've finished the course, spend some time in the arcade with its retro video games (Think: Frogger and Donkey Kong) for a quarter per play, or try your skills in an escape room. Reservations are required.
RELATED: Bounce Off the Walls at a Trampoline Park near NYC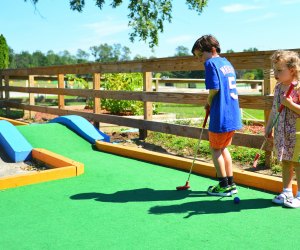 The pretty Turtle Cove Golf Center is a popular party spot for Bronx families. Photo courtesy the center
Where to Play Mini-Golf in NYC at Grown-up Courses
Open year-round
This 18-hole mini-golf course in the lush Pelham Bay Park (not on City Island, despite the address) boasts landscaped gardens, shade trees, and water features. It's among our top party spots for Bronx kids, too.
RELATED: Alley Pond Park in Queens: 10 Things To Do in the Sprawling Urban Green Space

Play an 18-hole mini golf course with waterfalls and fountains at the Alley Pond Golf Center. Photo courtesy of the center
Open year-round
In addition to a driving range and a pro-shop for grown-ups, this Queens course boasts an 18-hole mini golf course for kids and families. A $3 million renovation in 2016 spruced up of the mini golf section, too.
RELATED: 15 Family-Friendly Bowling Alleys in NYC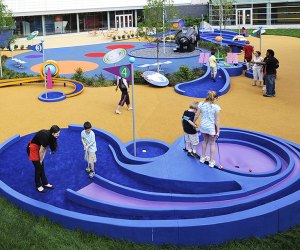 Kids learn about science while playing mini golf at Rocket Park Mini Golf at the New York Hall of Science. Photo courtesy of NYSCI
More Fun Spots to Play Mini Golf in NYC
Open year-round
Kids get to explore concepts like propulsion, gravity, escape velocity, launch window, and a gravitational assist while playing mini golf at this local STEM spot. The course got an overhaul in 2019.
Open year-round
The most offbeat course of them all, the Jewish Children's Museum has a small, "Six Holes of Life" mini-golf installation on its fifth floor. Of course, playing isn't the sole purpose; each hole is meant to teach a specific Jewish ritual, from bris to bar mitzvah. While it won't take long to tackle this smaller course, there are plenty of other things to do at the museum once you're through.
Open for the 2022 summer season
Putt away under the rooftop canopy at the Brooklyn Children's Museum while experiencing the noises and movements of large animatronic dinosaurs on this custom nine-hole mini golf course.
12. VALE(mini)GOLF – Williamsburg, Brooklyn
Wednesdays, Thursdays, Saturdays, and Sundays from 1pm-9pm; Friday hours are 2pm-10pm
This summer pop-up features a bespoke nine-hole course that is fun for kids, yet still challenging for adults. The course also features a mural by Brooklyn-based artist Jason Naylor as part of a global public art project. Bonus: $1 from every round played is donated to the National Alliance on Mental Illness of New York City.
This article, first published in June 2010, has since been updated. Katie Nave Freeman contributed additional reporting.