Destination Playground: Pier 25 Playground Is Action-Packed for Kids of All Ages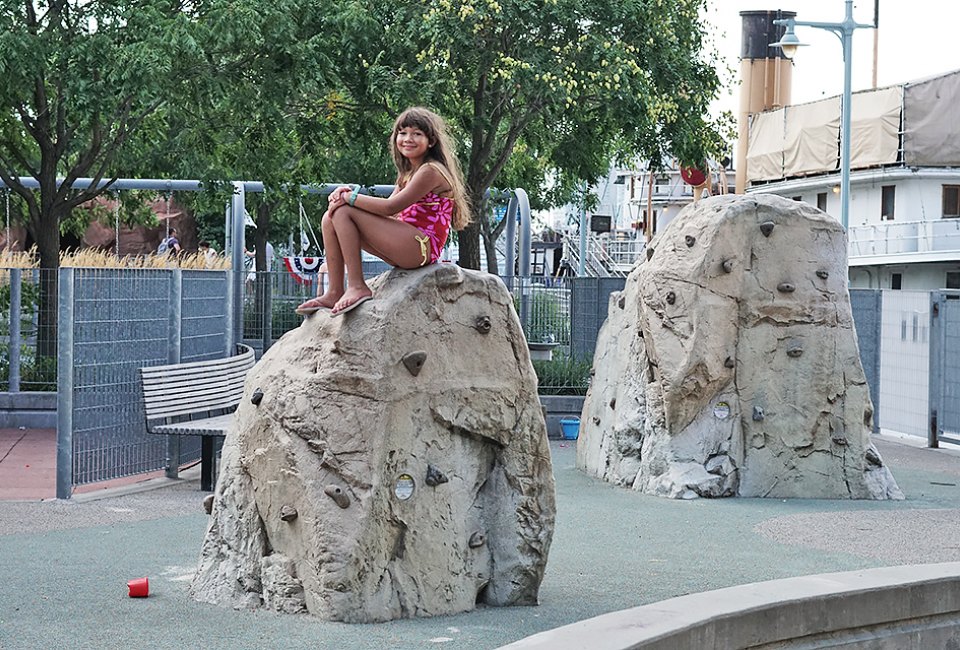 8/13/18
- By
Jody Mercier
On a hot summer day, the cool river breeze is hard to beat. But one thing that takes the summer fun up a notch is an ultra cool destination playground right on the river, with killer downtown and river views, proximity to free kayaking, reasonably priced mini golf, and plenty of free family-friendly programming. Think this all sounds too good to be true? Then you'll want to get reacquainted with the Hudson River Park's Pier 25 Playground in Tribeca.
Located at North Moore Street on the water, Pier 25 has been a neighborhood mainstay since its opening in 2010, and with good reason. At 25,000 square feet, there's seemingly something for every age in this spacious play area.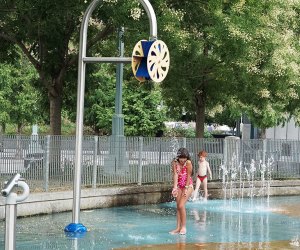 The giant sprinklers make Pier 25 a destination water park for city kids.
The playground may be best known for its large sprinkler area, which landed it on our list of the top water playgrounds citywide, and kids have no problem killing hours here. There are eight different water features to play with, ranging from passive gentle sprinklers just right for little ones to tipping buckets that douse anyone who dares walk under their splash zone. Plus there's a pair of water cannons that shoot sky-high...or right at your unsuspecting sibling, depending on how you aim them!
RELATED: Best Hudson River Park Playgrounds and Piers for Families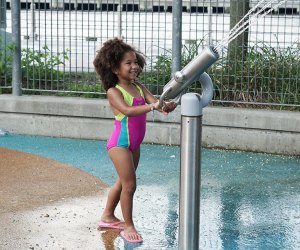 Kids a bit gritty from playing in the giant sandbox? No problem: the water cannon is an easy way to clean off!
Adjacent to the sprinkler area is a giant sandbox with communal toys perfect for digging and building. Parenting confession time (or is this the ultimate parenting hack?): The water cannon made post-sandbox cleanup easy and fun when I turned it on my 5-year-old, who was caked in sand from the knees down.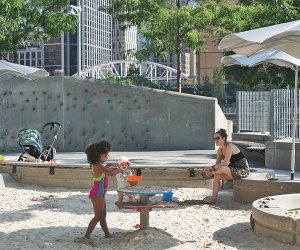 The large sand area makes you feel like you're at the beach.
Faux boulders and a giant climbing wall section off the water-and-sand area from the traditional play equipment, and are a big attraction with older kids, but perfectly friendly for the preschool set to build confidence on, too. The playground earns major bonus points for the ultra-cushy safety surfaces in the climbing play area.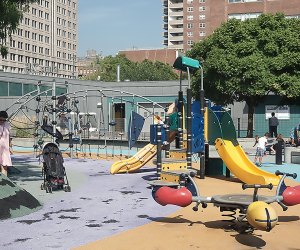 The playground area has challenging climbing for older kids and little kids too.
The south side of the playground has a series of modern-looking jungle gyms for all sizes, plus a rope climber my kids liken to a spider web. Scramble high enough and you can strike a Godzilla-like pose, as it looks like you've scaled the Freedom Tower in the distance. There's also a spinning merry-go-round wheel that kids go crazy for.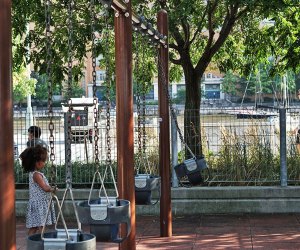 Bucket swings are always in demand in NYC and Pier 25 has plenty.
Separate swing areas offer plenty of room for big and little kids to glide. The bucket swings are pleasantly shady, too, so parents can stay cool while pushing their little ones higher.
RELATED: NYC's Best Playgrounds (All Worth a Schlep on the Subway)

Amenities abound at Pier 25.
When you tire of the playground, there are plenty of other amenities and activities on the pier. Restrooms greet you at the West Street entrance and there's a skate park and basketball court there, too. There are three separate seasonal snack bars on-site. As you walk toward the Hudson River, you'll find a mini-golf course, plus sand volleyball courts and a turf field, which was filled with preschoolers taking tennis lessons when we visited.
Striking views abound, too, whether you want to take in the majesty of the Freedom Tower and surrounding downtown buildings, or peep Lady Liberty from afar. Even watching the seafaring traffic is a kick for kids who are used to a more concrete jungle version of NYC, and the sunsets here are nothing short of striking.
For other great destination playgrounds to explore, click here.
A previous version of this post was published in 2010. Anna Fader provided additional reporting.
Photos by the author
Places featured in this article:
t Click Here to Sign Up!