Free and Cheap Summer Camps in NYC for Kids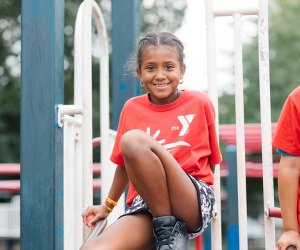 2/2/23
- By
Anna Fader
Finding summer camps in NYC can be especially stressful for your family's finances, and while we want our children to have a fun, rewarding, and safe experience, we don't want to dig into our retirement fund to pay for it. New York City families are lucky because free and cheap summer camps abound all across the five boroughs, where arts and education funding subsidizes some excellent New York City programs so all children can enjoy fantastic summer camps in NYC.
Read on for all our picks for free and affordable summer camps in NYC. Find more summer camps in New York City, including preschool summer camps, great sleepaway summer camps in the Northeast, and STEM summer day camps in our Summer Camp Guide and NYC Camp Directory, where you can search for summer camps in NYC by type, age, and neighborhood.
Subscribe to our newsletters to get stories like this delivered directly to your inbox.

Editor's note: While applications for some programs have yet to be released, we have confirmed the camps listed are all planning on operating in summer 2023. We will do our best to update this post as details are made available.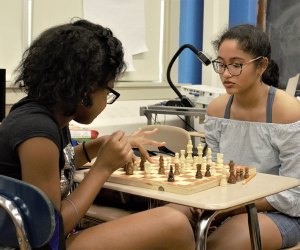 The BEAM summer math programs are aimed at low-income NYC kids who are interested in math. Photo courtesy of the camp
Free Summer Camps in New York City
Current sixth or seventh graders
Applications due Wednesday, March 15, 2023
This free summer math program is aimed at low-income NYC kids. In the BEAM Discovery Program, sixth-graders fascinated by math spend five weeks with top instructors, solving problems and learning skills not generally covered in middle schools, like logic or computer programming. Other activities include sports, field trips, and games. Seventh graders experience BEAM programming in a three-week sleepaway summer camp on a college campus upstate. To be eligible, students must live in New York City and demonstrate financial eligibility. Admission is highly competitive, but both programs are entirely free. The sixth-grade program includes breakfast, lunch, field trips, and daily transportation to one of two campuses (uptown or downtown) and runs from Saturday, June 10-Friday, August 11. The seventh-grade program includes food, lodging, transportation, and activities and runs from Sunday, July 9-Sunday, July 30. BEAM students are offered academic and college readiness support following the program.
Current 8th- and 9th-graders
Application due Friday, March 17, 2023
GOALS stands for Greater Opportunities Advancing Leadership and Science, so if you know a girl who's really into STEM subjects, listen up: Current eighth- and ninth-grade girls who attend school in NYC are eligible to apply for this free program at the Intrepid Sea, Air & Space Museum. Participants engage in field studies, workshops, and hands-on STEM activities. Only 50 girls are accepted into this highly competitive program, and applications are due Friday, March 17. The program runs for six weeks, from July 10-August 11, 2023. Teacher recommendations, transcripts, and an interview are required. Organizers say GOALS is more a youth leadership program than a traditional summer camp, and participants are expected to attend school-year alumni events. They also have access to internship and mentoring opportunities down the line.
Ages 6-13, varies by location
Application deadline and process varies by location
Every summer, this nonprofit runs more than 12 free summer camps in Brooklyn and the Bronx. The programs are meant to be fun, educational, and combat the dreaded summer slide. Healthy lunches are also provided. Age requirements vary by site. Some camps are held at the group's existing after-school centers, while others are held at public school spaces. You can find a complete list of centers on its website. Contact the location nearest you to find out how to apply.
RELATED: Summer Internships For NYC Teens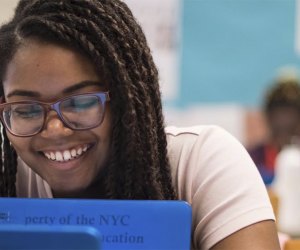 Girls Who Code is a national program that welcomes 10th- and 11th-grade girls.
Current 9th-11th graders
Application due Friday, March 24, 2023
These days, it's almost a requirement that kids learn to code. If you have a daughter in high school, this two-week summer immersion program can help. The 2023 application is now online. The 2023 program offers a two-week immersion program or a six-week, self-paced experience where kids can learn on their own time and participate in weekly advisory sessions and Girls Who Code activities. While girls can apply to both programs using a single application, they will only be allowed to participate in one.
Ages 3-14
Application TBD
Details on this summer program are still being finalized, but the nonprofit usually runs camps at sites in the tri-state area, including a country day camp in Westchester and NYC summer day camps housed at centers in Manhattan and the Bronx, as well as local schools. Tuition varies by location. In the past, some programs have been free, while others charged rates around several hundred dollars per week. Financial aid is available to those who qualify. It's one of the few programs that also takes preschoolers. If you are interested in a particular location, check out the entire list of participating programs.
Ages 5-13
Application TBD
This reader-recommended general-interest camp is run by the Neighborhood Improvement Association, which offers several free camps at public schools throughout Brooklyn. Full information is available in early April, so email info@niabklyn.org or subscribe to the summer camp list.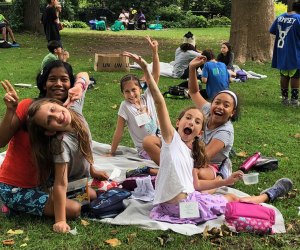 Kids can enjoy a variety of arts and crafts and traditional camp activities at ACT, which is on the campus of the Cathedral Church of St. John the Divine.
Inexpensive Summer Camps in NYC
We realize that we all have our definition of what constitutes inexpensive, but we've done our best to round up a sampling of some of the least expensive summer camps in NYC. The programs below start at $500 for the entire summer and go up from there.
Ages 3.9-14 years
Registration is now open
ACT has been running a summer day camp on the campus of the Cathedral Church of St. John the Divine since the early '70s. Kids enjoy arts and crafts, cooking, reading, and playing on the gorgeous grounds, plus field trips. The July session requires a five-week commitment and costs $3,100. Weekly rates in August are $670.
Ages 7-12
Application TBD
This stunning state park hosts a summer day camp that costs $550 for five weeks, and registration occurs in person during the late spring. Find more info on the green space's Facebook page.
Ages 4 and up
Registration is now open
With sleepaway camps and summer day camps located in all five boroughs and beyond, the YMCA provides youth with supervised activities that teach core values, conflict resolution, and leadership skills. These camps are well-priced, between $200-$450 a week, depending on the location. Financial aid is also available to those who qualify.
RELATED: Free Summer Sports and Outdoor Programs in NYC for Kids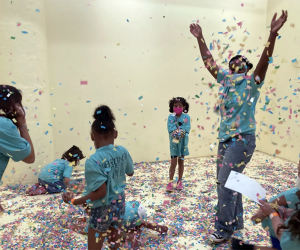 At Abrons Arts Summer Camp, students learn creative skills in visual arts, music, theater, and dance.
Ages 5-13
Application TBD
Part of the venerable Henry Street Settlement on the Lower East Side, this program offers arts and crafts, music, drama, sports, swimming, and field trips. Details for this year are still being finalized, but last year's rate was $2,600 for a six-week session, with financial aid cutting the price in half if you meet income requirements.
Ages 7-12
Registration is now open
BCAP includes a garden, a historic house, a nature center, a landmarked park, a library, a zoo, and two museums! Campers enjoy a carefully crafted curriculum led by instructors at each site, often combined with behind-the-scenes access. BCAP takes advantage of the incredible resources of Brooklyn's cultural institutions by offering hands-on experiences for children. Campers explore world cultures at the Brooklyn Children's Museum, become botanists at the Brooklyn Botanic Garden, discover the incredible wildlife in Prospect Park, celebrate literature at the Brooklyn Public Library, meet sea lions, baboons, and meerkats at the Prospect Park Zoo, create an artistic masterpiece at Brooklyn Museum and more. Two-week sessions cost $750-800, and the camp runs in two-week sessions in July and August. Full and partial scholarships are available to those who qualify.
Ages 6-13
Lottery dates TBD
The Parks Department runs summer camps in NYC at recreation centers throughout the city that feature arts and crafts, sports, computer time, and field trips. Details for this year's camp are still being finalized, but the camp typically runs from July through August. The cost for the entire summer ranges from $500-$575. To vie for a spot at this low-cost summer camp, enter the online lottery in the spring. Registration generally takes place in early March.
Grants & Other Ideas for Affordable Summer Camps
Some summer camp grants are available to New York City kids. Several of my friends have participated in the One Happy Camper program, which offers up to $1,000 off a child's first year of Jewish sleepaway camp. These grants are not need-based, so anyone can apply.
There are also need-based programs like the venerable Fresh Air Fund, which gives city kids the chance to experience sleepaway camp at no cost; the Sports & Arts in Schools Foundation, which runs summer day camps at various public schools and community centers, and Wishbone, a nonprofit that helps promising low-income NYC high school students attend the summer camp or after-school program of their choice.
Another good bet is to contact local Catholic schools, churches, or community centers in your area. Many of them run inexpensive summer camps in NYC for kids, and not all require membership.
We also keep a list of Free summer sports programs for New York City kids if you're not looking for full-time coverage.
Finally, if your kids have their hearts set on a particular summer camp, inquire about financial aid. Many programs offer assistance to families who qualify.
Photos courtesy of the summer camps
This article, originally published in January 2010, is updated annually.