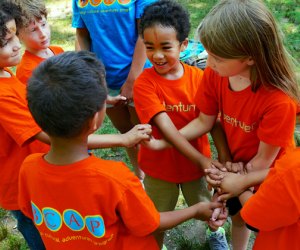 Free and Cheap Summer Camps for NYC Kids
Summer camp can be especially stressful for your family's finances—while we want our children to have a fun, rewarding, and safe experience, we don't want to dig into our retirement fund to pay for it. Even if your family's swimming in money (and if you are, congrats), we all appreciate a good bargain.
Although there seem to be fewer FREE New York City summer camps than in years past, our list of inexpensive or cheaper camps for local kids is still substantial. Some wonderful New York City programs are subsidized by arts and education funding so that all children can experience the amazing resources of this city.
Read on for all the info on our picks for FREE and bargain summer camps for NYC kids. You can find even more summer options in our jam-packed Summer Camp Guide and search for programs by interest, age range, and location in our Camp Directory.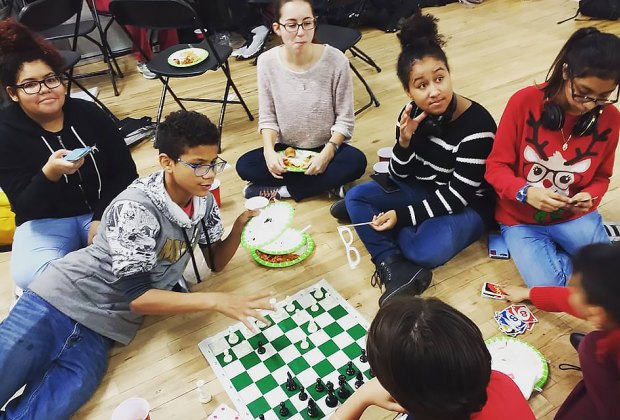 The BEAM 6 summer math program is aimed at low-income NYC kids who are fascinated with math. Photo courtesy of the camp
Free Camps
BEAM 6 (Bridge to Enter Advanced Mathematics) — Various Locations
For current sixth graders
This FREE summer math program is aimed at low-income NYC kids. Sixth-graders who are fascinated by math spend five weeks with top instructors, solving problems and learning skills not generally covered in middle school, like logic or computer programming. Other activities include sports, field trips, and games. In order to be eligible, students must have completed sixth grade this year, live in New York City, and demonstrate financial eligibility, which generally means qualifying for free or reduced-price lunch, although family circumstances are taken into account. Students submit short-answer responses, a teacher recommendation, and financial information. They also get to try out BEAM's math problems in its Admissions Challenge. About 600 students apply for 200 spots. The program is completely free, including breakfast, lunch, field trips, and daily transportation to one of two campuses (uptown or downtown). The program runs July through August. Application deadlines will be released soon.
BEAM also has a few open seats at BEAM 7, a residential math program for seventh graders who spend three weeks studying math on a college campus in the Hudson Valley. Visit the website for more information and application materials as they are made available in the coming weeks.
Brooklyn Children's Museum Summer Camp – Crown Heights, Brooklyn
Ages 6–11
Brooklyn Children's Museum hosts this completely free summer camp at PS 189. The camp's 80 slots are filled via a lottery. Priority is given to families who attend an info session and to siblings of those selected. The application period runs Monday, February 18 through Friday, March 22. More information will be available online in the first week of February. Campers work with museum educators to explore arts, culture, and STEM topics all summer long. Camp typically lasts from 8:30am–5:45pm daily.

CultureHub CoLab Summer Camp – East Village
CoLab offers students in high school the chance to explore the intersection of arts and technology with professional artists and creative technologists. Kids can choose between two modules that meet for three hours per/day for two weeks in July. The program is completely free of cost and CultureHub provides MetroCards for students who need to travel. Email colab@culturehub.org for info.
Downtown Community Television Center Media Fellowship – Chinatown
Ages 14-21
This fellowship focuses on collaborative filmmaking and media arts, media literacy, video production and editing, and story telling through digital video production. Participating students create narrative, documentary, or experimental short films and develop web content. Visit the website for updates.
Teachers College CP Speech Camp – Morningside Heights
Ages 4-17
This three-week long summer camp is hosted by the Speech Production and Perception Lab at Teachers College and is geared toward children with cerebral palsy. The camp has also added a new speech program for individuals with Moebius and other facial weakness syndromes. Students will enjoy fun-filled days of games, singing, and dramatic play, all geared toward improving children's language and communication skills. The camp is supervised by Erika Levy, Ph.D., CCC-SLP. Students will visit the lab before and after the camp so researchers can measure their progress.
RELATED: Summer Internships for NYC Teens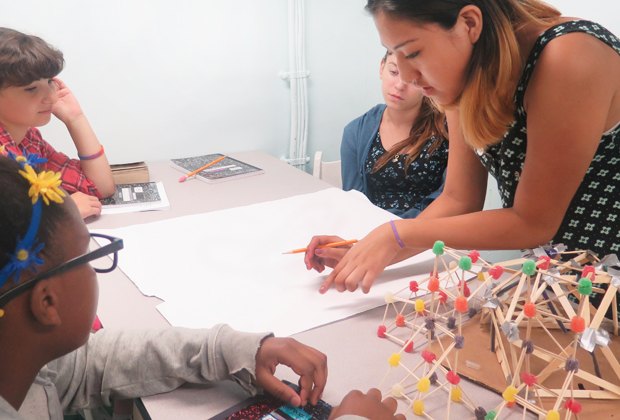 G.O.A.L.S. participants are introduced to many STEM topics including this workshop on structural engineering.
G.O.A.L.S. for Girls — Midtown West
Current 8th- and 9th-graders
G.O.A.L.S. stands for Greater Opportunities Advancing Leadership and Science, so if you know a girl who's really into STEM (science, technology, engineering, and mathematics) subjects, listen up: If she's currently in eighth or ninth grade and goes to school in NYC, she's eligible to apply for this FREE program at the Intrepid Sea, Air & Space Museum. Participants will engage in field studies, workshops, and hands-on STEM activities. Only 50 girls are accepted into this highly competitive program and applications are due Monday, March 18. This is a six week program, beginning July 8 and running through August 16. Teacher recommendations and an interview are also required. Organizers say G.O.A.L.S. is more youth leadership program than traditional camp and participants are expected to attend school-year alumni events. They also have access to internship and mentoring opportunities down the line.
Goddard Riverside Community Center – Upper West Side
Ages 6–14
This Upper West Side nonprofit runs four summer camps with a focus on STEM, visual arts, recreation, and youth advisory. Its Beacon Program, for ages 11–14, is no-cost. Its other three programs, catering to kids from kindergarten through eighth grades, are low cost. Registration generally opens in early February.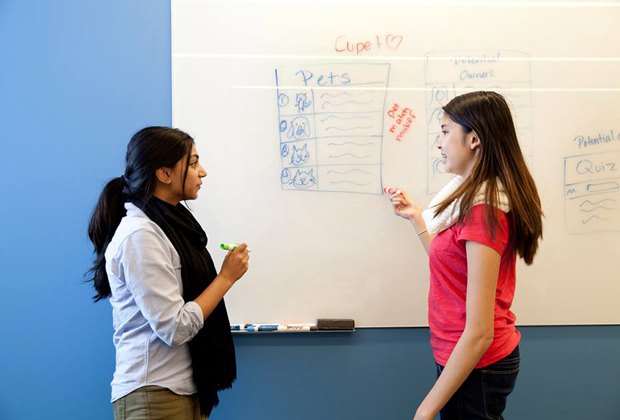 Girls Who Code is a national program that welcomes 10th- and 11th-grade girls.
Girls Who Code — NYC (Location TBA)
Current 10th- and 11th-graders
These days, it's almost a requirement that kids learn to code. If you have a daughter in high school, this seven-week summer immersion program can help. Participants go on field trips and take classes in robotics, website and app design, and meet industry pros. The application to the 2019 summer program will be available in mid-January. Sign-up for updates on the website.
Good Shepherd Services — Bronx and Brooklyn
Ages 6–13, varies by location
Every summer, this nonprofit runs more than 15 FREE camps in Brooklyn and the Bronx. The programs are meant to be fun, educational, and combat the dreaded summer slide. Healthy lunches are also provided. Age requirements vary by site. Some camps are held at the group's existing after-school centers, while others will be held at to-be-determined public school spaces. You can find a complete list of centers at on its website. Contact the location nearest you to find out how to apply.
NIA Community Services Network — Brooklyn
Ages 5–13
This reader-recommended general-interest camp is run by the Neighborhood Improvement Association, which offers a number of FREE camps at public schools throughout Brooklyn. Full information is available in early April, so email info@niabklyn.org or fill out the online form to be notified when registration materials are available.
Inexpensive Day Camps
We realize that we all have our own definition of what constitutes inexpensive, but we've done our best to round up a sampling of some of the least expensive NYC summer camps. The programs below start at $500 for the entire summer and go up from there.
Abrons Arts Camp — Lower East Side
Ages 5–13
Part of the venerable Henry Street Settlement on the Lower East Side, this program offers arts and crafts, music, drama, sports, swimming, and field trips. The rate is $2,310 for a full-summer session, running July through August. Financial aid is available.
Adults and Children in Trust (ACT) Summer Camp — Morningside Heights
Ages 3 1/2–14
Adults and Children in Trust has been running a day camp on the campus of the Cathedral Church of St. John the Divine since the early '70s. Kids enjoy arts and crafts, cooking, reading, and playing on the gorgeous grounds, plus field trips. The July session requires a five-week commitment and costs $2,495. Weekly rates in August range from $420–$490. Registration is now open.
Brooklyn Cultural Adventures Program (BCAP) — Brooklyn
Ages 7–12
BCAP includes a garden, a historic house, a nature center, a landmarked park, a library, a zoo, and two museums! Campers enjoy a carefully crafted curriculum led by instructors at each site, often combined with behind-the-scenes access. BCAP takes advantage of the incredible resources of Brooklyn's cultural institutions by offering hands-on experiences for children. Campers explore world cultures at the Brooklyn Children's Museum, become botanists at the Brooklyn Botanic Garden, discover the wonderful wildlife in Prospect Park, celebrate literature at the Brooklyn Public Library, meet sea lions, baboons, and meerkats at the Prospect Park Zoo, create an artistic masterpiece at Brooklyn Museum and more. Two-week sessions cost $675–$725 and the camp runs July through August. Registration will begin on Friday, February 1. Full and partial scholarships are available to those who qualify.
RELATED: Summer Camps for NYC Kids with Special Needs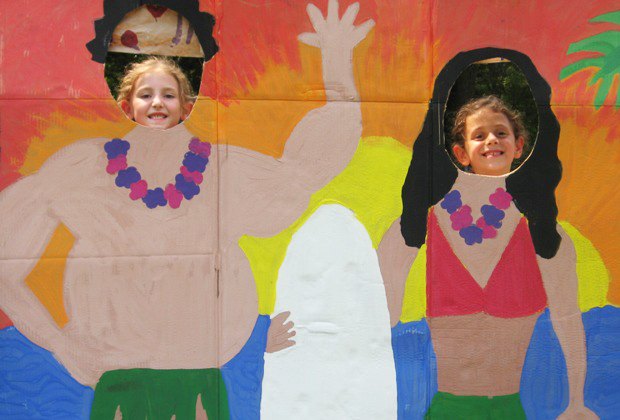 Carnival fun at The Children's Aid Society camp.
The Children's Aid Society — Various Locations
Ages 3–14
Details on this summer program are still being finalized, but the nonprofit usually runs camps at approximately 17 sites in the tri-state area, including a country day camp in Westchester, and NYC day camps housed at centers in Manhattan and the Bronx, as well as local schools. Tuition varies by location. In the past, the East Harlem camp has been FREE, while others charged rates around $300 per week and financial aid is available to those who qualify. It's one of the few programs that also takes preschoolers. If you are interested in a particular location, reach out to that center directly to find out when registration starts.
NYC Parks Experience Summer Day Camp — Citywide
Ages 6–13
The Parks Department runs day camps at recreation centers throughout the city that feature arts and crafts, sports, computer time, and field trips. This year's camp runs from Monday, July 8 through Friday, August 23. Registration will take place on Friday, March 1 through Sunday, March 10. The cost for the entire summer is $500 for a day that runs from 9am–5pm or $575 for an extended day from 8am–6pm. To vie for a spot at this low-cost camp, enter the online lottery. Registration generally takes place in early March.
Summer Camp at Lehman College — the Bronx
Ages 6–12
This summer camp hosted on Lehman College's 37-acre campus offers half-day and full-day (8am–6pm) options with plenty of outdoor activities, plus academic lessons, dance, arts and crafts, sports, and even swimming in the on-site Olympic-sized pool. FREE breakfast and lunch are provided to all campers. Sessions run for three weeks. Early bird rates are generally offered, so plan to register in April to score the best price.
Riverbank State Park — Harlem
Ages 7–12
This stunning Harlem park hosts a day camp that costs $550 for five weeks, and registration takes place in-person during the spring. Find more info on the green space's Facebook page.
Uptown Sports Complex — Bronx
Ages 5–13
Located in the Kingsbridge section of the Bronx, this youth athletics complex runs a number of different camps that range in price from $250–$275 per week. Dates, prices, and athletic activities vary but gymnastics, baseball, and a general sports option are usually offered. Check the website for more info as it becomes available.
YMCA — Citywide
Ages 4 and up
With sleepaway camps and day camps located in all five boroughs, the Y provides youth with supervised activities that teach core values, conflict resolution, and leadership skills. There are myriad opportunities to focus on sports from soccer to swimming to martial arts, crafts, science, and more for kids of almost any age. Registration for all YMCA camps is currently under way, so get in touch with the outpost nearest you to see what's offered. These camps are well priced, between $200–-$450 a week depending on location. Financial aid is also available for those who qualify.
Grants & Other Ideas
Some camp grants are available to New York City programs. Several of my friends have participated in the One Happy Camper program, which offers grants of up to $1,000 off a child's first year of Jewish sleepaway camp. These grants are not based on need, so anyone can apply.
There are also need-based programs like the venerable Fresh Air Fund, which gives city kids the chance to experience sleepaway camp at no cost; the Sports & Arts in Schools Foundation, which runs day camps at various public schools and community centers and Wishbone, a nonprofit that helps promising low-income NYC high school students attend the summer or after-school program of their choice. Also, check out Asphalt Green's scholarship program. The deadline to apply is Friday, February 8.
Another good bet is to contact local Catholic schools, churches, or community centers in your area. Many of them run inexpensive summer camps for kids, and not all require membership.
We also keep a list of FREE summer sports programs for New York City kids that will be updated in May when the info for 2019 becomes available.
Finally, if your kids have their hearts set on a particular camp, inquire about financial aid. Many programs offer assistance to families who qualify.
Read about lots of other wonderful summer programs in our Camp Guide. You can even search for programs by interest, age range, and location in our Camp Directory.
All photos provided courtesy of the summer camp pictured.
This article, originally published in January 2010, is updated annually. Katie Nave Freeman contributed additional reporting.