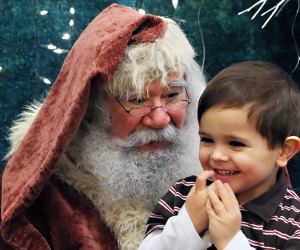 Santa Claus Photo Spots in NYC for Christmas 2018
Santa Claus is coming to town, and he's not camera shy. New York City parents have a host of options for where to see and pose with Santa, from the popular Santaland at Macy's to more casual events, where you can take your own festive photos of the kids while visiting Jolly Old St. Nick.
We've rounded up over a dozen of our favorite options for photos with Santa from across the five boroughs, including options for those who want to splurge, bring their pets, or just get it over with, as well as those with special needs. With so many alternatives, chances are, wherever you are, your kids won't be far from Santa.
Find more seasonal fun, including a Santa brunch or tea, in our NYC Holiday Guide.
When it comes to Santa photos, Mommy Poppins' staffers have been around the block once or twice. Our kids have sat on the laps of just about every Kris Kringle in town, so you've come to the right place to get the skinny on the fat man. After Thanksgiving, opportunities to score Santa Claus pictures pop up all over the city. Search our event calendar and you'll likely find him in your neighborhood or zipping in for a special event like at the American Girl store (December 8-16), the Museum of Television and Radio's Paley Center (times vary), and the Williamsbridge Oval Recreation Center (December 15). Read on for our top Santa photo-op picks for this season.
Remember, sign up for our FREE newsletters to get posts like this delivered to your inbox.
Free or Inexpensive Santa Photo-Ops
ABC Carpet & Home – Union Square
888 Broadway, between East 18th and East 19th Streets
Saturday, November 24 through Sunday, December 23, 11am-3pm
Visiting Santa at this fancy home goods store is a lavish, Victorian affair in a setting draped in crushed velvet and filled with sumptuous housewares. ABC's Santa has gained popularity recently, and we've heard that it has the lines to prove it. Kids can snag a small but stylish ornament as a freebie. Bring a camera that works well in low light. FREE
Santa in Central Park – Harlem
Charles A. Dana Discovery Center, enter at 110th Street between Lenox and Fifth Avenues
Thursday, November 29, 5:30-6pm
Meet Santa and pose for pics at the center's annual holiday lighting. The flotilla of trees on the Harlem Meer makes an awesome seasonal backdrop. Other activities include ice-carving demonstrations, caroling, cookies, and hot chocolate. Bring your own camera. FREE
First Presbyterian Church - Greenwich Village
12 W. 12th St.
Friday, November 30 through Sunday, December 2
Photos with Santa Claus are part of a larger Tartan Fair held by the church, which includes crafts for the kids, baked goods for sale, delicious hot lunch options, a live auction, and a wide assortment of items for sale so the whole family can do a little Christmas shopping!
RELATED: 21 NYC Holiday Activities Every Kid Should Try Once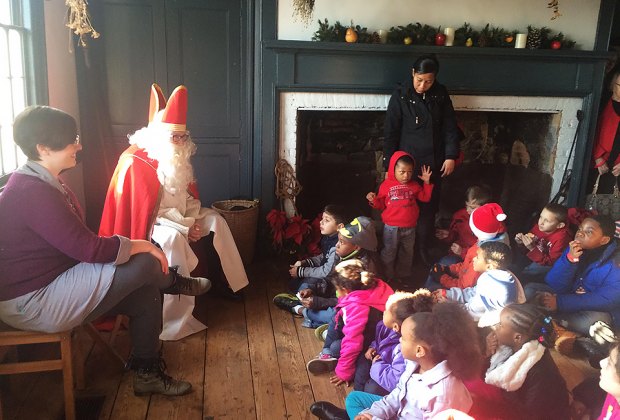 Meet an old-fashioned Santa at the Wyckoff Farmhouse. Photo courtesy of the museum
Sinterklaas at the Wyckoff Farmhouse Museum – East Flatbush, Brooklyn
5816 Clarendon Road, near East 59th Street
Saturday, December 1, 1pm-4pm
$7 for adults, $5 for children ages 3-9
Celebrate an old-fashioned Dutch Christmas at NYC's oldest house with a visit from St. Nick, who arrives on horse, rather than reindeer. Discover how Sinterklaas evolved into the tradition of Santa Claus, and enjoy crafts, music, and snacks. There are a limited amount of tickets to meet Santa one-on-one, so buy online before you visit. Bring your own camera.
Santa Rescue at the New York City Fire Museum – Hudson Square
278 Spring Street, between Hudson and Varick Streets
Sunday, December 2 at 11:30am
FREE to watch the rescue; $10 for adults, $5 for children ages 3-12 for party and pics
Enjoy an off-the-wall visit with the big red guy, who gets stuck on the roof and must be rescued by firefighters via hook and ladder. The outdoor rescue is free, but pictures are restricted to the indoor holiday party. This event is always crowded; expect a long line and limited face time with Santa. We recommend buying tickets in advance. Bring your own camera.
St. Nicholas Day at the Vander Ende-Onderdonk House – Ridgewood, Queens
18-20 Flushing Avenue, between Onderdonk and Seneca Avenues
Sunday, December 2, noon-5pm
$5 for adults, FREE for children
Bring your camera to the historic Dutch stone house's annual holiday celebration. Snap a photo, visit with Santa, and stick around for period crafts, treats, live music, and a tree lighting at 3pm.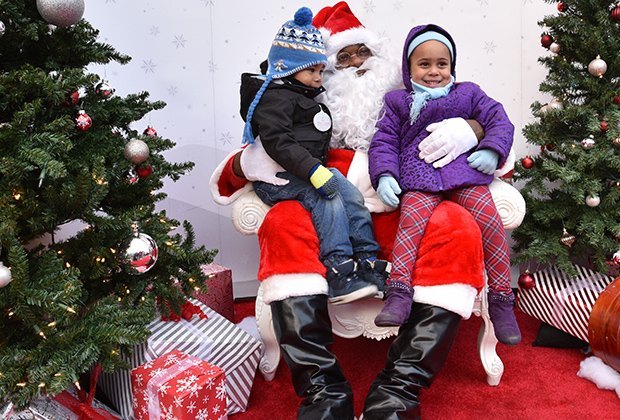 Cuddle up with Santa at the Winter Wonderland at the Apollo Theater. Photo courtesy of the theater
Coca-Cola Winter Wonderland at the Apollo – Harlem
Apollo Theater, 253 West 125th Street
Saturday, December 15, 2pm-6pm
Head uptown to the historic Apollo Theater for an afternoon of holiday fun and pictures. Get into the gift-giving spirit by bringing along a donation for the book and toy drive benefiting Greenhope Services; donations of new and gently used books, CDs, clothes, and toys are accepted. Tickets are required for that show and start at $22.
RELATED: Holiday Train Shows for Kids in NYC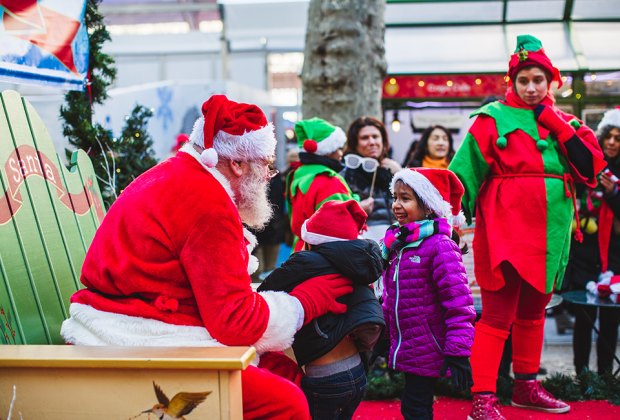 Meet Santa for FREE in Bryant Park. Photo by Angelito Jusay for Bryant Park
Santa's Corner at Bryant Park's Winter Village – Midtown West
Sunday, December 16-Sunday, December 23, 1pm-3pm
Head to Bryant Park's Le Carrousel for some holiday fun and face time with Santa. Bring your own camera to snap your no-cost pic. FREE
Santa also frequently shows up at community Christmas tree lightings, so check out our holiday illuminations post for other potential photo-ops.
Photo Packages with St. Nick
Macy's Santaland – Midtown West
151 West 34th Street, between Broadway and Seventh Avenue, Eighth Floor
Friday, November 23-Monday, December 24, times vary. Visit the website for the full schedule and to make a reservation.
Photo packages start at $21
The famed store mounts an entire North Pole village with "elves," an enchanted forest featuring animatronic toys, and a train display. Reservations are required for this special visit with Santa; you can schedule online or at in-store kiosks for times ranging from 30-minutes to five days in advance. Check out our full review of Macy's Santaland.
Bloomingdale's – Midtown East
1000 Third Avenue at East 59th Street
Friday, November 23-Sunday, December 23, 10am-6pm, Monday-Saturday; 11am-6pm Sundays.
Photo packages start at $22
Bloomingdale's has its own Santaland on the sixth floor where Santa sits on a red chair out in the open, so the kids waiting in line can see him. He's flanked by Christmas trees, but don't expect much more in terms of decor. However, lines are typically shorter, especially early in the season. We had zero line on the first Sunday afternoon of December. This year, the kids can also enjoy a FREE ice skating rink (actually plastic, but real ice skates), a VR experience, and more fun, interactive holiday elements.
Winter Onederland - Financial District
285 Fulton Street, One World Observatory
Running through Monday, January 7. Times vary; check the website. Open Christmas Day and New Year's Day.
Photo packages start at $34.
One World Observatory – the indoor observatory atop the tallest building in the Western Hemisphere – hosts its second annual installation of Winter ONEderland: A Holiday Experience Above It All. The experience features a glacier cave, giant snow globe, and a visit on Santa's sleigh.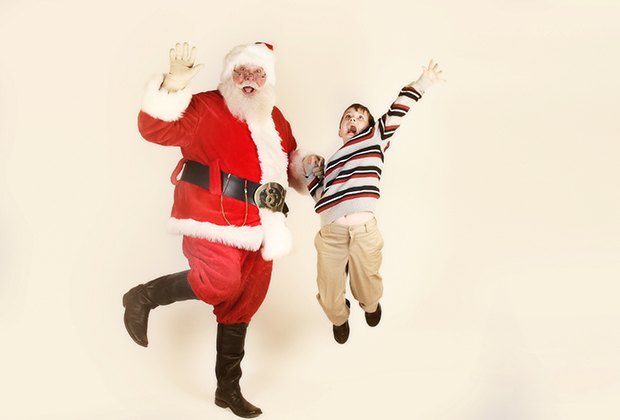 Big Apple Portraits elevates the photos-with-Santa game. Photo by Big Apple Portraits/courtesy of Mommy Poppins
Big Apple Portraits Mini Sessions – Upper West Side
143 West 72nd Street, between Amsterdam and Columbus Avenues
Sunday, December 9
Call 212-600-4457 to book an appointment; packages start at $135.
Photos at this Upper West Side studio are a splurge, but if you want a keepsake, one-of-a-kind picture with St. Nick, it could be your best bet. Sessions with the studio's Santa last 10 minutes and yield high-quality prints and a copyright release.
The Shops at the Plaza – Midtown East
The Plaza Hotel, concourse level
Enter at West 58th Street, between Fifth and Sixth Avenues
Friday, November 23-Saturday, December 22
Photo packages start at $30.
Santa sets up a swanky workshop in The Plaza Food Hall on the concourse level. For a more memorable visit with the big red guy, consider splurging on a Rawther Fancy Tea with Santa. The Plaza is also partnering with SantaCares to provide private, sensory-friendly photo sessions for children with special needs and their families. Time slots can be booked online for Sunday, November 25 and Sunday, December 9.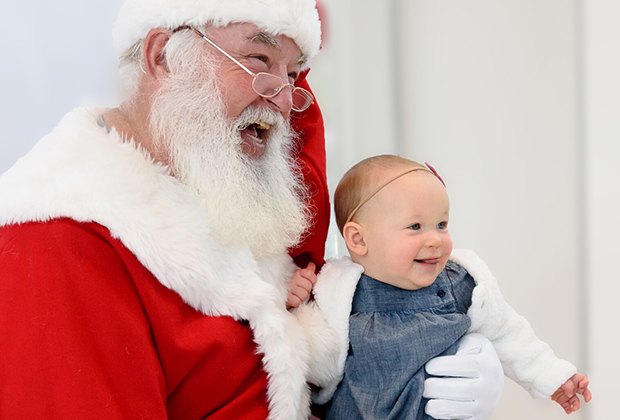 Smiles aplenty with Santa at the Winter Garden in Battery Park City. Photo courtesy of Brookfield Place.
Santa's Winter Garden – Battery Park City
Brookfield Place, 220 Vesey Street, at West Street
Friday, November 23-Monday, December 24. Times vary, visit the website for full schedule.
Photo packages start at $29.
Visit Santa and have your picture taken by a professional photographer. In addition to shopping on-site, make a day of it taking in the Luminaries light show, or taking a spin on the ice rink outside. Eat at the food court upstairs where there's really something for everyone. Special events include Sensory-Friendly Santa with Autism Speaks on December 9, 8:30am - 10am and Santa Paws! for your pups on November 25 and December 2, 6:30-7:30pm.
The Mall at Bay Plaza – the Bronx
200 Baychester Avenue
Daily through Monday, December 24 except for Thanksgiving; times vary. Visit the website for the complete schedule.
Photo packages start at $34.99.
Santa sets up shop at the center court of this Bronx mall. Get a discount on your photo package by ordering in advance online.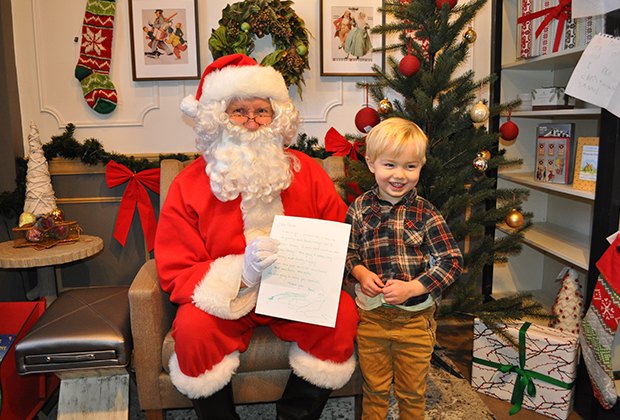 Share a wish list with Santa at Items of Interest. Photo courtesy of Items of Interest
Items of Interest – Park Slope, Brooklyn
60 Fifth Avenue
Daily through Sunday, December 23. Visit the website for the complete schedule and to make an appointment.
$34.95-$44.95
Kids are welcome to share secrets with Santa at the Brooklyn home goods and design shop. Each child enjoys a five-minute session while a photographer snaps away. You'll leave the store with a flash drive full of images, ready for you to edit and turn into holiday cards or frame-worthy prints.
Queens Center Mall – Elmhurst, Queens
90-15 Queens Boulevard, between 57th and 59th Avenues, level 2
Daily through Monday, December 24 except for Thanksgiving; times vary. Visit the website for complete schedule.
Photo packages start at $39.99.
Santa meets his young fans in the center court on the second level at an immersive North Pole experience from the folks at HGTV. New this year, visitors can use the workshop's Magic Mirror to transform into one of Santa's elves. Check out our full review of the new Santa HQ in Queens.
Kings Plaza – Mill Basin, Brooklyn
5100 Kings Plaza, at Flatbush Avenue, located on the second floor near Best Buy
Daily through Monday, December 24 except for Thanksgiving; times vary. Visit the website for the complete schedule.
Photo packages start at $39.99.
This Brooklyn-mall Santa sticks around all season. Plus, word is there's rarely a line.
Staten Island Mall – Staten Island
2655 Richmond Avenue
Daily through Monday, December 24 except for Thanksgiving; times vary. Visit the website for the complete schedule.
Photo packages start at $39.99.
This Staten Island Santa welcomes kids every day and pets on Monday evenings.
This article, originally published in November 2009, is updated annually. Katie Nave Freeman contributed additional reporting