100 Free Things To Do in NYC With Kids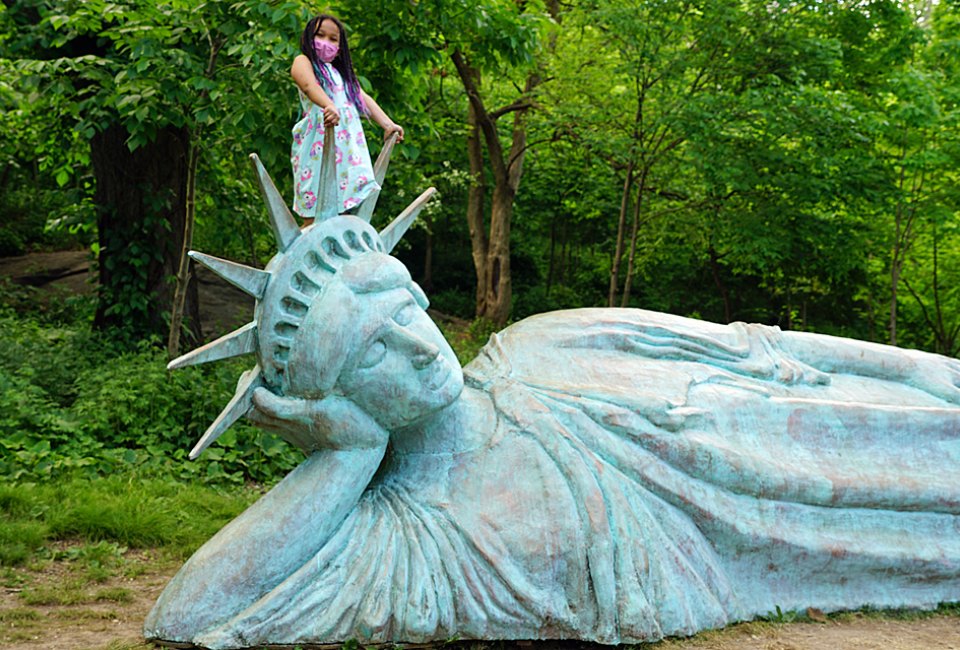 9/3/21
- By
Jody Mercier
Subscribe to our newsletters to get stories like this delivered directly to your inbox.
Our love affair with Governors Island is no secret, and this is one of our favorite perks: Visit on a weekday morning and enjoy free bike rental from Blazing Saddles for an hour. That's plenty of time to circle the isle a few times!
All aboard the big, orange boat for a 25-minute cruise across the harbor. While onboard, enjoy a stunning view of the Statue of Liberty and the Lower Manhattan skyline.
Challenge your fear of heights and fuel your sense of adventure at the Alley Pond Adventure Course. Its seasonal programs are free, though advance registration is required.
For a Halloween celebration that's more sweet than scary, we love this annual event at The Harlem Meer, where an enchanting parade around the water is followed by hand-carved pumpkins sent floating on its waters.

With 14 miles of sandy, admission-free shoreline, it's not hard to find a little solace at NYC's beaches.
New York City's 14 miles of sandy shoreline are open to water lovers from Memorial Day through Labor Day (and sometimes a week beyond!). The best part, of course, is that, unlike their Jersey Shore counterparts, NYC beaches are free.
Summer—and even fall—are prime-time viewing in NYC's parks and gardens. Tons of free flicks are screened all season long, including the ever-popular Bryant Park Movie Nights.
While the annual Lunar New Year Parade is a captivating sight, it's also crowded. Plan to visit Chinatown on Lunar New Year proper for this more intimate celebration, which involves setting off thousands of firecrackers to ward off evil spirits.
Another big bang and an annual rite of summer—Macy's fireworks are always presented free of charge.
This beloved kids spot presents admission-free hours on Thursdays from 2pm-5pm thanks to a new partnership with Amazon.
RELATED: 100 Things To Do in NYC With Kids Before They Grow Up

Quirky sculptures and beautiful landscaping make Socrates Sculpture Park a fun, free destination.
This funky waterfront park in LIC offers a rotating array of large-scale public art to enjoy, and there's always something new to see. We give it bonus points for its waterfront views and proximity to MoMA PS1, which also offers free entry to NYC residents.
Step inside this Chinatown temple to pay your respects to the larger-than-life Buddha who towers over all at 16-feet tall.
Row, row, row your boat, canoe, or kayak at myriad locations across all five boroughs to enjoy stunning views, fresh saltwater air, and a little exercise.
Pitch your tent under the stars in a city park with help from the Urban Park Rangers during this seasonal, lottery-based camping program. All gear and food are provided! Lotteries generally open in late spring for camping trips in the summer and fall at popular parks including Central Park, Orchard Beach, Inwood Hill Park, and more.
OK, it's no secret NYC's parks are free and open to the public, but Little Island is a little extra with its vast array of programming, including plenty of free shows and kid-friendly entertainment.
At 2,800-acres of open space, it's easy to get lost in this Staten Island green space, which houses NYC's largest forest preserve. There are miles of trails to explore and plenty of programming to partake in.

Macy's takes to the streets and skies for an annual parade every Thanksgiving Day. Photo courtesy of Macy's
Everyone loves a parade, and this one is the granddaddy of them all! Even mid-pandemic Macy's managed to put together a spectacle. Here's hoping it's back to its usual route this year.
Governors Island's expansive adventure playground is not only free to visit, but it's also free of parents. That's right, you'll stay on the sidelines while kids enjoy ultimate freedom, hammering, building, and using their imagination in NYC's most unique playground.
The gem of the Wildlife Conservation Society parks in NYC, the Bronx Zoo offers admission-free days on Wednesdays. Tickets must be booked online in advance and the Wednesday ticket store opens Mondays at 5pm.
The annual Brooklyn Book Festival is one of the largest free literary events nationwide, and its annual children's day brings plenty of family-friendly fun, storytimes, and meet-and-greets with contemporary authors, never mind tons of books to build your library (fee, unfortunately, required).
Celebrate the architecture of NYC with this free annual festival, which gives visitors behind-the-scenes tours at a variety of architectural and cultural gems during its annual October open house weekend.
RELATED: Free Times to Visit NYC Museums, Gardens, and Zoos

There's plenty to see and play with at FAO Schwarz, but you might have a hard time convincing your kid to leave empty-handed.
A visit to this toy emporium provides plenty of free eye candy. We can't guarantee you'll leave empty-handed, but we can guarantee you'll have fun. Dance on the giant piano, see a toy demo, indulge in a little pretend play in the Melissa & Doug section, and pose for a photo with one of the soldiers guarding the door.
This growing chain of retail-tainment shops has multiple city locations. While some—see Art CAMP and Cosmic CAMP are pay to play—others are completely free. Dance in the sequin disco room, climb aboard a kitschy vehicle, zoom down a slide, and hope the kids don't see the tempting rows of super-cool toys surrounding them.
Visit famed-groundhog Staten Island Chuck and all his friends on Wednesdays after 2pm with free admission to this wildlife park.
Season-long winter weekday admission is free at this Brooklyn gem, where its series of conservatories overflowing with life is a perfect cure for the winter blues.

The Whispering Wall is but one of the fun, free things to see at Grand Central Station.
Take an off-hour trip to this commuter hub to test out the Whispering Wall, indulge in some excellent people watching, see the trains at the New York Transit Museum Annex, gaze at the stars in Vanderbilt Hall, and snap a selfie under the famed clock.
If you prefer your animals with more scales than fluff, the New York Aquarium offers a free Wednesday admission deal, though free its hours don't begin until 3pm. Advance tickets are required and can be booked on Mondays beginning at 3pm.
Climb aboard a real FDNY firetruck and learn fire safety tips from a firefighter at this Rockefeller Center storefront. Children ages 5+ can participate in a fire simulator to learn real-life survival skills.
We're huge fans of CityParks Play, the CityParks Foundation's annual summer sports program, which brings track and field, golf, and tennis to city kids in a fun, no-pressure atmosphere. Other local orgs offer free hoops, tennis, soccer, swimming, and more.
RELATED: Free and Cheap After-School Programs for NYC Kids and Teens

We love the New York Botanical Garden's free grounds admission deal for NYC residents.
NYC residents can book a grounds-only pass for free visits on Wednesdays. Tickets allow you to roam the garden's 250 acres and take in its stunning flora and fauna, but some indoor attractions and special exhibitions cost extra. Book your tickets in advance.
One of our favorite, amenity-filled public atriums, Brookfield Place is a hub of art and culture. There's always something new to see and do here from summer's US Open Experience to Canstruction in the fall, and Luminaries come the holiday season.
Northern Central Park is undoubtedly my favorite corner of the park, and the programming at the Charles A. Dana Discovery Center is part of its allure. Nestled on the shores of the Harlem Meer, this building lends fishing poles for free catch-and-release fishing, plus lawn games to enjoy nearby. A rocking playground completes the fun.
Stop and smell the roses—or whatever is blooming—with free offseason admission at the Queens Botanical Garden daily from November through March.
Get your game on at this video game mecca, where you can pose with cool characters, collect memorabilia, and test your skills against other gamers on a larger-than-life screen.

If you bring your own skates, it's free to glide at all times on the ice rink at Bank of America Winter Village.
There's no better way to spend a crisp winter day than on the ice, and this rink in the lovely Bryant Park offers free admission, so you can skate gratis, provided you have your own skates. Look for its seasonal appearance from October through March.
We're smitten with this working farm on the outskirts of Queens and the fact it offers free admission most days adds to its allure. You will pay a fee to enter the gates during popular annual events like its upcoming annual Queens County Fair.
Anyone who missed access to the library's spectacular resources over the past 18 months should take note: During that time this midtown branch got a major makeover. Aside from enjoying all the programming insides its walls, you can take in spectacular views outside, thanks to the rooftop terrace reading room that's now open and offering fresh air and awesome city views. The branch is home to the relocated Children's Center, which offers an array of programming and free storytimes.
There's more to NYC's parks and green spaces than playgrounds, and the Urban Park Rangers are happy to help visitors explore. Free programming includes everything from archery and astronomy to survival skills and historical tours.
While the Central Park Conservancy offers tons of guided tours, many of which are low-cost, if you want a truly free option, download one of its guides for a DIY tour.
RELATED: Free and Cheap Summer Camps for NYC Kids

Wonder Woman greets visitors to the new, free-to-explore Fifth Avenue Lego superstore.
There are multiple Lego Stores in the five boroughs, but we're pretty smitten with the new, two-floor flagship shop on Fifth Avenue. Pose for a picture in a Lego taxi or with a variety of other bricktastic characters. You can even craft a customized Minifigure or pose for a Lego Mosaic.
See if you can spot your family's home on the giant Panorama of the City of New York at this Queens-centric culture spot, which offers free admission; just book your tickets in advance.
During the summer months, NYC's public swimming pools are open daily and completely free, just make sure you heed the lengthy list of rules. If you're there around mealtime, there's a good chance your kids will be offered a free lunch, too, as summer meals are often handed out at local pools and recreation centers.
Prospect Park's Audubon Center is a treasure-trove of free, nature-inspired educational programming. While the building is closed due to the pandemic, its offering "play-and-go" kits as part of its Pop-Up Audobon programming. Pick up a kit at various locations in and near Prospect Park and enjoy some educational fun gratis.
RELATED: What Ages Get in Free to NYC Museums, Zoos, Amusement Parks

There's plenty to see, smell, and taste at the Essex Street Market, which also offers plenty of free programs.
Not only is this a destination shopping spot for a wide array of specialty foods, but it's also a bona fide food hall and event space. We're particularly fond of its cooking classes—presented in a trio of languages—and most are free.
A Smithsonian institution right in the heart of Lower Manhattan, this cultural gem offers always-free admission.
There's plenty of window shopping to do at this megastore, and plenty of photo-ops, too, plus tons of interactive displays to play with. Just set some ground rules before you enter!
Answer the question of "Who's buried in Grant's Tomb" like a pro after a visit to this national memorial on the northern edge of Riverside Park. For an extra special treat, time your visit to coincide with a Jazz Mobile performance.

Summer Streets are a sweet, free August treat for city dwellers. Photo courtesy of the NYCDOT
There's something special about riding, walking, or biking down the car-free streets during this annual August event. Action-packed "rest stops" dot the route, and in the past have included all kinds of fun from water slides, to zip lines, and plenty of free entertainment.
We were devastated when this parade had to be canceled for the second year in a row but look forward to its triumphant return and seeing stunning vintage cars roll down the street alongside marching bands, gleefully glamorous floats, and all the wild and wacky mermaids, pirates, Neptunes, and other sea creatures.
Mark the start of the holiday season with this blocks-long street fair, which turns the Upper West Side into a small-town winter wonderland for one night only.
Budding fashionistas can appreciate a free trip to this museum, which showcases a rotating display of exhibitions dedicated to the art of fashion.
Track down a seasonal show featuring the puppets of the Swedish Cottage Marionette Theatre during its summer-long tours of the five boroughs with pop-up performances in local parks and playgrounds.
Keep your pocketbook in your bag and treat an outing here like a scavenger hunt. Download the interactive Harry Potter Fan Club app before you go and have fun scanning QR codes of the movie props inside, stage a wand duel, and pose for pictures without spending a dime.
RELATED: 30+ Free Ways to Celebrate Your Kid's Birthday at Home

Most of NYC's spectacular holiday decorations can be seen for free, including the stunning Rockefeller Center tree.
An iconic photo-op in front of this towering fir is always free. Plan your visit to coincide with the annual light show at Saks for a magical evening during the holiday season.
This Harlem branch of the NYPL is far more than a standard library. Think of it as a mini-museum dedicated to the Black experience in NYC and beyond. While it's got a research library within, visit for its rotating exhibitions and to peruse the Schomburg Shop.
New York City's most unique park space is a joy in any season. Beyond enjoying stunning, unique views from this elevated rail trail, you can also peep public art and join in a public program.
The Public Theater takes over Central Park's Delacorte Theater annually and tickets are distributed gratis, but that's far from the only free summertime sonnet. You can also catch Shakespeare in Marcus Garvey Park and Riverside Park each summer.
Gather 'round the Hans Christian Andersen Statue (virtually for now) for a weekly Saturday morning storytime courtesy of The HC Andersen Storytellers.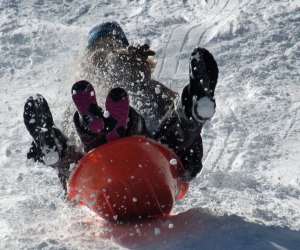 We love to hit the local sledding hills when the flakes fly.
When the flakes fly, NYC's parks provide a perfect setting for a sledding adventure. We've found our favorite spots across all five boroughs, and have the intel on the spots where the Parks Department doles out free hot cocoa to boot.
Take a stroll over this iconic NYC site and enjoy the scenic views of Lower Manhattan, the Brooklyn waterfront, and the busy shipping channel in the harbor.
We love a good secret, off-the-beaten-path find and that's exactly what this public space at 55 Water Street is. Enjoy panoramic views from this lushly landscaped plaza overlooking the East River.
Play princesses and knights with a visit to this Central Park landmark which is poised atop an outcropping overlooking the Turtle Pond. Its architectural beauty might be lost on little ones, but it's an inviting place to climb, explore, and enjoy the view.
While we don't have tips for scoring tickets at Lincoln Center, you can hear an aria in several city parks each summer thanks to the Met Opera's Summer Recital series. Its also been known to pop up during Bryant Park's Picnic Performances.
This annual series brings the symphony to some of the city's most iconic green spaces, and each performance ends with a bang! Fireworks fly after the finale.
RELATED: 100 Free Things to Do in NYC this Summer With Kids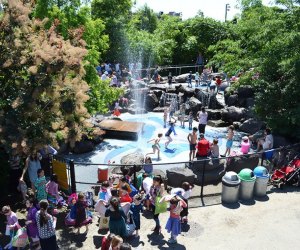 The Pier 6 WaterLab is worth paying admission for, but luckily, visitors enter for free. Photo courtesy of Brooklyn Bridge Park
OK, OK, we know all playgrounds in NYC are free, but there's something special about the collection destination playgrounds at Brooklyn Bridge Park's Pier 6. We're particularly fond of the WaterLab, which is a mega splash pad we'd easily pay admission to enter!
We've always loved a visit to the only-in-NYC Unisphere. It makes a fun backdrop for photos, and now you can splash in its shadows thanks to a mega splash pad that opened late last year.
One of our favorite annual festivals this celebration of NYC's culture hubs closes Fifth Avenue to traffic as museums ranging from The Met to the Museum of the City of New York fling open their doors offering free admission all evening long.
An annual rite of spring, Fifth Avenue comes alive with beautiful blooms and fanciful fascinators as New Yorkers show off bonnets with an informal stroll on Easter Sunday.
Pay homage to the diverse roots of the Lower East Side in this annual summer fest, which celebrates the Jewish, Latin, and Chinese roots of this diverse slice of NYC.
Industry City's nine-hole course is open year-round (moving indoors for winter), and its theme pays homage to NYC. The laid-back vibe makes it a fun spot for even little kids to hone their putting skills.

Free fun awaits at NYC's play fountains, like this one in Domino Park.
Splish splash your way around the city in these water features, which take wet-and-wild fun a step above your typical playground sprayground.
Tune your pipes for this Christmas Eve tradition, which features The Rob Susman Brass Quartet accompanying any crooners who want to sing along.
Celebrate Manhattan's only remaining lighthouse during this annual fest, where visitors are invited inside for tours and vendors set up on the grounds outside. Of course, there are readings of The Little Red Lighthouse and The Great Gray Bridge.
This National Historic Landmark is more than meets the eye. Spread over 478 acres, it overflows with beauty—both natural and manufactured in the form of statues and mausoleums—and it's got a cool historical story, too, as the site of the Revolutionary War's Battle of Long Island.
The CityParks Foundation brings music to the people with this annual summer concert series, with big-name performances in a variety of parks all season long. Some shows charge an admission fee to benefit the nonprofit namesake, but most are completely free.
RELATED: Free Outdoor Movies in NYC This Summer

The swirling stairs to the top of the Marcus Garvey Fire Watch Tower lead to some impressive views.
Climb the stairs of this relic of NYC past—originally one of a series of 19th-century towers used to warn residents of fires across the city, the Marcus Garvey tower is the only watch tower still standing. On select weekends, you can climb the steps to the top, take in the 360-degree views, and give its warning bell a ring.
This annual event celebrates NYC's history as a port city with tons of free events on shores from South Street to Governors Island, and even across the Hudson in Jersey. Free boat rides are often offered, too.
A must-see for budding historians and maritime buffs, this museum is located on the campus of Maritime College. Its two floors of exhibition space are home to hundreds of model ships and dioramas.
This beloved Halloween tradition invites goblins, ghouls, pirates, princesses, and costumed characters of all ages and designs to the grounds of Asphalt Green for a rocking celebration annually.
What's Easter without a mad dash for candy-filled eggs? NYC hosts dozens of Easter egg hunts every spring and many are completely free.
Sparklers fly all summer long in Coney Island on Friday nights. Come for a day at the (free) beach and stick around for the show.

Over-the-top Christmas displays are a trademark of the annual Dyker Lights.
If you prefer a less commercial holiday experience, a trip to Brooklyn's Dyker Heights neighborhood is a must-do. The neighborhood comes to life with over-the-top displays annually with block-after-block of Griswold-esque holiday light extravaganzas.
Morningside Lights is an annual celebration of community, and its interactive, craft-your-own lanterns make it a can't-miss local event for uptown families.
Step away from the concrete jungle and explore one of these off-the-beaten-path trails within city limits that are sure to make you forget you're surrounded by 8 million neighbors.
While I'm an unabashed fan of the parade, the Macy's Balloon Inflation has become an event in itself, attracting throngs of fans on Thanksgivings eve to watch the behemoth balloons come to life.
Bring the magic of Coco to life with a visit to this annual fest at El Museo del Barrio, where a huge ofrenda is built annually in homage to friends and relatives who have passed.
A decade-plus-long collaboration between residents and Brooklyn's Ad Hoc Art NYC, the Welling Court Mural Project has transformed one corner of Queens into a contemporary, graffiti-filled, walking art gallery with installations from a huge array of artists.
RELATED: Birthday Freebies in NYC: Where Kids Eat Free & Nab Gifts

Borrow a game and pull up a chair for free fun in Bryant Park.
This glorious Midtown Park is home to all-seasons entertainment beyond its big movie nights. Visit the outdoor reading room or park your crew at a table in the alfresco game room for an impromptu game night. Storytimes, fitness classes, and more fun events populate the kid-friendly calendar.
Halloween parades can be found in every enclave of the city, but no kids parade tops the annual promenade in Jackson Heights. It's NYC's largest children's Halloween parade.
Once your kids have aged out of kiddie parades, though, the Village Halloween Parade is a definite must-do, at least once!
Come Christmas season, you can get up close to Broadway stars with this annual concert series at the Shops at Columbus Circle. The annual light installation is its backdrop, adding to the allure of these intimate performances.
This community org is bringing its green thumb to rooftops across NYC, and it'll let you in on the action, allowing you to roll up your sleeves to help a farmer out and learn about the art of urban farming in the process. When you're done, peruse the market for some take-home goodies, and bring a new meaning to eating local.

Macy's Flower Show draws visitors into its flagship shop to see beautiful blooms each spring.
Stop and smell the roses at this annual installation in Macy's flagship Herald Square store. We love to see what sort of theme the creative team comes up with and can't get enough of the beautiful blooms when it makes its annual springtime appearance.
BAM knows how to make a big splash on Halloween, flinging its doors open to the community for an all-ages street fair with live performances, carnival-style fun, plenty of candy, and prizes for the best dressed.
Summer is the season of free in NYC, and its eclectic art scene comes to life with alfresco concerts across the boroughs.
Once the country home of Alexander Hamilton, this National Park Service site sits at the north end of St. Nicholas Park. The Federal-style house was built in the area in 1802. When it's open, you can step into restored interior rooms while humming The Room Where it Happened, or just enjoy its bucolic grounds. Fun fact: The building has been moved twice to accommodate the changing neighborhood that sprung up around it.
This always-free museum exhibits contemporary art from a culturally diverse selection of artists. Fun, free programs introduce its art to the community.
RELATED: Kids Can Play For Free at These New York City Stores

Stroll Midtown each holiday season for a view of the spectacular window displays from Bloomingdale's to Macy's and everywhere in between.
See the stunning holiday windows at Macy's, Bloomingdale's, Sak's, and more iconic midtown locations. The displays generally turn on in early November, and you can beat the crowds by seeing them before Thanksgiving!
Prospect Park's Nethermede comes alive with werewolves, witches, and Halloween spirits ready to "greet" visitors during this annual not-too-spooky haunted walk.
There's always something new to see in NYC's parks and green spaces, and we love this guide to walkable art in Lower Manhattan, which introduces the area's large-scale pieces to anyone who takes the time to make the trek.
The crossroads of the world has a little something for everyone, but for the best bang for your buck, just spend a little time here people watching. Explore the frequent public art displays that pop up, revel at the street performers, and just soak in the sites and sounds of the city.
Unless noted, all photos by author
t Click Here to Sign Up!