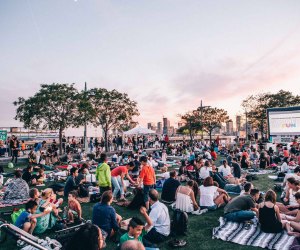 Free Outdoor Movies in NYC This Summer
New York City screens hundreds of FREE outdoor movies each summer, many of them just for kids and families.
A few outdoor movie series, such as RiverFlicks for Kids in the West Village, are aimed specifically at children. But even grown-up series, such as those in Bryant Park and Brooklyn Bridge Park, include some family-friendly screenings in their lineup. The amazing Movies Under the Stars series offers screenings in parks and at playgrounds in all five boroughs every summer, and you can find them as they're scheduled with this super-secret link to our calendar search (OK, not so secret now). We've even filtered it for you by borough: Manhattan, Brooklyn, Queens, The Bronx, and Staten Island.
Movies usually begin when evening falls, between 8 and 8:30pm, but plan to arrive early...the well-known series fill up fast, and many parks offer pre-movie entertainment. Even if your local park is screening a flick you've watched a dozen or so times at home, it's a totally different experience viewing it in the open air alongside several hundred other fans. It's a thrilling, communal event, and a summer rite of passage for New Yorkers of all ages.
So grab your calendars, roll up your picnic blankets, and start plotting your FREE summer of entertainment now. And be sure to check out the other amazing seasonal activities in our Summer Fun Guide.
Sign up for our FREE newsletters to get posts like this delivered to your inbox.