10 Ways to Survive Orlando Theme Parks When It Rains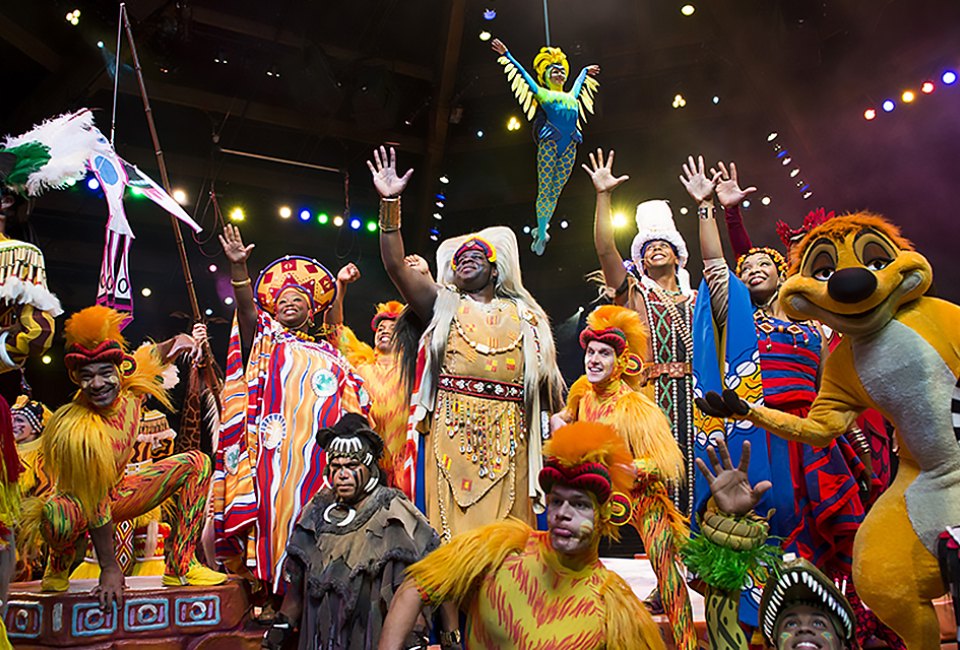 7/21/23
- By
Tom Stefanchik
When visiting Orlando theme parks, don't let the weather rain on your parade. Literally! Though rain is almost inevitable during a trip to Orlando theme parks (especially during the summer), it doesn't mean your trip --including parades and rides -- is ruined.
Minimize the emotional damage and salvage a wet day at the theme park with our rainy day survival guide! Use our 10 awesome strategies to help families enjoy a day at Orlando theme parks when it rains, and find the silver lining on all those clouds!
10 Things to Do at Orlando Theme Parks When it Rains

Grab a poncho and brave the rain at Orlando theme parks. Photo by Melanie Preis
1. Pack Ponchos (and Umbrellas)
Bring and pack ponchos and small umbrellas, as well as stroller covers, waterproof shoes/sandals, and Ziploc bags. If not, you will be paying an exorbitant amount of money for a poncho at a theme park and working against hoards of soaking wet people crowding into gift shops to try and buy one.
2. Plan Around the Weather
Generally, Orlando rain occurs in the afternoons and lasts 20-30 minutes, with heavy downpours followed by bright skies; therefore, plan outdoor attractions earlier in the day. These include Jungle Cruise (Magic Kingdom), Test Track (Epcot), Slinky Dog Dash (Hollywood Studios), Expedition Everest and Kilimanjaro Safaris (Animal Kingdom), Rip Ride Rocket (Universal Studios), and High in the Sky Seuss Trolley Train Ride and Hagrid's Magical Creatures Motorbike Adventure (Islands of Adventure).
RELATED: The Wizarding World of Harry Potter: Tips for a Magical Experience in Orlando
3. See a Show
Most theme parks have wonderful live shows which not only entertain, but also provide relief from the weather. Great options include Mickey's PhilharMagic and Hall of Presidents (Magic Kingdom), American Adventure (Epcot), Muppet Vision 3D (Hollywood Studios), Festival of the Lion King (Animal Kingdom), and Bourne Stuntacular (Universal Studios).

Have a magical meal with Eyore at Crystal Palace in Magic Kingdom.
4. Table Service Restaurants and Character Meals
Wait out bad weather at an entertaining theme park restaurant offering table service. Many theme park restaurants feature entertaining character meals (Crystal Palace in Magic Kingdom and Garden Grill in Epcot) and incredible themes (Mythos in Islands of Adventure). Added bonus? Table service restaurants are the only locations in the Magic Kingdom which serve adult beverages!

Toy Story Mania is one of the many popular rides to take advantage of during a rainy day.
5. Get on the Most Popular Rides
Unless you pay extra for line-skipping services like Genie Plus and Universal Express, visitors will encounter long wait times at Orlando theme parks, especially on in-demand attractions. However, the mass exodus that occurs when rain starts will substantially lessen those wait times, giving you a golden window of opportunity. Now is the time to experience such popular attractions like Space Mountain (Magic Kingdom); Frozen Ever After (Epcot); Rise of the Resistance (Hollywood Studios); Flight of the Banshee (Animal Kingdom); and Escape from Gringotts (Universal Studios).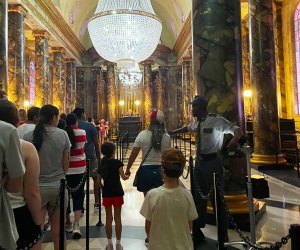 Take a tour of Gringott's Bank while waiting out wet weather. Photo by Diana Kim
6. Meet Theme Park Characters
Character meet-ups and greetings can draw wait times of up to an hour, depending on the character. But once again, when wet visitors exit the park in droves, you can minimize meet-and-greet times with Mickey, Minnie, and Spider-Man, without the hassle.
7. Ride the Rails
If you're at Epcot and Magic Kingdom during a storm, visit Walt Disney World's three premiere hotels (Contemporary Resort, Grand Floridian, and Polynesian) by riding the Resort Monorail -- all without setting foot outside. Tour the hotel lobbies, enjoy great themes, shop, and eat at incredible hotel restaurants. And once the rain ends, hop on a monorail and head back to the parks.

Walt Disney Presents is a wonderful exhibit at Hollywood Studios.
8. See What You've Been Missing
Don't overlook the wonderful exhibits at theme parks in Orlando. A perfect example is Walt Disney Presents at Hollywood Studios, a gallery which showcases Walt Disney's life story from small-town America to beloved icon. Other worthwhile exhibits include the American Heritage Gallery (Epcot), House of the Whispering Willows (Epcot), and the lobby of the Horror Make-up Show at Universal Studios.
9. Retail Therapy
Normally it's wise to save your shopping until you're leaving the park, so you don't have to lug packages around all day. However, if you're looking to wait out the storm, the theme parks offer plenty of opportunities to shop.
10. Enjoy the Rain
This may sound a little crazy, but during a hot and humid Florida afternoon, a rainstorm may be just the cooling relief you need! Besides, needing to get out of your wet clothes is a great excuse for buying new t-shirts and souvenirs.
Unless noted, photos by the author
Sign up for the Mommy Poppins Newsletter today!
i