Top 10 Natural Springs in Florida Near Orlando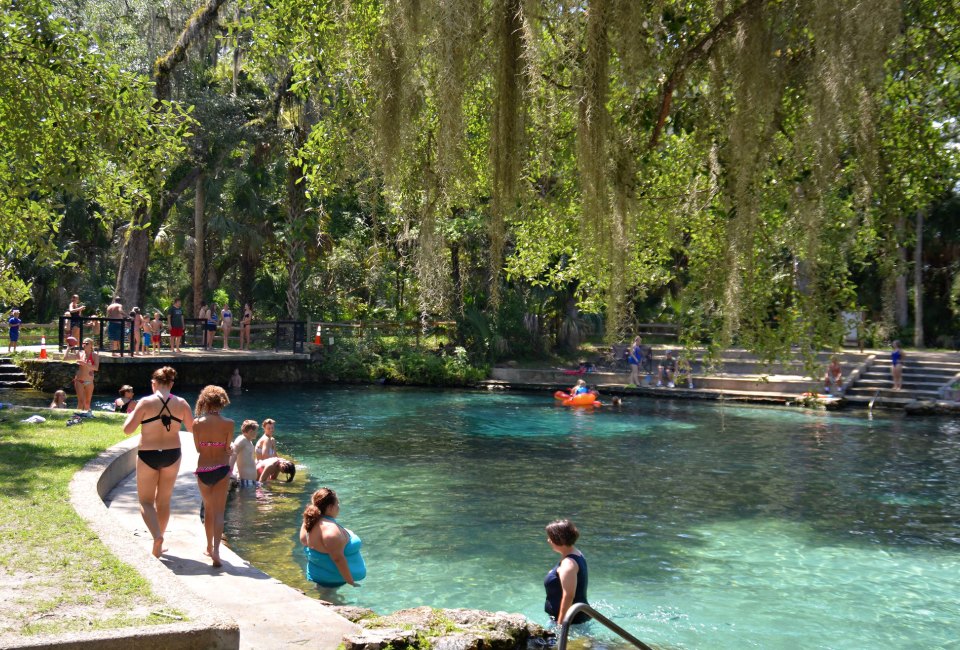 2/12/23
- By
Charlotte B
There are more than 700 natural springs in Florida, including several swim-worthy freshwater springs just a short distance from Orlando. Natural springs in Florida make the perfect place to unwind during humid summers and mild winters.
These spring-fed swimming holes are crystal clear and remain 68 to 72 degrees Fahrenheit year-round, making them extremely popular for both residents and tourists alike. Many are surrounded by park land, offering hiking, fishing, and more pre-swim family activities. Others include water slides and mini water parks.
We've rounded up our 10 favorite natural springs in Florida centrally located near Orlando. Plan a trip to take a dip in any of these refreshing springs with the kids to enjoy the natural beauty Central Florida offers.
Find more fun places to visit in Florida with our Family Travel Guide, including the best beaches near Orlando, paddleboard and kayak tours, and grand water parks in the area, too.
Top 10 Natural Springs in Florida and Near Orlando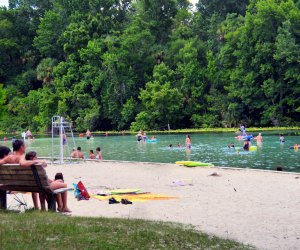 Families love the sandy beach and gentle slope at Alexander Springs. US Forest Service photo by Susan Blake
Alexander Springs is one of only 27 first-magnitude springs in the state, meaning it produces in excess of 64 million gallons of water every day. It has a sandy beach area and a 300-foot spring basin for wading and swimming, open all year. Because of its gentle slope and crystalline waters, the setup of this natural spring in Florida is perfect for younger kids. Families can also enjoy mountain biking, camping, fishing, nature trails, and scuba diving. Canoe and kayak rentals are also available.
Blue Spring is the largest spring located off the St. John's River, discharging over 100 million gallons of water daily. Experiences include scuba diving, snorkeling, tubing, and swimming (during summer). Kids might enjoy hiking along the nature trail or visiting the historical Thursby House. Multiple picnic pavilions and a playground encourage all-day fun.
In the winter months, Blue Spring becomes a warm-water refuge to hundreds of West Indian manatees and is one of the best places to see manatees in Central Florida. For the safety of the migratory manatees, all water-related activities at the spring are closed from mid-November through March.
This park's history dates back over 6,000 years, serving as a home of the Mayaca Native Americans. Enjoy the designated 72-degree, 500-foot spring-fed swimming area and you'll be treated to a great view, too. The swimming area overlooks Spring Garden Run, which expels 19 million gallons of water each day. The depth at this Florida spring ranges from a shallow 18 inches to 30 feet at the spring boil. Be sure to bring snorkeling gear to explore below-the-water artifacts. Other amenities include nature trails, a fishing pier, boat tours, picnic pavilions, a playground, and a visitor center with exhibits and a touch table. NOTE: There are no lifeguards on duty at this swimming hole.
The park was also once home to the first water-powered sugar mill in Florida, built in 1832. The modern-day Sugar Mill Restaurant now lets visitors to the park cook up their own pancakes on table-top griddles. Just be sure to arrive early to get your name on the waiting list!
This deep blue spring is surrounded by a lush, subtropical landscape and manmade limestone walls. Juniper Springs is comprised of hundreds of tiny bubbling springs in addition to the large spring that together produce over 7 million gallons of water daily. The swimming area is shallow at one end and deep at the other, making it fun for both kids and adults.
There are picnic areas, walking trails, and snorkeling options, too. Canoeing, kayaking, and camping are also popular activities at Juniper Springs. Wildlife is abundant around most natural springs in Florida; you may even spot an otter along the spring run or an American eel in the tape grass!
One of Florida's largest springs, this first-magnitude spring includes a series of small vents that expel over 400 million gallons of water per day. The clear sapphire-blue waters make this a popular swimming hole, with depths ranging from 5 to 18 feet. There is also a small wading area for toddlers. Snorkeling is also allowed within the buoyed swim area. Note that there is no lifeguard on duty in the swimming area. Tubing is a popular summer activity at this park. Guests can rent a tubes, canoes, and kayaks onsite to explore the river.
In addition to the springs, families might want to check out the gardens, manmade waterfall, butterfly garden, and nature trail. Concessions and picnic facilities are also available.
Known as Florida's natural "lazy river," this wildly popular, free-flowing freshwater spring offers crystal clear water that is 68 degrees all year. Visitors can rent tubes at several places outside the park, or bring their own to travel downstream. There is a large swimming area at the park as well. Full-service concessions are available along with picnic pavilions and an impressive playground. Kayak, canoe, and paddleboard rentals are also available.
RELATED: Top Orlando Hotel Water Parks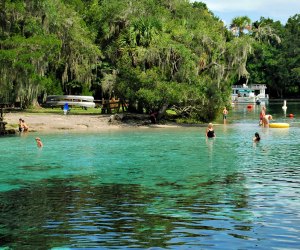 Swim, kayak, or otherwise float in Silver Glen Springs near Lake George. US Forest Service photo by Susan Blake
Located off of Lake George (the second largest lake in Florida), Silver Glen Springs is very popular with boaters, as they are able to anchor in the crystal clear waters outside of the swimming area. A gently sloping spring basin makes the swimming hole accessible for a variety of ages. Be sure to bring snorkeling gear to view the abundance of fish in the spring. Visitors can hike two nature trails or rent a canoe or kayak. Picnic tables and barbecue grills are available, so pack a lunch to enjoy a full day of fun in the sun. The spring is also a significant archeological site, with large mounds (known as middens) protected behind fences, considered sacred to Native Americans who once inhabited the spring area.
This natural spring is part swimming hole, part aquatic theme park—there are water slides, mermaid shows, underwater caves, and more spread across 200 acres! Buccaneer Bay water park located at Weeki Wachee features a white sandy beach, water slides, a natural lazy river, and a Lil' Mates cove with a water play area for kids 6 and younger. The famous Mermaids of Weeki Wachee perform live in a submerged theater. Multiple concession areas and picnic pavilions are available throughout the park, and there is a seasonal restaurant at Buccaneer Bay. Additional experiences include a playground, animal encounter, paddling, canoeing, kayaking, snorkeling, and boat tours along the river.
This warm natural sulfur spring has a shallow water spring run plus a swimming lagoon complete with a sandy beach area, water slides, and a 360-degree waterfall. Canoe and kayak rentals are available. There is a large campground, multiple picnic areas, and a playground to enjoy on longer stays. A DJ plays family-friendly hits on weekends and leads kids in water games. There are land games too, like pickleball, shuffleboard, and cornhole.
RELATED: Orlando Theme Parks Guide and Reviews
The shallow swimming area at Wekiwa Springs State Park is ideal for kids. Photo by Bart Everson/CC by 2.0
A short drive from downtown Orlando, this 7,800-acre park features an emerald spring that produces 43 million gallons of water a day. It is extremely popular, especially during the summer months, and often reaches capacity, so plan to arrive early. The large, shallow swimming area is over half an acre with an approximate depth of 4 feet. Other park options include snorkeling, geocaching, bicycling, fishing, camping, hiking, picnic pavilions, and a nature center.
Tips for Swimming at Natural Springs in Florida
Most of these parks reach capacity quickly upon opening, especially on weekends. If you are able, plan your trip on a weekday to avoid large crowds.
Remember to bring sunscreen to protect your skin and drinking water to stay hydrated.
If fishing, you need an active Florida Freshwater Fishing License.
A mask, snorkel, and water shoes are recommended.
Bring a waterproof carrying case for phones and other valuables.
While not common, it is possible to see alligators and snakes at these springs in Florida. If you spot an alligator, alert a staff member, so they can take the appropriate actions.
Sign up for the Mommy Poppins Newsletter today!
i