Best Museums for Kids in Atlanta: Children's Museums and Family-Friendly Museums in Atlanta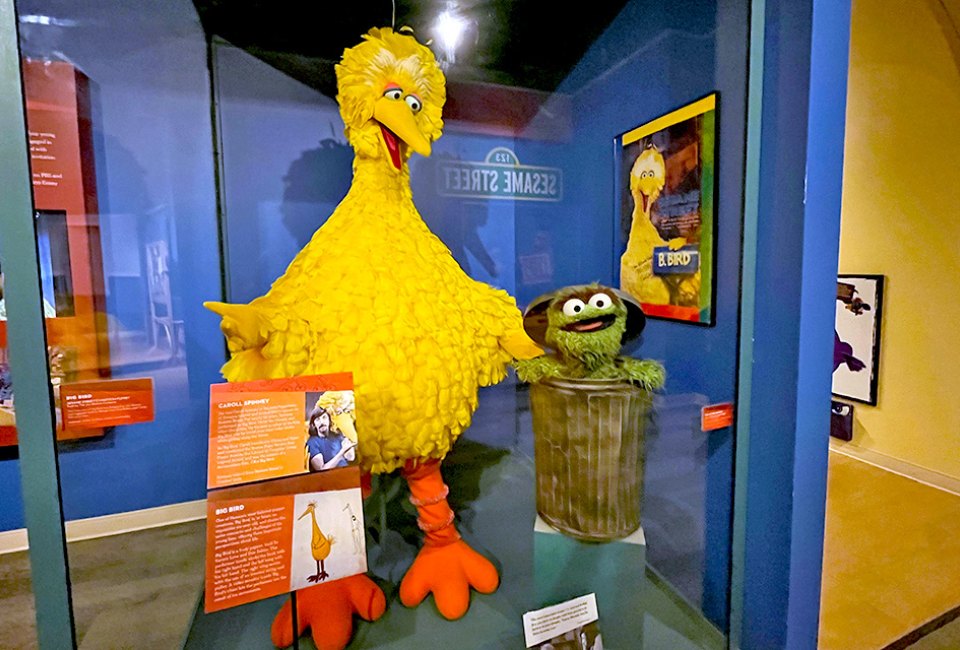 10/8/23
- By
Rebecca Ruffin Leffler
Atlanta museums for kids offer young visitors to get off their screens and learn about the world. Families can put down the electronics and spend time together at wonderful children's museums in Atlanta. Research shows family museums offer an excellent way to teach topics often missed in the classroom by engaging the three C's—creativity, critical thinking, and curiosity.
Children's museums in Atlanta offer families the chance to learn something new and discover their world together. Be sure to check each museum's website for hours and tickets costs, as well as special exhibits and events. Now who's ready to explore aweome Atlanta museums?
Atlanta Museums for Kids and Families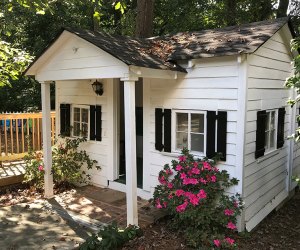 Atlanta History Center's Victorian Playhouse brings history to today's Atlanta children. Photo by the author
Spend a day learning about Atlanta, including golf legend Bobby Jones, the Civil War, and the 1996 Summer Olympic Games at Atlanta History Center. Gain a better understanding of 1800s farm life by exploring the Tullie Smith Farm. Tour the impressive Swan House, the 1928 mansion of the prominent Inman family. Don't miss "Cyclorama: The Big Picture," featuring an interactive 12-minute film inside the 49-foot tall, 360-degree "Battle of Atlanta" painting from 1886.
Top children's museums must include the Center for Puppetry Arts—who doesn't love Big Bird, Oscar the Grouch, Elmo, and other Sesame Street characters?! Learn about Jim Henson and see the largest collection of puppets, props, and background stories of his beloved characters, as well as the 3,000-year global history of puppets. Interactive areas allow visitors to operate puppets, as well as perform a puppet show on a TV stage.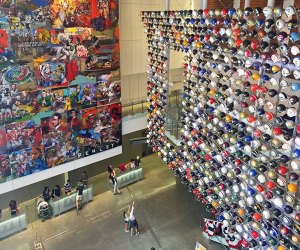 Sports fans will love the Chick-Fil-A College Football Hall of Fame.
Tour this interactive space which relocated from South Bend, Indiana in 2014. Register your favorite football team with your All-Access Pass for a personalized experience throughout your visit. Try kicking a field goal on the 45-yard football field, watch a 4K movie, and call plays.
Catering to children through 8 years old, this Atlanta museum allows kids to learn through play. Mix colors on the large paint wall and manipulate the ball machine from a crane. Kids also gain an understanding of the food supply chain from the pretend farm, delivery truck, grocery store, and cafe.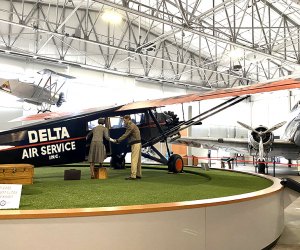 Get up close and personal with airplanes in the Delta Flight Museum hangar.
Delta Flight Museum – Hartsfield-Jackson International Airport
Discover Atlanta-based airline Delta's history from a small crop-dusting operation to the country's second-largest airline. Hangar 1, dedicated to the propeller age, displays five aircraft including the only remaining Delta passenger Douglas DC-3 from 1941. A second hangar focuses on the history of jet travel with the Boeing 767 "The Spirit of Delta" and other memorabilia. Delta Flight Museum's highlight is The 747 Experience, where you can sit in the cockpit, relax in first class, walk on the wing, and see the exposed ductwork of the first Boeing 747-400 built.
Fernbank – North Druid Hills
Fernbank's collection of dinosaurs will mesmerize everyone in your family. NatureQuest engages preschoolers with an indoor virtual river, rope bridge, and treehouse. Older kids love the science activities in Fantastic Forces, as well as seeing fossils. WildWoods, the outdoor exploration area, includes a sensory wall, weather station, and bug hotel while Fernbank Forest offers two miles of walking trails. For an additional fee, catch an IMAX movie.
Not only exhibiting paintings and photography, this Atlanta museum showcases sculptures and decorative arts. The Greene Family Learning Gallery allows kids under 8 years old to create and experience art through fun, hands-on activities. The High offers free admission the second Sunday of the month, as well as Toddler Thursdays and the monthly Family Art Escapes program.
MODA, located directly across the street from the High Museum, is a fantastic Atlanta museum that "advances the understanding and appreciation of design" with cool exhibits and special programming. MODA features kid-focused events and activities, including creative after-school classes, Sunday Funday family days, teen courses, and much more.
Confuse your mind and turn your world upside-down at the Museum of Illusions at Atlantic Station. This topsy-turvy Atlanta museum offers amazing illusion rooms, brain teasers, and interactive, mind-melding exhibits that both children and adults will love.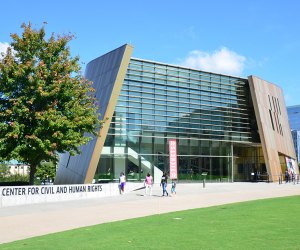 Atlanta museums for families include the important National Center for Civil and Human Rights.
Children and adults can gain an understanding of the civil rights movement by participating in a lunchroom counter sit-in and listening to stories from the Freedom Riders at the National Center for Civil and Human Rights. The second half of the museum focuses on global rights issues and highlights modern heroes who stood up for change. Download the field guides tailored to upper elementary, middle school, and high school students. This museum touches on some heavy topics, so be thoughtful when bringing younger kids.
Glimpse what passenger train travel was like when you climb aboard a Pullman sleeper and walk through a dining car complete with a kitchen. View the collection of locomotives, cabooses, and baggage cars on exhibit, as well as The Superb, used by President Warren Harding. Kids will love taking the short train ride included in the price of admission.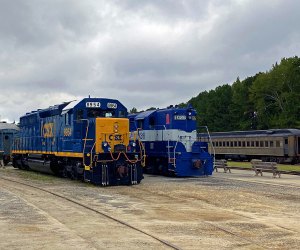 Kids love trains, like those at the Southern Museum of Locomotive History.
This Smithsonian Museum affiliate focuses on trains of the Civil War era. See "The General" locomotive which was overtaken by Union spies during the Civil War. The museum offers a film about the raid, but you may want to watch Disney's "The Great Locomotive Chase" as a family beforehand. Learn the importance of railroads during the war and see the reproduction assembly line of Glover Machine Works.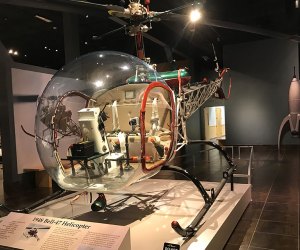 Tellus Science Museum shows Atlanta kids how transportation really works. Photo by the author
Also an affiliate of the Smithsonian Museum, Tellus allows kids to perform science experiments, visit the 40-foot skeleton of a T-Rex, mine gems, and dig fossils in this 120,000 square foot space. After gazing at the vast collection of precious stones and minerals, stop by the Millar Science in Motion Gallery, featuring the history of transportation. For an additional fee, catch a show at the planetarium.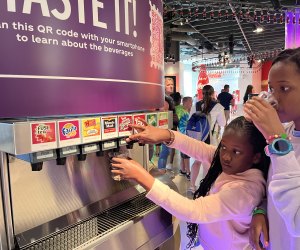 It's carbonation overload when World of Coca-Cola visitors try all the flavors at Taste It!
This bubbly Atlanta museum will teach you about the iconic brand's history, bottling, and international presence while engaging all five senses. In addition to a 3D movie, view advertisements from Coca-Cola's 130-year history and see the vault containing the super-secret formula. The "Scent Discovery" exhibit allows visitors to identify fragrances and learn how smell affects taste. Kids will love trying 10 different Coca-Cola products from around the globe, and everyone receives a classic Coca-Cola beverage to take home.
Unless noted, photos by Bill Leffler.