World of Coca-Cola: A Bubbly Review of Atlanta's Beverage Museum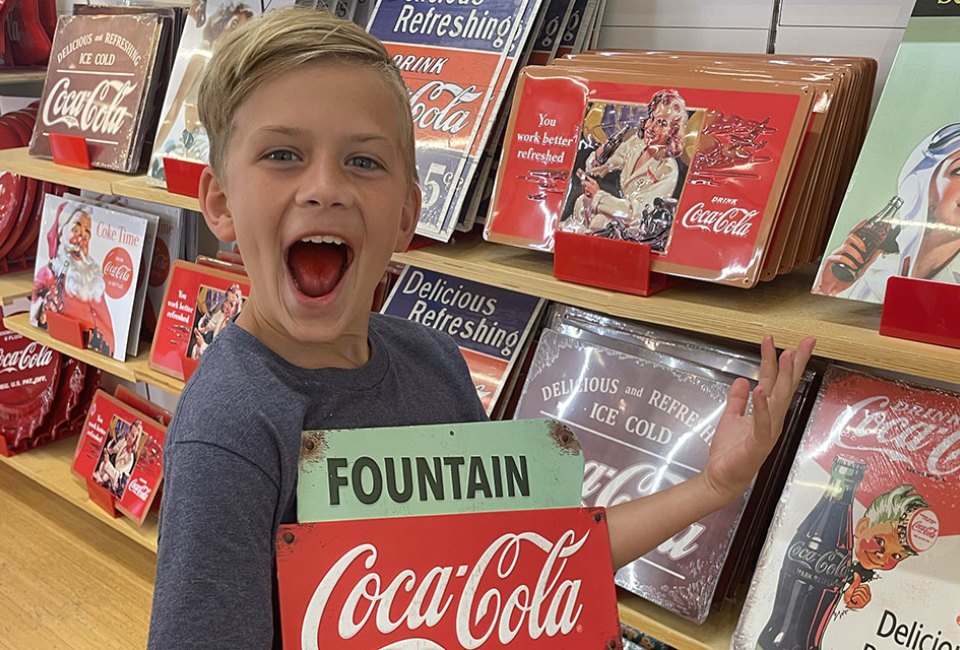 7/29/22
- By
Elsa Simcik
Atlanta and Coke: They just go together. If you haven't visited World of Coca-Cola with kids yet, it's time to pay tribute to the best known beverage in the world. The popular attraction first came to Atlanta in 1990 as part of Underground Atlanta but later moved to its current location downtown. In fact, it was The Coca-Cola Company that acquired the land and designated sections of it for the Georgia Aquarium and the National Center for Civil and Human Rights, all part of an effort to revitalize downtown Atlanta. Now when visitors approach the plaza where World of Coke stands, they are within walking distance to several Atlanta attractions like Centennial Olympic Park and the Children's Museum of Atlanta.
When we visited World of Coca-Cola recently, we saw all types of families —those with babies in strollers to families with teens and everything in between. The Coke museum is structured into seven areas, and the tour is a good mix of guided and not-so-guided. See below for more details on each section and don't miss our know-before-you go tips. Plus, you can save money on admission with a Go City - Atlanta sightseeing pass!
Want to scratch more Atlanta attractions off your bucket list? We've got a guide to the Top Attractions in Atlanta with Kids.
The Loft
All visitors head to this memorabilia-filled room first and listen to a funny, five-ish minute spiel from a World of Coca-Cola ambassador. Our guide entertained us with the history of Coke and kept us engaged with questions. While guests are in the Loft, they gaze at historical Coke artifacts that represent 135 years of Coca-Cola memories from around the world.
The Coca-Cola Theater
Next visitors are treated to a six-minute, surprisingly moving film called World of Coca-Cola Moments. The ambassador warned us to get out our tissues prior to the show and sure enough, we needed them. After the touching film, visitors are set free in the museum to explore.

Pose in front of the Coca-Cola vault containing the company's secret formula.
Secret Formula Vault
Yes, the actual recipe for Coke is in a bank vault and is one of the most closely guarded secrets. Ever. Along the way to the Vault of the Secret Formula, visitors learn about the formula's origins and all the mysteries that go along with it. The end of this section is the vault itself, which is a popular photo opp.

Sitting on the American Idol couch, amongst Coca-Cola commercial memorabilia
Pop Culture Gallery
All the commericals and marketing campaigns parents remember, like "It's the Real Thing" and "I'd like to Buy the World a Coke" are on display in the gallery, along with lots of other iconic items, including the sofa from American Idol (season four).
Scent Discovery
Our noses went to work in this smelly exhibit, where we got to play an interactive game of "name that smell" with a Coke ambassador.
3D Theater
Guests enjoy another movie theater for a multisensory, 3D movie experience called, "In Search of the Secret Formula."
Milestones of Refreshment
This one is good for history buffs and mega Coke fans. It holds more than 1,000 original artifacts and tells the story of Coke, including its connection to Atlanta!
Bottle Works
This section feels like Laverne and Shirley, as visitors get a look into the zooming speed and precision of Coke's bottling process. Bottle Works is a quick walk-through, and my kids liked filming it.

It's carbonation overload when World of Coca-Cola visitors try all the flavors at Taste It!
Taste It!
Hands down our favorite exhibit (and likely everybody else's) has got to be Taste It! Visitors taste Coke products from all over the world and scan QR codes to learn more about them. Some beverages are familiar; some more exotic. There's a lot of exclamations like, "This tastes weird -- try it!" What's not to love?
World of Coca-Cola Atlanta: Know Before You Go
Parking
The parking lot adjacent to World of Coca-Cola is convenient and costs $17 on weekdays. Since my family visited on a Wednesday in summer, we were able to find FREE street parking. There are also other lots slightly farther away that cost around $10.
Tickets
Save time and purchase advance tickets online. Prices are $19 (ages 13-64), $15 (ages 3-12), $17 (65+), and free (ages 0-2). Want to visit the Georgia Aquarium while you're at it? How about Zoo Atlanta and two other Atlanta exhibits in the same week? Your best bet is to buy a Go City - Atlanta pass, which saves money on multiple entries to certain Atlanta attractions, including the zoo and aquarium.

Take a snap with the famous Coca-Cola Polar Bear.
Coca-Cola Polar Bear
If snapping a pic with the famous Polar Bear is must-do during a World of Coke visit, make sure to check the main lobby signage for the furry friend's appearance times.
The Coke Side of Life
While there is something for all ages at World of Coca-Cola, the fizzy museum is best for older kids and teens (take toddlers and preschoolers across the street to the Atlanta Children's Museum).
We spent about an 1.5 hours at the museum, but you could easily do two hours or make cut the time a little shorter.
World of Coke's gift shop does not disappoint. Visitors can buy apparel, toys, vintage signs, and much more. Be warned: The gift shop is the only exit out of the building, so kiddos will have a one last chance for that final souvenir push.
With all that drinking, visitors may get hungry—head to the Bottle Cap Cafe across the plaza from the museum for snacks and lunch food. They also serve Pepsi. (Just kidding)

Book a tour time for your adventure through the World of Coca-Cola.
Refreshment Coming Soon
A top-secret, new installation is coming to World of Coca-Cola in September 2022. We at Mommy Poppins Atlanta will have all of the details so stay tuned!
Photos by the author
Disclosure: We may earn a small commission if you click through our link and make a purchase. This revenue helps us maintain this site, so thank you for supporting us.
Places featured in this article: