Best Playgrounds on Long Island for Kids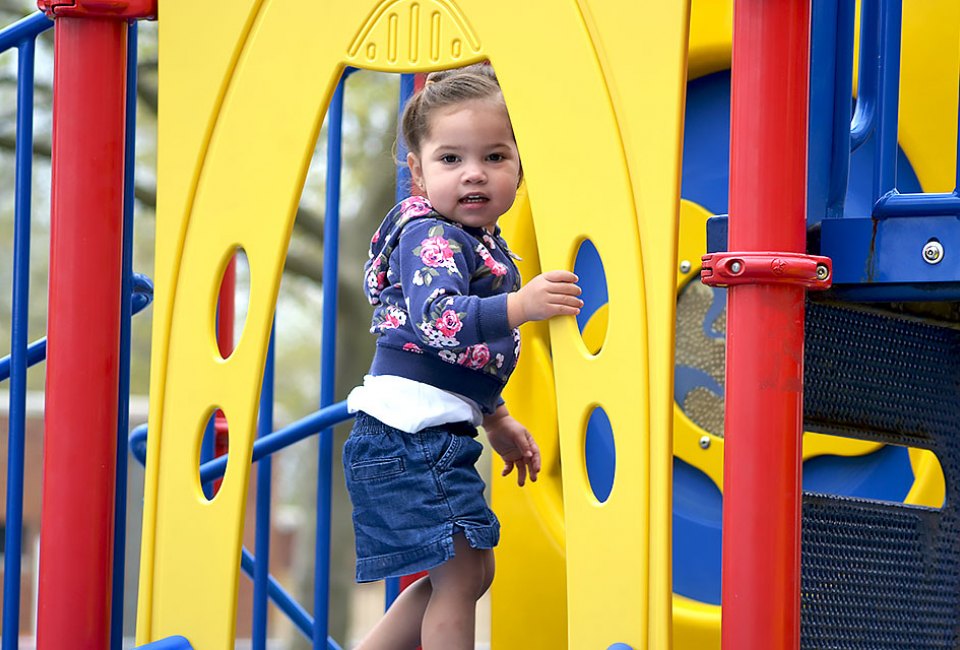 4/7/23
- By
Thien August
An abundance of parks and playgrounds makes Long Island a wonderful place to raise a family. We've scoured the island to find the best playgrounds, all of which offer plenty of space and entertainment for you and your little ones.
These destination-worthy playgrounds are all a cut above your local jungle gym, and many have fun features like epic splash pads, mini-golf courses, skating rinks, and more.
For more playground inspiration, check our Guide to Long Island's Top Parks and Playgrounds, plus our list of the top playgrounds for toddlers.
Subscribe to our newsletters to get stories like this delivered straight to your inbox.
It's worth noting some of these parks require county, town, or village residency. It's best to check access rules before heading out. State parks are, of course, open to all.
Nassau County's Top Playgrounds
If you live south of the Long Island Expressway, this could be the best playground for you. The Nassau County park has four play areas and is fenced to contain wanderers. It features clubhouses, a sandbox with diggers and plenty of slides. If your kids are older, grab some roller skates and enjoy the outdoor rink or visit the paddle ball courts.
RELATED: Top Spring Activities for Long Island Kids
Another Nassau County facility, Christopher Morley features tennis courts, three pools, an ice rink, a dog park, and a large playground structure. The swimming pool requires an additional fee. Just outside of the pool complex, you'll find the playground area. Play sets are designed to accommodate different age groups, and much of the play area is covered by trees, providing shade from the sun. Two swing sets are located in the play area: One for toddlers and another for older children. The surface area is made of fall-softening tiles. In the summer, a spray ground is available, as well as a children's swimming pool. Mid-May through late November a farmer's market operates from 7am-1pm.
There are three sections to this park; a big-kid area, a little-kid area, and a splash pad. The big-kid section has bridges, slides, a rock-climbing wall, and more. Unique to this park is a giant, roped, web structure for climbing. The small section is perfect for toddlers and preschoolers. It features tunnels, small slides, and dinosaurs to climb on. The splash pad has water shooting up from sprinklers in the ground and sprinkler rings to run through.
RELATED: State Parks on Long Island Worth a Visit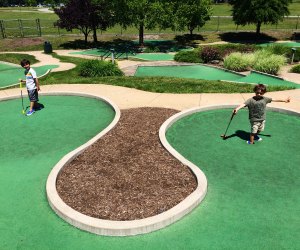 Enjoy two mini-golf courses at Eisenhower Park's playground. Photo by Jaime Sumersille
Located on 930 acres in central Nassau, Eisenhower Park is the "Central Park" of Long Island. Its abundance of recreational activities and trio of playgrounds include a sprinkler pool for hot summer days. In 2016, the main playground was renovated to include a climbing apparatus, slides, swings, and more. There are separate play areas for big kids and toddlers, including child-sized picnic tables, and an inclusive playground. The Let All the Children Play playground is a state-of-the-art facility dedicated to special-needs kids and is wheelchair accessible. The playgrounds are surrounded by athletic fields, full-sized basketball courts, batting cages, a swimming facility, a fitness trail with 20 stations, three 18-hole golf courses, and even a mini-golf course. Reserved and non-reserved picnic areas are available. The park houses the Harry Chapin Lakeside Theatre, which hosts concerts, events, and movies all summer.
RELATED: The Best Sprinkler Parks and Playgrounds on Long Island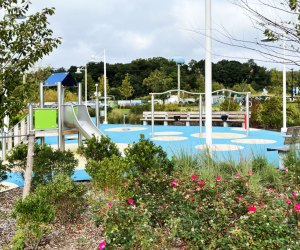 Big and little kids will love the spinning discs at Garvies Point Playground. Photo courtesy of the park
This brand-new playground features two sections; one for smaller kids and one for bigger kids. The little kid sections has smaller and safer structures for climbing and exploring. The highlight of the big-kid section is the multi-story slide. There is also a climbing sail, climbing ropes, and spinning discs. There is plenty of space to picnic and lots of benches to relax, though there isn't much shade, so slap on the sunscreen.
This much-needed renovation has been completed, leaving Newbridge Road Park with a brand-new playground for kids to enjoy. There are plenty of climbing structures, including an obstacle course of ropes and balls to balance on. The playground is ADA-accessible, making it a perfect destination for kids of all abilities. Also at the park is a smaller section for toddlers and preschoolers. An indoor ice rink, a pool, and a new spray park is scheduled to open summer 2023.

Enjoy the slides and rides at Wantagh Park. Photo by Mommy Poppins
With more than 111 acres of outdoor recreation, Wantagh Park seems to offer something for every member of the family. The park is huge—even the playgrounds and swing areas are sizable. Wantagh Park has more than 18 swings, including toddler swings and standard swings, and the playgrounds are differentiated by age. There is also an abundance of slides. In the summer, cool off at the spray park after working up a sweat on the playgrounds.
With three playgrounds and three swing sets, Theodore Roosevelt Memorial Park, a Town of Oyster Bay facility, seems to offer something for everyone. Ladders or stairs make for an easy climb onto the equipment. The park is fenced, which gives kids more freedom to roam safely. There is also an entrance to the beach area within the park. History is all around: The Roosevelt Memorial Rocks describe many of the places and events that were part of the president's life. Along with the spacious play area, visitors should take advantage of the handball courts and paths designated for skaters and bikers.
RELATED: Inclusive Playgrounds on Long Island for Kids with Special Needs

Corey Beach Park offers a playground experience on the shore of Great South Bay. Photo courtesy of the park
Suffolk County's Top Playgrounds
The Adventure Playground at The Adventure Park at Long Island is a mini-version of the facility's tree and ropes course, made just for kids ages 3-6. Fly across a zip line, balance along a wooden bridge, climb through tunnels, and swing on a rope swing. The Adventure Park even offers birthday party packages for the playground.
With a beachfront location, a giant sandbox, and a playground area with equipment featuring sea designs and shell-like architecture, this is an ideal spring and summer destination for families. This Town of Brookhaven facility features other fun attractions, including a wire climb and a rock-climbing wall. There are ladders and stairs on which children can climb. It also has a comfy cabin for visitors to enjoy the park and find shelter from the sun and rain, and there are additional sun-blocking screens with benches throughout the park.
Located on Route 112 just north of Route 83, this park and playground can easily be missed, but both are worth a visit. Hidden behind the pine trees are a playground structure, basketball courts, athletic fields, and covered picnic areas that can be rented. The playground is large and built on a safety surface. Several slides anchor the play structure. Bigger kids can enjoy climbing walls that vary by height. Incorporated into the structure are games and modified musical instruments kids can play. Restrooms are located next to the playground area, and a large FREE parking lot is also close by.
RELATED: Nature Centers Sure to Delight Kids on Long Island

Harborfields Community Playground accommodates children of all abilities. Photo courtesy of the Town of Huntington
The recently opened Harborfields Community Playground at Pickle Park was built so children of all physical abilities can have fun. Located behind Harborfields Public Library in the corner of Pickle Park (also known as Library Park), it has something for everyone, including accessible slides, swings, and climbers, as well as a large rocker that accommodates wheelchairs and seated children. Other inclusive elements include a cushioned, rubberized surface, wheelchair ramps, and other features for children with sensory sensitivities.
Three playgrounds within Heckscher Park include jungle gyms, slides, swing sets, and a sandbox. The soft-surface playgrounds at this Town of Huntington facility are enclosed by gated fences. Find covered picnic tables nearby and restrooms a short distance away. There's also a paved trail where you can walk and check out the park's wildlife before jumping on the swings.
14. Heckscher State Park – East Islip
Don't mistake this expansive state park for Heckscher Park in Huntington. Located along Great South Bay, this park features four playground areas for kids of all ages. Park at Field 6 for the playground closest to the water and picnic areas. There are separate play structures for little and big kids. Big kids like the tall slides, climbing wall, and spiral ladder. Fields 1 and 4 have playgrounds on soft safety surfaces with lots of slides, climbing apparatuses, and swings. Restrooms are an easy walk from the playgrounds, as are the picnic areas. The smallest playground is at Field 3 and is designated for parties renting the pavilion next to it.
Heritage Park offers two separate playgrounds. There is a smaller playground for children up to age 5, with climbing apparatuses, and a larger one with a rock wall and a number of slides. Scattered benches and tables give parents places to lounge. Heritage is one of only a handful of parks in its area to offer ball fields and a walking/jogging/bike trail. On the grounds, the Heritage Center offers classes and events, hosts festivals and movie nights, and is available to rent for private parties. There are also community gardens and beautiful landscaping, plus a small waterfall. A splash park and concession stand complete the amenities.
RELATED: Great Miniature Golf Courses for Kids on LI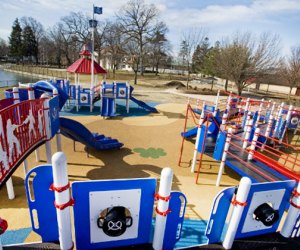 Phelps Lane Park has a pirate theme. Photo courtesy of Town of Babylon Parks and Recreation
Upgrades to Phelps Lane Park have greatly improved the visitor experience. The playground has a pirate-ship theme, and the play structure is approved for children with autism. Safety features include fencing, an open play space with clear sight lines, and a soft surface cover. Swing sets are close by and accommodate toddlers and older kids. The park also features two covered picnic areas, junior softball fields, tennis and basketball courts, football and soccer fields, and a swimming facility. Visitors even can access the park's Wi-Fi if needed.
Small in size but large in popularity, this park is located on the water in the quaint village of Northport. The playground sits on a field that is great for picnicking. A perfect meeting spot, children here can frolic in this fenced-in playground while parents enjoy the beauty of the sandy park and a nice spring or summer breeze. Local ice cream shops are within a short walk, and a bakery across the road makes for a nice snack break.
RELATED: Great Stroller-Friendly Walks on Long Island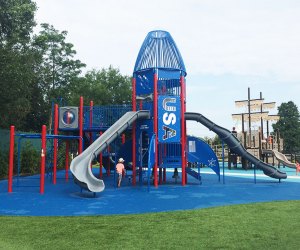 Blast off to a good time at Rocketship Park in Port Jefferson. Photo by the author
This park is located just off of Port Jefferson Village's busy Main Street. Fully fenced in, this playground has a redesigned rocket ship playset with multiple slides and one of the best views of Port Jeff from the very top. The other large play set is a pirate ship that has several built-in play panels that include musical instruments, a maze, and turning gears. A large spinning climber provides even more excitement, and brand-new basketball courts offer space for older kids to shoot hoops. A covered picnic area with tables is an excellent spot for a snack or lunch. The parking lot is big, but be prepared to pay.
There are multiple playgrounds at this state park, but the biggest is on the east side of Parking Field 1. There is a sand area where kids can play with diggers and climb on a stone turtle. There is a large playground for preschoolers and elementary-aged kids, which features ramps, slides, and climbing structures. The other section has a large metal ship, perfect for climbing and make-believe. The boardwalk and beach are just a few feet away, and there are grassy picnic areas to take advantage of, too.
There's lots to do here for kids of all ages and abilities. The playground has tunnels, climbing structures, and swings small enough for toddlers and preschoolers. Big kids get a thrill from the metal and rope climbing structure that is seemingly tangled together. There are ramps along the playground, making it wheelchair accessible. There are also interactive features along the ramps at the perfect height for wheelchair users or small kids. In addition to the playground, Tanner Park has a large wheelchair-accessible spray park. There is also a beach, restaurant, skate park, basketball courts, and so much more, making it easy to spend the whole day here.
RELATED: The Best Beaches for Families on Long Island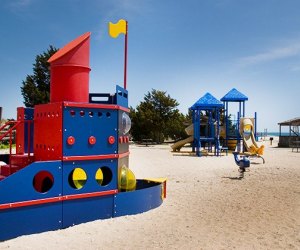 The ship-themed playground is a signature attraction at Orient Beach State Park. Photo courtesy of New York State Parks
Top Playgrounds on the East End
A North Fork favorite, the playground at Orient Beach State Park has three playsets and a swing set. With a fun seaside theme, kids can crawl through a fish, be the captain of a boat, and climb to the top of the play structure to look out beyond the beach to the expanse of Gardiners Bay. This playground also has the best ​sandbox—the beach, which is great for kids who love to dig. Bring a picnic and enjoy it at the pavilion nearby.
Red Creek Park has two playgrounds, each with a unique playset. One of the playsets at this Town of Southampton facility is designed for older kids and the other for smaller children. The five slides—designed for kids of different ages—are the real attraction. Most of the area offers shade, and restrooms are located near the play area. Red Creek also features a skate park, volleyball, basketball, and tennis courts, and two spacious playgrounds.
This article was updated in April 2023.
Sign up for the Mommy Poppins Newsletter today!