Visiting Sunken Meadow State Park: Picnics, Playgrounds, Beaches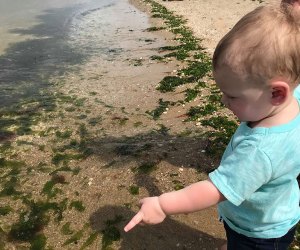 8/10/18
- By
Gina Massaro
A trip to Sunken Meadow State Park on the rocky, picturesque North Shore of Long Island can be whatever you want it to be.
There's a different feel to this beach than those on the South Shore. It's quieter, more relaxed, and less trafficked than Jones Beach or Robert Moses state parks. The Long Island Sound waters are calm and clear. Families with children of all ages line the shore with beach chairs and umbrellas.
Kids can enjoy watching the water rush over them as their feet dig into the sand. If excitement is what you're after, you'll find it at Sunken Meadow State Park, which boasts a little something for everyone.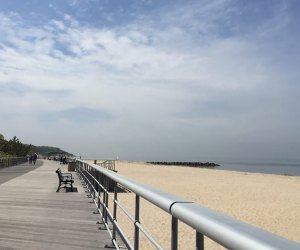 Stroll along the boardwalk for a lovely view of Long Island Sound. Photo courtesy of Yelp
The beach and boardwalk
The beach is the most popular destination in Sunken Meadow State Park, located in Kings Park. There is a three-quarter-mile boardwalk with plenty of water fountains. It's an easy ride for a stroller or wagon, but you'll find it nearly impossible to drag them onto the sand. Unlike some fields at Jones Beach, it's not a far walk to the water. It is much rockier, though: Water shoes are a must for sensitive feet. The water itself is beautiful and easy to see through to the sandy floor. Depending on the time of day, there can be seaweed buildup, though it's less jarring for little toes when they can see what they're touching. There is a concession building on the east end of the boardwalk, where French fries, hot dogs, pretzels, and ice cream can be purchased. Adults can enjoy an alcoholic beverage, including mixed drinks on certain days. Walking to the west end of the boardwalk, you'll notice The Pavilion at Sunken Meadow, a venue for events such as weddings, birthdays, baby showers, and more. It's a beautiful spot and happening upon an event won't ruin your stay. In fact, it's a great opportunity to people-watch while the kids build sand castles.
Picnics
Picnicking is especially popular at Sunken Meadow. Before reaching the beach, Field 4 offers access to a large, grassy park covered in trees. There is a picnic pavilion, which requires a rental in advance, as well as picnic tables. There is ample shade from the trees, offering a great option to get out of the sun on a hot day. Bring your soccer balls and footballs, as long as you watch out for the trees. Bring the whole family and play a game of basketball or baseball at the court or field.
RELATED: The best beach playgrounds for kids on Long Island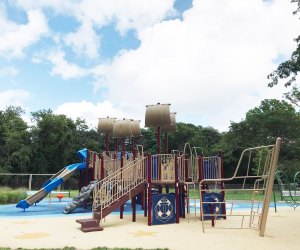 Stop by the pirate-ship-themed playground at Field 1 for some fun.
Playgrounds
Field 4 is home to a small playground that is ideal for toddlers and elementary-aged kids. Older kids will delight in the pirate ship playground at Field 1. There are multiple climbing structures and rock walls. A few feet away is another large playground lined with slides. Kids will love running across bridges and under apparatuses. Here, you'll also find swings, including baby and toddler swings. There are additional picnic tables located outside of these play areas. Bathrooms are in the building to the left of these playgrounds.
Other adventures
Those looking for adventure can enjoy water sports, including kayaking, paddle boarding, and canoeing from the boat launch at Field 3. The gentle waters of the Sound make for a smooth ride. Nature lovers and tiny explorers can take a trip down one of the many bridle paths and trails. Young birders and entomologists will have lots to feast their eyes on. Golfers can spend the day on a 27-hole course, but you'll only be allowed to play a nine- or 18-hole game. Fishing is allowed at the park, but you will need a permit.
RELATED: The best fishing spots on Long Island for kids

The Long Island Sound shoreline is rocky; water shoes are a must.
Perhaps the best thing about Sunken Meadow State Park is the varying topography. It's not just a beach, grassy park, or marsh. It's a wonderful combination of many landscapes. The more you explore, the more you will find.
Getting there
Sunken Meadow State Park is located at the northern end of Sunken Meadow State Parkway. Take the Long Island Expressway or Northern State Parkway to the Sunken Meadow north. Parking fees vary depending on the time of year, varying between $8 and $10. Entrance is FREE for Empire Pass holders.
Unless noted, photos by the author