15 Great Stroller-Friendly Park Walks on Long Island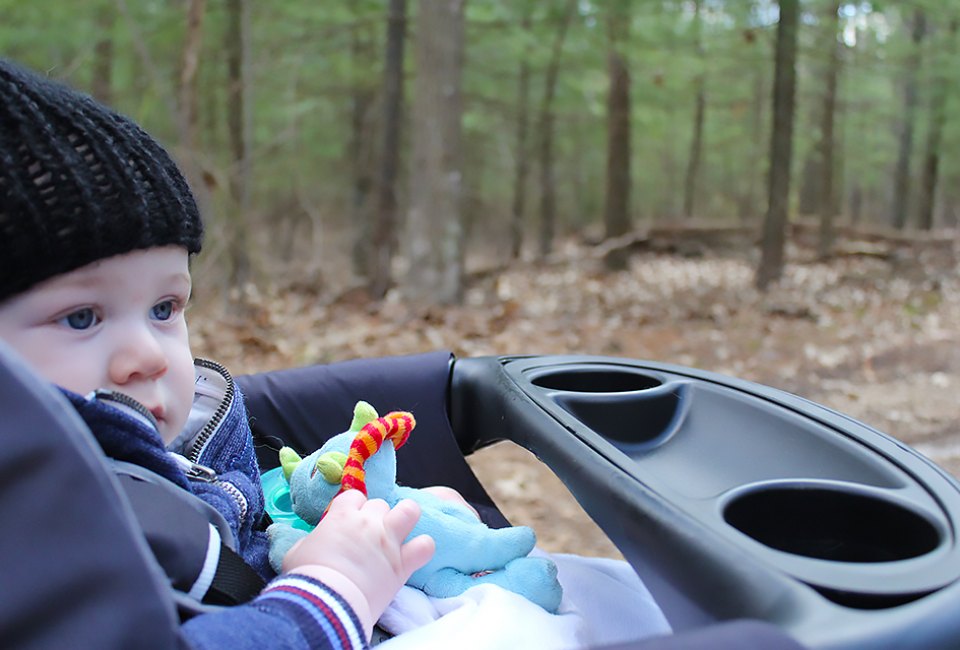 4/2/21
- By
Gina Massaro
They might be too young for the playground, but Long Island babies (and their caregivers) can still enjoy our great parks. Spring is the perfect time to strap the baby in the stroller and get out to explore one of these 15 stroller walks along Long Island.
Of course, not all parks are created equal, especially when it comes to taking your baby out for fresh air. Some parks are aesthetically beautiful, but the trails are rocky and covered in sand, making pushing a stroller nearly impossible. Others are smoothly paved but have nothing for you and your little one to see. Here are our picks for Long Island walks with the best terrain and scenery for a springtime outing.
Find more things to do in our Spring Fun Guide and plenty of age-appropriate activities in our Baby Guide for New and Expecting Parents.
Editor's note: While we are trying to promote safer activities that occur outdoors or with social distancing guidelines in place, please keep your family and others safe by always wearing a mask and maintaining appropriate social distancing.
Stroller Walks in Nassau County
Christopher Morley Park is home to a pool, ice rink (in winter), picnic area, playground, dog run, and of course, a paved walking trail. The paved trail is about a mile long, surrounded by trees and some drool-worthy houses. The path is peaceful and wide enough to fit two strollers. The trail is FREE, but if you're feeling a bit sweaty after your walk, the pool charges $5 for a Nassau County child; $7 for a resident adult with a county-issued Leisure Pass, and $11/$16 for nonresidents.
Inwood Park might be small by Long Island standards, but it packs a lot into its 16 acres. Stroll along the jogging trail, and there is plenty to look at. From views of the water to various sports being played on the fields. There is also a playground if you've brought along any older siblings. A seasonal roller rink runs from April through November. Picnic areas are also available to stop and have some lunch or feed the baby.
Approximately 2 miles of boardwalk line the beach, making it a roughly 4-mile walk if you choose to stroll the whole thing. There is a lot to enjoy and see on this walk; the beach and beachgoers, concerts at the clamshell, wildlife, and much more. In the summer, grab a bite to eat at the Boardwalk Cafe. There is also a splash pad, so even babies can experience water fun. If you're feeling really adventurous, you can start at Cedar Creek Park and walk to Jones Beach, which is approximately 9.2 miles roundtrip, so it's not for the faint of heart. Parking at Jones Beach State Park costs $10 per vehicle when the beach is open; otherwise, it is $8. It is FREE for Empire Pass holders.
Levy Preserve is truly one of Nassau County's hidden gems. Surrounded by lush greenery and waterways, it's easy to forget you're just south of Merrick Road. There is a main circular trail, which leads to a pier overlooking Merrick Bay. For those stroller-wielders looking for a real workout, there is a winding, uphill path leading to the top of the former landfill, where there is a small pond, windmill, and on a clear day, a fantastic view of the New York City skyline. One of the best parts of the walk is right when you arrive: a barn full of goats. While you can't feed them, you and the baby certainly can admire them up close. Come on a day when the goats are wandering the preserve, mowing the grass. Just beware, they can start a traffic jam on the path. Admission to Levy Park & Preserve is FREE.
RELATED: Best Spots for a First Birthday Party on Long Island

Follow the trail at Eisenhower Park to a playground perfect for cruisers and crawlers.
While it might be less scenic than other parks, Eisenhower makes up for it with an excellent playground space for crawlers. The paved trail itself is just over 2 miles, meandering through different parts of the park. It's best to park at Field 2, near the playground, to start the trail at the beginning. The trail has some fun sights to take in, including a mini-golf station, track, and small lake. It's also perfect for people-watching. The playground is one of our favorite tot spots and the highlight of this walk. It has a section made just for crawling babies, with small tunnels and structures with interactive play pieces that are easy to grab for a sitting or standing baby. The park is FREE for Nassau County residents. There is a $10 parking fee for nonresidents on weekends, but parking is FREE on weekdays.
Situated just south of the Southern State Parkway, Valley Stream State Park is a great walk for those in western Nassau County. The park features picnic areas, a playground, and a paved trail lined with trees and shrubs, which follows a small stream leading to Valley Stream Pond. The pond is an excellent place to spot waterfowl. Just make sure baby doesn't get too close: Those geese can get feisty. Admission is FREE for vehicles with an Empire Passport; otherwise, there is an $8 parking fee.
Wantagh Park is an ideal walk for those who love the smell of the ocean. The paved path starts at the bottom of the park, passing the playground and dog run before reaching the waterfront. A popular fishing spot, there are plenty of sights for you and your baby to take in, including a clear view of Jones Beach from the pier. On your stroll, you'll likely spot fisherman, seagulls, boats, and even crabs. On the way back to your car, you might see a ballgame or two. Be sure to park by the playground to get the most out of your approximately 2-mile walk. Wantagh Park is FREE for Nassau County residents. There is a $10 parking fee for nonresidents.
RELATED: 12 Things To Do With Your Long Island Baby Before They Turn 1

Lush greenery surrounds the trail at Bayard Cutting Arboretum in Great River.
Stroller Walks in Suffolk County
A charming walk in the springtime, Bayard Cutting is a state park with impeccably manicured grounds nestled along the Connetquot River. The park is a wonderful mix of garden estate and pinetum. Stay along the main trail for the easiest walk with a baby. Keep an eye out above for nesting osprey. The estate mansion also offers guided tours on certain days for an additional fee. Admission is FREE for those with an Empire Pass, $8 per vehicle for those without one. Bayard Cutting is closed on Mondays.
Argyle Park offers a circular pathway just off Montauk Highway in Babylon. The walk surrounds picturesque Argyle Lake, where waterfowl such as geese and swans take up residence. Argyle is also dog-friendly, so be prepared to see plenty of pooches. While it is short, at about a half-mile, it is a circle, so it's perfect for doing laps. While there is a small playground, there is no bathroom. However, there are plenty of restaurants and shops lining the street where you can stop in for a quick diaper change or lunch. Argyle Park is FREE.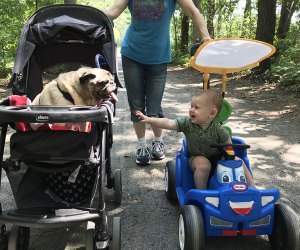 It's a family affair at Belmont Lake State Park.
Belmont is full of large trees, shading most of the paths throughout the park. There are a few trail options. You can stick to circling the lake, where you can find swans, frogs, rowboats, and fishermen. You can also travel through the wooded path, which is wide and smooth enough for a stroller. Belmont is dog-friendly, so you can bring Fido along with baby. As with any wooded area, stay on the path and check for ticks before you leave. As a state park, Belmont is FREE for Empire Pass holders; otherwise, parking is $8 per vehicle.
Heckscher Park lies in the heart of Huntington Village. In the spring and summer, it is a lovely walk, with blooming flowers, trees, and water features. Different seasons bring different festivals, so be sure to check our Event Calendar for the latest information. You're never too young to be exposed to art, so if there's time, visit The Heckscher Museum of Art after your walk. As of 2021, timed-entry tickets are required for the museum. The park itself is FREE.
RELATED: Best Toddler Playgrounds on Long Island

An old watermill sits near the walking trail at Frank Melville Memorial Park in Setauket.
This is such a peaceful walk, you will forget you're on Long Island. Like Argyle, this is a small circular walk surrounding a pond. It is lined with historic houses and an old watermill. Three times around the main pond is 1.2 miles, but you can enter the unpaved path covered in wood chips and then the preserve. There you will find another small pond and a garden. The path can get bumpy, but overall it's a relatively smooth walk. There is no bathroom on-site. Leashed dogs are welcome, so you and the baby might see a pup or two. Frank Melville Memorial Park is FREE.
Most of the farm is grass, but it's well-kept and smooth. Large strollers will have no problem navigating. Baby love seeing all the animals on the farm. Goats, horses, pigs, cows, and peacocks are some of the animals who call this farm home. Different seasons bring different crops, such as sunflowers, wheat, and pumpkins, so be sure to explore the paths along the fields. The natural playground has an outdoor kitchen, shovels for digging, musical instruments, and safe opportunities to climb. Admission to the farm is completely FREE, but you must register as a visitor in the main office before exploring. Animal feed is available for a small fee.
RELATED: Mommy-and-Me Classes for Long Island Families

Enjoy a stroll at Brookhaven Town's Ecology Site; it's a great way to introduce baby to new animals. Photo courtesy of the site
A hidden gem in Suffolk County, this Holtsville site is home to a 1-mile walking trail, playground, pool (extra fee applies), and the wildlife and ecology center. The trail is completely paved, and while there isn't anything too exciting to look at, the real star is its small zoo. The zoo features goats, which baby can pet and feed, and llamas, foxes, birds of prey, and even a black bear. It's an intimate way to introduce baby to new animals. There is also a small greenhouse in the main building, which houses the bathrooms. Another highlight is a series of newly installed fitness stations, including a small, covered outdoor gym. Holtsville Park is FREE for those with a Town of Brookhaven resident pass. Nonresidents pay a $5 parking fee, including access to the trail, playground, and zoo.
Sunken Meadow is often less crowded than the south shore beaches and boardwalks, like Jones Beach, but it's also much smaller. The boardwalk runs 3/4 mile, but there are other trails to explore throughout the park. In the summer, there is a small snack shack to get ice cream and other treats. There are multiple large playgrounds on the way from the parking lot to the boardwalk. Older siblings can have some fun on the equipment while you push the baby on the swing. Parking at Sunken Meadow State Park is $10 per vehicle when the beach is open; otherwise, it is $8. It is FREE for Empire Pass holders.
Photos are by the author except where noted.
Sign up for the Mommy Poppins Newsletter today!