Where To Trick-or-Treat on Long Island with Kids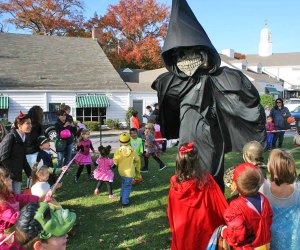 10/14/22
- By
Gina Massaro
There's nothing like trick-or-treating on Long Island, with its many kid-friendly walkable downtowns and villages full of businesses in the Halloween spirit.
You can stay in your own neighborhood, where kids know how to navigate the houses, and whether they're handing out pennies or doling out full-sized candy bars. But Halloween is also a great time to explore new parts of Long Island. We've compiled a list of the best Long Island neighborhoods for trick-or-treating. We prefer those that have houses close together, are well-lit with minimal traffic, and have merchants participating. Read on for our list of favorite places to trick-or-treat on Long Island.
Our Long Island Halloween Guide is full of more holiday fun, including a rundown of the best scary haunted houses for teens and great trunk tor treats on Long Island for little ones.
Don't forget to sign up for our newsletter to have news like this delivered straight to your inbox.
Where To Go Trick-or-Treating in Nassau County
Kids take to the streets in this family-friendly village bordering Queens. With more than 1/3 of its residents younger than 18, the town comes to life with houses adorned with orange lights and lawns decked out with spooky displays. Many homes here were built at the turn of the 20th century, letting kids hunt for (or avoid) "haunted" houses.
Tree-lined streets dotted with majestic houses make for a beautiful night of trick-or-treating. Roads generally have little traffic and are wider than in most communities. Old architecture such as the Cathedral of the Incarnation and St. Paul's Recreation Complex on Stewart Avenue give children the illusion of "spooky" spaces. Residents tend to be generous with their candy, and many merchants along Seventh Street participate, too.
A good balance of apartment buildings and residential homes gives trick-or-treaters options in case of inclement weather. But if the sun cooperates, there's nothing better than breathing in the salty ocean air while you collect sweet candy. The West End's grid system makes it easy to navigate (the majority of streets have state names; Ohio Avenue, etc.), and houses are close together, minimizing the number of steps everyone must take to maximize goody intake.
Where To Go Trick-or-Treating in Suffolk County
Head to this South Shore hamlet for views of some of the area's most majestic and allegedly haunted houses. You might not see ghosts, but some of Bay Shore's historic homes along Montauk Highway are festively decorated. There are also newer apartment and condominium complexes that make treat collecting easier with little walking.
RELATED: Where to Donate Your Halloween Candy

Trick-or-treat with friends and family through Huntington's downtown.
Nominated as a stroller-friendly community in Newsday's "Best Places to Live" competition, Huntington delivers the best of both worlds during the Halloween season: a bustling Main Street, where children can enjoy linear trick-or-treating with shop owners, and several beautifully decorated homes. Costumed kids can even trick-or-treat at the Heckscher Museum of Art. They also receive FREE admission into the museum, although tickets must be reserved ahead of time.
RELATED: Parades and Other Halloween Events for Kids on LI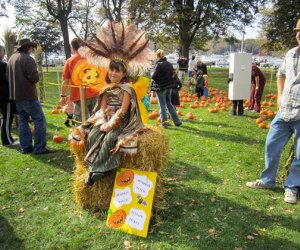 Northport celebrates its trick-or-treaters, but be wary of its many hills. Photo courtesy of Northport Chamber of Commerce
This quaint village really delivers on the Halloween atmosphere. Shops along Main Street decorate their storefronts, and many participate in the annual trick-or-treat event. Start near Ocean Avenue and work your way toward Northport Bay, then around to the residential areas. Streets can be hilly, so be prepared to take a short rest along the way or give a piggyback ride. You will be rewarded with incredible views of the waterfront and all of the Halloween revelers below.
With safe neighborhoods and vibrant downtown, Patchogue is an excellent area for trick-or-treating. Start off by collecting treats from shops along Main Street and South Ocean Avenue. Then head to one of the town's family-friendly neighborhoods and join in on the door-to-door fun.
Expansive water views allow children to look across Long Island Sound for pirates (from Connecticut). While the hilly terrain can present challenges after the sun goes down, the village truly shines during daylight trick-or-treating. Cedar Hill, which sits atop upper Port Jefferson, offers spectacular views. And the cemetery at the peak adds to the Halloween lure. Be sure to ring bells in Brick Hill, the western neighborhood in lower Port Jefferson developed by famed circus entrepreneur P.T. Barnum. You might even score some popcorn or cotton candy.
The annual Halloween Festival includes trick-or-treating, a costume parade, a scarecrow contest, and free mini pumpkins for the kids. The festival begins at 2pm on Monday, October 31. A trick-or-treating visit to the Stony Brook Village Center on the harbor makes you feel as if you were transported to Colonial Williamsburg. This idyllic New England-style village stimulates the senses of children and adults.
RELATED: Top Pumpkin Patches and Corn Mazes for LI Kids to Explore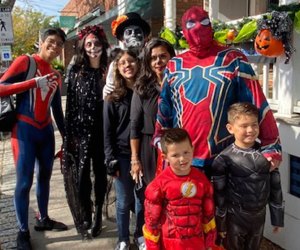 Join the fun at the Greenport Halloween Village. Photo courtesy of Greenport BID
Where To Go Trick-or-Treating on the East End
Canvass the shops along Montauk Highway from Springville Road east to Ponquogue Avenue, the community's central business district.
The summer crowds might have left, but the festivities continue in this East End community. On Saturday, October 29, Greenport businesses host trick-or-treat stations from noon to 3pm. The community also has a themed "Witches in the Window" scavenger hunt and special Halloween goodies for the little ones.
Head out east to one of the best communities for Halloween fun. The Riverhead Halloween Fest on Saturday, October 22, is full of festivities, including a coffin race, goblin parade, and trick-or-treating on Main Street.
Honorable Mentions
A fun community with plenty of kids participating in Halloween revelry.
The New Salem neighborhood has beautiful streets, and residents decorate for the holiday. One even has a haunted house you can visit.
Safe and friendly, with a great scene along Main Street.
This is a great option for house-to-house treat collecting. Syosset has many areas with quiet streets, low traffic, and festively decorated homes.
What to Know Before You Trick-or-Treat on Long Island
Make sure children are in comfortable shoes regardless of costume choice.
While many of us rely on smartphone GPS, it is still wise to study your route in advance.
Ensure you and your children are visible to traffic by using reflective tape, bright colors, and/or a flashlight app on your smartphone.
Check all candy before anyone eats; avoid eating homemade treats made by strangers.
Here's wishing you and your family a safe and happy Halloween.
A version of this post was first published in 2016. Kristen Markel contributed additional reporting.