Amazing Budget Weekend Getaways for Philly Families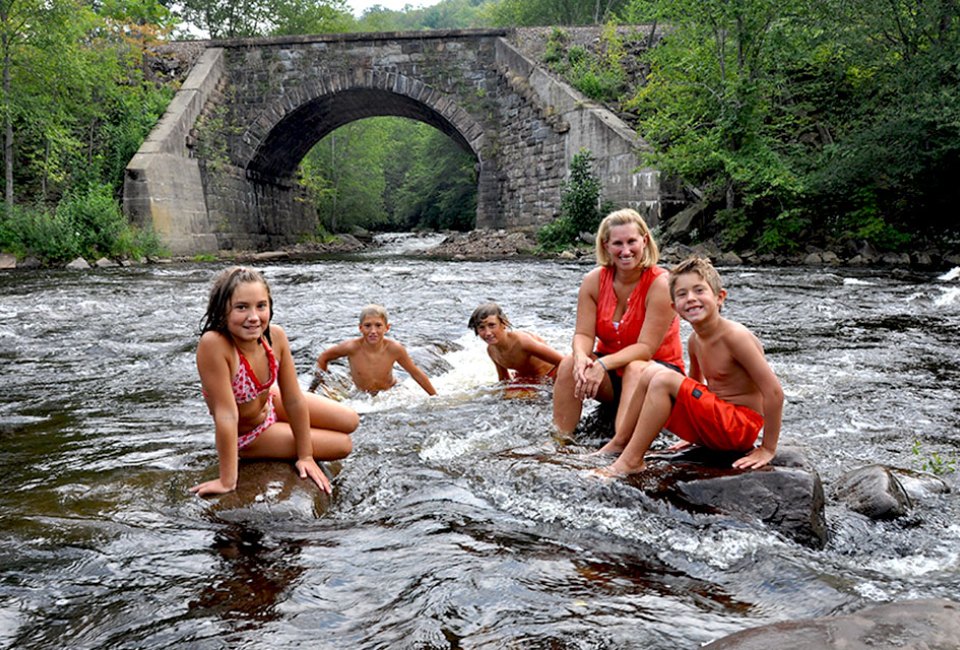 4/28/23
- By
Alyce Wilson
Subscribe to our newsletters to get stories like this delivered directly to your inbox.
1. Ricketts Glen State Park, Benton, Pa.
About two and a half hours from Philadelphia, Ricketts Glen State Park contains the Glens Natural Area, which is a National Natural Landmark. One of Pennsylvania's most scenic areas, a hike along the Falls Trail System will allow your family to glimpse 22 named waterfalls as they cascade through rocky clefts. And as a state park, it's all free.
For an inexpensive overnight stay, check out cabin camping or tent camping at Ricketts Glen, complete with hot showers and flush toilets. Before you head home, stop at the Bloomsburg Children's Museum, with hands-on activity spaces related to animals, space, theater, history, machines, and more.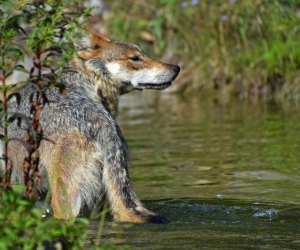 The Lehigh Valley Zoo is filled with incredible wildlife, like this Mexican Red Fox. Photo courtesy of the zoo
The Poconos are less than two hours north of Philadelphia and for decades have been viewed as a Pennsylvania vacation spot, with beautiful natural areas, family activities, and food. Nature lovers should check out Bushkill Falls, dubbed the Niagara Falls of Pennsylvania. Learn about 19th Century Pennsylvania German agricultural heritage at Quiet Valley living historical farm. Or splurge on a scenic train tour, with several available themes and destinations.
As a family-friendly vacation spot, you'll find plenty of reasonably priced restaurants and kid-friendly activities, such as mini golfing. Check out all the activities for kids in the Poconos in our Poconos Family Guide.
The Poconos offer many camping options, ranging from RV parks to tent camping.

Take a family-friendly river cruise on the Hiawatha. Photo courtesy of the Hiawatha Riverboat
3. Pine Creek Gorge, Wellsboro, PA
Better known as the Pennsylvania Grand Canyon, Pine Creek Gorge in Wellsboro is about a 3-and-a-half-hour trip from Center City Philadelphia. Surrounded by 165,000 acres of the Tioga State Forest, the Canyon is designated as a National Natural Landmark.
The best overlooks can be found at Leonard Harrison and Colton Point State Parks, on opposite sides of the gorge. The Turkey Path from Leonard Harrison winds past waterfalls and beautiful scenery and is the best way to descend to the canyon floor. Inexpensive camping accommodations at Leonard Harrison and Colton Point State Park are available from April through October.
For more family fun, consider visiting the World of Little League Museum in nearby Williamsport or take a cruise on the Hiawatha riverboat.
4. Lehigh Valley
Only an hour and a half North of Philly, the Lehigh Valley boasts a number of family destinations. In addition to the Trexler Nature Preserve listed below, enjoy a colorful and creative good time at the Crayola Experience in Easton. While admission isn't cheap, you can save over $6 per person with this discount link!
Stay overnight at one of the many affordable hotels in the area, and then spend a second day of fun. Check out one of the free concerts at the SteelStacks, Visit the National Museum of Industrial History (free for children ages 6 and younger). Future engineers love learning all about the history of machines and manufacturing. Then visit Book & Puppet Company, which offers free puppet shows and story hours for kids.
Located two hours and 20 minutes from Center City Philadelphia, Gettysburg is a must-see for history lovers of all ages. The most cost-effective way to begin is by checking out the information provided by the Gettysburg National Military Park before planning your trip. Rather than opting for an expensive bus tour, families can take a self-guided driving tour, spending just $10 for the audio tour that will tell the whole family about the sites.
The Gettysburg Diorama features over 20,000 hand-painted soldiers, horses, cannons, and buildings, and a light and sound show tells the story of the three-day battle. The Gettysburg Museum of History is a free private museum that tells the story of not just Gettysburg but both world wars and Vietnam, as well as presidents, pop culture, and more.
Choices abound for places to stay overnight, including hotels and motels, cabins and campgrounds, and vacation rentals.
For more things to do in Gettysburg, read our local writer's insider tips for visiting Gettysburg with kids.
One of the furthest trips from Philly, at nearly 5 hours, Pittsburgh makes up for the journey with so many interesting sites to visit and fun (inexpensive) things to do. At the Heinz History Center, affiliated with the Smithsonian Institute, families can explore 40 interactive exhibits on western Pennsylvania history.
Walk onto the TV set for "Mister Rogers' Neighborhood," experience iconic moments in sports history, and learn about Pittsburgh innovations from that famous ketchup bottle to the Ferris Wheel.
Animal lovers will want to visit the Pittsburgh Zoo & Aquarium (not super cheap, though it's free for children under 2, and once you've paid admission it's easy to spend the whole day there), and the art lovers in the family won't want to miss the Warhol Museum. Complete the day with a unique view of the city from the Duquesne Incline, which is just a couple of bucks.
For where to eat and even more things to do, check out our review of the best things to do in Pittsburgh as a family.
RELATED: Visiting the Catskills With Kids: 37 Fun Things To Do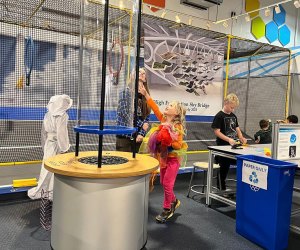 Have a blast with hands-on science exhibits at The Lancaster Science Factory. Photo courtesy of the venue
7. Lancaster County
Not only is Lancaster County close for Philadelphia area residents, but it offers much more to see than most people realize, and much of it is very affordable. In fact, you could easily spend more than just a few days here, all on the cheap.

The Garden of the Five Senses is free all year round. Photo by the author
The Garden of the Five Senses is free and open to the public year-round, with wheelchair and stroller access. The Lancaster Science Factory is well worth the price of admission, with hands-on interactive science activities for kids in pre-K to 8th grade and their families.
If you're interested in learning about Amish culture and lifestyles but don't want to pay for an expensive tour, check out the more affordable Farmhouse tour at the Amish Farm & House, where you can learn from a guide about the Amish lifestyle inside an Amish school and home for about $12. Learn about the Mennonites for free at the Mennonite Life Center, for a short film and information.
Spend an afternoon learning about life as a farmer at the turn of the 20th Century at Landis Valley Village and Farm Museum. For a reasonable price, you can explore a unique living history museum, walk through relocated historical buildings, and see live demonstrations by crafters and artisans.
As for inexpensive accommodations, consider staying at French Creek State Park in nearby Elverson, which offers RV and tent camping, along with modern cabins, camping cottages, and yurts.

Engage in STEM activities at the Da Vinci Art Center. Photo by the author
The Trexler Nature Preserve, just over an hour from Philadelphia, is a 1,108-acre public park that is a focus of conservation efforts to protect endangered bison and elk. Hike the eighteen miles of trails and observe wildlife, watch birds, or go mountain biking. The ADA trail provides access to the disabled, and families can also fish or picnic along Jordan Creek. The on-site Trexler Environmental Center houses the restrooms.
Stay overnight and then visit the Lehigh Valley Zoo, with the brand-new Habitat Madagascar. Or check out the National Canal Museum for some hands-on learning about the history and culture of canals. The Da Vinci Science Center provides STEM learning exhibits and live programming.
RELATED: Where to Go Camping with Kids near Philly at the Best Family-Friendly Campgrounds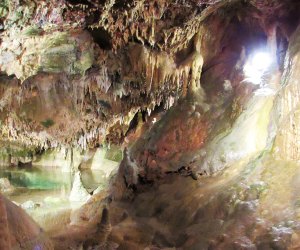 Go on a caving adventure at the Indian Echo Caverns. Photo by the author
9. Hershey and Harrisburg
Hersheypark, while loads of sweet fun, isn't going to qualify as a budget vacation for any of us. However, look past the amusement park for a cheaper trip to Hershey. Indian Echo Caverns, open year-round, allows explorers of all ages to take tours through the cave. It's pricier than a state park, but the one-hour tour packs in enough eye-popping sights, plus science and history, to make it worthwhile.
For hands-on science fun, visit the North Museum of Nature and Science on the Franklin and Marshall University campus. Ticket prices are cheaper than many similar venues. In addition to the permanent collections on dinosaurs, animals, and geology, visit the live animal room to meet some real-life wildlife.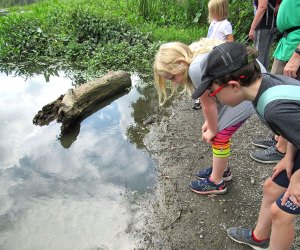 Explore Wildwood park in Harrisburg. Photo by the author
Wildlife and nature fans will adore Wildwood Park, a wetlands park near Harrisburg with trails and boardwalks through densely-populated woodlands. Have your cameras ready, because you're likely to spot plenty of photo-ready birds, frogs, turtles, and more.
To channel the energy of younger travelers, check out the free Cocoa Castle playground in Derry Township.
A relatively short drive away, at just under two hours, Baltimore is the site of the National Aquarium, sure to be a hit because of its lovingly detailed aquatic habitats. While admission is on the pricier side, families can easily spend a whole day viewing exhibits and special programming. Balance out the cost on day two by visiting the free Baltimore Museum of Art, home of the largest collection of Henri Matisse's artwork.
Of the many other attractions (seriously, we've got at least 50 fun things to do in Baltimore with kids listed here), one of the most interesting is the American Visionary Art Museum, featuring work by self-taught, outsider artists. Charm City boasts a wide range of niche museums on everything from streetcars to baseball hero Babe Ruth. And scientific minds will like exploring the Maryland Science Center.
RELATED: 25 Fun Things to Do in Scranton, Pennsylvania with Kids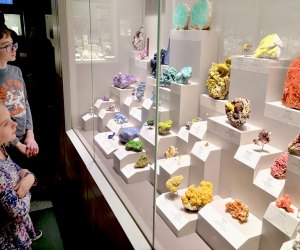 Visit the Smithsonian Natural History Museum in D.C. Photo by the author
Just over a two-hour trip for Philadelphia area residents, Washington, DC is a great weekend vacation. Find a reasonably-priced hotel along the Metro line, in Bethesda, Maryland, for example, and snag a weekend trip pass to travel easily to the center of town.
Along the National Mall, take your pick of the multitude of free museums, including the Smithsonian Institute. Keep in mind that a few of the more popular museums, such as the National Air and Space Museum, require timed entrances, so reserve your free tickets online.
While the museum cafes tend to be pricey, you can bring your own lunches and enjoy them on the grassy areas of the National Mall, which is also an excellent place to fly kites on a windy day.
The famous monuments, including the Lincoln Memorial, the Washington Monument, and the Martin Luther King Jr. Memorial are all at one end of the National Mall and offer free admission year-round.
For more ideas on what to do in DC on a long weekend, check out our 3 Days in DC with Kids Itinerary by a Local Mom.
Sign up for the Mommy Poppins Newsletter today!
i