25 Fun Things to Do in Scranton, Pennsylvania with Kids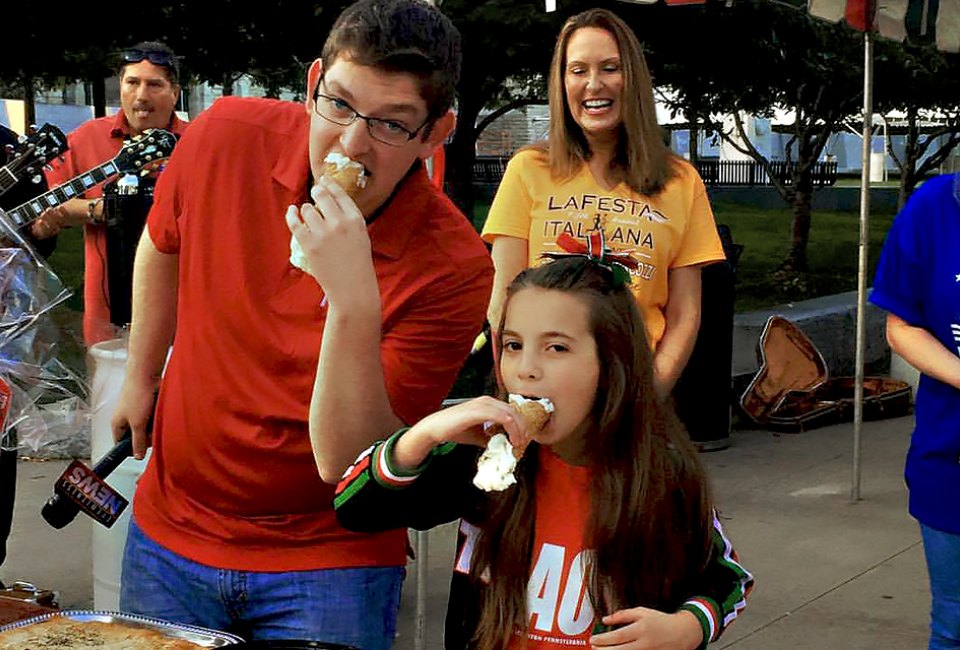 3/28/19
- By
Elaine Paoloni Quilici
Looking for an easy family road trip around the tristate area? Scranton, Pennsylvania, might be your solution. It's less than three hours from the New York City area and Philadelphia and is filled with classic family vacation fun.
It's easy to add a stop in the Electric City if you're planning a trip to the Poconos with the kids or a stay in one of its many family-friendly resorts. You'll be pleasantly surprised by all that Scranton has to offer.
Though most people associate the city with the TV show The Office, this area boasts lots of year-round fun: skiing and tubing in winter, minor league baseball in spring, water slides in summer, hiking in fall—and plenty of unique cuisine.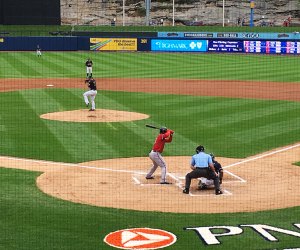 Baseball games at PNC Field are a family affair. Photo by the author
1. Baseball at PNC Field — Moosic
For all those NYC Yankees fans, step right up to your seat at the Scranton/Wilkes-Barre RailRiders stadium. It's the Yankees minor league club, so kids will thrill to see up-and-comers, or pros taking it easy while they rehab. It's a first-class stadium where every seat is a good one. Kids can get autographs before the game, participate in lots of fun on- and off-field challenges during the game, and run the bases.
2. Horse Racing at Mohegan Sun — Wilkes-Barre
A real-life horse race is an exciting first for many kids, and they can get that experience at the Mohegan Sun casino. Make a night of it and have dinner inside the casino at one of the many restaurants, or simply stop for a milkshake at Johnny Rockets post-race.

If your kids love magic, they'll love the Houdini Museum.
3. Houdini Museum — Scranton
The great, late magician Harry Houdini spent time performing in the area and his legacy is honored by this museum. If your kids love magic, they'll enjoy an hourlong live show that mixes sleight of hand with comedy and audience participation. There's also an exhibit and a movie to see. Make reservations in advance.
4. Lackawanna Coal Mine Tour — Scranton
Coal mine and cave tours are popular in Pennsylvania, and this tour takes explores into an anthracite mine, 300 feet below ground. A tour guide will take participants down in a mine car, then lead everyone through the cool tunnels as he or she describes the work that went on at the mine, dating back to 1860, giving the kids a bit of a history lesson. Open seasonally.
5. Electric City Trolley Museum — Scranton
Kids will thrill to see all the old-school trolley cars, take a ride on one, and explore the other items that helped earn Scranton the moniker "Electric City" as the home of the first American streetcar system that operated entirely by electricity.
6. Cooper's Seafood House — Scranton
Hop aboard this 70-year-old ship-shaped restaurant for a fun dining experience. A blue whale hangs overhead in the Whale Room. There's also the Train Room and a bar area with taxidermy on the walls. Kids' meals are served in their very own boat that can be taken home.
RELATED: Lancaster County with Kids: The Best Things to Do in Dutch Country

This mega entertainment center has activities and games for all ages.
7. Lahey Family Fun Park — Clarks Summit
Spend the day moving from bumper boats to mini golf to batting cages, and more. This mega entertainment center also has go-karts for big kids, a soft play area for little ones, and arcade games everyone will enjoy.
8. Montage Mountain — Scranton
Skiers and snowboarders can explore Montage Mountain's 26 trails and even a terrain park in winter. There's also snow tubing. In summer, the mountain turns into a seasonal water park with a wave pool, lazy river, water slides, and even landlubber pursuits, such as a zip line ride. Various events and festivals are also held at the resort throughout the year.

The town of Pittston is all about tomatoes during a multi-day event each August.
9. Pittston Tomato Festival — Pittston
The town of Pittston is all about tomatoes during a multiday event each August. There's a parade, 5K run, live entertainment, food, rides, games, arts and crafts, and bingo. There's even a tomato competition and a contest to see which local restaurant has the best tomato sauce. Don't miss the parking-lot tomato fights that are both fun to participate in and watch.
10. Ice skating and hockey — Scranton and Wilkes-Barre
Cheer on the Wilkes-Barre/Scranton Penguins, an affiliate of the NHL's Pittsburgh Penguins, as they take to the ice at the Mohegan Sun Arena at Casey Plaza. Let the kids channel their inner Adam Rippon, a Scranton-born Olympic figure skater during the public ice skating sessions at the Toyota SportsPlex in Wilkes-Barre or Revolution Ice Centre in Pittston.
11. Live theater for kids — Scranton and Wilkes-Barre
Scranton Cultural Center at the Masonic Temple offers a series of live kid-friendly shows. Arrive early to partake in a Wiggles and Giggles workshop, where kids can create a show-themed craft before the performance. Head to the F.M. Kirby Center for the Performing Arts in Wilkes-Barre for the big touring kids shows, such as Daniel Tiger's Neighborhood LIVE! and Nickelodeon's Double Dare Live!

Join in the downtown Scranton St. Patrick's Day parade to celebrate the day with marching bands and more.
12. St. Patrick's Day Parade — Scranton
More than 12,000 people flock to Scranton each year for this annual celebration of all things Irish. Watch live entertainment, from marching bands to bagpipes, and enjoy the food and festive wares of vendors. Stop by the Lackawanna Children's Library for a themed drop-in craft. Parades in Wilkes-Barre and Pittston are also worth checking out.
13. Church picnics — Various
If you're looking for some small-town fun, seek out an old-fashioned church picnic during the summer months. Many communities between Scranton and Wilkes-Barre have annual events where you can sit outside on a warm evening, noshing on Italian, Slovak, or Polish specialties (depending on the ethnicity of the congregation). Dance to a tarantella, eat a potato pancake, and join in the fun and games.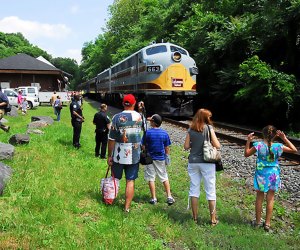 Train lovers will be in heaven at Steamtown, a National Historic Site dedicated to steam engines. Photo courtesy of the National Park Service
14. Steamtown — Scranton
Your choo-choo train fans will geek out at Steamtown! This National Historic Site has ALL the info on steam engines, as well as a train ride. There's a history museum, theater, technology museum, and additional exhibits in the roundhouse. Kids can even take a guided tour of the locomotive repair shop.
15. Old Forge pizza — Old Forge
Grab a "cut" or "tray" of the area's unique rectangular pizza in this self-proclaimed Pizza Capital of the World. Old Forge is bursting with pizzerias including Salerno's Café, Café Rinaldi, and Arcaro & Genell. Each restaurant has its own flavor; don't miss the white pizza, which is more like a grilled cheese in pizza dough with rosemary on top. At Arcaro & Genell, you can also catch a strolling magician while you wait for food or watch the action on the bocce court outside during warmer months.

Nay Aug Park is Scranton's largest. It has waterfalls, playgrounds, a museum, and more. Photo by the author
16. Nay Aug Park — Scranton
There's plenty to keep you occupied in Scranton's largest park. Hike past waterfalls and a picturesque gorge, swim in an Olympic-sized pool with water slides, or just let the kids run around on the playgrounds. (The popular tree house lookout remained closed and under renovation at publish time.) There's also Everhart Museum, a natural history, science, and art museum. The museum's periodic community days offer free admission, interactive activities, walk-in workshops, and guided tours.
17. Chacko's Family Bowling Center — Wilkes-Barre
Enjoy some family-friendly bowling on one of Chacko's 40 lanes. Check out the alley's promotions, such as Sunday morning early bird specials, All You Can Bowl Sunday nights, and holiday tie-ins. The lounge menu offers plenty of kid-friendly food. There's also an arcade with ticket redemption and a digital jukebox to keep the kiddos entertained once their arms tire of slinging balls down the alley.
18. The Marketplace at Steamtown—Scranton
You don't have to bribe your little ones to shop at The Marketplace at Steamtown. Just tell them about the retro candy they can pick out at Steamtown Sweets, the chocolate at Gertrude Hawk, or the fun-flavored popcorn at Doc Popcorn. Have them burn off some steam on the soft play structures and slides at Bee's Backyard or build on the Lego wall. If you still have time, stop into Lackawanna County Library System's Library Express for a possible craft or STEAM program.
RELATED: 6 Great Family Weekend Vacations in Pennsylvania

Be awed at the underwater world of fish at the Electric City Aquarium & Reptile Den.
19. Electric City Aquarium & Reptile Den—Scranton
This aquarium and reptile den, located inside The Marketplace at Steamtown, is a destination of its own. Stroll past the dimly lit tanks and habitats to catch a glimpse of an octopus, shark, alligator, turtle, snake, crocodile, frog, and more. Educational shows and animal feedings are part of the admission.
​20. Circle Drive-In Theatre—Dickson City
Take a spin back in time at this drive-in movie. In operation since 1945, the venue has two large screens featuring first-run films. Bring your own snacks, or visit the food concession. Stop by on a warm-weather Sunday to peruse the flea fair and farmer's market.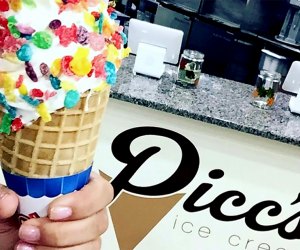 Grab a colorful cone at Picc's.
21. Ice cream — Various
The result of a family dispute over Jitty Joe's in Old Forge produced good news for those with a sweet tooth: now there are two places to enjoy delicious ice cream creations in the area. The newly named Picc's ice cream shop took over the old space, while Jitty Joe's opened a new location in Moosic. Stop in at either for generous portions of ice cream sure to please any child or adult. Try an ice cream donut or cookie sandwich made with homemade ice cream at Jitty Joe's, or feast on a gelati (soft ice cream and Italian ice mix) at Picc's.
22. Kirby and Nesbitt parks — Kingston
Kirby Park draws crowds with its tennis courts, fitness trail, pond, walking paths, running track, softball fields, volleyball courts, and playground every day of the year. It also hosts many special events, including a Cherry Blossom Festival and Fourth of July fireworks. Across Market Street, the green space continues along the waterfront as Nesbitt Park. In addition to a playground, there's a disc golf course. During the annual RiverFest, events are held in both parks.
23. Hudson Model Railroad Club — Plains
Watch model trains wind through tiny town and tunnels at this electric-powered model railroad exhibit. Admission is free, but it's only open to the public on select days during the winter and summer, so check the dates online before you go.

Eat and play during the day but stay for the evening fireworks at La Fiesta Italiana.
24. La Festa Italiana — Scranton
Spend the final days of summer immersed in this mega Italian festival that comes to town each Labor Day weekend. It features music, food, and multiple stages of live entertainment. Enjoy a "porketta" sandwich, pizza, or Italian ice while visiting the nearly 80 vendors that join the annual party on Courthouse Square.
25. Friday art walks — Various
Scranton's First Fridays highlight the artists of the city with a free art walk. Stop into a café with your little ones for a treat as you stroll or some live music; older kids can appreciate the art galleries. Download a map of participating venues from the website. Keep the fun going on Second Fridays in Pittston and Third Fridays in Wilkes-Barre, which offer similar events, including demonstrations, face-painting, and hands-on activities for the kids.
Photos courtesy of the venues except where noted
t Click Here to Sign Up!