Visiting the Poconos with Kids: 70 Top Things To Do as a Family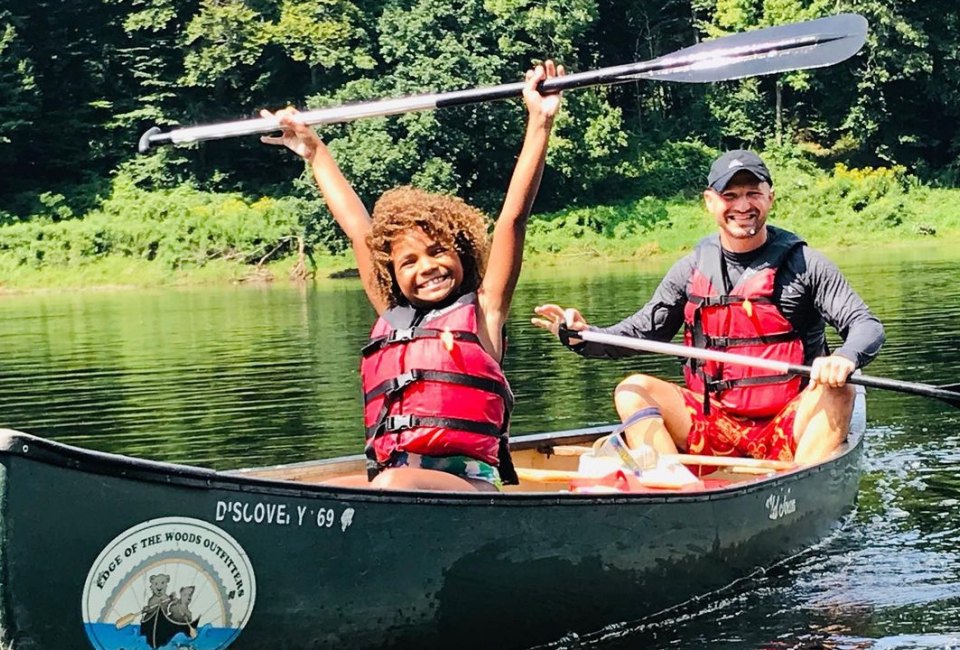 5/13/21
- By
Anna Fader
Just two hours from New York City or Philadelphia, the Pocono Mountains offer pristine natural beauty mixed with enough family-friendly activities to fill a long weekend getaway or an entire summer vacation. Truly a four-season resort area, during the winter people flock to the Poconos for skiing and other winter sports, and the cool lake-dotted mountains draw families for swimming, hiking, boating, horseback riding, and more in the summer. It's also loaded with great water park resorts, both indoor and outdoor, and lovely cabin rentals, many of them either lakeside or mountainside.

We've rounded up dozens of the top family attractions in the Poconos into one mega list. Given that it's a fairly large region, we've separated the list by area or town to make it easier to find what's closest to where you and your family plan to visit. Staying longer? Hit all the regions!
Top Things to Do in the Poconos — Multiple Regions
1. Swim at State Park Beaches
Think you need to hit the coast for a dip in the water and some sand castle construction? Think again! The Poconos' beautiful state park beaches offer the allure of the shore in a gorgeous lake setting. Swim and picnic at Promised Land, Tobyhanna, Gouldsboro, or Ricketts Glen.
2. Dude Ranches and Horseback Riding
Enjoy fun and intimate equine experiences, plus archery, hayrides, and bonfires at these awesome horse ranches in the Poconos. Malibu Dude Ranch, Triple W Riding Stables, and Mountain Creek Riding Stables are our favorite places to ride horses.
3. Bowling
When Mother Nature won't cooperate, the kids will be happy to hit a strike on the laser-lit lanes or play a few games in the arcades at Summit Lanes or Wallenpaupack Bowling Center.
4. County Fairs
Go to a carnival and enjoy rides, shows, agricultural expos, and more at the Wayne County Fair orCarbon County Fair.
5. Hike at State Parks
Take a hike at Hickory Run State Park, Big Pocono State Park, or Promised Land State Park. You can also try your hand at geocaching or a slate of other outdoor activities while taking in the scenery.
6. Shawnee Mountain Resorts
Skiing down the slopes at Shawnee Mountain is always a good idea. Summer and fall usually host popular festivals and 5ks, but they've been canceled in 2021 due to COVID-19.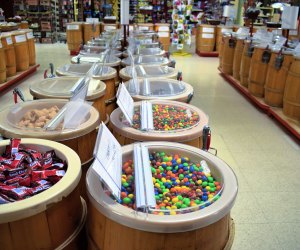 Fill up with Candyland buckets housed in The Shoppes at American Candle. Photo courtesy of PoconoMountains.com
7. Candyland
Dig through hundreds of candy barrels at Candyland. This confectionery dream is housed at The Shoppes at American Candle, so there's plenty of browsing to be done. Double-satisfy your sweet tooth right on site with rolled ice cream from Rolley's.
8. Blue Mountain Resort
Once the snow has melted, Blue Mountain Resort's spring and summer programming bring 5k races, mountain biking, outdoor laser tag, and of course, glamping to the Poconos.
9. Pocono Mountains Events
The official website of the Pocono Mountains region is great for keeping visitors updated on all the latest happenings, so pay them a visit before your trip. Check the nonstop local event calendar for fun runs, sock hops, theater, music, and more.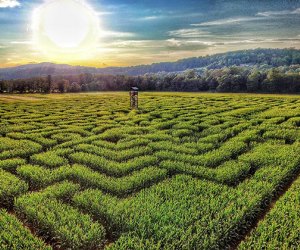 Find your way out at Mazezilla at Klingel's Farm​. Photo courtesy of the farm
Things To Do in East Stroudsburg
10. Mazezilla at Klingel's Farm
If corn mazes are your thing, you'll love testing your sense of direction at Mazezilla at Klingel's Farm. Spread across 11 acres, Mazezilla changes its designs yearly for fall walk-throughs. You can also take a wagon ride, pet barnyard animals, or frolic through hay forts and corn boxes.
11. Poke a Nose Pottery
Craft a beautiful plate, bowl, or mug as a souvenir at Poke a Nose Pottery, a DIY art outlet.
12. Pocono Indian Museum
Brush up on your knowledge of regional history with fun and educational lessons about the region's first inhabitants.
13. Delaware Water Gap National Recreation Area
Visit the Delaware Water Gap National Recreation Area and take advantage of all there is to do here, like fishing, biking, swimming, and hiking.
14. Adventure Sports River Trips
Get your thrills in by canoeing, kayaking, or rafting down the Delaware. The folks at Adventure Sports can make it happen.
15. Shawnee Playhouse
Stage productions for every age are regularly performed at the Shawnee Playhouse.
16. Village Farmer and Bakery
The smell of Americana wafts 364 days a year from this beloved eatery, Village Farmer and Bakery. The main draw at this Poconos spot is the True Love Special—a hot dog and apple pie combo that goes for $2.95.
17. Quiet Valley Living Historical Farm
The living history museum at Quiet Valley Living Historical Farm is colonial Williamsburg without the trek south. Pet the animals, participate in family programs, and learn how people lived 150 years ago.
18. Carroll & Carroll Booksellers
Carroll & Carroll Booksellers is an indie bookstore with a great selection of used children's and adult books.
19. Schisler Museum of Wildlife & Natural History and McMunn Planetarium
Natural habitats are recreated and celestial shows are projected at this museum on the campus of East Stroudsburg University. (Note: At this writing, the museum is temporarily closed along with school due to COVID-19 precautions but check the website as they may reopen.)
20. Klues Escape Room
Solve each riddle en route to the next destination before emerging from one of five themed options. The trick is to navigate your way out of Klues Escape Room.
21. Poconos Go-Karts and Play Park
Satisfy your children's need for speed at Poconos Go-Karts and Play Park. There's even a kiddie cart track that allows younger kids to drive on their own.
22. Pocono Snake & Animal Farm
The small family-run Pocono Snake & Animal Farm promises "more fun than a barrel of monkeys," and we think you'll agree. After all, how often do the kids get to feed bears, pigs, and monkeys?
23. Pocono TreeVentures
Zip between the trees, tip across a tightrope, and climb the rope ladders at the adventure packed Pocono TreeVentures.
24. Kettle Creek Environmental Education Center
Kettle Creek Environmental Education Center has year-round educational outdoor programming geared toward kids and aimed at promoting conservation. Catch and identify creatures in the pond, or take a guided hike. Check its events calendar for current programs. (Note: The center's building will reopen to the public June 1 while the grounds and outdoor programs are open now.)
25. Kitchen Chemistry
This bakery does more than just push pastries, they'll teach you how to make your own. Take a cooking class or pick up a cupcake kit from Kitchen Chemistry.
26. Blue Lightning Tubing
Go tubing year-round at Blue Lightning Tubing. No snow is necessary at this tubing facility, which features a Magic Carpet lift with two 400 foot tubing lanes.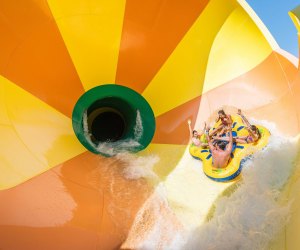 Hit the outdoor (or indoor) water slides at Camelback Resort. Photo courtesy of Pocono Mountains Visitors Bureau
Best Things To Do in Tannersville and Mt. Pocono
27. Camelback and Jack Frost Big Boulder
Winter wonderland adventures await at Camelback or Jack Frost Big Boulder, mountain faves with the snow tubing set.
28. Heckman Orchards
Depending on what's in season, apples, strawberries, pumpkins, or even a Christmas Tree await your selection at the family-friendly Heckman Orchards.
29. Camelback Beach Waterpark
Let the kids get wet and wild at Camelback Beach Waterpark. Pile the kids into a tube and race down a slide, or take it easy on the lazy river at this outdoor water wonder.
30. Casino Theater Entertainment Center
There are absolutely no slots or card games at the family-oriented Casino Theater Entertainment Center, which gets its name from the old Italian word for "little house." Twirl on the tiny carousel, play mini golf, arcade games, or catch a flick in the old-fashioned, Poconos movie theater complete with a malt shoppe.
31. Callie's Candy Kitchen
Indulge in delicious homemade chocolates and candies of all kinds at Callie's Candy Kitchen. An attached museum highlights their family history and candy-making process.
32. Piggy's
A landmark Poconos destination on Lake Harmony, Piggy's is known for massive plates of chocolate-chip pancakes and cinnamon swirl French toast. Grab a souvenir at The Pig Pen gift shop.
33. Split Rock Indoor Water Park
Open year-round, Split Rock Indoor Water Park is 53,326 square feet of water attractions geared mostly to kids 12 and under, but sure to engage those 13 and up too.
34. Great Wolf Lodge
Great Wolf Lodge is the perfect Poconos resort weekend getaway. Swim at the water park, get a spa treatment, and participate in the resort's live-action game MagiQuest.
35. Golf N' Fun
We love the descriptive accuracy of the bungee trampoline at Golf N' Fun: Trampoline Thing. It's definitely a thing the kids will enjoy. This venue also has paintball, bumper cars, and a batting cage, so don't miss out.
36. Pocono Rocks
Channel your inner Spiderman at Pocono Rocks, a rock climbing gym with a bounce house, ninja warrior course, and adjacent restaurant. It's loads of fun for all ages. At the time of this writing, Pocono Rocks temporarily closed due to a small fire. Check their website for re-opening news.
37. Kalahari
Kalahari, America's largest indoor water park, doesn't disappoint. Aside from the numerous pools and water slides, kids can learn to surf the flowrider, try underwater virtual reality, or take shark and mermaid lessons. This Poconos resort also has games, bowling, blacklight mini-golf, and zip lines.
38. The Haunted at The Candle Shoppe of the Poconos
The paranormal activity at this candle store has been documented on Animal Planet, and you can come to get your own goosebumps one weekend a month. They plan to resume weekly tours once COVID-19 restrictions ease.
39. Pocono Organics
This 380-acre regenerative organic farm gives guided educational tours and lines up family programming on their events calendar. Music classes are currently offered weekly, and kids cooking classes featuring dishes like hot pockets are scheduled throughout the year.

Kayaking on Lake Wallenpaupack, a manmade Poconos lake popular with vacationers and boaters.
Things To Do in Near Lake Wallenpaupack
40. Boating on Wallenpaupack
There's no better way to enjoy Lake Wallenpaupack than getting out on the water. Rubber Duckie has water sports equipment in addition to over 25 different boats.
41. Costas Family Fun Park
This family-friendly venue is packed with endless fun, including water slides, laser tag, mini-golf, go-karts, bumper boats, and more.
42. Paupack Blueberry Farm
This self-pick Paupack Poconos farm sells buckets for $3 and blueberries for $3.75 a pound. Hit the fields to fill yours up, then browse the store for blueberry baked goods, local honey, and of course, ice cream.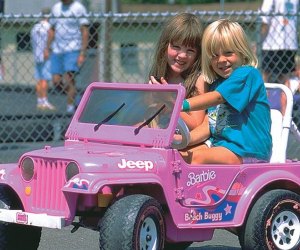 Enjoy the kiddie track at the Carousel Water and Fun Park. Photo courtesy the park
43. Carousel Water and Fun Park
Calling itself the BIG little water park, Carousel Water and Fun Park has everything you need minus the large crowds, making it ideal for young ones 8 and under. A Kiddie-kart track, wading pool, water slides, bumper boats, mini-golf, and go-karts provide more than enough fun to stay from opening 'til closing.
44. Claws 'N' Paws Animal Park
Billed as the Poconos "zoo-in-the-woods" this is where the jungle meets the mountains, with giraffes, a Bengal tiger, lizards, and exotic birds among other animals. The zoo also has a cool paleontology dig activity where kids can search for dinosaur bones.
45. The Dock at Wallenpaupack
The Dock at Wallenpaupack is our favorite dock 'n dine joint. Park your boat right at the restaurant, then park your family at a table for a tasty meal.
46. Stourbridge Line
A scenic ride through the Lackawaxen River Valley is just the ticket for families in search of a cool experience. Specific train tours to book with the kids include The Ice Cream Express, The Pumpkin Patch Express, and The Santa Christmas Tree Express.
47. Ritter's Cider Mill
Ritter's is only open to the public in the fall, from Labor Day through Thanksgiving eve, but it brings all the fun of the season with hayrides, a corn maze, animal feedings, and a hay barn with a kid-approved slide.
48. Hamlin Speedway
High-octane races are scheduled at Hamlin Speedway throughout the year, and speed limits don't apply.
49. Archery Tag
Described as dodgeball with bows and arrows, Archery Tag is a truly unique game and great for families with kids ages 8 and up.
50. Skytop Lodge
Among its many offerings, the Poconos resort of Skytop Lodge has paintball for kids ages 10 and over, or a target practice option for all ages.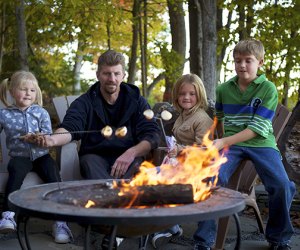 Enjoy s'mores by the fire at your resort or campsite. Photo courtesy of Pocono Mountains Visitors Bureau
Things To Do in Milford and the Delaware Water Gap
51. Dingmans Falls
These Poconos waterfalls are easily accessible by families on the Dingmans Creek Trail, which totals less than a mile, with stroller and wheelchair access most of the way.
52. Bushkill Falls
Better known as "The Niagara of Pennsylvania," Bushkill Falls is one of the Poconos' biggest draws. Take it all in, then enjoy a round of mini golf or a ride in one of the paddle boats around Twin Lakes.
53. More Delaware Water Gap Waterfalls
While we're on the topic of chasing waterfalls, hike to one of five other gorgeous waterfalls.
54. Swiming at Delaware Water Gap National Recreation Area
These three grassy beaches along the Delaware River are great for a quick cooldown. Please note that there are no lifeguards and life jackets are strongly recommended.
55. Poconos Environmental Education Center
Hands-on experiences for nature lovers abound here, including Family Camp Weekends, when you can stay in one of their cabins or yurts, and participate in various programs.
56. Get adventurous at Kittatinny Canoes
The menu of adventurous activities at Kittatinny Canoes includes canoeing, kayaking, rafting, tubing, ziplining, and paintball—take your pick.
57. Grey Towers National Historic Site
The opulent Grey Towers Mansion and adjacent grounds offer a breathtaking look back at the gilded age. Currently, the house tours are suspended due to COVID-19, but the grounds remain open for self-guided tours from sun-up to sun-down every day.
58. Landers River Trips
Partake in the full range of river sports and water adventures at Landers River Trips.

Explore a 20,000-year-old boulder field at Hickory Run State Park. Photo courtesy of Pocono Mountains Visitors Bureau
Best Things To Do in Jim Thorpe
59. Hickory Run State Park
This 20,000-year-old Boulder Field is a National Natural Landmark and the product of permafrost. It's fascinating to explore, plus the park also offers swimming and hiking.
60. Eckley Miners Village Museum
At Eckley Miners Village Museum, re-enactors give guided tours of a preserved mining town and demonstrate how miners lived.
61. No. 9 Coal Mine and Museum
After taking a mine car 1,600-feet into the side of a mountain, learn about the many perils of coal production on a guided tour. Once you emerge, visit the museum for more history lessons.
62. Lehigh Gorge Rail Trail
On one of the most popular biking trails in the Poconos, you can pedal at your own pace alongside waterfalls, wildlife, and grand rock formations. Stop for a picnic when you need a break.
63. Mauch Chunk 5 & 10
This vintage store that carries a little bit of everything is a real blast from the past — like so much of Jim Thorpe — which is why people love to visit. Pick up a cute toy for the kids that will remind you of your own childhood.
64. Old Jail Museum
Scare your children straight at the Old Jail Museum. If the mysterious wall handprint in cell 17 isn't enough, they can stand under the gallows or visit the dungeon for a real fright.
65. The Asa Packer Mansion
It's fun to pretend to be an aristocrat during Victorian times at the Asa Packer Mansion. A national historic landmark, this grand 19th-century home was built for Asa Packer, railroad magnate and founder of Lehigh University. Guided tours are offered daily from Memorial Day through Halloween.
66. Bear Mountain Butterfly Sanctuary
After closing for 2020, the Bear Mountain Butterfly Sanctuary is reopening for spring and summer of 2021 with outdoor science and art activities; it plans to have indoor experiences like the interactive live flight room and the frog room open soon.
67. Lehigh Gorge Scenic Railway
Diesel-powered locomotives make daily voyages along the Lehigh River, through Glen Onoko, and into the Lehigh Gorge State Park. Sit back and enjoy the scenic ride.
68. Rainbow's End
All of Jim Thorpe embodies small town charm from a bygone era and the old-fashioned sweet treats at Rainbow's End, a vintage-inspired candy store, is no exception.
69. Country Junction.
Follow the yellow brick road to the World's Largest General Store, Country Junction, a place that sells everything under the sun and oozes eccentric appeal. In addition to the shopping, there's a free outdoor petting zoo, an arcade, and an escape room.
70. Mauch Chunk Lake Park
Eight different varieties of catch are available at Mauch Chunk Lake Park, a 345-acre lake where you can reel in a meal year-round or just snap a photo and throw it back in the water.
This article first published in 2017 but has since been revised and updated.
Click Here to Sign Up!
i