Malibu Dude Ranch: A Horseback Riding Family Vacation in The Poconos, PA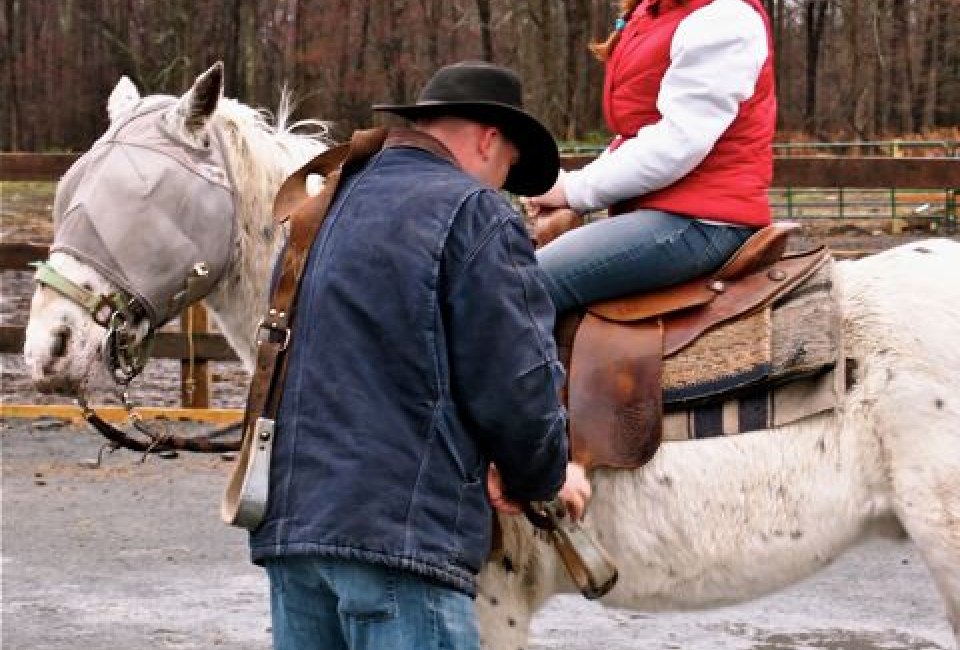 4/28/12
- By
Anna Fader
A visit to Malibu Dude Ranch in the Poconos is a great escape for horseback riding and outdoor fun. The family-owned resort offers lots of time in the saddle, a professional rodeo every Saturday night during the season, and other activities to fill your stay. We were recently invited to visit for a weekend and were taken with the charming atmosphere of the place. It's a great, little-known destination for area families, the rates are very reasonable and you can even get there without a car.
Malibu Dude Ranch is owned by the Detweiler family and truly feels like a family run business. In fact, every single person that worked there went out of their way to introduce themselves and strike up conversation. I have been to a good number of resorts and dude ranches and I've never encountered the level of relaxed familiarity and genuine friendliness we found at Malibu Dude Ranch.
The Detweiler family purchased the ranch just over a year ago and has been doing a complete overhaul of every structure. So, while the accommodations are basic, all the rooms in the main lodge have been completely renovated with new carpeting, bathrooms and beds, and the cabins are all in the process of being upgraded.
What really stands out at Malibu Dude Ranch is the horseback riding. My experience riding at dude ranches in the New York area has been a mixed bag and novice riders sometimes struggle with a skittish or uncooperative horse. The wranglers at Malibu Dude Ranch know their horses and handle them really well and consequently the horses are really easy to ride and put even the nervous beginner rider at ease.
Malibu Dude Ranch offers trail riding through miles of wooded trails in the Pocono Mountains. Guests can ride as much as they like. We went on three trail rides during our weekend, but the family sharing our table at dinner got 5 rides in. The beautiful wooded trails are easy to ride, but rocky and so there isn't a lot of opportunity for trotting, although the wranglers will allow more experienced riders to trot when possible.
Even beginner riders are encouraged to practice steering off the main trail into the woods, which makes the rides more fun that a typical trail ride where you don't do much more than simply allow your horse to follow the horse in front of you. The ranch also hosts special needs programs and staff and horses are trained to handle special needs riders.
On Saturdays from Memorial Day to Labor Day the ranch hosts a professional rodeo, attracting riders from all over the country, and culminating in a championship competition on September 14th.
In addition to horseback riding, Malibu Dude Ranch has a shooting range where anyone who can handle a gun can shoot skeet or targets. The shooting range is managed by Bill, a sheriff, and Jerry, a Marshall, both ex-marines who wore their badges, giving a little extra cowboy flavor to the shooting experience. Skeet shooting costs $25 per person and the rifle range is $5 for 35 bullets.
There is a stocked pond for fishing (bring your bait and rods if you have them, or there are a few rods you can borrow at the front desk). And row boats can be taken out too. Other sports include a basketball court, two tennis courts and an archery range.
There is an indoor swimming pool that is supposedly heated to 80 degrees, but I found too cold to brave, which is too bad. The pool is perfect for little kids with a wading end and then the "deep" end is 3-4 ft deep.
At night the Saloon offers a band or Dj and line dancing on Saturdays, as well as a full bar. Hayrides and a bonfire are the other evening activity options. An arcade with a few video games, a pool table and an air hockey table offers a few more indoor diversions.
Meals are served family style in the dining room. We were seated with another family for our whole visit, which was nice. All the food is prepared by the chef, George. No menu is posted and you pretty much get what is offered, although George will make accommodations for special diets if you let him know in advance.
On the one hand I appreciate the simple family-style dining. Some all-inclusive resorts go overboard and seem very wasteful. On the flip-side, it is a little unusual to just be served a plate of food with no control over your portions or preferences. Portions are not huge and I felt there were people at our table that wouldn't have minded seconds. No names will be mentioned.
Meals are served only at 8:30-10am, 1pm and 7pm (8pm on Fridays). The stretch between lunch and dinner is a little long after an active day. Coffee, tea and hot chocolate are available for free in the lodge at all times and a vending machine in the arcade has snacks for purchase if you get hungry between meals. Bringing your own healthy snacks might be wise.
All in all, Malibu Dude Ranch is the dude-ranchiest of the dude ranches we have been to in the region. While there are fewer bells and whistles than you'll find at some of the other ranch resorts in the area, the simple country feeling of the place is refreshing. Malibu Dude Ranch is a place with lot of character and a lot of characters too.
Malibu Dude Ranch is in Milford, Pennsylvania, 75 miles from NYC. If you don't have a car, take the Short Line bus to Milford and the ranch can arrange transportation from town. Weekend room rates start at just $165 per adult, half price for kids 5-12. Under 5 are free. Rates include all activities (except shooting and the arcade) and meals.
Visit malibududeranch.com for more information and to book your stay.
Click Here to Sign Up!
i