All-Inclusive Winter Family Resorts: Ridin-Hy Ranch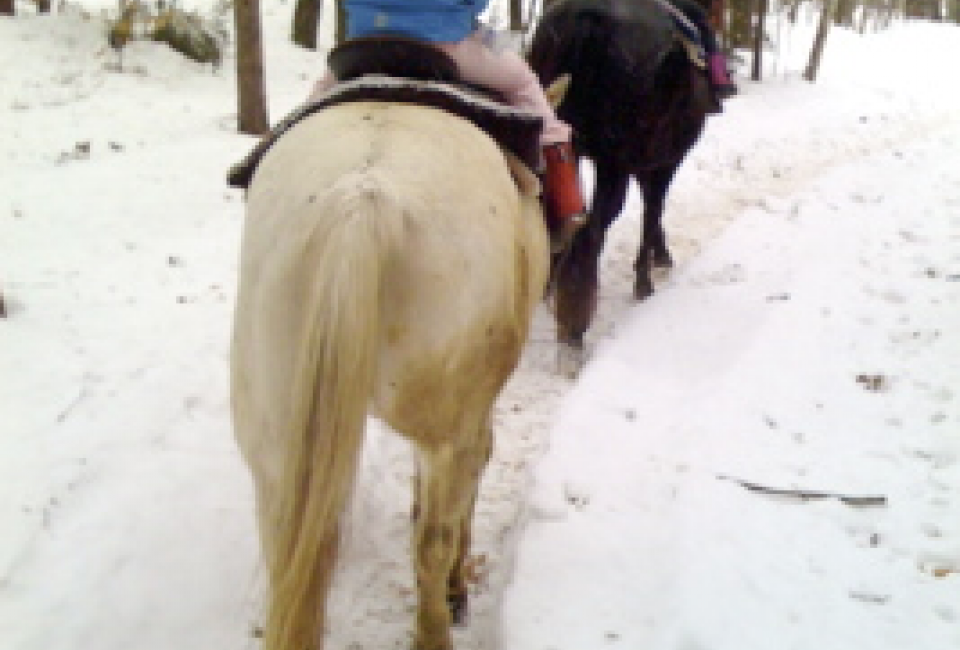 1/9/12
- By
Anna Fader
[UPDATED: JANUARY 9, 2013]
This is the second in a series of posts about All-Inclusive Winter Resorts for Family Vacations in the New York City Region. In our previous post, we reviewed Woodloch Pines Resort in the Poconos.
If you like your vacations a little more on the rustic side, Ridin-Hy Ranch might be the answer. This Adirondack ranch resort offers good old-fashioned winter fun, hold the glitz and glamour. Winter activity highlights include horseback riding through snow-covered trails, sleigh rides, ice skating, snow tubing, snowmobiling, cross country skiing and nightly entertainment.
Ridin-Hy Ranch Resort is located in beautiful Adirondack State Park near Lake George, about 3 1/2 hours from midtown Manhattan. Expect your winter vacation at Ridin-Hy to be snow-covered and scenic. It's a wonderful getaway that allows you to escape hectic city life and spend some relaxing time with your family.
The resort is close to big ski areas like Gore Mountain and Lake Placid—if you're planning to ski, you can even rent your equipment from the resort, which is cheaper and faster than getting it at the mountain. Rydin-Hy also has its own little downhill slope with a T-bar, perfect for kids to practice their skiing on before hitting the bigger mountains.
Accommodations are very rustic, ranging from motel-style rooms to log cabins, but you won't be spending much time in your room. When you're not frolicking outdoors, the main lodge is the place to be—sit by the fire and play family games, enjoy folksy evening entertainment such as bingo, line dancing and magic shows, eat your meals and swim in the indoor pool.
The food scores higher for quantity than quality but I was just happy not to have any cooking or cleaning up to take care of! Three meals a day, plus snacks, are included in the package rate. The kids liked the cafeteria-style food and there were enough options that I was always able to eat a salad or other light dish.
No kids' camp is offered at Ridin-Hy, although babysitting service is available. There are no designated activities or rooms specifically for toddlers and younger children so it might be challenging to keep them busy. My son was five when we visited and he had a great time between snowmobiling, playing in the pool and enjoying the evening activities.
The rates at Ridin-Hy Ranch vary depending on the time of year, but average about $150-$200 per night per adult and about $100 per kid over age 6 on regular winter weekends. One child under age 4 is free and additional children under age 4 are $20 per day. The rates are all inclusive and cover lodging, all activities and three hearty meals a day. Alcoholic drinks are not included in the price. The only extra to keep in mind is tipping—gratuities are recommended for all waiters, ranch hands, entertainers and other staff that assist you during your stay.
If you have one ounce of snobbishness you will probably hate this place, but if you really want to leave the craziness of the city behind and just kick back and have fun, Ridin-Hy Ranch is an excellent choice for your next vacation. My family had a great time. It was definitely a world away from NYC and we enjoyed taking in the snowy fun and trying things we would not normally do. Although we visited Ridin-Hy during the winter, it's also a great vacation destination all year round.
Ridin-Hy Ranch Resort
PO Box 369
Warrensburg, NY 12885
518-494-2742

For more family travel ideas, check out All-Inclusive Winter Resorts: Woodloch Pines in the Poconos and visit our Family Day Trips and Weekend Getaways Guide. For more winter activities, check out our Winter Fun Guide.
Places featured in this article:

Sign up for our free
newsletters.
Mommy Poppins is a family activity website that helps people find things to do with kids.
©
2023
MommyPoppins. All Rights Reserved.
mp-prod4-v4.32.99
We use cookies and other data collection technologies to provide the best experience for our customers.
Learn More
Click Here to Sign Up!