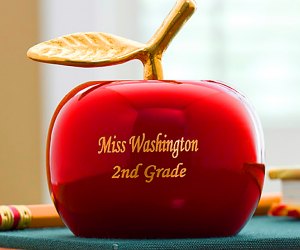 Teacher Appreciation Gifts and Ideas to Show You Care
As the saying goes, absence makes the heart grow fonder, so it's no surprise then that as families approach the last days of the school year, following weeks of stay-at-home orders and busy parents taking on homeschooling tasks, our love of teachers has grown by leaps and bounds. Now's the time to show teachers how much we care, how big an impact they have on our children's day-to-day lives, and really, truly how deserving they are of our appreciation. It's a little tricky delivering teacher appreciation gifts when you likely won't see your child's teacher face-to-face until fall, but it can be done.
To get your creative juices flowing, we've surveyed teachers and asked about the gifts that have hit home, and it turns out the answer is pretty simple: What teachers really want is a heartfelt thank you, the realization that their students really know them, and coffee. Coffee helps a lot. Read on for 18 teacher appreciation gift ideas. You can find plenty of inspiration for homemade gifts in our Crafts for Kids post.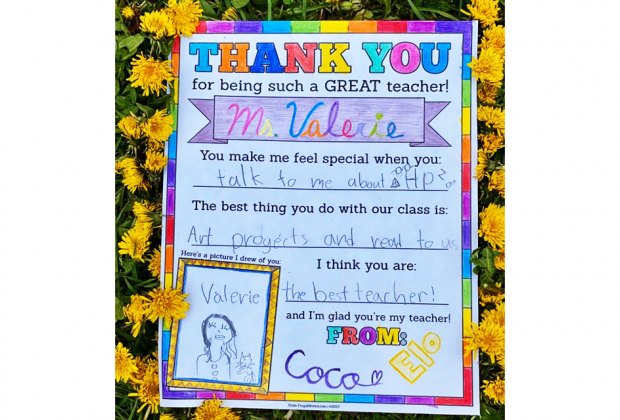 You can never go wrong with a card made by a kid! Photo by Mommy Poppins
1. Craft a Handmade Card
Take a little inspiration from our Mother's Day cards post and let your little Picasso put together a creative card for their teacher. Once they've done their part, take some time to write a good, old-fashioned note of gratitude. (Be sure to use your best penmanship!) A heartfelt note of thanks was a winner with all of the teachers we surveyed. Many said they returned to these keepsakes over and over.

Gather a group of kids and parents for a car parade to celebrate a teacher or teachers!.Photo by Jill Green
2. Organize a Car Parade
We've written about teachers parading past their students in decorated cars, but why not flip the switch and surprise your teacher with a drive-by dedicated to them. Be sure to decorate car windows, let balloons fly out the windows, and perhaps air-mail that homemade card as you creep past.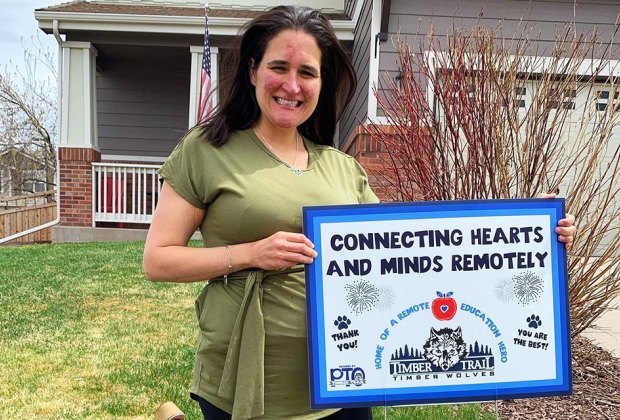 Plant a yard sign to honor your teacher. Photo courtesy of Julie Brunaugh Haverstick
3. Plant a Yard Sign
Being an election year, it's no surprise yard signs are making a comeback. What they're celebrating, though, is. Many local school districts and proud parents have planted yard signs to honor grads, but you can order affordable teacher appreciation signs or craft your own, and plant your gratitude in your favorite teacher's front yard.
4. Coffee, Coffee, Coffee
I can't face one first-grader without a cuppa joe in my system, so it wasn't surprising to hear from many teachers that coffee is always a favorite. Send an e-gift card with a heartfelt note, or get creative with the presentation as you say 'Thanks a Latte!

A bottle of nice wine with a special 'Teacher Wine Label' makes a great gift for wine-loving teachers. Photo courtesy of FashionableNest
5. Go With an Adult Beverage Instead
Toast your favorite teacher with a bottle of wine (or several!) and one of these custom labels.
6. Put on Your Listening Ears
More than anything, teachers' favorite gifts are the ones that show you're paying attention to more than your ABCs. One teacher shared that her class made her a window after she lamented that she didn't have one near her desk. Children crafted a window and added whimsical butterflies and birds she could peep through the panes. A high school history teacher keeps a jar of sand a student retrieved on a visit to Utah Beach under a flag of belonging to his grandfather, a World War II glider pilot. Neither of these gifts cost much, but their thoughtfulness has made ripples in the lives of their recipients.
7. Let Your Child Lead
I'll be the first to admit that I stress over teacher appreciation gifts, especially at the end of a typical year, when every day seems to be filled with a party or banquet or end-of-year obligation, but teachers tell us that gifts from children are always treasured, both those that are handmade and those that children pick out and even pay for themselves. Maybe it doesn't make much sense to you, but if your child insists on picking out a gift, go with it. They likely know their teacher better than you, and even if it misses the mark slightly, the thought behind it is extra special in a teacher's eye.
8. Make it Personal
Teachers sang the praises of personalized gifts like notepads and stationery emblazoned with their names or other personalized supplies they can carry into the next school year. They're likely to get a little twinkle in their eye, thinking of your child every time they use those supplies.
9. Make Their Job Easier
We've all heard the statistics about how much money teachers pour into classroom supplies annually, with a possible economic downturn on the horizon and budget cuts likely, we can only guess this number will go up. Pay it forward by sharing some supplies or a gift card to restock before fall. Might we suggest including hand sanitizer in the haul...if you can find it!
10. Organize a Class Gift
One friend spent her kids' elementary years collecting photos and personalized letters from every family annually and organizing them into a custom photo books for each teacher. There were lots of tears—from her as she stressed about tracking down every kid's work and making shipping deadlines—and from dewy-eyed teachers when they opened the heartfelt collection. Other group-think gift options include treating your teacher to a fancy meal at a restaurant, buying a big gift card, or handing over a large stack of cold hard cash, so they have a little summer spending money.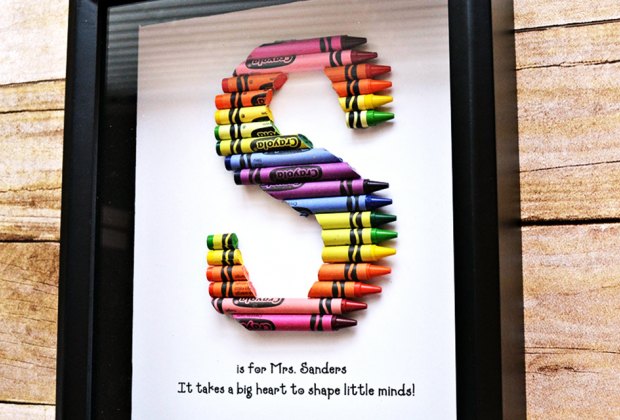 A rainbow crayon wall hangings is a creative way to show your teacher how much your care! Photo courtesy of Teacher Gifts by Laura
11. A Heartfelt Handmade
If your crafting skills aren't Pinterest worthy, turn to Etsy, where creative makers have come up with all kinds of ways to pay homage to the difference makers in the classroom. We love these personalized hand-stamped bookmarks and these cool rainbow crayon wall hangings. No matter your teachers' interest (see No. 8!), it's likely there's an Etsy maker who can craft the perfect gift and ship it straight to your teacher's home for you.
12. A Coupon Book
Your kid might be matriculating to the next grade, but that doesn't mean you have to. Why not show your gratitude by crafting a coupon book for your favorite teacher, offering your services for everything from bulletin board making, to classroom cleaning, to copying homework packets come fall. After spending a year with your child's current teacher, you likely have an idea of the to-dos you can take off their plate to make the transition back-to-school a little bit easier. Who wouldn't appreciate that?

You can't go wrong with personalized sweets!
13. Sweets and Treats
It might not be the year for homemade goodies, but you can get creative crafting an emergency stash of goodies to keep in their desk. We love the personal touch of this apple-inspired dish, which hides the content brilliantly, and this tell-it-like-it-is Hersey's Kiss-filled jar.

The perfect gift for your teacher or coach- a "thank you for helping me grow planter. Photo. courtesy of Westman Works
14. Plant a Thoughtful Garden
While not every teacher has a green thumb, those that do will appreciate a new plant for their collection. Bonus points for personalizing it with one of these cute and creative "Thanks for Helping Me Grow," plant stakes, or set them up for a culinary summer with this fun herb garden collection.
15. Send the Flowers
Who doesn't love a thoughtful bouquet! Send your favorite teacher a bountiful bunch along with a kind note.
16. Treat Them to a Spa Treatment
This one can take on multiple forms. You could go all out with a gift certificate for anything from a mani/pedi to a full-body massage, or go the DIY route and craft some homemade bath bombs.
17. Send a Gift Card
We've mentioned a few options for this throughout, but we're giving gift cards an entry all their own, mostly because it's the No. 1 gift teachers told us they love. It's completely customizable from utilitarian to craft-happy, or all-purpose, there's a gift card for every taste. Be sure to package your gift card with a thoughtful, thankful note, and you're sure to earn some extra credit.
18. Go Virtual
Stay-at-home orders are still in effect throughout the country, and that means in-person gift-giving might be off-limits. Still, many of our suggestions can be sent via email, and after weeks of receiving long-distance homework assignments, surely you know how to get in touch. We've heard of teachers who have received—and appreciated—everything from virtual bouquets, to virtual gift cards, and virtual greeting cards, so don't let distance be a barrier to celebrating your favorite teacher and, most importantly, showing your gratitude.
As a final note that bears repeating: Multiple teachers we talked to emphasized that it wasn't the size of the gift that mattered, it was the thought behind it, so when in doubt, a thoughtful, heartfelt gift is always appreciated.