30 Easy Paper Crafts for Kids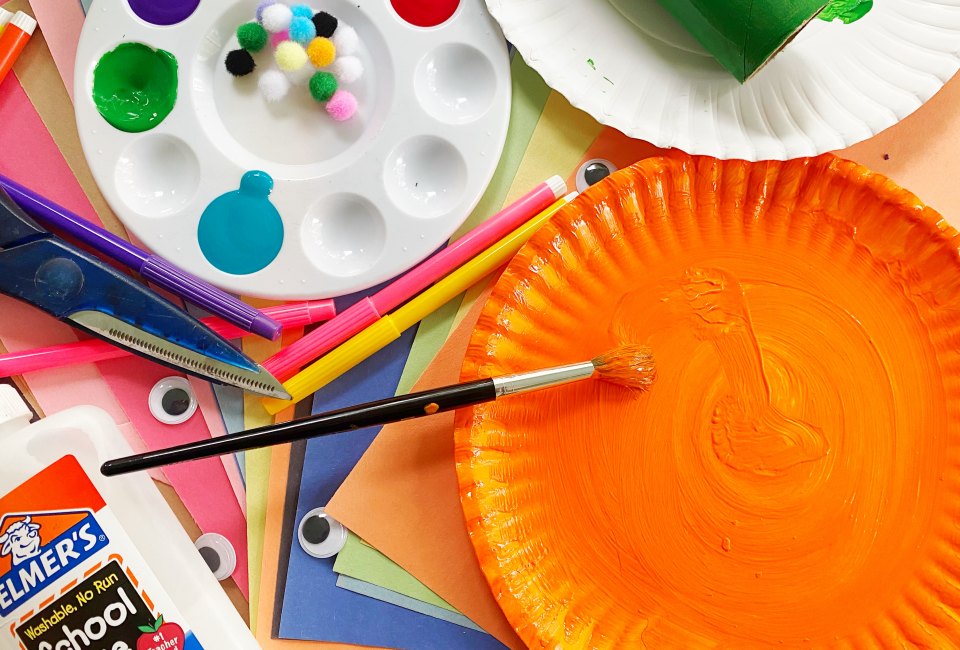 9/22/20
- By
Ally Noel
If there is one crafting material that you can never have enough of, it's paper. We always keep a hefty supply of construction paper, card stock, tissue paper, paper plates, and toilet paper rolls in my house. When bedecked with a little glue, some colorful paint, and a few googly eyes, plain paper can be transformed into almost anything, from a fire breathing dragon to a sparkly unicorn. What's more, paper crafts are typically affordable, and are a great way to work on fine motor skills.
From a toilet paper roll monster to a construction paper crown, these 30 paper crafts will keep the whole family happily crafting all year long. Check out our list of 100 arts and crafts projects for more ideas for sparking creativity at home.

Is it a monster? A dragon? With a little paint, an empty toilet paper roll is anything you want it to be!
1. Monster
A little paint, googly eyes, markers, pom poms, and pipe cleaners make these monstrous creations spring to life.
2. Superhero Cuffs
Everyone has special superhero powers, but some of us need a little encouragement to discover them. These DIY paper craft superhero cuffs bring imaginative play to the next level with the help of construction paper and a pair of scissors.
3. Binoculars
These simple toilet paper roll binoculars can inspire a roadside safari, help you become a spy, or just about anything else you can imagine.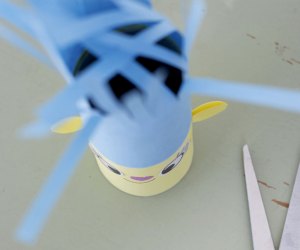 Craft your own Trolls - from toilet rolls! Photo courtesy of Pysselbolaget
4. Troll Doll
Fans of the Trolls movies will love these adorable toilet paper roll dolls. Sharpen up your scissor skills while creating the perfect hairstyle for your doll.
5. Shark
Future marine biologists will love Glue Stick & Gum Drop's toilet paper roll sharks. This sea creature may not be waterproof, but that doesn't stop him from being a ton of fun.
6. Fire Breathing Dragon
That wooden block castle stands no chance against the power of a fire breathing dragon. This easy paper craft uses basic supplies, and kids of all ages will have a blast pretending to be a dragon blowing flames.
7. Flower
We love these toilet paper roll flowers because you can use just a single toilet paper roll to make a few basic blooms. Or, you can collect a few and create these gorgeous wreaths. Older kids (or adults) may like to test their craftiness with this intricate pattern of leaves.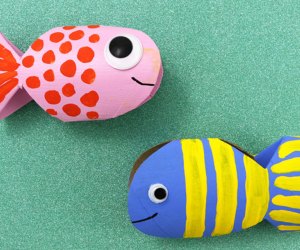 Photo courtesy of the Craft Train
8. Fish
One fish, two fish, red fish, blue fish! Dr. Seuss may have been on to something. Perfect for preschoolers, cut this basic fish shape out of a recycled toilet paper roll, and let the kids design their aquatic pet.
9. Kaleidoscope
This kaleidoscope is the quintessential boredom buster. Not only is it fun to make, but its also fun to play with! Get hands-on experience learning about optical science and prisms while enjoying the swirls and whirls of color.
10. Pom Pom Shooter
Ready, aim, fire! Watch the Dad Lab teach you how to turn a plain old paper tube into a super fun shooter!

Paper Plate Crafts
11. Whale
With a few snips of scissors, a lot of blue paint, and a strategically placed googly eye - you can transform a boring paper plate into a whale. Young kids should be able to complete this craft independently and practice their cutting skills.
12. Dream Catcher
Older kids will enjoy learning how to make these paper plate dream catchers. Although not as complex as the real thing, paper plate dream catchers will require you to know how to tie knots and works with string.
13. Snake
Create a paper plate snake by spiraling your scissors around a paper plate. After the plate has been cut, you can paint, color, or collage your snake's scales to your liking.
14. Monster
There is nothing to be terrified about with these monsters lurking about. With a paper plate and monster templates, this paper craft makes great Halloween decor.
15. Dinosaur
True dino lovers will have a roaring good time creating these dinosaur paper plates. You probably already have all the materials you need to make a couple of these prehistoric pals.
16. Unicorn
These mythical creatures are all about rainbows and sparkles, so bring out the glitter—it's time to make some unicorns! Paper plate unicorns are easy enough for preschoolers to make but are perfect for unicorn lovers of any age.
17. Ring Toss
Not only is paper plate ring toss fun to make, it's also fun to play with your friends!
18. Jellyfish
These adorable jellyfish are all fun without the sting. A hole punch, yarn, and googly eyes will make these gelatinous sea creatures the perfect boredom buster.

Photo courtesy of The Resourceful Mama
19. Flowers
Sharpen your scissor skills while making a beautiful bouquet of paper plate flowers. Snipping the paper plate into the perfect petals is a great way to work on fine motor skills.
20. Masks
You can turn a simple paper plate into a whole menagerie with a little paint and creativity. The folks at Crafts for Toddlers provide simple directions on how to create a paper plate cat, chick, or piggy mask.

Construction Paper Crafts
21. Rainbow Heart Mobile
Older kids will love making this rainbow heart mobile (pun intended). This intricate 3-D mobile is created using only construction paper and string.
22. Paperchain Snakes
Paper chains can become two exotic snakes from the Daintree Rainforest with this awesome template from The Craft Train.
23. Spinner
Part optical illusion, part paper craft, these DIY Spinners are 100% fun.
24. Dinosaur Hat
Take pretend play up a notch with this paper dinosaur hat. This easy-to-make costume uses only construction paper, a glue stick, and tape to make all your dino dreams come true.
25. Curled Paper Flowers
Twirling brightly colored construction paper around a pencil has never been so much fun! These curled paper flowers look almost as pretty as the real thing.
26. Handprint Butterfly
Put a little spring in your step with handprint butterflies. Learn all about the anatomy of a butterfly while making this fluttering friend.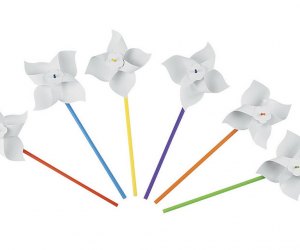 Decorate your own DIY pinwheels. Photo by Mommy Poppins
27. Pinwheel
Make a colorful pinwheel out of just about any kind of paper: The brighter, the better! Follow these simple directions from Auntie Annie's Crafts and you'll be spinning in no time.
28. Paper Lantern
These DIY Paper Lanterns are perfect to make for any party. Make them red, white, and blue for Independence Day, red and green for Christmas, or make any day a celebration by adding a couple of lanterns.
29. Paper Flowers
You can tiptoe through the tulips, dance through the daisies, or rhumba through roses with these delightful paper flowers.
30. Crown
What kid doesn't dream of being a king, queen, or princess? A paper crown makes a child feel like a member of the royal family. Add a little glitter or gem stickers to this simple construction paper craft to make the crown really shine.
Click Here to Sign Up!
i