20 Fun and Easy Toilet Paper Roll Crafts for Kids
8/9/22
- By
Gina Massaro
Don't toss out those empty toilet paper rolls and paper towel tubes just yet. They're the perfect canvas for some awesome crafts for kids. And toilet paper roll crafts aren't just for little ones. They can be used by everyone from preschoolers to make simple animals and mummies, all the way through tweens and teens to make more advanced projects like desk organizers and wall art.
Here are 20 fun and easy toilet paper roll crafts for kids of all ages. Once you use up all those toilet paper rolls, repurpose your empty cardboard boxes with some of our 50+ cardboard box crafts and activities for kids. Let your family's creativity run wild!
Here's a tip: For a less-messy crafting experience, substitute glue dots for glue whenever possible. No more peeling glue off sticky fingers!

Find the perfect branch from which to hang your homemade bird feeder.
Toilet Paper Roll Crafts for Preschoolers
This is one of those toilet paper roll crafts that are so much fun, yet so simple. Poke a hole in each end of a toilet paper tube. Tie a string through the holes so the tube can hang from a branch. Spread peanut butter or vegetable shortening along the entire tube, then sprinkle wild bird seeds on it. Hang it from a tree and watch as the neighborhood birds delight in your special treat.
There are so many toilet paper roll crafts that work for Halloween, but these mummies are extra fun because kids get to play with gauze. Paint the mummy black, add googly eyes, and then wrap him all up in gauze for a homemade decoration.
Get roaring with this cute tiger craft. Paint the tube orange, let it dry, and then add the stripes and face. Cut triangle ears, glue them on, and cue the roars. This is perfect for toddlers and preschoolers with its limited steps.
Related: 13 Simple Crafts for Toddlers and Preschoolers to Do at Home

Leave a rectangle unpainted to make your fierce ninja face.
This craft requires just four materials: a toilet paper roll, paint, markers, and bendy straws. Paint the roll whatever color you'd like your ninja's outfit to be, but leave a rectangle unpainted near the top. It may be easier to draw the rectangle first and then paint around it. Once dry, draw the eyes in the unpainted spot. Add some angry eyebrows for a fierce look. Tie a bendy straw around the middle to make the belt. Paint another straw black to act as the staff and stick it in the belt.
Toilet paper roll crafts alone are fun for preschoolers, but when they get to cut the tubes, too? Even better! Begin by either painting the whole tube or by cutting the tube into rings and then painting those separately. Simply glue the rings on top of one another to make this unique bunny.
Paint and decorate the tube, adding the octopus face. Draw lines along the bottom of the octopus, going about halfway up the tube. Cut along the lines to create the tentacles, then get swimming.
Toilet Paper Roll Crafts for Kids of All Ages
This craft is truly magical. First, paint a toilet paper roll or wrap it in construction paper. Design the unicorn's face with marker or paint. Cut yarn—preferably in fun colors—for both the mane and the tail. Put glue on the inside of the tube on the side where the face is. Place some yarn in and leave part of it hanging out, as if the unicorn has bangs. Add glue to the back and stick the rest of the yarn on for the tail. Finally, cut some construction paper for the ears and horn. Glue them on and the enchanted unicorn is complete.
There are so many versions of this craft, but it's always fun to do one that includes flames on the bottom. Paint a toilet paper roll or cover it with construction paper. For a futuristic feel, use aluminum foil to either accent the ship or completely cover it. Add windows with glue in any shape your child likes. Add a triangle to the top (or a cone if you're feeling fancy). Finally, cut up tissue paper or construction paper in orange, red, and yellow to make the flames on the bottom.
This one requires a paper towel tube so the alligator gets its proper length. A lot of cutting is required, which older kids can easily handle and younger kids can do with lines to guide them. The key to the eyes and the back ridges is to fold a piece of paper or cardboard tube to glue down, allowing the other part to stand up. Legs are made from a toilet paper roll, giving them a natural curve. Don't forget to add the sharp, white teeth.
Related: 64 Easy Science Experiments for Kids to Do at Home

Blow through the tube to make the dragon breathe fire.
Begin by painting your toilet paper roll. You can also cut a piece of construction paper and glue it around the tube. Next, glue on small pom-poms for nostrils and big pom-poms for eyes. Stick googly eyes onto the big pom-poms. Spread glue on the inside of the roll, near the nostrils. Cut strips of red, yellow, and orange tissue paper and stick them onto the glue. Thin strips work best. Once the dragon is dry, kids can blow into its head to watch it breathe fire.
Paint a toilet paper roll or glue construction paper to it. Make a face using googly eyes and marker or paint. Add pipe cleaners for the antennae. You can attach them to the inside of the tube with glue, or poke holes in the tube and thread the pipe cleaners through. Let kids get creative with the wings of the butterfly. Use cardstock for sturdy wings and glue them to the back. To give the wings a wispy feel add strips of tissue paper and let them hang off. Decorate the wings with buttons, sequins, rhinestones, glitter, and more.
Draw a small arch on four sides of the bottom of the roll. These will be cut out to make the legs, so try to make them even. Cut a head out of cardstock and include the ears with the head. Add a nose and eyes. You can then cut antlers out of paper or find little twigs and glue them to the head. When the head is complete, glue it onto the front of the tube. As a finishing touch, add a little white tail with cardstock or a pom- pom.
This craft requires two toilet paper tubes. Paint the tubes whatever color the cat will be. Once dry, fold in the top of one tube to make it concave, allowing the other tube to fit directly on top. Secure them together with glue. Draw on a face and little feet with markers. Cut ears from cardstock, leaving enough room to fold over the bottom to create a gluing surface, then attach them to the top of the head. Curl a strip of cut construction paper and glue the tip to the inside of the bottom of the roll. The tail will then curl out. Meow!
Related: 65 Indoor Activities for Kids on a Rainy Day

The tongue and eyes help this snake come to life.
Paint the toilet paper roll or paper towel tube. Cut it into a spiral and pull to give it some stretch. Add some flair like rhinestones or dots, then glue on some eyes and a tongue. The best part about this craft is kids can wrap it around their arm.
Go wild with whatever kind of tree you like. Fruit trees are fun, as are flowering trees like cherry blossoms. Simply cut two slits in the top of the toilet paper tube. Cut a bulbous cloud shape out of paper to act as the top of the tree. Add red pom-poms for apples or cherries, crunch pink tissue paper for cherry blossoms, etc. When you're done with the top, simply slide it into the slits and your tree will be blooming.
This makes a great table centerpiece at Thanksgiving. Have your child paint the turkey's body brown. Trace your child's their hand prints on different-colored construction paper. Cut the hands out, then glue them to the back of the turkey. Add a face and be prepared for the 'oohs' and 'awws' at the dinner table.
Related: 30 Easy Paper Crafts for Kids for an Arty Day at Home

Create your very own desk organizer. Photo by Mommy Poppins
Toilet Paper Roll Crafts for Big Kids, Tweens, and Teens
This craft is perfect for middle schoolers who want to express their individuality. Use both toilet paper rolls and paper towel tubes. Cut them to different heights, then decorate them using washi tape, scrapbook paper, or paint. Hot glue them to a sturdy base, like a piece of wood. Friends will be so impressed with how cool and one-of-a-kind this desk organizer is.
This craft is so sophisticated, it's hard to believe it's made from cardboard tubes. First, paint a bunch of toilet paper rolls. Choose black or white for a sleek look, and paint both the insides and outsides of the tubes. Cut the tubes into slices, play around with them to figure out a design you like, then glue them together for a unique piece of decor to hang on the wall.
This is one of the easiest toilet paper roll crafts, but it's perfect for older kids with all of their electronics. Washi tape and toilet paper rolls are all that are needed. Decorate the tubes with the tape and place wayward wires inside. Super simple!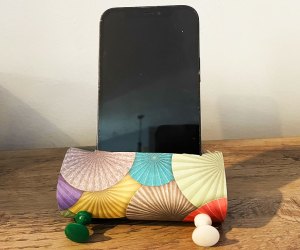 Tweens and teens can express themselves with this easy phone-stand craft.
Similar to the desk organizer, decorate the toilet paper tube with anything you like. Scrapbook paper and washi tape offer a more sophisticated look and design. The trick is to cut an appropriately sized hole to fit the phone. After, just add push pins to the bottom for the feet.
Unless noted, all photos by the author
Click Here to Sign Up!
i