100 Things To Do in New York State with Kids Before They Grow Up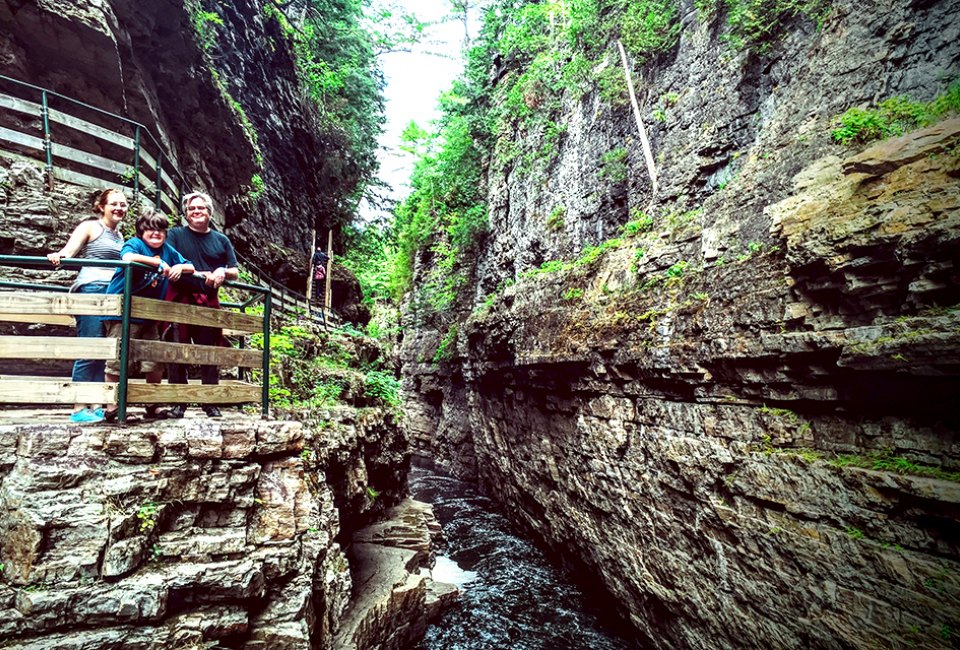 9/22/22
- By
Rose Gordon Sala
We might be biased, but we think the family-friendly things to do in New York state are second to none. From the gorgeous Hamptons beaches to the rugged state parks of the Hudson Valley, serene Adirondack lake regions, and deafening Niagara Falls to the culture and arts found in New York City and on up through the Hudson Valley river towns and beyond—we feel pretty lucky to live and raise our kids here.
New Yorkers are pretty good at making delicious food items, from ramen burgers and bagels to ice cream, and even wine at family-friendly vineyards on Long Island and through the Finger Lakes. There are children's museums galore. Kids have no shortage of water and theme parks, cool playgrounds, zoos, parks, and nature, of course.
And yet, the thing about childhood is that it's finite. The kids grow up and move away. We want to soak up every moment. So we put together this list of 100 things to do in New York state, from upstate and the Adirondacks to East End of Long Island. We collected suggestions from Mommy Poppins contributors, past and former, to fuse it all together just for you (OK, for us, too). Whether you're planning a long weekend getaway or a family day trip, you're sure to find some ideas here.
2. Governors Island
Ride the ferry to Governors Island, which is now open year-round. Play on Slide Hill and its one-of-a-kind adventure playground, plus enjoy non-stop FREE summer festivals and art projects. You can even go glamping in the shadow of the Statue of Liberty.
3. The Kartrite
Bask in the luxury of this Catskills resort, which comes complete with the largest indoor water park in New York state. A stay here includes plenty of creature comforts and entertainment.
4. Ausable Chasm
Hike or float through the jaw-dropping natural beauty that is the Ausable Chasm—possibly our favorite spot in all of New York state.
RELATED: 100 Things To Do in NYC with Kids Before They Grow Up

See the world-famous Radio City Rockettes perform their high-kicking precision routine during the must-see Radio City Christmas Spectacular. Photo courtesy of Radio City
5. Radio City Christmas Spectacular
See the Rockettes in action at Radio City Music Hall.
6. Explore a Lighthouse
Climb the steps of a local lighthouse. Long Island has more than 20 lighthouses. Four of them are open to the public, including Fire Island Light, the tallest in the region. Or visit NYC's own famed (but non-working) Little Red Lighthouse beneath the George Washington Bridge on select tour days.
7. Ellis Island
Look up relatives during a visit to Ellis Island.
8. Hudson Valley Shakespeare Festival
Introduce the kids to The Bard during the Hudson Valley Shakespeare Festival, which always includes a family-friendly show.

Marvel at the natural beauty of Letchworth State Park. Photo courtesy of the festival
9. Letchworth State Park
Marvel at the waterfalls and Grand Canyon-like gorge in Letchworth State Park.
10. The High Line
Walk the length of NYC's High Line, watching the city traffic below and mingling with modern art and flora.
11. Hit the Water
Go kayaking on the Hudson in NYC or try canoeing the river a bit further north.
12. Stone Barns Center
Experience farm life at Stone Barns Center with a tour of the grounds where kids can see animals and enjoy family programming.
RELATED: 100 Things To Do in Westchester with Kids Before They Grow Up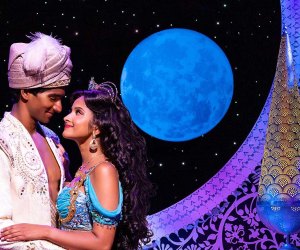 Whether you choose to see Aladdin or another family-friendly Broadway show, seeing a play on the Great White Way is an unforgettable experience. Photo by Matthew Murphy/courtesy of the production
13. Broadway
Take in a family-friendly Broadway show.
14. New York Hall of Science
Geek out at the New York Hall of Science, an all-ages STEM-fueled children's museum and play space.
15. Intrepid Sea, Air, and Space Museum
Tour this World War II-era aircraft carrier, which is filled with history and family-friendly things to do, including the Space Shuttle Enterprise.
16. See the Cherry Blossoms
Watch the cherry blossoms bloom around the serene Japanese Pond & Garden in the Brooklyn Botanic Gardens.

Hop the ferry to Shelter Island for a day trip from Long Island. Photo by Jaime Sumersille
17. Shelter Island
Ride the ferry to Shelter Island where you can enjoy the beach, paddling, or watch the wildlife of the Mashomack Preserve.
18. American Museum of Natural History
See the dinosaurs, prehistoric mammals, and planetarium at the American Museum of Natural History.
19. Enjoy Aviation History
Be awed by the planes at the Cradle of Aviation Museum on Long Island, or watch the planes that date back as far as World War I fly at the Rhinebeck Aerodrome.
20. Learn About Walt Whitman
Visit the birthplace of famed 19th-century American poet, Walt Whitman.
RELATED: Visitors Guide to New York City: What to See with Kids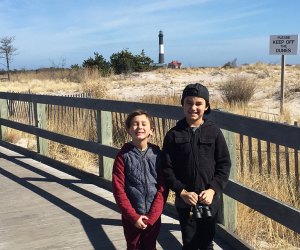 Fire Island is more than beaches. Follow the wooden walkways to the lighthouse. Photo by Jaime Sumersille
21. Fire Island
Tour Fire Island and its Sunken Forest.
22. Hit the Slopes
Learn to ski on NY's gentle slopes like Mount Peter, Hunter, Windham, Thunder Ridge, and Belleayre.
23. Raise a Glass
Tour Long Island's family-friendly vineyards or ample breweries. Kids can play in the lush landscape while you sip and sample.
24. Indulge in High Tea
Have a fancy tea date in the city. May we suggest The Plaza, Alice's Tea Cup, or, for the little ones: American Girl.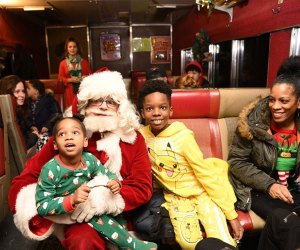 All-aboard for a Christmastime treat: Santa joins the fun on the Catskill Mountain Railroad's annual holiday excursions. Photo courtesy of the Catskill Mountain Railroad
25. The Polar Express
Hit the rails with Santa and friends on one of these seasonal holiday trains that take to the rails each winter.
26. Long Island's Museum Row
Visit the rest of Long Island's Museum Row in Garden City, including the Firefighters Museum. By the way, the state has several fire museums!
27. Go Zip Lining
Zip line in the Catskills at Hunter Mountain, or hit one of these other adventure parks, ropes courses, and zip lines nearby.
28. Immerse Yourself in Living History
Visit one of the state's living history museums where kids can get a taste of hard work in the form of butter churning and more.
RELATED: 100 Things To Do on Long Island with Kids Before They Grow Up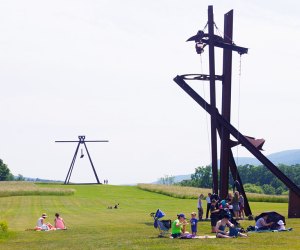 Storm King might just be the perfect museum for kids. Photo courtesy of Storm King Art Center
29. Storm King Art Center
Walk among the outdoor modern art at Storm King without fear of knocking anything over.
30. Nunley's Carousel
Afterward, take a spin on the famed Nunley's Carousel, which recently reopened under the leadership of the Long Island Children's Museum.
31. Statue of Liberty
We're dreaming of the day we can climb the Statue of Liberty to peek out f the crown at the New York Harbor once again.
32. Visit Fahnestock State Park
Camp, hike, cross-country ski, or swim at Fahnestock State Park in Putnam Valley. This one has it all.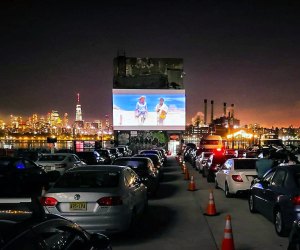 Catch a drive-in movie in Brooklyn, Westchester, and across upstate New York. Photo courtesy of the Skyline Drive-in
33. Catch a Drive-in Movie
Go retro with a family movie night at the drive-in. There are several around New York, including the Warwick Drive-in Theater, the Glen Falls Drive-in, and Mountain Mist Custard in Saranac Lake. There's even the Skyline Drive-in right on the Brooklyn Waterfront.
34. Hike in Rockefeller State Park Preserve
Explore Rockefeller State Park Preserve's many easy wooded hiking paths, including the loop around Swan Lake.
35. National Baseball Hall of Fame
See the baseball greats at Cooperstown.
36. New York Renaissance Faire
Watch knights joust, ride a camel, and interact with amusing "Elizabethans" at the annual NY Renaissance Faire, held in Sterling Forest near the state border with New Jersey.
RELATED: 30 Things To Do in Hudson Valley with Kids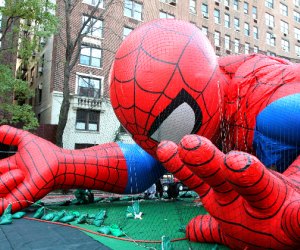 Check out the iconic Macy's balloons as they're inflated the night before the big Macy's Thanksgiving Day Parade. Photo by kowarski via Flickr.
37. Macy's Thanksgiving Day Parade Balloon Inflation
Watch the Macy's Thanksgiving Day Parade balloons get inflated. Of course, we think lining up early to watch the parade is a must-do at least once in everyone's lifetime, too.
38. Dutchess County Fair
Enjoy rides, carnival fare, livestock, and more at the Dutchess County Fair. Make it a weekend by staying the night in the quaint, Hudson Valley city of Rhinebeck.
39. Empire State Trail
Bike, walk, scoot, or run along the Empire State Trail, which runs from Lower Manhattan to the Canadian border.
40. The Nutcracker at Lincoln Center
Get dressed up to go see the Nutcracker at Lincoln Center.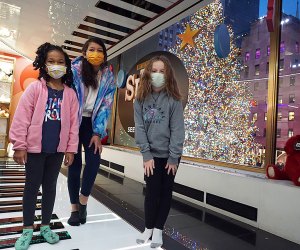 Dance on the giant piano at FAO Schwarz in Rockefeller Center. Photo by Jody Mercier
41. FAO Schwarz
Dance on the giant piano and gawk at the amazing displays at this Willy Wonka-esque toy emporium in Rockefeller Center.
42. Go Apple Picking
Pick local apples on Long Island, in Westchester and the Hudson Valley, or elsewhere in New York State.
43. Deep Hollow Ranch
Horseback ride at Deep Hollow Ranch in Montauk—known as "the oldest working ranch in the US."
44. New York Botanical Garden Holiday Train Show
Marvel at the miniature choo-choos at the annual holiday train show at the New York Botanical Garden.
RELATED: Top Attractions in NYC: Best Things To See and Do with Kids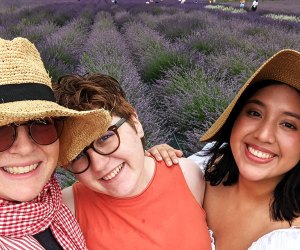 Stunning photo-ops and fragrant fields await at two Lavendery By the Bay locations on Long Island. Photo by Anna Fader
45. Lavender By the Bay
Take the perfect selfie in the perfumed, purple lavender fields on Long Island's East End.
46. The Met
Study the masters, get lost in the Arms and Armor halls, and see the stunning rooftop garden during a family-friendly visit to The Metropolitan Museum of Art, which anchors NYC's Museum Mile.
47. The Great Jack-o'-Lantern Blaze
Kick off Halloween with the epic Great Jack-o'-Lantern Blaze at Van Cortlandt Manor or its second location on Long Island.
48. Corning Museum of Glass
Even preschoolers can create cool glass projects and gawk at the delicate and whimsical creations at the Corning Museum of Glass in the Finger Lakes.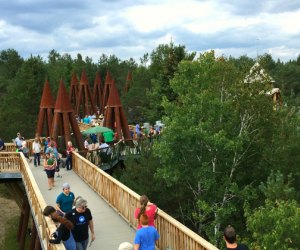 Take the "Wild Walk" in the Adirondacks. Photo by Anna Fader
49. The Wild Center
Walk amongst the trees, bounce in a spider web, and gawk at awe-inspiring nature at the Wild Center.
50. Hudson Valley Hot Air Ballon Festival
See at the colorful canopies or hitch a ride at the Hudson Valley Hot Air Balloon Festival.
51. The Strong: National Museum of Play
At The Strong: National Museum of Play in Rochester, which lays claim to the world's largest collection of toys, kids can really be themselves—and just play.
52. Sands Point Preserve
See a real-life castle at the Sands Point Preserve on Long Island where kids might also enjoy the dinosaur walking trail. Explore the rest of Port Washington, a pretty seaside town.
RELATED: Adirondacks, Catskills, and Hudson Valley Travel Guide for Families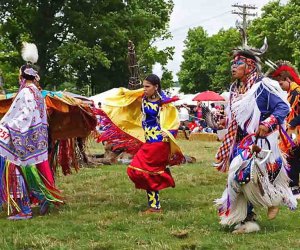 An inter-tribal powwow takes place each summer in Queens. Photo courtesy of the Thunderbirds
53. Celebrate Native American Culture
Dance at a Native American powwow to celebrate the region's local tribes. The Shinnecock celebrate on Long Island annually, while an inter-tribal powwow takes place each summer in Queens.
54. Macy's Santaland
Visit Santa at his true home: Macy's NYC.
55. Go Maple Sugaring
Tap a native tree during winter maple sugaring fun. Kids will learn how sap becomes syrup.
56. Boat in Central Park
Row a rowboat in Central Park or enjoy one of these other fun activities in Manhattan's backyard.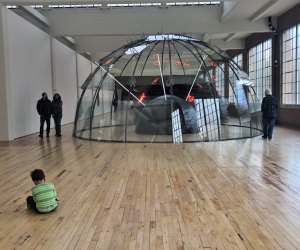 Enjoy some large-scale art in an old industrial comblex at Dia Beacon. Photo by Diana Kim
57. Dia Beacon
Marvel at modern art at Dia Beacon, a gorgeous former printing plant turned museum overlooking the Hudson. Spend the day exploring the rest of the charming Hudson Valley town of Beacon when you're done.
58. Brooklyn Bridge Park
Bike through Brooklyn Bridge Park from Brooklyn Heights to Dumbo, stopping at all the kid-centric attractions, including epic playgrounds, roller rink, a climbing wall, green spaces, a carousel, and almost more ice cream stands than even a kid can handle.
59. Visit a Water Park
Cool off at a local water park, including the family-friendly SplashDown Beach.
60. Empire State Building
Visit the top of the Empire State Building.
RELATED: 15 Family-Friendly Catskills Resorts for Your Next Weekend Getaway

See the stunning grounds of Kykuit, the Rockefeller Estate in Glenview. Photo by Susan Miele
61. Kykuit
Roam the stunning halls and grounds of Kykuit, Glenview, and other historic mansions throughout Westchester.
62. Coney Island
Stroll the boardwalk, wiggle your feet in the sand, and hit the rides and carnival-style eats at Brooklyn's Coney Island.
63. Appalachian Trail
Hike the AT in New York. Ninety miles of the iconic Appalachian Trail run through the state.
64. Warwick Applefest
Celebrate more than just the local apples at the annual Warwick Applefest—a full-scale carnival in the Hudson Valley.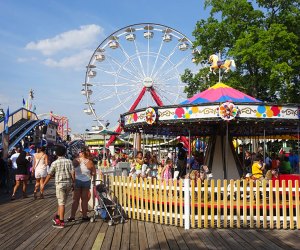 It's hard to beat the classic summertime rides at Rye Playland. Photo by Susan Miele
65. Playland Park
Or stroll the boardwalk and enjoy kiddie and thrill rides alike at the Playland amusement park in Rye.
66. Hit an MLB Park
We're not going to start any fights, but get to either a Mets or a Yankees game, glove in hand.
67. BRIC: Celebrate Brooklyn
Dance to a free outdoor concert at the Prospect Park Bandshell in Brooklyn.
68. High Falls Gorge
Take an easy stroll along an elevated walkway to see the Adirondacks' High Falls Gorge for a spectacular waterfall view.
69. Corn Maze
Puzzle your way out of a corn maze this fall.
RELATED: Family-Friendly Hotels in New York City with Perks for Kids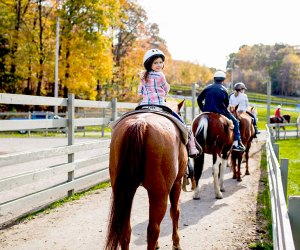 Enjoy horseback riding and more family-friendly activities at the all-inclusive Rocking Horse Ranch in the Hudson Valley. Photo courtesy of the resort
70. Rocking Horse Ranch
Chase away the winter blues with a weekend away at Rocking Horse Ranch and its indoor water park.
71. Hyde Park
See the birthplace, homes, and library of FDR and make a day of it in Hyde Park in Dutchess County.
72. The Hamptons
Book a weekend away at one of these family-friendly hotels for a weekend away in the luxe Hamptons.
73. Long Island Aquarium
Visit the Long Island Aquarium to learn about some of the state's native (and non-native) sea creatures, or try the underwater encounter with its sharks, in its protective cage—of course.
74. Petting Zoo
Feed animals from giraffes and zebras to camels, lorikeets, and more at Long Island's White Post Farm or another petting zoo or kid-friendly farm.
75. Ground Zero
Peer into the twin 9/11 reflecting pools at the NYC memorial in downtown.
RELATED: Hamptons & North Fork Travel Guide for Families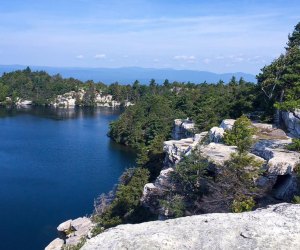 Swim or hike around Lake Minnewaska. Photo courtesy of New York State Parks
76. Minnewaska State Park
Swim in one of two lakes in Minnewaska State Park after a hike through this Catskills gem where you can see Awosting Falls and more.
77. Go Glamping
Make your next overnight camping trip an elevated outing with these glamping destinations that include perks like safari tents, beds with plush mattresses, tiny houses, and even AirStream accommodations.
78. Enjoy a Beach Night
Build a bonfire, roast smores, and watch the sun go down on the pretty beaches of Montauk.
79. Wolf Conservation Center
Meet native wolves at the Wolf Conservation Center in Westchester's South Salem.
80. See Beautiful Blooms
Stop and smell the roses and other fragrant flowers at one of the botanical gardens on Long Island, or check out Untermyer Gardens in Yonkers, or New York City's NYBG, Queens Botanical Garden, Brooklyn Botanic Garden, Wave Hill.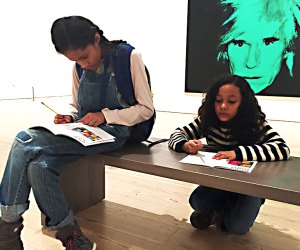 Although it's not a children's museum per se, the Whitney hosts a number of family tours and activities. Photo by Suzy Q
81. The Whitney
Take a family art class at the Whitney Museum of American Art in NYC's Meatpacking District.
82. Strawberry Picking
Savor the brief—sweet—strawberry season with a visit to a local pick-your-own farm, including those in the Hudson Valley or Long Island.
83. Catamount Aerial Adventure Park
Swing from the trees (sort of) at Catamount Aerial Adventure Park.
84. Explore the Adirondacks
Lake Placid or Lake George? You can't go wrong with a visit to either of these Adirondack lakeside regions.
RELATED: Free Times To Visit NYC Museums, Gardens, and Zoos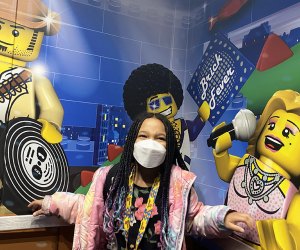 Legoland is an overnight destination thanks to its ultra kid-frienly hotel complete with disco elevators. Photo by Jody Mercier
85. Legoland New York
Enjoy big-time theme park fun at Legoland New York, and book an overnight stay at the on-site hotel.
86. Cut Your Own Christmas Tree
Harvest your own Christmas tree straight from a local New York farm.
87. Buffalo Museum of Science
Stand in the shadow of a towering polar bear at the upstate Buffalo Museum of Science and gaze into the skies from the roof deck of its Kellogg Observatory.
88. SeaGlass Carousel
Ride the SeaGlass Carousel in Lower Manhattan. It's a work of art and an homage to the original New York Aquarium. When you're done, hit the newly remodeled Battery Playscape nearby.
89. Rockefeller Center Christmas Tree
See the Rockefeller Center tree lighting or "world's largest menorah lighting" in Midtown Manhattan and Brooklyn.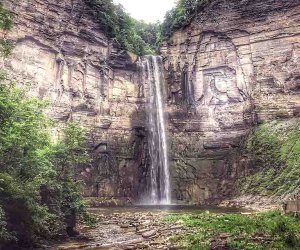 Taughannock Falls is worth the trek. Shelby L. Bell via Flickr
90. Taughannock Falls
Chase waterfalls in the Finger Lakes region, including a hike to Taughannock Falls, which is actually taller than Niagara! Cool off with a swim in the lake afterward.
91. Go Tubing
Grab an inner tube for a lazy adventure through one of the state's waterways. Both Kittatinny Canoes and Lander's River Trips operate rafting, tubing, and more water tours along the Delaware River from Sullivan County in the Catskills.
92. Niagara Falls
Ride Amtrak to Niagara Falls to take in some of the state's most legendary scenery.
93. Bear Mountain State Park
Enjoy the stunning fall foliage and mountain views while ice skating, enjoying the zoo, or riding the carousel at Bear Mountain, the perfect day trip for those in NYC.
94. Bethel Woods Center for the Arts
Groove together at a music or art fest at the famed Bethel Woods Center for the Arts, where the Woodstock music festival was held.
RELATED: Top Attractions in Long Island: Best Things to See and Do With Kids

Eat and shop your way through NYC's colorful Chinatown during Lunar New Year. Photo by John Wenceslao/Courtesy of A Better Chinatown
95. Chinatown
Grab dim sum, banh mi, or more delicious eats in NYC's Chinatown.
96. Mohonk Mountain House
Get a day pass to hike the epic labyrinth trail near the Mohonk Mountain House, or splurge on a family overnight getaway at this scrumptious Hudson Valley resort.
97. Whale Watching
Join a boat cruise to watch for whales, seals, and other marine life off New York's coast.
98. Go Underground
Play explorer with the natural caves at Howe Caverns or Stone Bridges and Caves.
99. Macy's Fourth of July Fireworks
Celebrate our nation's independence by taking in the Fourth of July fireworks in NYC.
100. Holiday Windows Walk
It's not Christmas in New York until the holiday windows are unveiled. Grab a cup of hot cocoa and wander the Midtown streets to take them all in.
Originally published in 2016.
t Click Here to Sign Up!