7 Things to Do at Minnewaska State Park Preserve With Kids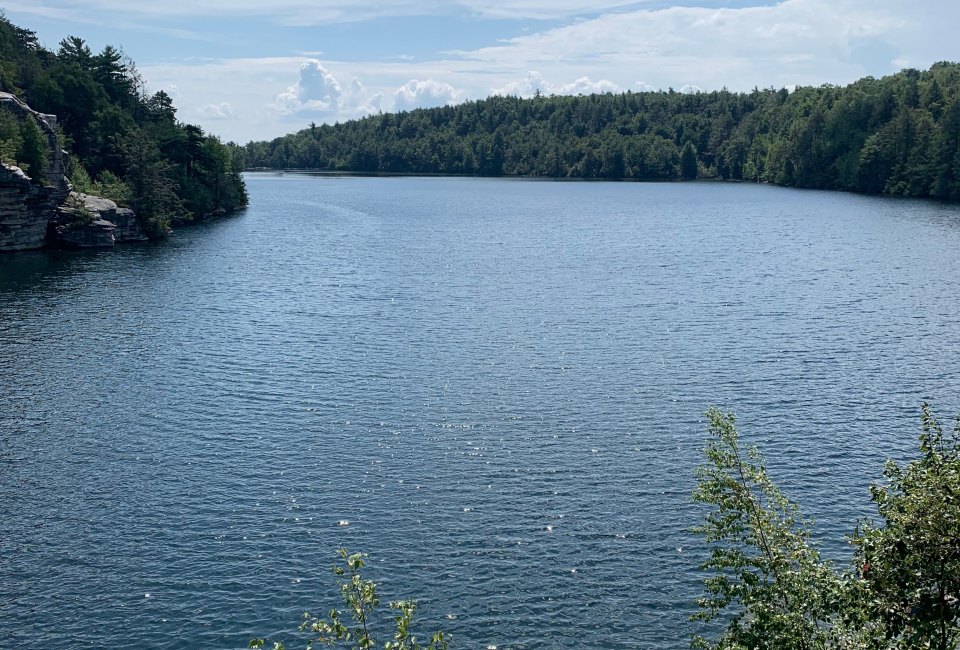 10/16/20
- By
Marisa Iallonardo
Fall is a great time for a Hudson Valley day trip, yet with so many great stops in the area, there's something to do no matter the season. One all-season spot we love is Minnewaska State Park Preserve. Located in Ulster County, it offers everything from hiking to swimming, snowshoeing, and more.
Read on for our review of this stunning greenspace, which has long made our list of favorite New York state parks for a family-friendly hike.
Once home to a large resort, which charged little as $15 for a weeklong summer stay in 1914, it's now a whopping 24,000-acre park ideal for an outdoor family adventure. Visiting with young kids is easy, thanks to some stroller-friendly carriage roads.
One thing to keep in mind? The park gets busy—visits are up 40 percent from last year—so, be sure to get there early to snag a parking spot. Keep an eye on the website, which is updated when the parking lots are full. Also, a few activities, like horseback riding, are currently off-limits. But there's still plenty of action—whether you want to check out the waterfalls or the park's newly opened visitors center. Here, we've rounded up seven not-to-miss to-dos.
RELATED: Upstate NY Day Trip: 25 Things To Do with Kids in New Paltz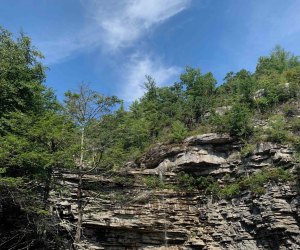 A view of the Awosting waterfall.
1. See the Waterfalls
When my family and I visited Minnewaska State Park this past summer, our first stop was Awosting Falls, a gorgeous, 65-foot waterfall. The wide, gravel-covered road leading there—which is close to the parking lot—was stroller-friendly and easy enough for my 5- and 3-year-olds to traverse independently. The walk is short enough that it doesn't feel overwhelming for parents, but long enough that it still feels like an adventure for little ones.
2. Go on a Hike
Aside from Awosting, there are some 50 miles of trails to explore at the park—as well as lots of wide, carriage roads—depending on your kids' ages and how far you want to go. You can also let an expert lead the way, and book a guided hike, which runs primarily on the weekends.
3. Bring the Bikes
Another upside to the carriage roads in Minnewaska State Park is that they allow plenty of room for bike riding. Just be sure to pack helmets, which are required. If you're thinking of bringing an e-bike, be sure to read up on the park rules since certain types are not allowed.
RELATED: Day Trip Guide: Top 10 Things to Do at Bear Mountain State Park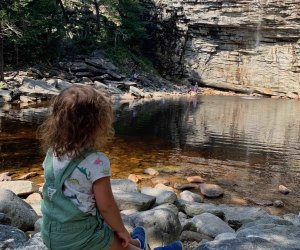 The views captivate even the youngest visitors.
4. Explore the Visitor Center
Newly opened, the well-designed 5,400-square-foot facility—which was part of a multi-million dollar renovation project—offers lots to entertain and educate visitors, including exhibits, educational series, and more. Plus, visitors can enjoy the patio view overlooking the namesake lake.
5. Go Swimming—or Snowshoeing
We told you this park was great for all seasons: In the summer, you can swim at both Lake Minnewaska and Lake Awosting. There are lifeguards on duty. At Lake Awosting, spread out on the large, flat rocks, and spend the day. Just note that you'll have to walk or bike there. In the winter, you can rent snowshoes—currently, it's $15 per day for adults and $14 for kids and teens—and try your hand at the trails. You can also go cross-country skiing at the park.
RELATED: 7 Stunning Spots to View Fall Foliage in Westchester and the Hudson Valley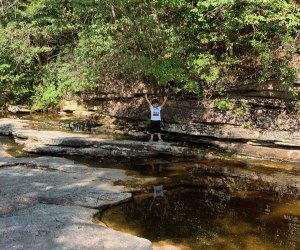 Rock outcroppings at Minnewaska State Park are lots of fun for little explorers.
6. Have a Picnic
Pack lunch and enjoy a picnic at one of the picnic tables on-site. If you don't feel like bringing your own, New Paltz is about a 15-minute drive from the park, making it an easy stop on your way in to pick up sandwiches or snacks. We love to stop at Russo's Italian Deli.
7. Visit the Sam's Point Area
Sam's Point is the highest section of the Shawangunk Mountains in Minnewaska. The area is home to a pine barren and chestnut oak forest, which provides cover for a diverse ecosystem. There's a small visitor center here, too, and more carriage roads to traverse. New in 2022: Beginning Sunday, May 1, the Sam's Point Area will require parking reservations on weekends through the end of October. Details are still being finalized, but be sure to check the website before heading out to avoid disappointment.
Know Before You Go
Minnewaska State Park Preserve is open 9am-6pm daily.
Parking is $10 per car, and there are separate fees for skiing, rock climbing, and some other activities.
If the parking lots are full—which can happen, particularly on weekends—the park's website is updated. Currently, capacity is limited to maintain social distancing.
There are bathrooms near the parking lots, at the new visitors center, and in the Sam's Point Conservation Center.
All photos by the author
Places featured in this article:
---
MInnewaska State Park Preserve
t Click Here to Sign Up!