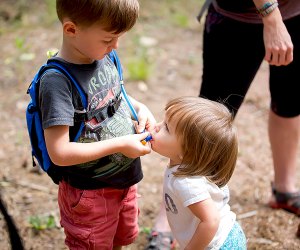 Easy New York State Park Hikes for Families
The beautiful Hudson Valley is home to 18 New York state parks, which offer tree-lined trails, stunning panoramic views, and lots of special features like waterfalls, swimming lakes, and sandy beaches. With so many beautiful state parks near NYC, it's hard to know where to start!
To help, we've picked our favorite kid-friendly state park hikes in the Hudson Valley. In addition to opportunities to enjoy nature and wildlife, some of these parks—like Bear Mountain and Franklin D. Roosevelt state parks—boast additional attractions such as zoos, playgrounds, pedal boats, and even a giant swimming pool. Best of all, these hikes are just a quick day trip from NYC or southern Westchester.
Please note: While we've attempted to provide highlights of these parks at their best, some of the features and amenities listed below are closed due to the coronavirus pandemic. Please click through to each state park to verify operating hours, trail conditions, and amenities before visiting. One bonus: During the pandemic, fees at New York State Parks have been waived, so for the time being, you can enjoy these trails for FREE.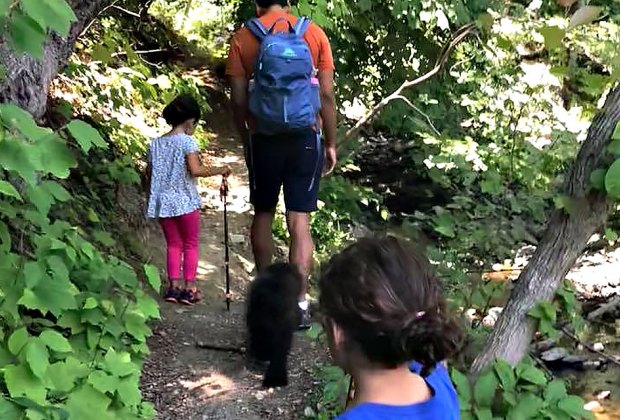 Bear Mountain State Park offers a great first hike for kids. Photo by Samara Sweig
Bear Mountain is a perfect family day trip. For an easy walk with a stroller or a toddler, take the paved trail along the shores of Hessian Lake. Stop at the Trailside Museum and Zoo on the east side of the water (there is a restroom near the underpass that takes you there), where you'll find a variety of rehabilitated wild animals including mammals, reptiles, amphibians, and birds. At 1,300 feet, the park's namesake mountain is a fairly strenuous hike for young children. But for families with tweens and up, the peak offers spectacular views of the Hudson Valley and, on a clear day, Manhattan. At the peak, the Perkins Memorial Tower relates the history of the park and surrounding region through beautiful tile mosaics. If you'd like to visit the summit with small children, you can drive to the tower from April through December. Once you've finished your hike of choice, head to the antique merry-go-round, a must-do for children of any age. If you're visiting in summer, take a row- or pedal-boat out on Hessian Lake. From October to March, there's an outdoor ice-skating rink. And the historic and beautiful Bear Mountain Inn has restrooms, provisions, and treats galore.
At more than 46,000 acres, Harriman State Park is enormous and offers hikes of every variety, from flat, well-worn trails around various lakes and reservoirs (it has 31!), to steep and strenuous mountain climbs, including an 18-mile stretch of the Appalachian Trail. To get the lay of the land, stop at the Reeves Meadow Visitor Center for a map. From there, embark on the Pine Meadow Trail and take lefts at the next three trail junctions—Stony Brook Trail, Hillman-Torne-Sebago (HTS) Trail and the Tuxedo-Mount Ivy (T-MI) Trail—to reach the shores of Lake Sebago in about 2 miles. This larger lake is a good place to go on your inaugural visit if you enjoy paddling. It has a comfort station with a first-aid clinic, bathrooms, and vending machines, plus a campground with tent sites and cabins nearby.
RELATED: 100 Things To Do in New York State With Kids Before They Grow Up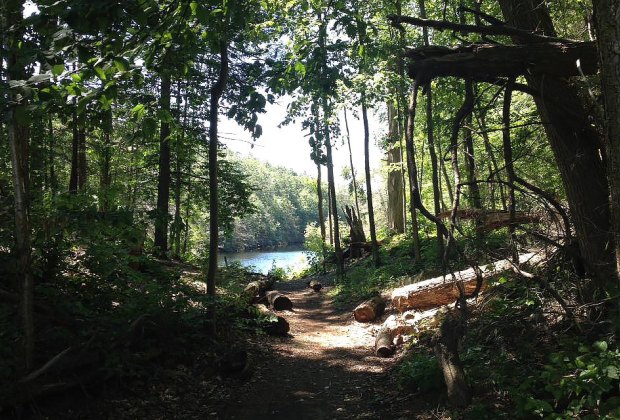 The loop around Pelton Pond in Clarence Fahnestock Memorial State Park is a short and sweet all-ages hike.
In addition to numerous hiking trails, this 14,086-acre park, spread across Putnam and Dutchess counties, features a popular beach and campground, along with picnic areas, fishing, boating, birding, and more. For a short and sweet nature hike with little ones, try the 1.1-mile loop around Pelton Pond, located near the Putnam Valley. The trail is relatively flat—though footing can be a bit tricky in spots—and you can expect to see beavers, ducks, geese, and plenty of wildflowers along the way. For the easiest access, park in the lot on the east side of Route 301. From there, go up the steps and turn right on the Pelton Pond Loop Trail at the stone picnic pavilion. If you're making a day of it, head over to the park's Canopus Lake and go for a swim.
Soak up majestic views of the Hudson at Nyack Beach State Park, which offers 61 acres of riverfront. If you want to stay on relatively flat ground at water level, stroll the 1.6-mile Nyack Beach/River Trail, a wide stone-dust path that follows the river. To extend your hike and add a bit of altitude, you can veer off the path and take a zigzagging trail up to a serene, grassy plateau about 200 feet up. This quiet area, abutting the Palisades and dotted with picnic benches and shaded by trees, is a sweet spot to relax. River views are obscured during the late spring and summer, but you might spot some deer, as well as eagles, ravens, hawks, and vultures soaring overhead.
RELATED: 35 Things To Do With Kids in the Hudson Valley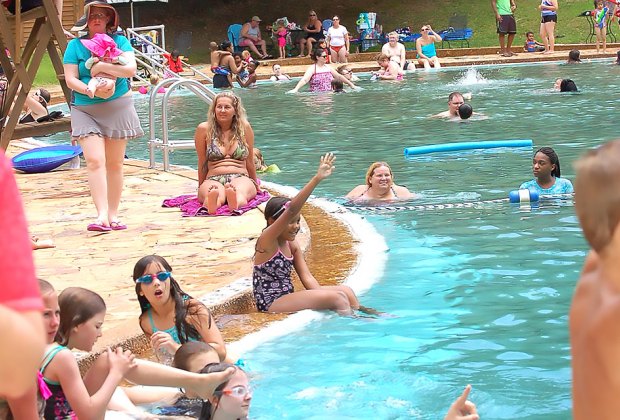 After a hike, go for a dip in the enormous swimming pool at Franklin D. Roosevelt State Park.
This recreational park has everything you need for a day of fun, from a large playground to an enormous swimming pool that can hold more than 3,000 people! There's boating (including pedal boats), fishing, picnic pavilions, and nine short trails. You really can't go wrong with any of the trails; which one(s) you choose depends on what your crew is most interested in, and what everyone is up for. If you want more of a walk than a hike, try the 2-mile, stroller-friendly paved loop that ends at the playground, where you'll find swings, climbing walls, and more. For something a little more nature-y, check out the 2-mile Crom Pond trail, which takes you across charming footbridges and down to the water's edge.
You'll find stunning river views, a historic mansion, and plenty of kid-friendly trails at this gorgeous northern Dutchess County park. A combination of Margaret Lewis Norrie State Park and Ogden Mills and Ruth Livingston Mills State Park, Mills-Norrie comprises 1,000 acres and offers picnic areas, campsites, fishing, and a variety of historic buildings, including an ice house and barn complex. To get the most out of your first visit, your best bet is to do a mix of the River Trail, which takes you right along the Hudson, and the Blue Trail, which takes you to Mills Mansion (apparently it's known as Staatsburg Historic Site these days, but it will always be Mills Mansion to me). Both trails are great for kids, but not for strollers, so bring the carrier(s) if you've got babies or toddlers in tow. Check out this map to get the lay of the land, and read more about the trails here.
RELATED: Easy Day Hikes Near New York City

Gaze at gorgeous Lake Minnewaska from above, then cool off with a swim when you reach the beach below.
From the park office, follow the Awosting Falls Carriage Road for 1.2 miles to Lake Minnewaska. The carriage road inclines steadily the whole way but is doable with a jogging stroller or young children as long as you are not in a rush. Bicycles are also permitted. Once you reach the lake, you can enjoy a small beach and use the comfort station. If the hike to the lake is too rigorous, park near the office and head downhill to visit Awosting Falls, which is just a 1/4-mile away. Or pick your own route along the 35 miles of carriage roads and 25 miles of footpaths. Save for the wide gravel carriage trails that lead up to Lake Minnewaska, it's hard to tell Minnewaska State Park Preserve was a resort for the well-heeled in the 19th century. The densely forested park covers 18 square miles of forest on the Shawangunk Ridge. Keep in mind there are no concessions or trash cans in the park, so you'll need to carry out your own garbage. After your hike, stop in nearby New Paltz for lunch and other family fun.
This preserve is manicured, austere, and inviting. The Rockefeller family donated the land for the creation of a public park in 1983. Forty-five miles of hiking, snowshoeing, and cross-country skiing trails crisscross its 1,400 acres. From the park office, take the easy, sand-and-gravel Brother's Path around Swan Lake (1.1 miles) to spot wetland wildlife. If your family is up for a moderate grade, head up the 0.7-mile Overlook Trail for a panoramic view of the lake below. The National Audubon Society has designated the park an Important Bird Area, and more than 180 different species can be found here. You can also fish for bass on Swan Lake and brown trout in the Pocantico River or go horseback riding (permits are required for both).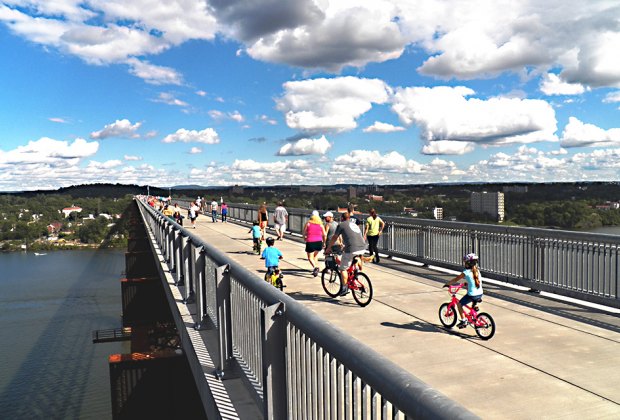 Kids can ride, scoot, or walk over the Walkway Over the Hudson. Photo by Fred Schaeffer
Once the longest railway bridge in the world, the Walkway Over the Hudson is an ingenious repurposing of this decommissioned structure. Built in 1888, the 1.28-mile-long bridge was closed after a fire in 1974. Thanks to the advocacy of its namesake nonprofit group, it reopened in 2009 as a spectacular pedestrian thoroughfare that stretches 212 feet above the Hudson River. It is perfect for bicycles, scooters, strollers, and toddlers. Plaques chronicle the history of the bridge and surrounding area, making it a fascinating stroll through the past for visitors. There are portable restrooms and picnic tables at both ends of the bridge, as well as food vendors and benches throughout allowing visitors to take in the scenic views. Find more fun things to do in Poughkeepsie here.
All of the state parks listed here accept the Empire Pass. To read more about these and other hikes near NYC, check out the resources on Hike the Hudson Valley.
This post was originally published in 2014 with reporting by Cheryl and William de Jong-Lambert, authors of Outdoors with Kids NYC: 100 Places to Explore in and Around the City. They also blog about their family excursions at the Appalachian Mountain Club's Kids Outdoors New York City, a FREE online community for families filled with alfresco activities in the NYC area.
Unless noted, photos courtesy of NYS Parks