5 Things To Do on a Day Trip to Croton Gorge Park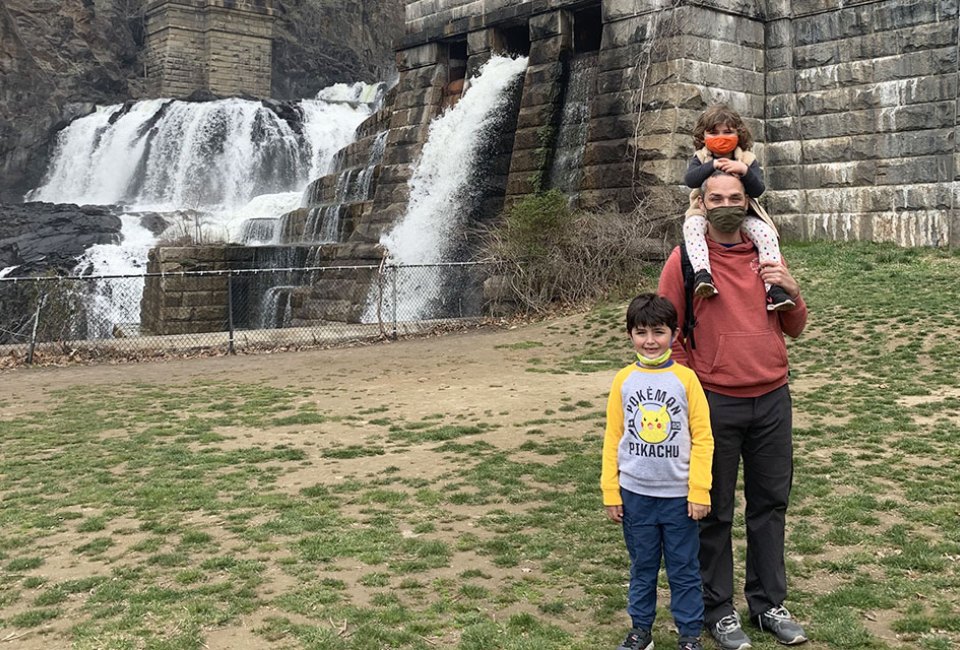 4/21/21
- By
Marisa Iallonardo
From excellent playgrounds for little ones to wonderful destination parks, there are plenty of reasons for Westchester families to head outside year-round. One of my personal favorite outdoor destinations is Croton Gorge Park, a 97-acre county-owned gem on Route 129 in Cortlandt. It's home to the Croton Dam and a huge, cascading waterfall, one of the park's defining features.
These days, there's lots for families to do while visiting Croton Gorge Park. We've rounded up our top five ways to spend the day. If you're looking for even more outdoor fun, check out these easy state park hikes nearby and the seasonal activities in our Spring Fun Guide.
Editor's note: While we are trying to promote safer activities that occur outdoors or with social distancing guidelines in place, please keep your family and others safe by always wearing a mask and maintaining an appropriate distance.
There's some nice history at Croton Gorge Park. The park has direct trail access to New York State's Old Croton Aqueduct, a sprawling water system built between 1837 and 1842 to give NYC access to clean water. Before that, New Yorkers got their drinking water from other sources, which were often polluted, causing sickness and disease. In short, the city was in desperate need of a fresh supply of water.
The Aqueduct was a magnificent feat of engineering running from northern Westchester County, over the High Bridge, and down the west side of Manhattan. Fun fact: One of the city's receiving reservoirs, which looked like big, rectangular fortress, was located on the site of what is now the New York Public Library at Fifth Avenue.
The site's history might be lost on your kids, but these other features are decidedly family-friendly.

Croton Gorge Park's waterfall is oft-photographed and a stunning sight to take in. The fall season sets the hillside ablaze with colors.
1. Admire the Waterfall
The park's waterfall is big, beautiful, and loud. It's no doubt the centerpiece of the park. My 6- and 3-year-old made a beeline for it as soon as we got out of the car and spent a good amount of time admiring the rushing falls and loving the sprays of water that misted them whenever the wind picked up. There are a few picnic tables with prime real estate right by the waterfall that you can snag if you want to sit close by.
2. Have a Picnic
Speaking of picnic tables, there are plenty throughout the park. Whether because of the pandemic or just coincidence, many of the tables are spaced far apart, so eating here with masks down offers some socially distanced peace of mind. Plus, there's a ton of green space if you opt to spread out a blanket instead.
RELATED: Day Trip to Olana State Historic Site to See Frederic Church's Living Masterpiece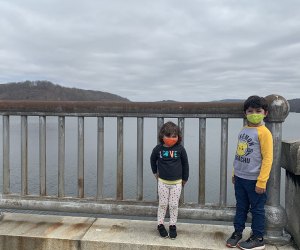 Compared to the falls, the top of the Croton Dam offers a completely different—but equally stunning—view.
3. Walk the Top of the Dam
You can reach the top of the dam either by parking your car in the small lot nearby or hiking up from the park itself. Either way, it's a must-do and great for kids. It spans about half a mile and offers incredible views of the park below and the water on the other side. You could bring bikes or scooters (we saw a few), though the road is a bit bumpy and gravely, so riding is likely best for older kids. There are points where you can look out and enjoy the view. If your kids are anything like mine, be prepared to linger along the way so they can take it all in.
RELATED: Exploring Teatown Lake Reservation With Kids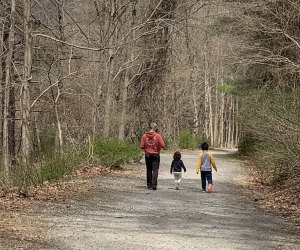 The wide, flat Aqueduct Trail makes for an easy hike with kids.
4. Go for a Hike
Croton Gorge Park is the start of the Aqueduct Trail, which extends all the way down to the Bronx. We hiked a portion of it on our most recent visit, and since it's wide and flat, it was perfect for kids. We did see some strollers, though I wouldn't call this path quite stroller-friendly. If you have very little ones, you may want to opt for the baby carrier.
RELATED: Short Hikes for Toddlers and Preschoolers in Westchester and the Hudson Valley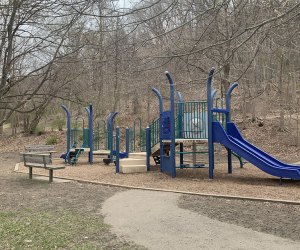 5. Play on the playground
Admittedly, the playground is on the smaller side and likely more suited to toddlers and young preschoolers, but it's a fun diversion during a visit. On the Saturday morning of our most recent visit, it wasn't particularly busy. Though a little underwhelming, it can definitely keep little ones occupied and give older kids a chance to play soccer or other games on the grassy areas.
Know Before You Go to Croton Gorge Park
Croton Gorge Park is open daily from 8am to dusk.
In the summer, there's a $10 parking fee ($5 with a County Parks Pass)
There are a handful of portable bathrooms near the playground
Photos by the author
Places featured in this article: