27 Great Rainy-Day Activities for Long Island Kids
When it's raining outside, it's time for indoor fun. To get you started, Mommy Poppins Long Island has put together a list of rainy-day activities that will make everything seem a whole lot brighter. We're talking Long Island's coolest indoor play spaces, sports centers and fun zones; the latest museum exhibits, and the newest places to visit.
Of course, if you decide to just stay home, we've got you covered there, too, with plenty of creative indoor boredom busters.
For even more fun things to do, check out our Events Calendar, which is filled with plenty of fun, daily events.
Sign up for our FREE newsletters to get posts like this delivered to your inbox.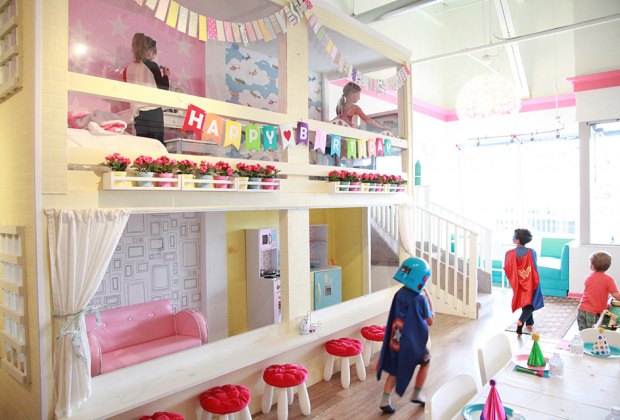 Grab the kids and head over to Liddle Bites in Long Beach for a snack and playtime.
1. Visit one of Long Island's play cafés. Your kids will have fun and you'll relax with a latte while connecting with other moms and dads.
2. Challenge your kids to a friendly game or two of bowling, bumpers optional. There are plenty of spots to choose from in Nassau and Suffolk counties plus a few on the East End.
3. Head to the Long Island Explorium in Port Jefferson, where there's always plenty of hands-on activities and exhibits that are both fun and educational.
RELATED: Exercise Activities to Get Kids Moving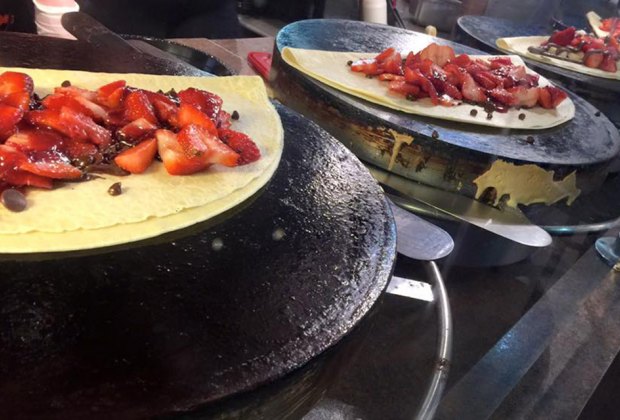 Enjoy downtown Port Jefferson. Don't forget to stop for a crepe at Sweet 'n' Savory in Port Jefferson.
4. Speaking of Port Jefferson, other indoor activities to check out there include Theatre Three and the village center. For a sweet treat, stop for a yummy dessert crepe or some rice pudding at Sweet 'n' Savory.
5. Instead of bouncing off the walls of your living room, let your kids work off some of their energy at one of Long Island's indoor bounce houses or trampoline parks.
6. Reading is a great way to spend a rainy afternoon. Head to your local library to check out some books. And don't forget about other perks available from libraries, including free museum passes.
RELATED: 100 Things to Do With Kids on Long Island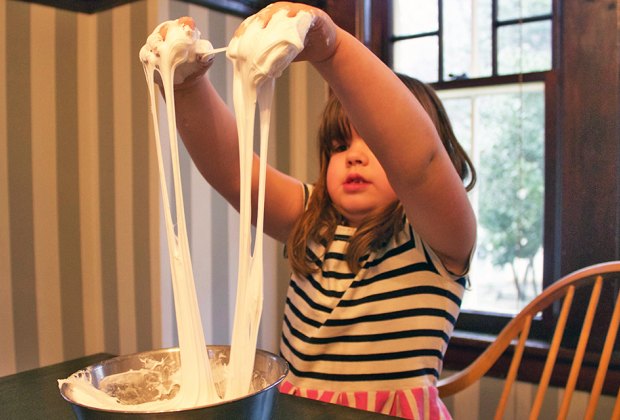 Design traditional or fluffy slime. Just remember to clean up. Photo by Ally Noel
7. Whip up a batch of slime for some silly fun in the kitchen.
8. Why stop there? Turn your kitchen into a laboratory for the day, using some of these easy science experiments from everyday household stuff.
9. Go for a swim…indoors, of course, at one of these family-friendly Long Island indoor pools.
10. Head to a Long Island candy shop and let your kids (and yourself) sample something sweet. For even more fun, learn how to make your own chocolate at Chocolate Works, which has store locations throughout Nassau and Suffolk counties.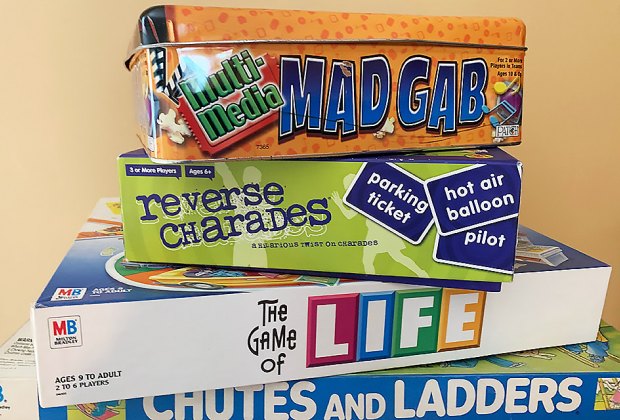 Break out some board games for old-fashioned fun on a rainy day. Photo by Lisa Mancuso
11. Break out some board games and have a game-playing marathon. Or deal the cards and teach your kids some new tricks. Play freeze dance, or make up your own games. Losers have to clean up.
RELATED: Great Family-Friendly Museums on Long Island

Thrill the kids with a trip to Tiki Action Park for go-kart or slot car racing.
12. If you have a tween or teen, head to a go-kart or slot car racing destination for some high-energy fun.
13. Stay home and set up your own indoor obstacle course.
14. Mix up a batch of play dough and have fun creating.
15. Head to Ikea in Hicksville, where you can combine a day of shopping with lunch at the store's family-friendly restaurant. Let your kids enjoy Smaland, the store's FREE supervised play area, while you shop.
16. So many museums, so little time. Head to Museum Row in Garden City, where the Long Island Children's Museum and Cradle of Aviation are just waiting to be explored. Or check out the Whaling Museum and Education Center in Cold Spring Harbor. There are plenty of others to choose from on Long Island.
17. If marine life fascinates your children, check out the Long Island Aquarium, where something cool is always happening.
RELATED: Long Island Restaurants Where Kids Can Eat FREE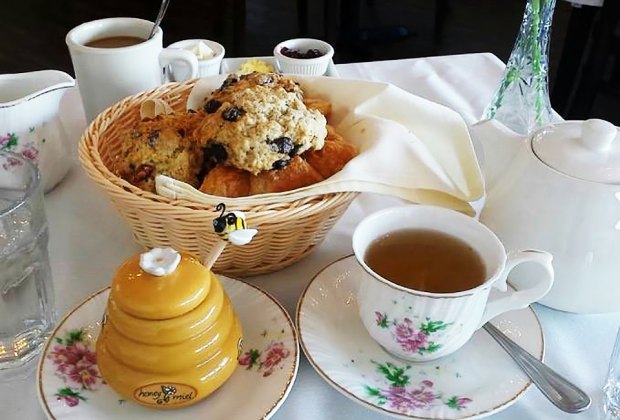 Enjoy tea time at Chat Noir or another kid-friendly tea house.
18. Warm up with a spot of tea and perhaps a scone or two at these lovely tea houses. Or host your own at-home tea party, complete with fancy hats and yummy tea sandwiches.
19. All aboard: Take your kids to a Long Island train museum or exhibit.
20. Long Island is host to a bevy of awesome indoor arcades.
21. You scream, I scream, we all scream for ice cream! Head to one of these local ice cream shops and we guarantee the screaming will stop.
22. Who says you have to stay out of the rain? Embrace the raindrops, open the umbrellas, and go puddle jumping.
RELATED: Cooking Classes for Kids on Long Island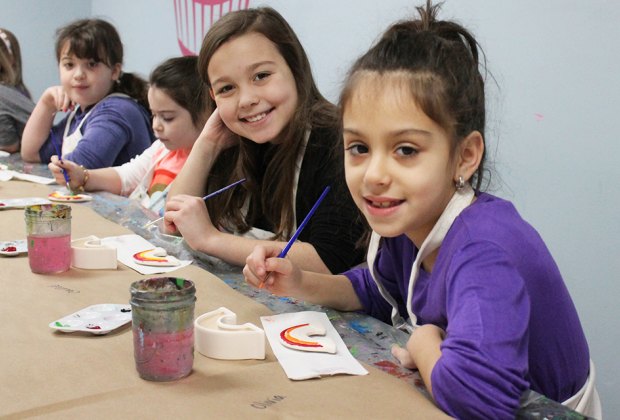 As You Wish art classes inspire creativity.
23. Nurture your little artists. Bring them to a local art studio such as As You Wish Parties for an afternoon of creativity.
24. Take in a matinee at your local movie theater. Or make some popcorn, turn down the lights, and watch a movie or binge a family-friendly TV series.
RELATED: Long Island Restaurants With Entertainment for Kids

Serve up a SMASH at the new ping-pong house in Levittown. Photo by Jaime Sumersille
25. SMASH in Levittown is a new ping-pong house that takes the old-fashioned game to a whole new, hip level. Families are welcome during the day; it's adults-only at night.
26. Visit the Long Island Science Center's new location in Riverhead, where kids can play archaeologist and dig for dinosaur bones.
27. Go out to eat. Whether it's for breakfast, lunch, or dinner, there's no shortage of family-friendly restaurants on Long Island.
Unless noted, photos courtesy of the venues
A version of this article was published in 2017.