Visiting the Long Island Aquarium With Kids: What to Know Before You Go
7/26/22
- By
Gina Massaro
Visiting the Long Island Aquarium with kids will give your family access to more than 100 exhibits and interactive experiences, ensuring a fun day admiring majestic sea life. Formerly Atlantis Aquarium, the Long Island Aquarium allows you to embark on an adventure to the lost city of Atlantis, where you'll be greeted by stingrays, sharks, seahorses, and even mermaids.
With different events and experiences throughout the year, it's always a good time to say hello to Poseidon and his friends.
For more entertainment inspiration, check out our Guide to Amusement Parks and Water Parks Near Long Island, and be sure to bookmark our frequently-updated Long Island Family Activity Calendar.
Get our picks for every weekend in your inbox—
sign up for our newsletters
.
Visiting the Long Island Aquarium With Kids: Must-See Things
The Long Island Aquarium isn't particularly large, but it packs a lot into its square footage. There are exhibits both indoors and out, and the best plan of attack is to make your way through the lagoon and shark tank before heading outside. Butterflies are located just past Ray Bay at the beginning of the aquarium, so it can be the first or last part of your day.
Ray Bay
Get up close to cownose, southern, and Atlantic rays. Put your hand in as they swim by to touch the tops of their bodies. Food can be bought when you first enter, either at the admission register or at Poseidon's Crafts. There is a certain amount allotted for each day, so when it's gone, it's gone. When feeding the rays, it's best to stick the fish standing up between two fingers and place your hand against the wall. The rays will suck it right up like a vacuum. It's a fun experience, and on busy days it's usually crowded. The rays are known to splash, so don't be afraid to get wet.
RELATED: Awesome Amusement Parks on Long Island for Families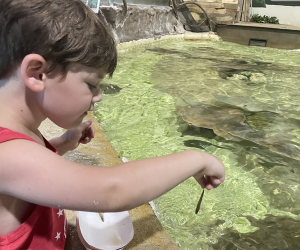 Stop by the Ray Bay early in the day to feed stingrays before they sell out of their allotted feedings.
Butterflies, Bugs, and Bees
Just past Ray Bay is the butterfly exhibit. Here you'll get up close with various butterfly species. It's important to watch where you walk, and no strollers are allowed inside. Every day something new is hatching from its chrysalis, so each visit is never the same. This unique exhibit is the only one of its kind on Long Island.
Touch Tank
It's easy to overlook the touch tank, located just past the bridge of the lagoon, but skipping it is a mistake. Visitors can touch various sea creatures, like starfish, clams, spider crabs, and whelk. The staff here are the real stars, offering up unique facts and picking up the creatures to show off cool features. Future marine biologists can easily spend lots of time soaking it all up.

Even little ones will be awed by the stunning reef.
Lost City of Atlantis Shark Habitat
The themed decor and architecture of the aquarium are beautiful, and there is no better example of this than the shark habitat. As soon as you enter the tunnel, ominous music and dim lighting set the mood. Watch carefully as sand tiger sharks and nurse sharks lurk past Poseidon's trident. Other large fish like the Queensland grouper and moray eel inhabit the tank as well. If you go up the stairs or take the elevator, you can see the tank and sharks from above.
RELATED: All the Top Summer Day Trips Near Long Island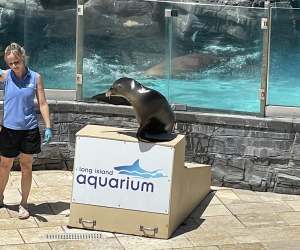 Watch in delight as sea lions dance and perform tricks with their human trainers.
Sea Lion Coliseum
A few times a day the aquarium puts on a sea lion show. Trainers give educational information on sea lion training as the sea lions entertain the crowd. They wave, dance, and even do a high dive. On crowded days, arrive early to get a good seat. Strollers must be parked and are not allowed in the stadium seating. Once the show starts, the doors are closed and no one will be allowed to enter.
Penguins
Try to catch the penguin exhibit when they are holding the "penguin talk-and-feed." A trainer will be in the habitat to talk about the African penguins and answer visitor questions. The penguins are usually very active during this time. A penguin lecture is held inside the Sea Lion Coliseum at 11:30am Monday through Friday, 11:15am Saturday and Sunday, so guests can still see a penguin.

Handle horseshoe crabs, spider crabs, and whelks outside in the salt marsh.
Marsh
Take off your shoes, pull up your pant legs, and step into the marsh. Horseshoe crabs, spider crabs, and whelk roam the sand beneath your feet. Visitors must be 42.5 inches or taller and out of diapers to enter the marsh.
This multi-story climbing structure features rope bridges, spiral tube slides, and a climbing net. As a bonus, for the $12 admission (parents are free) to the Eye Opener, you also get four climbs on the rock wall. The Eye Opener has a spectacular view at the top. It is open on weekends and holidays, but on many weekdays they allow access to the climbing structure for FREE.
J&J Mining
Open on weekends and holidays, mine for gemstones inside J&J Mining. During the off-season, it is only open on weekends, but it's open daily in the summer. A bag of gemstone and fossil grit is not included in admission and costs extra.
Visiting the Long Island Aquarium With Kids: Dining Options
Atlantis Cafe
This is the main dining area at the aquarium. Some grab-and-go foods include chicken tenders, fries, pretzels, salads, and wraps. You won't find anything to excite your palate, but it keeps the kids from getting hangry. There is a 10% discount for aquarium members.
Scoops Ice Cream
Scoops serves up Edy's ice cream and sweet treats. It's often closed during the colder months, but it's a welcome treat on warm days.
Pack Your Own
The most cost-effective option is to pack your own lunch. There are plenty of outdoor seating options. The covered deck next to the Eye Opener is great for those with small children since it's mostly fenced in.
RELATED: Age of the Dinosaurs Opens at the Long Island Children's Museum

Take an ecological history tour of Long Island on the Peconic River. Photo courtesy of the aquarium
Visiting the Long Island Aquarium With Kids: Special Events and Experiences
Atlantis Explorer Tour Boat
Tour the Peconic River into Flanders Bay, stopping at a small sand bank where you can get out and explore, but note, you can't take anything you find there back with you. Your guide will point out native species and fauna and give insight into Long Island's ecological history. The tour is approximately 2 hours. It is $40 for ages 3 and up and $5 for those 2 and under. This is in addition to aquarium admission, but you can also take the tour boat from the dock without entering the aquarium.
Shark Dive
Brave the deep and enter the 120,000-gallon shark tank. Join a professional diver in the cage as you experience sharks close-up like never before. All equipment and training are provided for you. Divers must be 12 and older. Ages 12-17 must dive with a parent/guardian. The cost is $215 for non-members, and $193.10 plus tax for members. A negative covid-19 test result within 48 hours of your dive is required.

Pal around with penguins.
Animal Encounters and Selfies
The Long Island Aquarium offers many different opportunities to get up close with your favorite animal inhabitants. There is a penguin selfie and encounter, a sea lion selfie, a seal encounter, a coati connection, and a bug encounter. All cost extra, starting at $22 and up. The sea lion selfie is an affordable favorite where the sea lion strikes a spunky pose with its tongue out.
Sleep with the Fishes
Groups of 20 and more can book a sleepover at the aquarium. There are various themes to choose from, some including a craft and others including an animal encounter. Pricing starts at $79 a person and gets lower the more participants you have. Occasionally, the aquarium also hosts a sleepover event where families can buy tickets to sleep inside the aquarium.
RELATED: Visiting Adventureland on Long Island With Kids: What You Need to Know Before You Go

Magic takes over the aquarium with a visit from a mermaid.
Swim with Mermaids
Snorkel with a mermaid in the Shark Reef Lagoon. Dive amongst tropical fish, and glide alongside a real mermaid. It's a beautiful and amazing sight to see the women swimming so gracefully with their iridescent tails flittering behind them. Sometimes, mermaids pop up to say hello to visitors and take pictures with them. It's a magical experience when you happen to catch one there. Dives are offered on Mondays and Fridays, and are an additional $49. Wearing your own bathing suit and bringing your own snorkel gear is recommended.
Know Before You Go to the Long Island Aquarium With Kids
There is no parking at the aquarium. The nearest lots are the municipal parking along the river walk, directly west of the aquarium, and a lot just past the railroad tracks to the north of the aquarium.
When coming on a weekday, the crowds thin out around 1pm after school and camp trips leave.
Check out the schedule when you arrive, and plan your day accordingly. There are various shows and feedings throughout the day. Sometimes there are also animal encounters out and about, like bugs and reptiles.
The aquarium is open weekdays 10am - 4pm, 10am-5pm on weekends and holidays. Admission is $29.99 for children 3-12, $42.99 adults 13-61, $31.99 for 62 and over. Children 2 and under are FREE.
There is FREE admission on your birthday. Stop by 7 days before or after your birthday to get in. Celebrating adults must show ID for their own birthday and provide a birth certificate for a birthday child.
Membership is surprisingly affordable, and you can get one even cheaper if you only want admission to the aquarium, which doesn't include the butterflies and bugs. Membership starts at $70 for an individual, and they offer various family plans as well as couple plan. Children 2 and under are FREE. Single parents or caregivers who only have one adult and one child needing a membership can get a couples membership which starts at $110. Members also receive a 10% discount in the souvenir shop and on food, as well as a discount on certain special event tickets.
It is fully accessible to those with disabilities and incredibly stroller-friendly.
There are no storage lockers on site, so bring only what you are willing to carry.
Bathrooms are located near butterflies, the marine rescue center, and the cafe. There are changing tables located inside.
The aquarium hosts birthday parties and catered events.
Originally published in 2017. Natalie Ferro Aurigema contributed additional reporting.
Unless noted, photos by Gina Massaro
Places featured in this article:
Sign up for the Mommy Poppins Newsletter today!