SPONSORED
Long Island Aquarium Offers Over 100 Exhibits and Interactive Adventures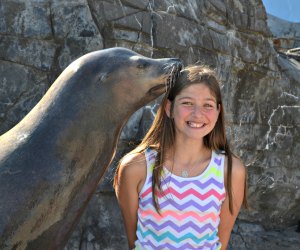 With its fantastical Lost City of Atlantis theme, Long Island Aquarium combines myth and science to create an environment that's engaging for visitors of all ages. Located in downtown Riverhead, the Long Island Aquarium celebrates the Peconic River just outside its doors and the many creatures who call the water their home. From colorful fish in larger-than-life tanks to huge American alligators, the aquarium features more than one hundred exhibits, plus interactive experiences that will have kids and adults completely captivated. Dip your hand into one of the numerous touch tanks, get up close and personal with a penguin, or even snap a selfie with a sea lion. My family certainly couldn't get enough of the seemingly endless activities on our recent visit.
Upon entering the aquatic museum, the Ray Bay Touch and Feeding Tank in the lobby gives children the chance to come in close contact with southern and Atlantic stingrays, as well as cownose rays. My husband and 10-month-old son probably could've stayed there for an hour, petting and even feeding the rays, but we had so much more to see. Venturing farther into the aquarium, there are tanks full of local sea life, like flounder, dogfish, striped bass, and the bird-like sea robins and flying gunards. The aquarium has lots of not-so-local creatures too, including flesh-eating piranhas and schools of vibrantly colored tropical fish. My son loved all the bright colors and movement inside the tanks, pointing at every animal and looking on with intense fascination. My husband and I enjoyed watching his eyes light up as he discovered and explored.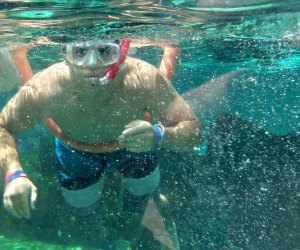 As we continued to wander, we couldn't believe how many activities were available for adventurous kids and adults—making us excited to come back when our son's a bit older! There's a Lost City of Atlantis Shark Dive (11:00 am daily, $165 per person), which actually lets brave visitors hop into the 120,000-gallon tank and swim with the sharks, from the safety of a steel cage. And from July 1 to Labor Day, the marine exhibit offers a Pirate Snorkel Adventure (5 times a day, $35 per person) with fish from all around the world, including bamboo sharks and clown nose stingrays. Participants get to search for buried treasure, and the staff provides wet suits, life preservers, and snorkel supplies, so there's no need to stress about buying or bringing gear.
For families looking for something a little more low-key, there's a relaxing 90-minute Atlantis Explorer Tour Boat (3 times a day, $20 per person), which takes guests to a private island where kids can get their feet wet and seine for fish. The daily Behind the Scenes Tour is another big hit, bringing guests upstairs to the tops of the fish-tanks, to see the pumps, filters, and food prep area, and the lab where algae, shrimp, fish, and coral are grown. One of the most charming exhibits we came across is the aquarium's Penguin Talk and Feed, which features South African penguins named after television sitcom characters. And for those who really want to get in on the action, a Penguin Encounter (3 times per day, $50 per person) gives guests a chance to visit the penguin preschool, and actually meet the little guys up close. Outside of all the fascinating marine life, there is also a 5,000-square-foot Butterflies, Bugs, and Birds exhibit that brings together winged creatures from all over the globe. I was lucky enough to have a butterfly land on my shoulder as we strolled through—a perfect way to end our experience at the aquarium.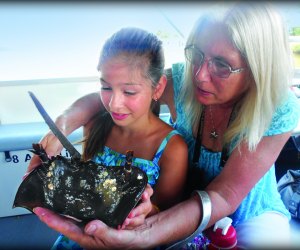 Of course, after a busy day of exploring, we really worked up an appetite, so we were thrilled to see that the aquarium has a slew of picnic tables for those who want to pick something up from the cafeteria. My husband and I purchased a cheeseburger, chicken fingers, and a grilled chicken sandwich, all of which were super tasty. For those wanting to grab a bite on the way in or out, there are many family-friendly restaurants in the small village next to the aquarium, too, including Jerry & The Mermaid, Turkuaz Grill, Joe's Garage & Grill. The Seaside Grill located behind the Hyatt, Farm House Country Kitchen, Tweeds, and much-loved Ralph's Ices are also popular picks.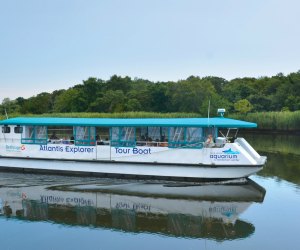 The Long Island Aquarium is open from 10:00 am to 5:00 pm daily, and admission is $29 for adults (13-61), $25 for seniors (62+), $22 for kids, and free for children under 2, with some programs requiring extra fees. That said, if you've got a birthday coming up, you are in luck. With a valid ID you'll also enjoy FREE admission within the seven days before and after your birthday!