Spring Break 2023: 41 Fun Things To Do in New Jersey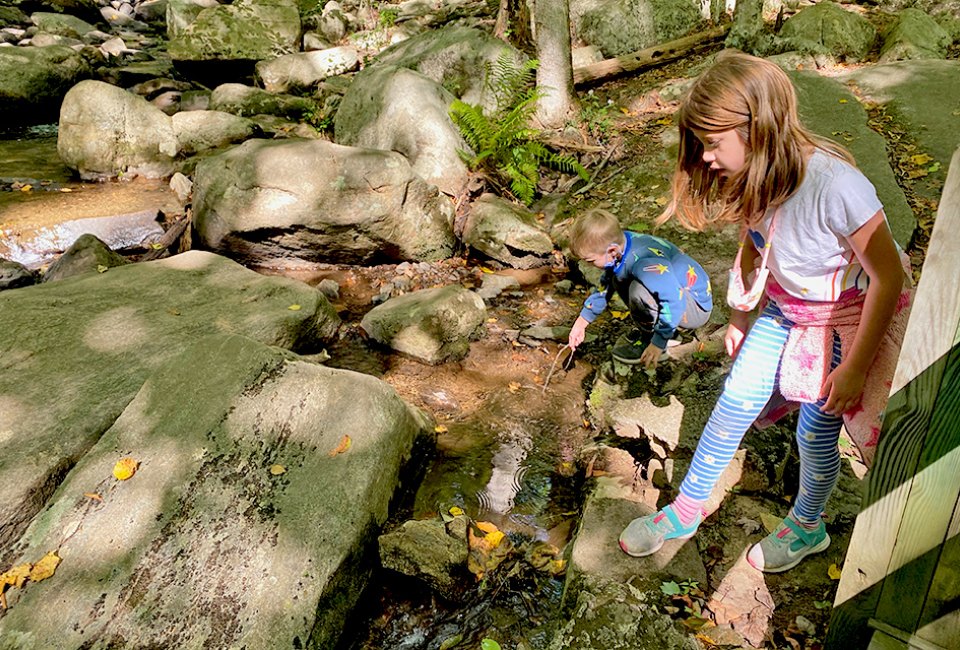 3/31/23
- By
Margaret Hargrove
You and your fam deserve an epic spring break 2023 after working hard and making it through the winter. Why not skip the long airport security lines in favor of a spring break staycation right here in New Jersey?
Most New Jersey school districts are closed sometime between Monday, April 3, and Friday, April 14. Luckily, the Garden State is home to museums, playgrounds, zoos, and other fun zones just a short drive away. Plus, our Family Activity Calendar is full of great events taking place during spring break.
Read on for dozens of fun things to do during spring break in New Jersey with kids. You can also find great nearby getaways in our Day Trips Guide and more seasonal entertainment in our Spring Fun Guide.
Subscribe to our newsletters to get stories like this delivered directly to your inbox.
Top Spring Break 2023 Activities for NJ Families
1. Brunch with the Easter Bunny
Easter 2023 falls on Sunday, April 9, and there are plenty of opportunities to brunch and take pictures with the Easter Bunny during spring break.
2. Visit Cedar Run Wildlife Refuge
Go on a short hike and visit the animals at Cedar Run in Medford. See the events page for all the special activities they have going on during spring break like Science Rocks! and Rediscovery Day. For a complete rundown of Cedar Run activities, check out the Best Things to do at Cedar Run Wildlife Refuge.
RELATED: Spring Activities for New Jersey Kids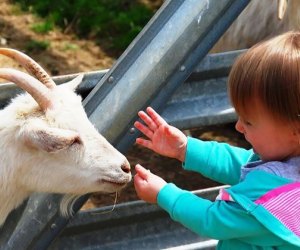 Meet the baby animals at Alstede Farms' Springtime Family Festival. Photo courtesy of the farm
3. Enjoy a Spring Festival
Alstede Farms springs back to life for a new season during the Easter and Springtime Family Festival on select dates through Sunday, April 16. Take a scenic hayride around the farm, visit the barnyard animals, meet and greet the Easter Bunny, hunt for eggs, journey through mazes, and lots more.
4. Hop on a Bunny Train
All aboard! Catch a seasonal train ride with the Easter Bunny.
5. Hunt for Easter Eggs
Now's the time to search for treasures at a local Easter egg hunt.
6. Easter Sunday Glow Skate
Hit the rink at Millennium Skate World on Saturday, April 9 from 7:00-10:00 pm. Admission is $15, skate rental is $5, and the Easter Bunny will make an appearance.
7. Walk Through Rutgers Gardens
Find adventure along the Raritan River by walking through Helyar Woods, one of the last old-growth forests that still stand in New Jersey. You can also hide out in the dense Bamboo Grove or frolic among the flowers in the garden. Cook Campus is near the garden and has a farm with animals to check out.
8. Fly a Kite
See kites of all shapes and sizes soaring over the beach in Long Branch on Saturday, April 22.
RELATED: Worth the Drive: Destination Playgrounds in NJ

The Easter Bunny stops by Storybook Land for some Easter weekend fun.
9. Explore Storybrook Land
Become part of a fairytale when Storybook Land hosts Easter Weekend Fun from Saturday, April 1-Monday, April 10.
10. Catch the Easter Bunny
Chase the Easter Bunny through Palmer Square in Princeton on weekends through Saturday, April 8.
11. Make Your Own Fun
Spark!Lab at the Morris Museum invites young inventors to explore and create every Wednesday through Sunday from noon-4pm.
12. Visit the Hoboken Historical Museum
Kids can take FREE art classes on Tuesdays and Thursdays at 10am or listen to a story on Fridays at the Hoboken Historical Museum.
13. See Cherry Blossoms
Admire the stunning Cherry Blossoms at Branch Brook Park in Essex County from April 1-16 during the Cherry Blossom Festival.
14. Get Crafty
Drop by Jakes Branch County Park Nature Center for FREE nature crafts every Saturday.
15. Explore the Great Outdoors
The Rancocas Nature Center in Westampton hosts a multitude of nature programs for your family to enjoy from two years to teenagers. See the events page for descriptions of the activities.
16. Experience Some Thrills
Make it a thrilling week of rides and attractions at Six Flags Great Adventure, which is officially open for the season.
RELATED: Must-See Cherry Blossoms in New Jersey's Branch Brook Park

The Six Flags Wild Safari Drive-Thru Adventure takes explorers on an exhilarating animal adventure.
17. Have an Animal Encounter
While you're at Six Flags, visit the wild inhabitants of the Safari Drive-Thru.
18. Go Down the Shore
Stroll the boardwalks of the Jersey Shore for treats, exercise, and ocean breezes. Many beaches are admission-free through Memorial Day weekend.
19. See Lady Liberty
Check out Liberty State Park for a well-rounded day trip or visit one of the other Garden State parks and playgrounds we've profiled.
RELATED: Hop Aboard These Easter Bunny Train Rides for New Jersey Kids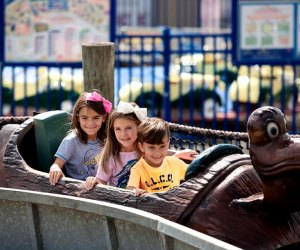 Keansburg and other amusement parks reopen in time for spring break.
20. Find Some Amusements
Go amusement-hopping along the Jersey Shore with the season openings of Jenkinson's, Playland's Castaway Cove, and Keansburg.
21. Visit a Museum
Head over to the Morris Museum or another family-friendly museum for a day of educational fun.
22. Roll With It
Have a ball at a New Jersey bowling alley.
RELATED: Spring Bucket List: Best Things To Do in New Jersey With Kids This Spring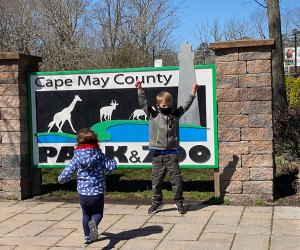 Visit a Garden State zoo, like the free Cape May County Zoo. Photo by Rose Gordon Sala
23. Take a Trip to the Zoo
Visit furry friends at the Turtle Back Zoo and Bergen County Zoo, or stop by the FREE Cape May Zoo and Cohanzick Zoo.
24. Explore Outdoor Art
Venture through 42 lush acres of outdoor artwork at the Grounds for Sculpture.
25. Ride Your Bike
Break out the bicycles and take the family for a scenic ride along a family-friendly bike trail.
RELATED: Guide to Spring Fun in New Jersey for Kids

Watchung Reservation's Sensory Trail lets little ones use their senses. Photo by Margaret Hargrove
26. Get in Touch With Your Senses
Take a short and touchy-feely stroll through the Watchung Reservation's Sensory Trail.
27. Go for a Hike
If walking is more your family's speed, check out these dozen easy hikes perfect for little legs and these family-friendly hikes in South Jersey.
28. Visit a Nature Center
Welcome spring at one of New Jersey's excellent nature centers, including Great Swamp, where you can hit the trails.
29. Do a Day Trip
Plan a day trip to explore one of the Garden State's charming towns, including Princeton, Millburn, and Montclair.
RELATED: Easter Bunny Pictures and Brunches for New Jersey Kids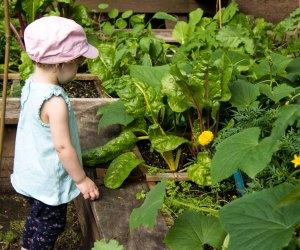 Let your little ones wander the grounds and gardens at Reeves-Reed Arboretum.
30. Smell Spring Flowers
New Jersey's lush arboretums offer year-round, outdoor fun; Cora Hartshorn and Reeves-Reed boast a roster of family-friendly events. You can also find fields of vibrantly colored tulips at Holland Ridge Farms.
31. Tee up for Mini Golf
Book a tee time at a mini-golf course.
32. Explore NJ's State Parks
New Jersey State Parks are just waiting for guests to explore; favorites include Hacklebarney, Allaire, and High Point.
RELATED: See the Stunning Tulip Fields at Holland Ridge Farms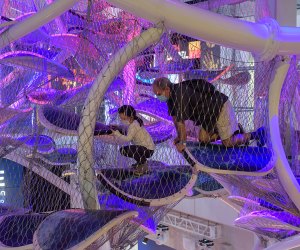 Spend spring break scaling the infinity climber at the Liberty Science Center.
33. Spend a Day at LSC
Everyone's favorite science museum is back with several fun exhibits. Be sure to check out Wobbly World, a new STEM-powered funhouse, and the other exhibitions they have.
34. Live the American Dream
You could easily spend your entire spring break at this entertainment complex, between Angry Birds Not So Mini Golf, Nickelodeon Universe theme park, Sea Life Aquarium, Legoland Discovery Center, and DreamWorks Animation Water Park. There is also an Easter Bunny brunch on Saturday, April 8, and Sunday, April 9.
35. Use Your Imagination
Get crafty over break at these 20+ indoor art studios offering drop-in classes, virtual workshops, and take-home crafts.
36. Burn Off Energy
Indoor play spaces offer an active escape from the house.
RELATED: Best Family Campgrounds in New Jersey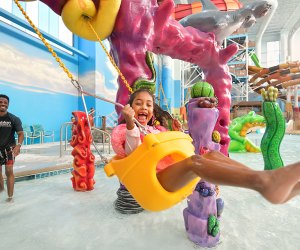 Kalahari offers fun for thrill-seekers and little kids alike.
37. Make a Splash
While outdoor water play may be a few months off, have a splash at indoor water parks in and near New Jersey.
38. Play All Day
Rides, games, food, and Top Golf are on tap at iPlay America.
39. Work Out the Wiggles
Junior ninja warriors can get physical at these obstacle courses, ninja gyms, and aerial arts spots.
40. Go Under the Sea
Have an aquatic spring break adventure at Camden's Adventure Aquarium and Jenkinson's Aquarium in Point Pleasant Beach.
41. Petting Baby Animals
Spring is the time when baby animals are born! For some cute and cuddly experiences, Muddy Paws Farm in Southampton has FREE open houses on April 2, 11, 13, and 16 from 1-4pm. And be sure to check out other petting zoos in NJ.
This post, originally published in 2018, is updated annually.
Unless noted, photos courtesy of the venues
Sign up for the Mommy Poppins Newsletter today!
i