Bergen County Zoo: Red Wolves, Mountain Lions, and Tons of Fun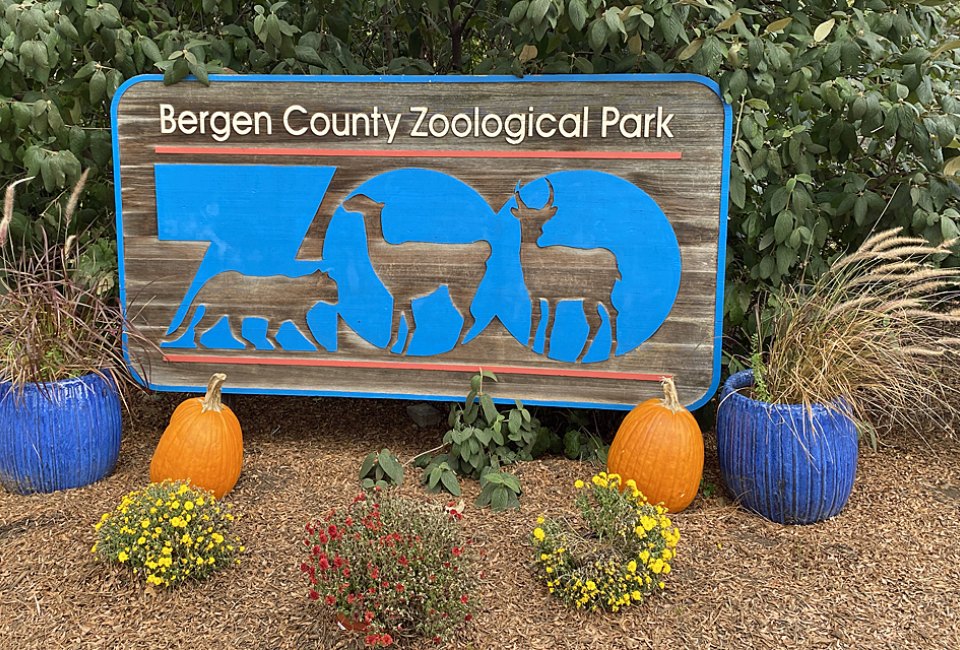 11/1/21
- By
Margaret Hargrove
When I told my 8-year-old daughter we were going to the zoo last Saturday, she rolled her eyes. Aside from the fact she's 8 going on 18, she was probably thinking, "been there, done that." I will admit, we are frequent visitors to the Turtle Back Zoo since it's practically in our backyard. This time, though, we were going somewhere new: the Bergen County Zoo. The zoo recently welcomed two rare red wolves and I figured this would be a great opportunity to check it out. Come along with us on our visit to this new-to-us zoo, and find more local zoos to visit in this round up of the best zoos and aquariums in the Garden State.
Subscribe to our newsletters to get stories like this delivered directly to your inbox.
The Bergen County Zoo is tucked away in Van Saun County Park in Paramus, which is itself a day-trip worthy destination. After we entered the park and drove around the winding road to the zoo—passing the massive playground, train, and carousel along the way—my daughter's interest was definitely piqued!
The new red wolf exhibit is located directly to the left of the zoo entrance. The exhibit is part of a larger red wolf recovery program designed to save the species. Red wolves were declared extinct in the wild in 1980, but through dedicated conservation efforts, there are now more than 250 red wolves in existence today. Still, red wolves are one of the most endangered species on the planet, so it's a special treat to have two of them right here in New Jersey.
RELATED: The Best Zoo in Every State For a Family Animal Adventure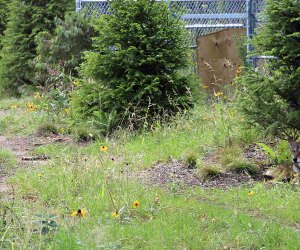 It can be hard to spot the red wolves in their spacious enclosure designed to mimic their natural habitat. Photo courtesy of the Bergen County Zoo
Shane and Rich, the young red wolf brothers who now call the Bergen County Zoo home, were donated by the Wolf Conservation Center in Westchester County, New York. Their 10,000-square-foot exhibit, which took about two years to build, is designed to replicate a natural habitat, complete with dens and hollow trees for hiding, a marshy wetland area bordering a small pond, and sandy knolls. The goal is for the wolves to one day be able to live on their own in the wild, so even the food they are provided—deer parts versus chicken, for example—is intended to replicate their natural environment as much as possible.
The brothers have already settled nicely into their new home and were very hard to find. We finally spotted one wolf nestled under a swath of low-lying tree branches. Red wolves are more active at dawn and dusk and sleep during the day. Once we made eye contact with the wolf, my daughter was ready to move on to see the other animals that call the Bergen County Zoo home.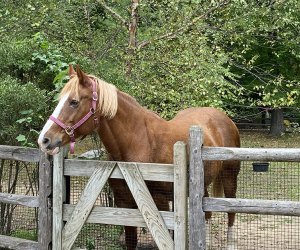 The Bergen County Zoo houses animals both wild and domestic.
Most of the animals at the Bergen County Zoo are located along a single, looping trail that winds through the zoo grounds. All of the animals at the Bergen County Zoo are native to the Americas, so you won't find any tigers or giraffes here. Instead, there are bison and elk grazing in a massive field. There's a barnyard area with a nippy Belgian draft horse (definitely don't touch!), a giant belted galloway cow my daughter said reminded her of an Oreo cookie (his white "belt" middle is sandwiched between two swatches of dark fur), an adorably fat pig, sheep, and goats.
RELATED: See Baby Animals at Petting Zoos and Family Farms in NJ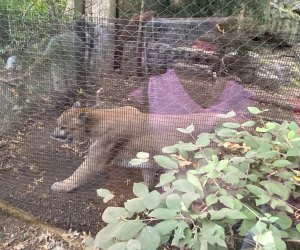 The Bergen County Zoo is home to a playful pair of mountain lions, whose antics visitors can see up close thanks to its intimate size.
There are several types of owls on display, including a screech owl, a spectacled owl, and a white snowy owl. The monkey exhibit definitely draws a crowd as the primates play and swing along the rocks and tree branches. Surprisingly, the most friendly animals were the two mountain lion brothers who playfully pranced around their den, rolling over on their backs to show their bellies, much like our new puppy does at home.
We also saw a lot of animals we'd never heard of before, like a Baird's tapir, which kind of looks like a small elephant, except it has a shorter snout. You can't miss the bright orange golden lion tamarin, or the capybara, which look like giant guinea pigs.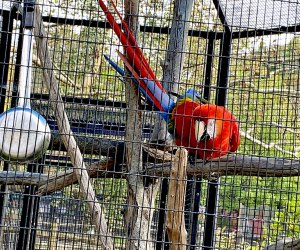 The Bergen County Zoo's scarlet macaw was a stunning sight.
The prairie dogs were hiding in their underground tunnels so we didn't catch a glimpse. But the majestic birds high above made up for it, including two non-releasable bald eagles, wide-winged Andean condors, and a stunning scarlet macaw my daughter wanted to bring home since its rainbow-colored feathers would match her bedroom theme.
I noticed my daughter was more engaged with the animals here than on any other zoo visit, and I think it's because the exhibits themselves are smaller and more intimate, which allows visitors to get more up-close and personal with the animals. They even have chickens and turkeys freely roaming the grounds.
After about an hour of walking around, we took an ice cream break. Conrad's in Westwood has a cart parked right outside the zoo entrance serving homemade ice cream sandwiches, bars, and pops. The Hills on Wheels food truck was also on-site and there are plenty of benches and picnic tables around to sit and eat. One word of caution: The bees were out in full force on the day of our visit and after swatting away dozens, we eventually ran back to our car to eat our ice cream with the windows closed.
RELATED: Sea Life Aquarium, Legoland Discovery Center Open at American Dream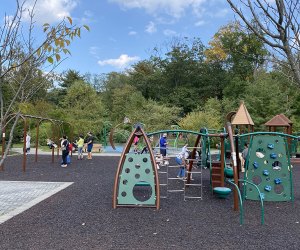 Beyond the animal fun, there's a spacious playground at the Bergen County Zoo.
Once the sugar kicked in, we hopped on the train to enjoy a scenic ride around the perimeter of the zoo which allowed us to see the animals from a different perspective. Then, we ended the day with a whirl around the carousel. Between the zoo, train, and carousel, my daughter didn't even want to go to the playground, but we agreed it looked cool and would be a destination-worthy playground to visit another time.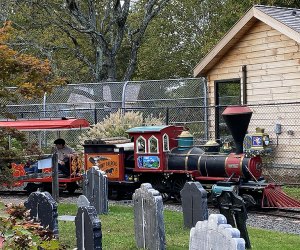 The Bergen County Zoo train costs $2 per person and gives you a different perspective on the charming animal park.
Parking is plentiful, and Bergen County residents receive discounted zoo admission (be prepared to show your ID) of $4 per adult and $2 per child. Non-resident rates are $8 per adult and $5 per child. Kids under age 3 are FREE. Tickets for the train and carousel are sold separately and are $2 per person per ride.
The zoo hosts several events during the year, including the incredibly popular Zoo Boo at Halloween, which was already sold out weeks prior. In years past, the zoo has hosted holiday events, plus there's an outdoor amphitheater for live animal shows.
Now that we've visited the Bergen County Zoo, we can't wait to come back again.
Unless noted, all photos by author
Places featured in this article:
Sign up for the Mommy Poppins Newsletter today!
i