10 One Mile or Less Hikes to Take with Your Preschooler in Connecticut
While Connecticut has hundreds of hiking trails crisscrossing the state, the trails aren't always suitable for little legs and little feet. So your preschooler may not be ready for Sleeping Giant's blue trail or Southford Fall's tower trail however, they will just love exploring the outdoors on these 10 kid-friendly hikes we've uncovered. Here are some 1-mile-or-less hikes that are just enough for the youngest of hikers - teaching the invaluable lesson that it is the journey, not the destination. And maybe they'll catch a frog or two.
Lake Mohegan – Fairfield
Lake Mohegan is tucked on more than 170 acres of woodlands in Fairfield right off Morehouse Highway. With plenty of great nature trails you have the option of doing short or longer hikes with stunning surroundings chock full of waterfalls, bridges, and plenty of entertaining stops along the way. There's also a picnic area and small splash pad available (day rates apply) making it the perfect way to spend a lazy summer afternoon.
Rocky Neck State Park – East Lyme
At Rocky Neck State Park in East Lyme, you can hike for as little or as much as you wish (and we're talking 1/10th of a mile) with multiple trail options for your family. You might also want to check out the fantastic sandy beach. Pack a picnic and eat under the stone pavilion.
Photo courtesy of Jackie Lema
Eisenhower Park – Milford
Tucked down the hill from the widely popular Bodie's Place playground, Eisenhower Park is a hidden gem in New Haven County. With mostly-flat terrain to traverse, Eisenhower Park offers easy, kid-friendly trails perfect for the youngest hiker. There are always frogs to catch, turtles to discover, and streams to dip your toes in. Plus, there's a wonderful playground and soon-to-be splashpad back at the top of the hill.
Harry C. Barnes Memorial Nature Center – Bristol
Who doesn't love the Harry C. Barnes Memorial Nature Center? With interactive exhibits, live reptiles, amphibians, and birds of prey you really can't go wrong. There is a wonderful short hiking loop through the woods alongside the nature center.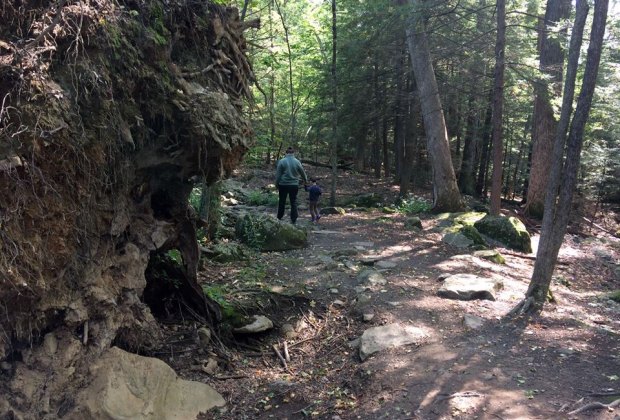 Photo Courtesy of Roaring Brook Nature Center
Roaring Brook Nature Center – Canton
Roaring Brook Nature Center offers five different trails to explore, perfect for young hikers. Explore the woods and wildlife before stopping by the nature center where you'll discover outdoor gardens, a beaver wetland exhibit, a small collection of live animals, and a nature store.
Westmoore Park – West Hartford
Known as a small working farm with animals, Westmoore Park offers four hiking trails all under one mile. Here you'll find forests, ponds, meadows, followed by a visit with Westmoore's farm animals sure to delight children.
Wharton Brook State Park – North Haven
Shaded, flat and short. Those are the best qualities of a hike with a three year old. The trail around the pond at Wharton Brook State Park in North Haven is just that. Bring a picnic and your fishing pole.
Tarrywile Park – Danbury
A stroll along the pond at Tarrywile Park is a hike that anyone can enjoy. With a restored silo and barn and a garden for the wee ones to explore, the setting is truly a treasure tucked away in Danbury.
Kent Falls – Kent
Okay so this hike is certainly not as easy as the last because it is actually quite steep. But it is only a quarter of a mile and the view of Kent Falls is worth the climb. Wander across the covered bridge and hike along the falls for a truly enchanting experience. It is well maintained and has hand rails and plenty of lookout points.
Stratton Brook State Park – Simsbury
A classic New England covered bridge, groves of white pines, and a picturesque pond—Stratton Brook State Park is just a lovely hiking destination for your family. It's got plenty of trails to choose from starting at 1/10th of a mile. There is also a picnic area and swimming in the summertime.